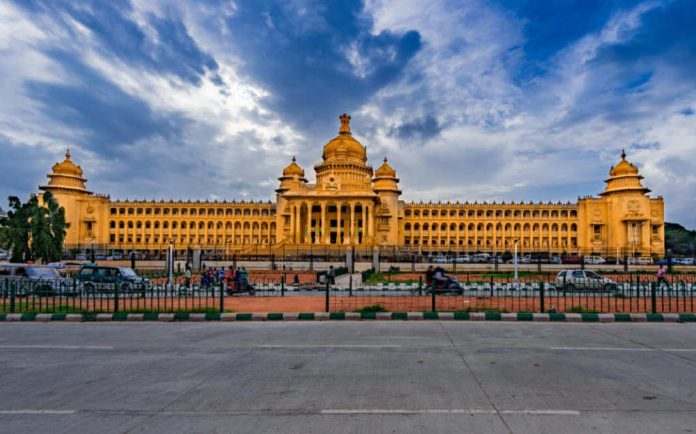 WHEN IN BANGALORE, DO AS THE BANGALOREANS DO.
The Garden City of India, Bangalore is an interesting amalgamation of vintage and modern beauty. Over the years, the city has grown beyond one's imagination making it the IT Hub and is popularly called as the Silicon Valley of India. The city known for its pleasant weather and cosmopolitan crowd is one of the best cities in India.
Here's a list of the Best Places To Visit In Bangalore.
1.BANGALORE PALACE
This palace is built in Tudor style architecture and is situated in the heart of the city. The palace and its grounds are spread across an area of 450 acres. The Palace built by the Wodeyar Dynasty is one of the most popular landmarks of Bangalore and is a must Visit Place in Bangalore.
2.CUBBON PARK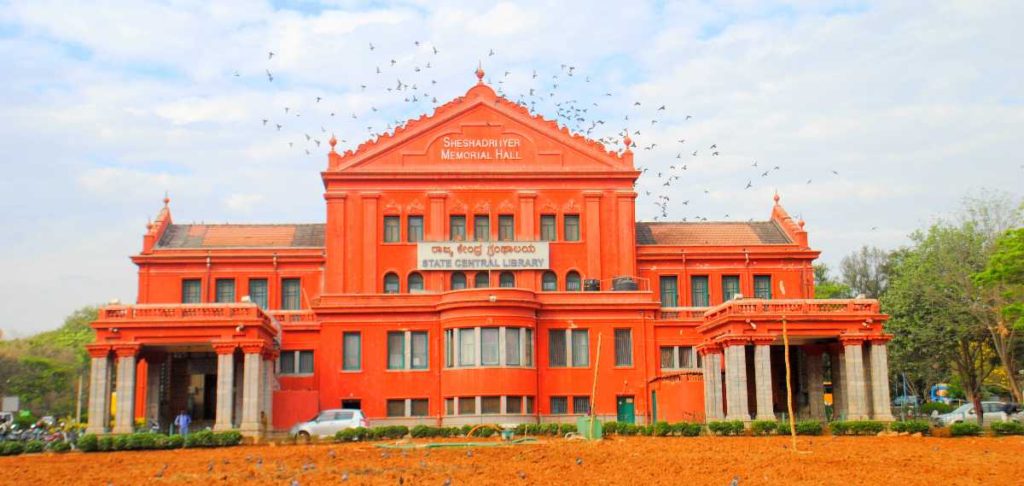 Cubbon Park was established in the year 1870 and is home to more than 6000 species of   trees and plants. Spread across an area of 300 acres, the park also comprises of the Karnataka High Court, The State Archeological Museum and the Seshadri Iyer Memorial Hall which houses the State Central Library.
3.STREET SHOPPING
If you're looking for street shopping, MG Road, Brigade Road and Commercial Street are places to explore. From bags, footwear, antiques, second hand books to artificial jewellery, you will find practically everything under the sun. A very handy tip – Don't forget to bargain.
4.INDULGE IN SOUTH INDIAN FOOD
When in Bangalore, you have to eat what the city is famous to dish out, and you have to indulge in some south Indian food. The city is home to the iconic MTR, famous for its Masala Dosa and Filter Coffee.
Other famous local joints that shouldn't be missed are Vidyarthi Bhavan, Janardhan and Brahmins Coffee Bar that offer mouth watering food at very reasonable prices. Try everything you can including the Idli, Vada, Khara Bath and the wholesome South Indian meals.
5.TAKE A METRO RIDE WITH BANGALORE METRO.
Namma Metro began its operations in October 2011 and currently has 31 stations. Bangalore Metro is the third rapid transit system in India. It's the fastest way to commute in Bangalore; the metro is comfortable, efficient and helps avoiding Bangalore traffic.
6.BINGE ON BIRYANI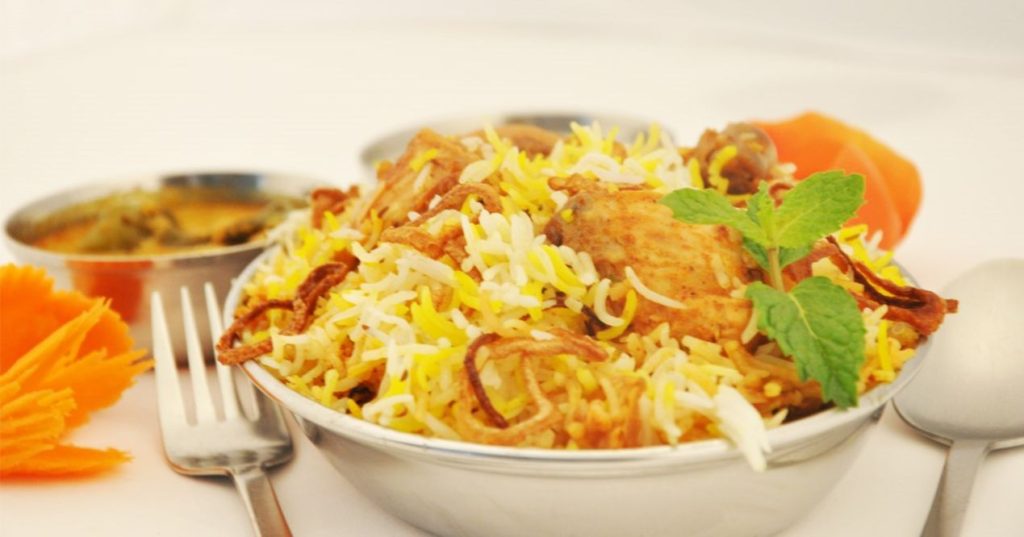 There is a large population of Biryani lovers in the city, and to cater that purpose there are many Biryani restaurants. Thus, it's essential to Binge on Biryani when in Bangalore.
Nagarjuna, Bheemas and Meghna Foods are famous for their Andhra style biryani which is spicy and delicious. Ranganna Military Hotel and Shivaji Military Hotel also offer some lip-smacking biryani which is definitely worth a try.
7.LALBAGH
Spread across 240 acres, Lal bagh is a botanical garden that is a place you just should not miss when in Bangalore. It has over 1000 species of plants and trees, a lake, the Kempegowda Tower and the magnificent Glasshouse. It's a popular tourist attraction in Bangalore and is famous for its Flower Show that is held twice a year.
8.BANNERGHATTA NATIONAL PARK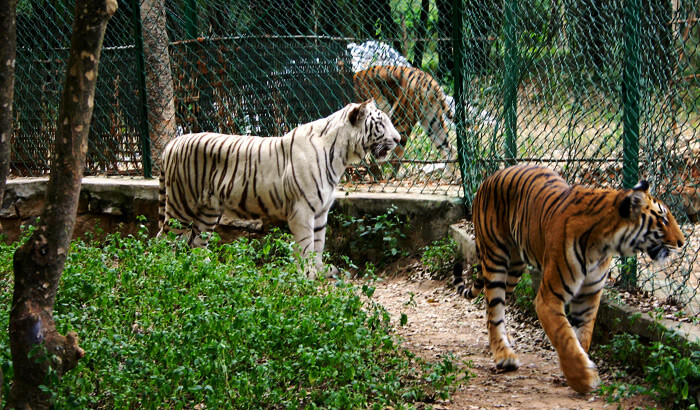 Bangalore's answer to wildlife is the Bannerghatta National Park that is spread across a sprawling 25000 acres. The Wildlife Safari should not be missed. It also has a Butterfly Park and Zoo. It's the first biological park in India to have a fenced forested sanctuary where elephants can roam around freely.
9.VIDHAN SOUDHA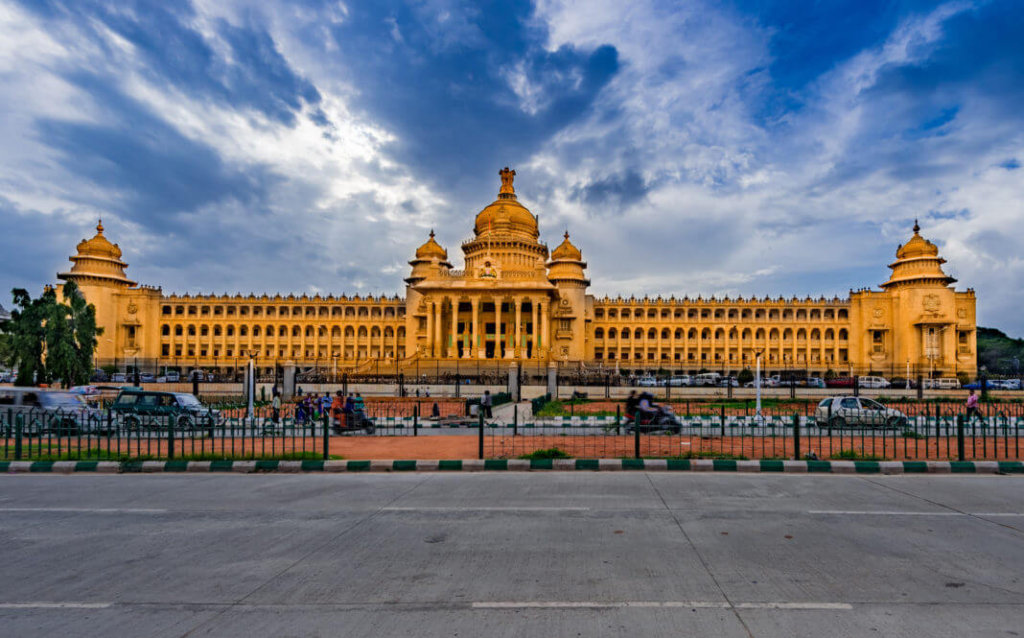 The Vidhan Soudha houses the legislative chambers of Karnataka. It comprises of 300 rooms that accommodates 22 departments of the state legislature. The building is renowned for its Dravidian architecture and is illuminated on Sundays and Public Holidays.
10.ISKCON Temple.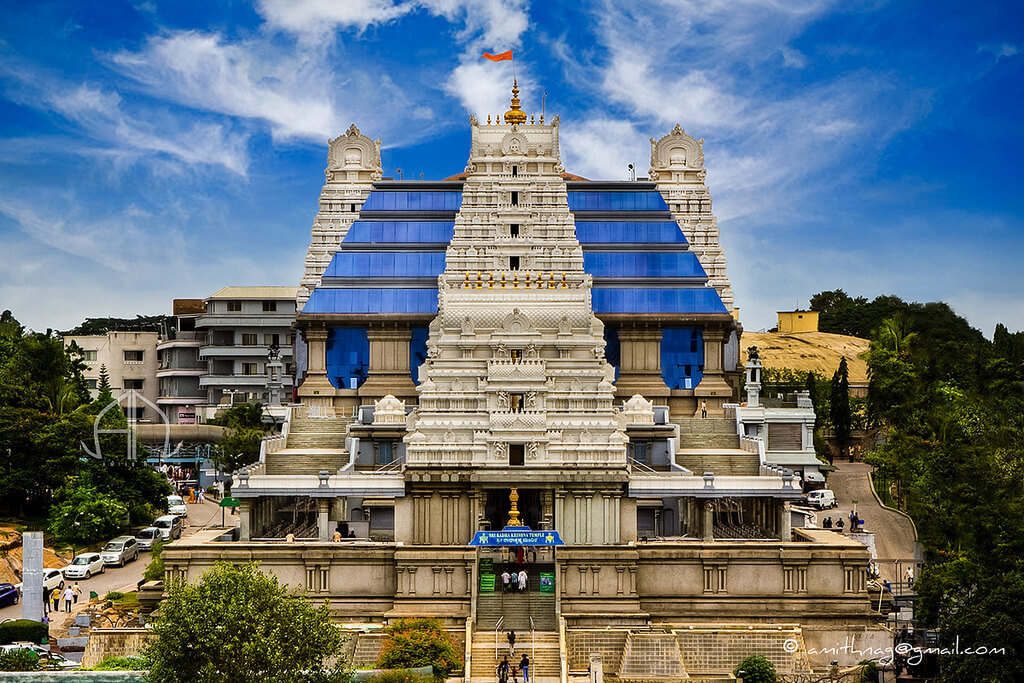 The ISKCON temple in Bangalore is also known as Sri Radha Krishna Temple and is one of the largest ISKCON temples in India. It is situated on the Hare Krishna Hill, in Rajajinagar. This ISKCON has 3 temples and 6 shrines. The temple is thronged by millions of devotees every year. They celebrate numerous festivals, the most popular beingkrishna Janmashtami and Vaikuntha Ekadashi.
11.CHITRAKALA PARISHATH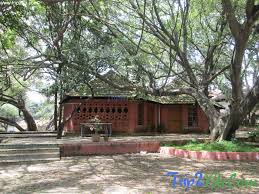 Karnataka Chitrakala Parishath is a treat for art lovers. Apart from being an Art Institution, Chitrakala is also a cultural organization and comprises of museums and galleries that display Traditional, Modern and Contemporary Art.
They organize workshops and conduct exhibitions throughout the year. The Chitra Santhe that happens annually is the much talked about art event in the city. It encourages artists across the city to exhibit their work.
12.UB CITY

 The plushest mall in the city is without a doubt UB City, which also happens to be India's first Luxury Mall. It houses international brands like Louis Vuitton, Jimmy Choo, Michael Kors and Burberry to name a few. UB City Mall has an Amphitheatre which is an ideal venue for various events.
The UB City Mall also has numerous restaurants that offer different cuisines from all over the world. So, making a stop at UB City and exploring this exquisite mall is a must for any tourist.
13.ART OF LIVING
The Art of Living Foundation has its headquarters in Bangalore. The most prominent structure of this Ashram is the Vishalakshi Mantap which is designed by Sri Sri Ravi Shankar himself.
The Sumeru Mantap is a lotus shaped open air auditorium and is located at the highest point of the Ashram. It is famous for its breathtaking view. The Ashram also has an amphitheatre which has a lotus shaped stage and has a seating capacity of 20,000 people. It's the ideal venue for Satsangs and Cultural events.
14.VV PURAM STREET – THE HUB OF STREET FOOD IN BANGALORE 
If you're looking for Street Food, Bangalore has its very own "Khao Galli" at VV Puram. If you're a foodie, a visit to this place is a must. There are innumerable food options, you can eat to your heart's content and end up spending little in comparison. Do try the chaats, sandwiches and irresistible desserts.
15.NIGHTLIFE IN BANGALORE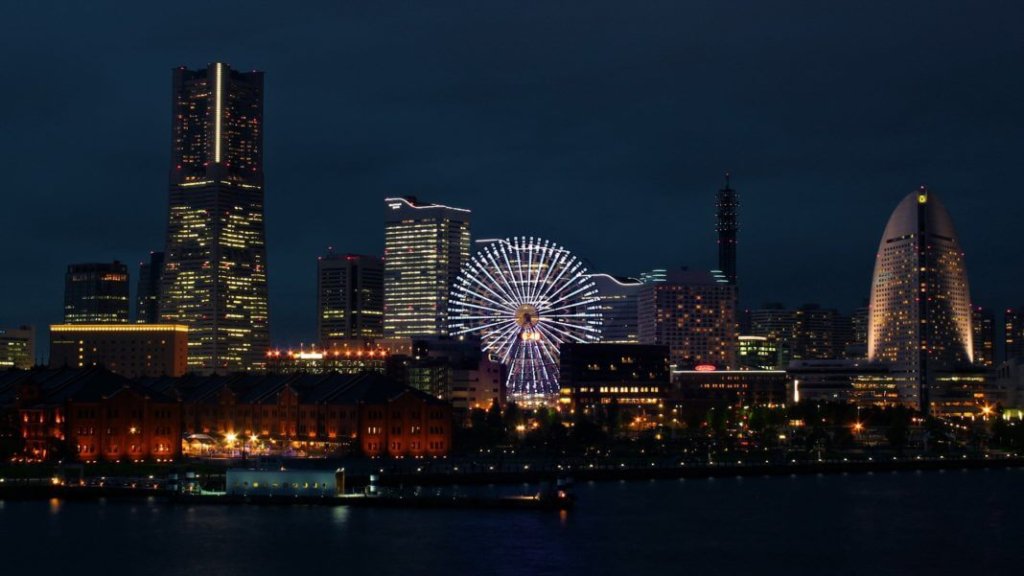 The city is famous for its nightlife and has over 800 clubs and bars, making it the "Pub Capital of India." There are tons of restaurants, pubs and lounges around CBD, Koramangala and Indiranagar.
A night of pub crawl is common with the favorites being Skyye, Bang, Toit, Arbor Brewing Company, Church Street Social, Fenny's and many more. A night under the stars in one of the airy lounges with stellar music is the perfect way to unwind and end your day in this beautiful and vibrant city. You can Pin it for later by pinning the below images 🙂 
This post is contributed by :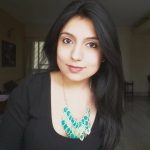 Neha Nagpal is an artist by profession based in Bangalore. She runs a line of Home Decor products called Kolour Theory. An avid traveller and nature lover, she is also passionate about art, food and photography.
You can follow her on instagram at www.instagram.com/kolour_theory and www.facebook.com/kolourtheory