One of the many things I liked about Sri Lanka, which I am sure you will love too, is the number of national parks...
Lucknow, known for its hospitality as it is famous in the world with the popular name, "city of nawabs," and Nawabs were known for...
As they rightly say, festivals in India are one of the ways you celebrate happiness and togetherness with your family. There are numerous festivals...
The state of Tamil Nadu is one of the most beautiful ones in India. People from all over the country visit the state in...
Thinking about where to visit this April? We suggest you spend a vacation in South India. South India has got it all, from beaches...
 Are you a Foodie whose taste buds riot every time you see fluffy and crispy bhature on a plate? Looking for places to eat the best...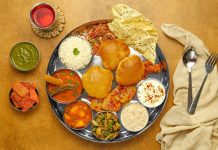 India is the land of many cultures and communities. One of the most wonderful community...
Vijayawada is one of the fastest developing cities in Andhra Pradesh. Generally known for the...
Texas, "The Lone Star State" is the second biggest state in the USA. Texas is...
Chhattisgarh is known as the "Rice Bowl of India" and rightly so as Rice heavily...
If any food has the audacity to be compared to something heavenly, then it is...
Food is an integral part of the culture of India. Wherever we go we get...
Ooty often gets counted as one of the most gorgeous hill stations of India. Settled on the Nilgiri Hills in the state of Tamil...
Are you from Bhopal or visiting Bhopal anytime soon and looking for some Haunted places in Bhopal that would dare you to visit them?...
Are you searching for an offbeat tourist spot around Jharkhand to spend your vacation with family and friends? You can head to Kiriburu hill station located...
Qutub Minar is the second largest Minar in the world and is also a UNESCO claimed World Heritage Site. Apart from being the capital city...
International Destinations
 When you talk about taking a vacation to Thailand, you should not miss Krabi at all. It is a beautiful set of islands that...
The capital city of Malaysia is known across the world for its impending glamour and the beauty of the city beholds. But, with the...
If you are planning to visit the Southeast Asian countries, Thailand should always be on the top of your list. The rich culture and...
Hilo is a quaint little town in the eastern part of Big Island in Hawaii. Home to the popular Rainbow Falls, you will find...