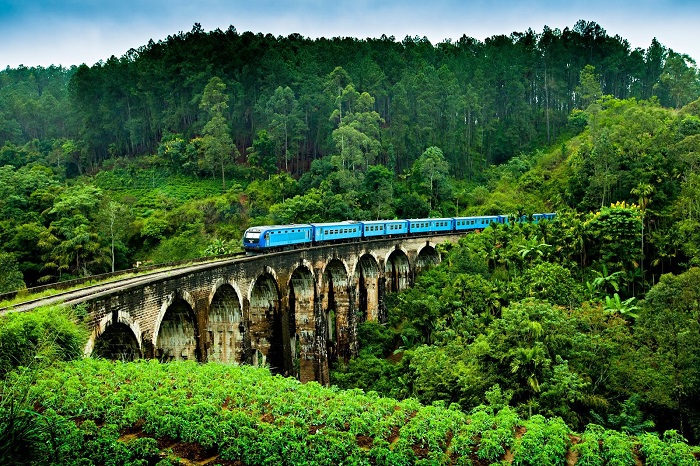 The train ride from Kandy to Ella is indeed a mesmerizing one. I had just heard about it until everyone I knew started suggesting it while I was planning for one. So when I was planning my itinerary for Sri Lanka, the infamous train ride from Kandy to Ella was one experience that had to make it to the list and the one I surely didn't want to miss out on. And when I arrived in Sri Lanka and traveled through Kandy, I knew that I had made the right decision of hopping on to that iconic train ride from Kandy to Ella that turned out to be an amazing joyride.
About The Train Ride From Kandy To Ella
The mesmerizing ride lasts for a total of nine to ten hours from Colombo, but it takes an entire six hours when boarded from Kandy. However, I got down at Nuwara Eliya as I wanted to make a quick stop to explore the tea plantations around. I always wanted to visit the refreshing plantations and see the hype for myself.
Post that, I boarded the train again to reach Ella, and all I have to say is, the views are worth every moment you spend on the train ride from Kandy to Ella. Offering the best of nature, the train ride from Kandy to Ella is all about floating clouds against rolling mountains, cascading waterfalls, and refreshing tea plantations that paint the perfect picture for your visual treat.
All You Need To Know
How To Get There?
By Train: To arrive at Ella or Kandy, you have few options. The Kandy to Ella line starts from Colombo. So if you want, you can move directly to Kandy.
By Taxi: You also have many bus options that can take you to Kandy. If you are not comfortable travelling by bus, then hiring a taxi would also be good.
By Buses: Buses leave Ella from the curd shop around 9 am every day. However, I would suggest you verify the timetable with locals once.
Must Read: Wilpattu National Park Safari Experience- The Ultimate Guide For Your Visit!
Types Of Train Carriages
It can get a little confusing while booking your tickets for a train ride from Kandy to Ella. You have multiple options including reserved, unreserved, first-class, and third class. Hence, here is a complete breakdown of each class to help you decide better.
Third Class Unreserved: If you are traveling on budget and want the most affordable tickets, then this is the best option for you. You will mostly find locals in this class as they prefer it the most for regular commutes. However, the journey can be a little uncomfortable as the seats are non-allocated. But the jovial mood inside the train makes up for your discomfort.
Third Class Reserved: You will experience the same ambiance as the above but the only difference is that you will have your reserved seat to sit. This is considered to be the best class on the train as you can have all the fun you want with the locals, and also open the windows and doors to enjoy the views.
Second Class Unreserved: The second class is a bit less chaotic than the third class unreserved. However, the cost is a bit more, and the seats are comfortable and great. Hence, the journey becomes more enjoyable for all the passengers adding to the overall experience.
Second Class Reserved: The seating is the same but there will be a slight change in the ticket prices as expected for the reserved seats. If you are traveling during the peak season, you are advised to book your tickets well in advance as the booking starts from one to two months in advance.
First Class: The first class is all about allocated seating, air conditioning, and privacy. This is ideal for the luxury travelers who want to travel in a more sophisticated manner. I wouldn't suggest you take this carriage if you want to enjoy the real feel of the train ride from Kandy to Ella. The doors and windows remain locked and you will be seated with foreigners. Going by my personal experience, this is not the ideal way of experiencing the train ride from Kandy to Ella when in Sri Lanka.
Observation Carriage: This is available only on selected trains. These are first-class carriages with wide windows that allow you to see the beautiful views outside throughout your train ride from Kandy to Ella. While you may have to book your tickets for 1 month prior to your initial date of travel, one should know that this carriage is attached to the end of the train facing backward. So not only can you not open the windows, but you might end up feeling nauseated being on this carriage. Hence, I wouldn't recommend traveling via this carriage to anyone.
Cost Of The Train Tickets
As I mentioned before, the train tickets in Sri Lanka are pretty reasonable. While the prices are mentioned according to the types of carriage classes, the rates may differ for the type of train you opt to travel by:
First Class: INR 1200-1300 per person
Second Class: INR 600-700 per person
Third Class: INR 400-500 per person
How To Book The Train Ride From Kandy To Ella?
Image Credit: Saqib Qayyum For Wikimedia Commons
Avoid last-minute bookings so that you don't suffer like I did in the crowd.

According to the experience, I would strongly suggest you make bookings for the second class carriages as they are the best bet for experiencing the ride like a local.

There are only a few trains that cover this trail and can take you through an eventful journey. If you want the best experience, I would suggest that you buy the tickets from Colombo.

For the ones who want to book the tickets in advance, you can do so prior to 30 days of your travel date. The only downside to it is the fact that the bookings can only be done in person.

If you are in a rush, ask your hotel officials to secure the booking for you by paying them a little extra. There are agents available online too but be aware of the ones who charge unnecessary amounts of money because of the high demand for the tickets.
Suggested Read: 9 Helpful Apps For Every Traveler
Places To Visit On The Journey
To be fair, the reason many tourists break the journey and travel is because of the wide range of sightseeing spots that you can experience along the way. There are quite a few places and if you are someone who is planning this trip, I would suggest you know about these places and include them in your itinerary.
1. Kandy
Kandy is the very first stop when it comes to the sightseeing spots around. Apart from temples and several historical spots, you can also witness a wide range of shopping destinations there. If possible, stay for a night there.
Major Attractions: Kandy Lake, Temple of the Sacred Tooth, The Botanic Garden, National Museum, Old Royal Palace, etc.
2. Nuwara Eliya
I did make a pit stop here because someone told me you would regret it if you didn't. And boy, were they right about that. Often known as the "Little England", the widespread view of tea plantations on all sides was something I wasn't ready for. The view of the dense greenery through the misty mountains is something I don't think I will ever get over.
Major Attractions: Lake Gregory, Galway's Land National Park, Victoria Park, Hakgala Botanical Gardens, Nuwara Eliya Golf Club, etc.
3. Haputale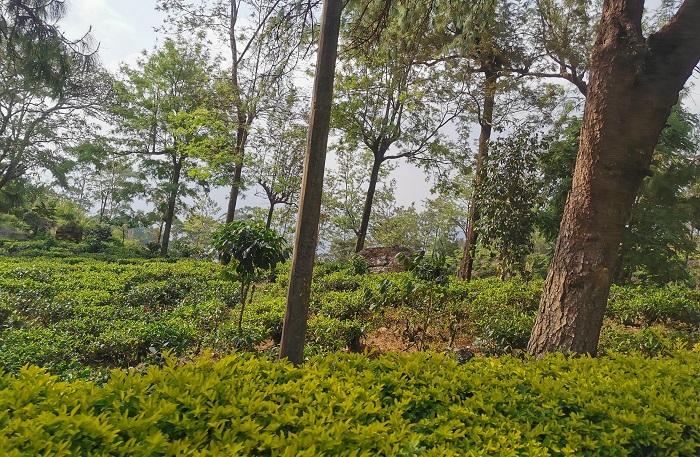 Not a much-appreciated spot but even Haputale is worth stopping for. The town has a very old school and rustic vibe to it that many people do love and adorn. And the best part is, this place offers amazing views to die for in all seasons.
Major Attractions: Horton Plains National Park, Lipton Seat, Adisham Monastery, Dambatenne Tea Factory, etc.
4. Ella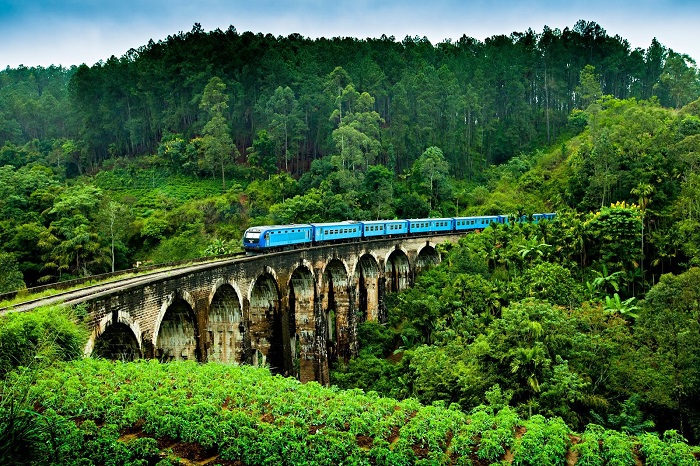 For all those who are looking forward to a laid-back vacation, Ella serves as the perfect stop to unwind and relax. Nestled amidst the mountains and away from the hustle and bustle of the city crowd, Ella offers a refreshing break that every traveler looks forward to. From temples to trekking trails, from waterfalls to tea plantations, and from cozy guest houses to amazing sightseeing spots, Ella feels every bit of a magic on one's journey.
Major Attractions: Nine Arch Bridge, Little Adam's Peak, Ravana Falls, Mahamevnawa Monastery, etc.
Where To Stay
When I planned a train ride from Kandy to Ella, I didn't know that I would end up taking a halt at Nuwara Eliya. But, I did. However, for those who are travelling through the distance from Kandy to Ella without any interruptions, there are quite a lot of accommodation options available in both the cities. You don't have to fret about last minute bookings as you will get a lot of options to stay in both Kandy and Ella.
Additionally, many people who break their journey at Nuwara Eliya as I did, tend to stay there overnight and then get ready to go back on the adventure. Accommodations are easily available at Nuwara Eliya too. I would suggest that you look through the available options for the accommodation before you just randomly take a room in any of the resorts around. Check the reviews first.
Suggested Read: 15 Best Places To Visit In Ooty In 2020 For A Perfect Weekend
Tips For Your Train Ride From Kandy To Ella
While there is not much that you need to know added from what has been mentioned already, there are a few extra tips that can come in handy for you when we are taking the journey from Kandy to Ella. These are some of the tips that personally worked for me.
If you wish to not sit inside the train for 7 hours straight, catch a break at Nuwara Eliya as I did

Try and bring your snacks and beverages but if you can't there will be a few vendors selling things inside as well. For example, you must try the delicious 'wade' which is one of the best Sri Lankan foods to taste.

Try and get the second class reserved tickets for the best view and possibly the best kind of experience throughout the journey

You are advised to occupy a seat on the right side of the train. The reason being obvious, the scenery outside is more beautiful. From tea plantations to misty mountains and valleys, you can enjoy it all.

If you want doorway photos, take them in the first half of the trip itself and don't wait. However, you should not act recklessly to get the shot.

Keep an eye on your items and backpacks.

You should behave respectfully inside the train. The train is the hub spot for all sorts of people.

You should not throw any trash outside the window. Try to dispose of them properly.

The rush would always be at its peak with the reservations. Hence, make the bookings beforehand.

For those who are traveling to Sri Lanka for the first time, know that there are two distinct types of trains in Sri Lanka, the slower trains and the faster "blue" trains.

The first-class tickets are not worth it because you miss out on the view because of the closed windows because of the air conditioner.

The train was packed where I was which is why I would still suggest that you get the second class tickets as those are the best bets.

If you have a reserved seat make sure you sit there and not change it as per your whims and fancies. Remember that there are other people too who have booked tickets just like you.
Things To Carry
When traveling to Sri Lanka, there are a few things that you have must-have in your backpack. You will surely need these essentials and I can tell you this from my experience. These items are going to make your journey more comfortable and happy.
You should carry reusable water bottles as you are going to get thirsty a lot. By filling the same bottle and using it, you can save a lot of money on buying water.

You should also pack biodegradable wet wipes to keep your hands and face clean but without causing harm to the environment.

Having hand sanitizer is also a must. This will come in handy while eating at any stall or restaurant.

You should also carry a spork in your bag as I did. This will help you to reduce unnecessary usage of plastic during meal times.

In addition to that, you should not forget to carry a power bank with you. You will be taking a lot of photos using your phone and camera, so you need to keep them alive for the whole time.

Lastly, no matter what you do, I would suggest you not to visit Sri Lanka without getting your travel insurance done. You never know when things go wrong. From lost baggage to theft, anything can happen in your journey. Having travel insurance will mitigate risks. It is better to stay prepared than to regret it later.
Overall Experience
To be honest, I knew beforehand that train journeys in Sri Lanka are pretty scenic, especially the train ride from Kandy to Ella because of the lush greenery around. The train ride from Kandy to Ella en route Nuwara Eliya was a beautiful experience, one that I still can't get out of my head. In terms of the overall experience, I would say it was pretty eventful.
Although I decided to go ahead with the third class, the views throughout the train ride from Kandy to Ella were worth every single penny. The entire train ride from Kandy to Ella takes you through a scenic trail of tea gardens, waterfalls, mountains, clouds, and mist. I couldn't stop myself from capturing every single moment that passed by, and that is exactly what you would want to do on the journey as well.
Further Read: 25 Best Places To Visit In December 2020 In India
To conclude, the experience of a train ride from Kandy to Ella was something I never knew I needed to experience but I am so thankful that I did. Apart from the beautiful scenery around, the experience itself is one of a kind and one that you just can't trade for something else. Hence, if you are planning a trip to Sri Lanka, make sure that you include this experience on your travel bucket list without fail!