The Experimental City In The Land Of Diverse India; Auroville, Pondicherry is situated in the Villipuram district of Tamil Nadu is a divinely built arrangement by Mother Mirra Alfassa under the spiritual guidance of Sri Aurobindo.
"Auroville forms an interesting and complex experiment that takes place on more than 20 sq km of scattered settlements in the midst of forested, semi-urban, and beach areas."

It is situated in the bounteous scenic Coromandel Coast of the Southern part of India.
There are visitors from all around the world. This article pertains to give you an overview of the trip you should definitely make once in your lifetime.
How to reach Auroville :
Auroville can be reached by train or flight.
The nearest stations are
-Pondicherry, the capital of the Union Territory Puducherry which is 12 kilometres away from the experimental city.
–Villipuram which is 30 kilometres away from Auroville and
–Chennai, you can fly till Chennai and Take a direct Taxi to Auroville, or Take a Bus to pondicherry and then take a cab/bus till Auroville ( cheapest option )
You can take a STS (Shared Transport Service) from Pondicherry, Chennai or Bangalore to Auroville. It reduces cost, carbon emission and traffic, thereby exhibiting the nature of a responsible citizen. So prefer this than booking a car just for yourself. Be eco-friendly.
This place promising with its proximity to the eternal world of existence within the humdrum of a mundane world. So plan a solo trip to this place and live the most interesting journey of life.
Places to stay at Auroville 
There are lots of guest houses like  Avision Guest House, Vérité Guest House, Swagatham Guest House, Dimitri Guest House, Auromode apartments, Arka Guest House and much more. You need to know about the choices of accommodation as well. So, there are basically four kinds of accommodation available;
A – basic : Thatched roof ( simple and capsule rooms), Shared bathrooms,
B – standard : Simple rooms of brick and concrete or tiled roof. It has shared bathrooms. You can have fun as there are spaces available. Some have kitchens available, like Kofpu.
C – good : There are comfortable rooms in this category with fans and mosquito protection. Some even are air conditioned rooms. It has attached bathroom facility. And it also provides with dinner and breakfast.
D – Self-contained : These are like proper furnished cottages or studios with gardens and the lawn.  Often with veranda and balcony, this accommodation is very costly.  All the facility like the kitchen and attached bathrooms are available. Daily rates may include the breakfast and laundry.
There are few hostels (Dorm Rooms) like Joy Community, Kofpu Guest house, and Youth centre which are very decent.
Kofpu is Kottakarai Organic Food Processing Unit (KOFPU) which provides eco-friendly products has a hostel as well to stay. It is an initiative to protect the environment. You can get to know an organic and healthy living. I personally Stayed at this place and Made some Amazing Friends 🙂
Things To Do at Auroville 
The City of Dawn provides with lots of places which you can spend your precious time fruitfully learning a lot of things. It gives you an opportunity for a lot of volunteering works, workshops and cultural activities.
Matrimandir : Soul Of The City
The spiritually significant structure of this experimental city is a geodesic dome structure. It has been plated with golden discs which radiate the light making it an exceptional structure. Inside the dome, there is a meditation hall known as the inner chamber. At the centre of the hall there contains the largest optically-perfect glass globe in the world. Matrimandir is surrounded by the Peace Area which is open for the visitors.
The inner chamber has four pillar structure which has been set in accordance with the directions- North, South, East, West. It corresponds to the four aspects of the Universal mother which Sri Aurobindo had described. The Philosophical Journey of this heavenly place on earth; is built to fulfil the futuristic vision of Aurobindo. The edifice is the actualisation of the vision of the Ubermensch in this earth- One who can live an immortal life. The foundation was laid in 1971 and was completed in  2008.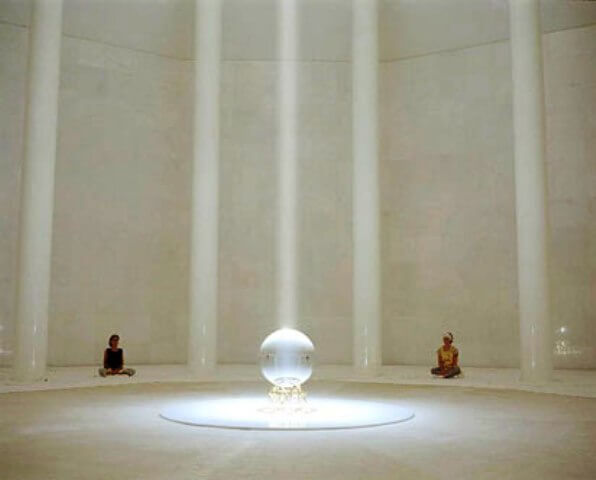 This is no place for casual visit. Whoever has been to this place experiences something extraordinary and understands the intricacy of the building of such a place on earth.
There are passes to enter into this place. It can be one day outside pass for which you will be allowed around the Matrimandir, you can get this pass from the Visitors Center.
Another pass is an inside pass which allows you to go inside the Matri mandir, but usually, requires 3 days advance booking for the same. Using this one can experience the meditation inside the Matrimandir.
Savitri Bhawan
The Urban Centre of Auroville consists of much public space and institutional buildings. it is referred as "Crown" which forms a circle around the Matrimandir with a radius of about 700 meters. Inside the crown, on its western part through the International Zone, Savitri Bhavan is located next to the Mahasaraswati Park.
This building complex has a bronze statue of Aurobindo with a backdrop of a complex building. The statue stands on the lotus pond in the centre of the stepped plaza on looking the other side of the crown which has "Sri Aurobindo Plaza." 
From here the entrances to the main building, the art gallery and the hostel are reached. The intricate building complex leaves us in flabbergasted.
It sees to eulogise the supramental transformation of Savitri.
Places to Eat in Auroville
There are lots of Eateries around from where you can have a sample mix of local and international food in one Auroville's city. Cafes like- Aurovelo Cafe, Auroville Bakery, Aurelec Cafeteria, Happy Food Restaurant & Market, Jolly Kimbap, Ganesh Bakery & Cafe, Dreamer's Cafe, Farm Fresh Cafe, Eateries Frites Corner, Kipaak Farmer's Cafe and much more. The Solar Kitchen is a special attraction for all the visitors of this place.
Right Path Cafe
Multicuisine in Auroville
Open to all, the visitors center's main cafe serves decent Indian and Continental food, some organic and/or locally sourced.
Well Cafe
Vegetarian/Vegan Restaurant in Auroville, India
PRICE
Cheap dishes
HOURS
Hours 8:30AM – 4:30PM, you can even call at this no to order your food- 0413 262 2219
LOCATION
Auroville, Bommayapalayam, Tamil Nadu 605101
Well Cafe, Address
Specialty-Mediterranean style, vegetarian cafe with outdoor garden seating. Offerings include homemade bean burgers, falafels, hummus, and salads.
Townhall
A part of the administrative building the structure is used for the meetings of the urban management and research. It is built with funding from the European Commission (EC) and Stichting De Zaaier, the Centre for Urban Research (ACUR). It is located to the north of Matrimandir. It has been under the Asia Urbs Programme. All the finance and media is done from this building.

It comes as an aid for all financial needs of residents and guests. One can even rent bicycles from here.
Also, Catch up with your work as you enjoy the holidays with a virtual workstation and access hosted windows applications, memories or media on the go along with a SharePoint site using CloudDesktopOnline. Learn more about virtualization & remote accessibility by visiting Apps4Rent.com.
Auroville Beach
Situated on the East coast of the country it gives an opportunity to enjoy the coast. Not far from the Auroville city any evening here is worth spending. It is open till 6:30 in the evening.
Other facilitates provided in Auroville- Arka, Pitanga, Quiet Healing Centre which initiates a herbal or therapeutic way to cure disease.
Activities 
Libraries :  To under stand the vision and the main reason for the construction of such a city onhaveas to read the philosophy and the vision of Sri Aurobindo from his works.  So the library gives a place where you can borrow and read books. They have facilities of books other than the works of Sri Aurobindo. One has to read and think so as to understand a lot of things that make the world work. So, Aurobindo eulogised good scholars. To Think is To live and Read.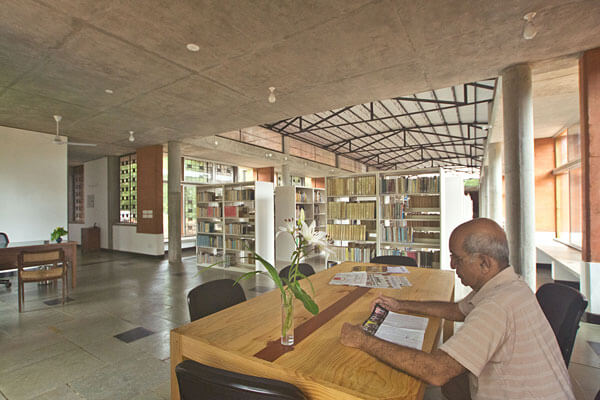 Volunteering :  The functioning of the city there are volunteers who help and devote their time. Instead they a lot. There are even internship opportunities as well. So if you want to work for the place you will definitely fall in love with then here are the opportunities. Mother said it is good to make body yield to universal understanding and this is one such way to know many people from all around the world.
Gardening :  Those who want to spend time with plants taken care of them, should always use the opportunity to help the vegetation intact. Here there are many gardens like- Buddha Garden, Siddhartha Garden, Organic Garden where one can learn along with your hobby.
Did you know that Sadhana forest is an initiative volunteered by the residents and visitors to conserve nature and because of this the water table has been replenished to a large extent? This NGO having its roots in the Auroville city now expands to all the parts of the world. Recently a village at Kenya the long term sustainable activities has been taken up.
No one misses a visit and a stay at this forest!!!
Fashion designing : Those interested in working with clothes and have creative living can try to improve their skill over here and learn the skills from each other as well. Some make dolls and certain other interesting things to enjoy the living they cannot live. A simple living.
Teaching and educational activity : It provides for the educational growth of the children as well.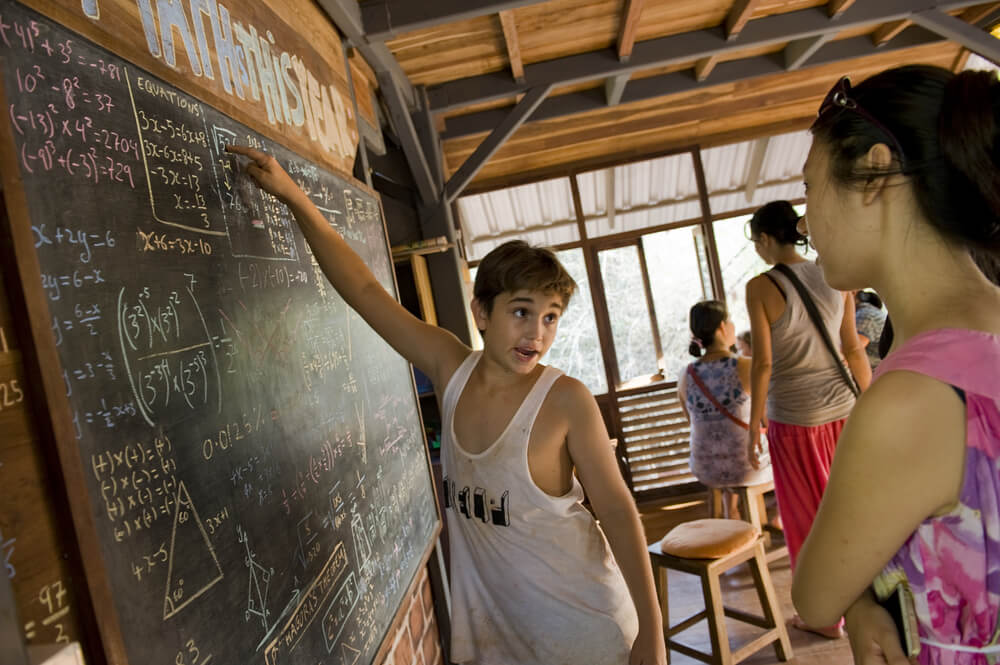 Cultural Activities : The different cultural centre gives a varied texture to universal living where each can lean different culture and tradition from all around the world. Centres like- Africa Pavilion , Pitanga Culture centre, Mohanam, Pyramid art centre, Gallery Square Circle – Kala Kendra, Bharat Bhawan. So don't miss them out. It is also used for yoga and acrobatic  and such activities.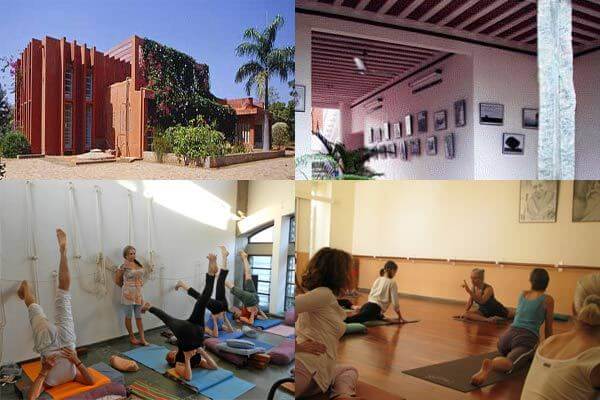 How to Get Around
As this place spreads in a huge area you need to have better and healthy options for commuting. Every place is quite a far from each other. Here are few means to offer you a good stay and getting in touch with the place.
Bicycle :  Extremely sustainable and eco-friendly cheap option. But unfortunately I not avail this. As I visited the place while it was raining (November) I had to quit using it. Given that most of the pathways inside Auroville is unpaved (kacha) road, it was muddy during the rains. Indeed cycling wasn't a practical option. But in drier days when there is no such problem one can hire a bicycle and cycle down the curious paths of the city. You can rent a local bicycle at your guesthouse or from the kiosk at the visitor centre and enjoy the nature closely.
Motorbike: Although not eco-friendly but the easiest way to move around Auroville. A good option and yet may not be sustainable. Your guesthouse can arrange a bike (Activa or moped) for 100 rupees a day for over a week's rental.
Car: Huh! the most reliable for all those city freaks. Because the mundane fast city life has made them so. Even though not inside the city often. But with backpacks one often needs a reliable and comfortable transport system. David and his car, the easiest and reliable to cover up the distance between Auroville and Pondicherry. He charges 300 rupees per trip and is a helpful driver. Contact him on this +91 9443 278 029 for all your transport needs within the region.
STS( Shared Transport Service: It is the most enjoying means to move around. You get to know many people and talk to them know about their culture and may make friends within the short span of time. So  this collective means makes you feel the universality of the g
Walking: Yes! I know you guys would be wondering that walking may be difficult but sometimes the connection to nature can make you feel the joy. The city being well conserved one would love to spend time in solitude and love the embrace of the nature. Although far from place cannot be accessed yet for close one's this is a good choice.
Although there are lots of places to visit Pondicherry and it can never satiate you and you will crave to get back often to the city.  This basic Guide will obvious be helpful.