Hello everyone.. I hope you're all having a great start to the new year. Well, so did I. In the last week of December, I packed my backpack and took a train to Chennai and headed to Pondicherry aka Puducherry for an amazing experience in a budget of 12,000 INR /$180, I spent 11 days in Pondicherry, Auroville, and Sadhana Forest and explored several places to visit in Pondicherry.
How to Reach Pondicherry 
✈️

By Flight-

If you're coming from the Northern part of India or any other Country, then take a flight to Chennai. From Chennai, you can take a bus or a taxi car.

🚗 By Road-  From Bangalore, then it's a 7-hour drive to Pondicherry.

🚌 By Bus-

Chennai to Pondicherry is

3 hours away by bus via ECR Route

. There are buses every 10mins by the government of Pondicherry and Tamilnadu.💡Tip: CMBT/Koyembedu Bus Stand is the best/most convenient bus stand for boarding a bus to Pondicherry.

🚉 Nearest Railway Station To Pondicherry- 

You can also take a train to Chennai or a train to Villupuram (30km from Pondicherry) and take a bus to Pondicherry.
I  finally reached Chennai After taking a train which was 6 hours late (yeah, Indian Railways are not very reliable). From Chennai Central Railway station, I took an Uber to the Koyembedu or CMBT bus stand, from where all the buses begin the journey to the French town, Puducherry :). [There are normal buses every 10mins and AC buses once an hour]
Places to Visit in Pondicherry
You can explore this city in even a day or even a week depending on your style and pace and interests you can decide what to see in Pondicherry. I started exploring the small French town on the Coromandel coast of India, which made me feel like I'm in France minus the crazy Indian traffic on new years :D,  Pondicherry aka Puducherry has a lot of beautiful places to visit in Pondicherry and experience.
1. Rock Beach/Promenade Beach
Promenade beach has to be the number 1 on all Pondicherry tourist places. The Promenade, also known as Goubert Avenue or the Rock Beach is one of the best places to visit in Pondicherry. Designed in an authentic French style, it has boulevards and swaying palm trees all around. The seafront is best when visited early in the morning when you can enjoy calm and tranquil nature and refresh yourself.
I visited this place every evening for the 4 days I spent in Pondicherry, this place has a peaceful aura and the beach and sea lovers can get addicted to this place, beware, you can fall in love <3
After the stroll at the beach, make sure that you try the coffee at Le Cafe, a famous coffee shop here. There are lots of places to visit in Pondicherry to enjoy the sound and mist of sea breeze.
Location: White Town, Puducherry, 605001
Timings:24hours.💡Tip:  ➡ However, for safety, would suggest going there between 6 am to 11 pm if you are traveling solo.
Entry Fee: No fee
2. Arulmigu Manakula Vinayagar Temple
On my day 3 in Pondicherry, I temple hopped and luckily, I made it in time for The Arulmigu Manakula Vinayagar Temple. It closes at 2 pm and I made it in time at 1:40, It took 30mins for the Darshan as there were huge lines, but definitely was worth it. 🙂
This temple of Lord Vinayak or Ganpati is one of the famous places to visit in Pondicherry, a lot of religious people come here to visit this temple and take blessings from Lord Vinayaka.
The fun part here was if you're lucky enough and here in evenings, you can meet and take blessings from the Elephant named Lakshmi. 🙂 This temple is located close to Aurobindo Ashram and a couple of nice French cafes. If you're around, do visit this temple.
Location: Manakula Vinayagar Koil St, White Town, Puducherry
Timings: You can visit early in the mornings but make sure you don't visit mid-afternoon like from 1PM-3PM.
Entry Fee: No Entry Fee
3. Sri Aurobindo Ashram
After his revolutionary life fighting for the Independence of India during the first decade of the 20th century, Sri Aurobindo started an ascetic life. He shifted to Pondicherry after he served a few years of punishment at the jail under the British Rule. So, this Ashram is a place where Sri Aurobindo spent his entire life, with Mirra Alfassa the Mother of the Aurobindonian society. He had a vision of Universal living of people.
This Ashram has done a lot for the humankind. The idea of Utopian experimentation was visioned from here, which then turned out to be the Matrimandir and Auroville city. The spiritual realization is one of the most important incidents that happened in Sri Aurobindo's life.
The Ashram, according to Sri Aurobindo, "has been created with another object than that ordinarily common to such institutions, not for the renunciation of the world but as a centre and a field of practice for the evolution of another kind and form of life which would in the final end be moved by a higher spiritual consciousness and embody a greater life of the spirit."
He wrote a lot of works spending his time in this Ashram. A visit to this place rejuvenated me with astonishing energy. The place still has its charm. It is maintained by the people living there. There are lots of other places to visit in Pondicherry but one must visit this place if he/she is in Pondicherry.
Timings: 8AM-12PM and 2PM-4PM
Entry Fee: Free of cost💡Note:  ➡ Children below 3 years are not allowed in the Ashram.
4. Auroville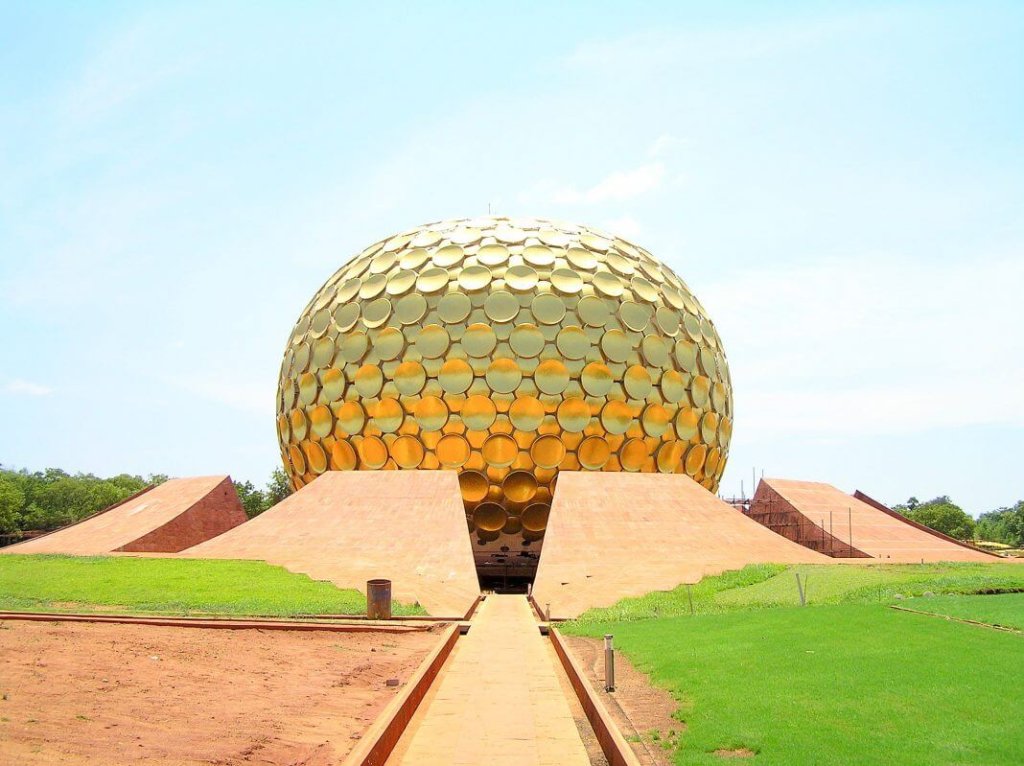 The experimental city which fulfills the vision of the universal settlement helps descend a level of consciousness through meditation. Sri Aurobindo's philosophy was pragmatically realized when the Matrimandir came into being. This a place where people from all around the world visit and spend some time and delve into the practice of Internal Yoga discussed by Aurobindo in his works.
One can spend their good time reading, grasping the ambiance of the place, and finding the soul at peace. It was "a project of importance to the future of humanity." When the foundation of Matri Mandir was laid youth from 124 different nations were present to acknowledge a space where one can conceive human unity. It was inaugurated in the year 1966.
There are accommodations available as per the budget suits you. Cafes inside the give you a touch of the best French Cuisines & Pondicherry French colony. But you will also get good dishes from all around the world. There are a lot of Things to Do in Auroville will keep you engaged and you will find a different kind of peace.
Did you know that Sadhana Forest is an afforested area which helped to increase the water table in that area? This initiative was taken by the volunteers living in Auroville. To further read you can follow this link.
Location: Auroville, Pondicherry
Timings: Round the clock
💡Tip: Don't just visit here, Instead Stay in Auroville for some real experience.
5. Basilica of the Sacred Heart of Jesus
An oriental specimen of Gothic style, the church is an attraction not only for the pilgrims but the tourists from all around. It contains rare stained glass panels depicting events from the life of Christ and saints of the Catholic Church.
The structure is of importance because it has an essence different from other churches.  Inside the church, there are glass pictures of 28 saints who were related to the devotion of Sacred Heart of Jesus. There is an inscription of biblical verse from 2 Chronicles 7:16,  written above the entrance door in Latin.
Location: Door No, 132, South Boulevard, Near Railway Station, MG Road Area, Puducherry
Timings: The best time to visit is during mornings or early evenings
Entry Fee: Free
6. Gokilambal Thirukameswara Temple
Also referred to as Villianur Temple, is a famous Pondicherry tourist place of worship of Hindus. Build during the 12th century is evidence of the Chola Dynasty and their religious beliefs. It celebrates the Brahmotsavam as an auspicious festival for 10 days.
It is the Shiv Linga that is in the Sanctorum and other deities, Devi and Murugan have their temples around it. The annual Temple Car Festival which is held between the months of May and June involves the pulling of a 15-meter tall chariot through the streets by a large crowd of devotees. It seems to similar to the Rath Yatra at Jagganath Puri.
A remarkable contrast blend of picturesque sights and a serene ambiance. The French influence is also felt like the French settlers during that period took part in the Chariot pulling ceremony. There are lots of other places to visit in Pondicherry but this place will touch your inner soul.
Location: E Car St, Villianur, Puducherry 605110
Timings: Early morning or evening is the best time to visit.
Entry Fee: Free of Cost
7. French War Memorial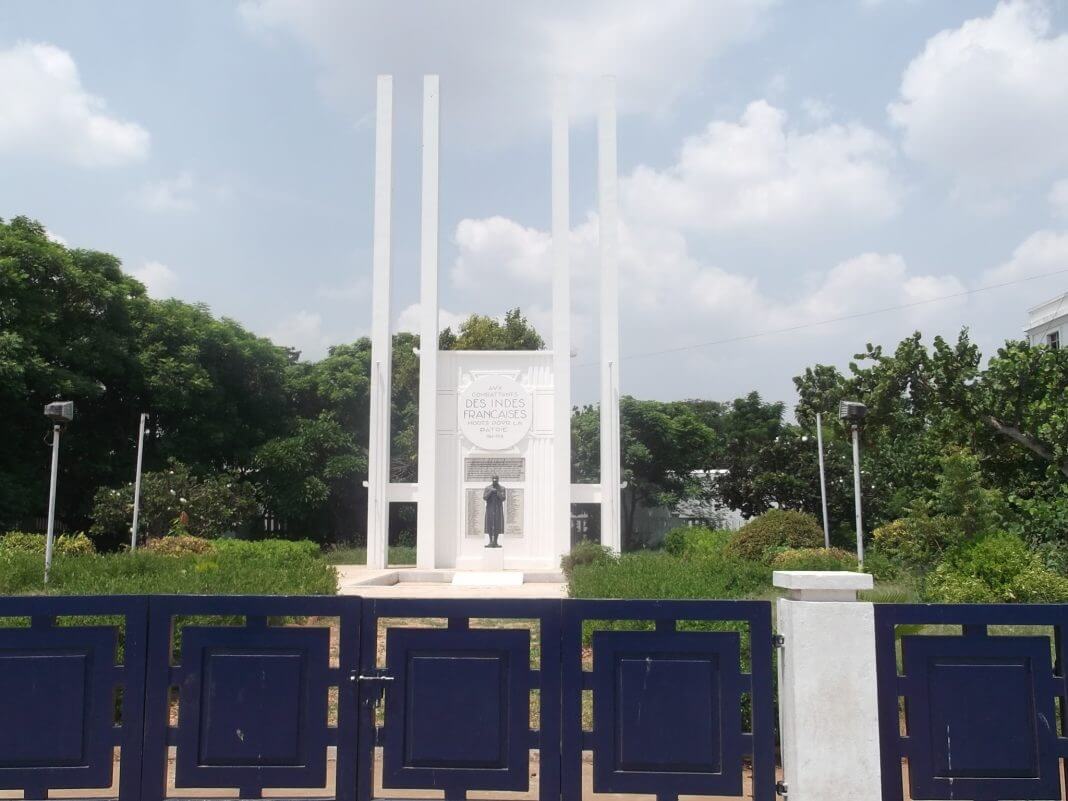 Located on the Goubert Avenue, the stylish structure commemorates the soldier's who laid down their lives in the First World War. The war memorial was built in 1971.
Every year on the 14th of July a whole place is lit beautifully and the soldiers are given due respect.  The monument is beautifully illuminated, and the memorial offers a pleasant experience to all visitors.
Location: Mahe de Labourdonnais St, White Town, Puducherry, 605001
Timings: 10 AM-5 PM
Entry Fee: No entry fee as such
8. Bharathi Park
Bharati Park is one of the green centres of the town. Aayi Mandapam is a famous monument which lies at the centre of Bharati Park. It is a well planned and well-maintained park flanked by some of the most important government buildings on all the sides.
It was once the place where the British looked to spend some time with nature. The fact that it is surrounded by some of the most important government buildings like the Lt. Governor's Palace, the Legislative Assembly, Government Hospital, Ashram Dining Room, the Cercle de Pondichéry private club, and the old Hotel Qualité, makes it a busy place to relax.
Location: 20, Rue Saint Gilles Street, White Town, Puducherry, 605001
Timings: 6.30 AM – 8.30 PM
Entry Fee: Free of cost
9. Arikamedu
The Archaeological site of South India has many excavated sites which provide pieces of evidence about the dynasties, the rulers, the wars and the living habits of our ancestors.
The excavations trace the megalithic stones and the age before the site became the port of Roman trade. This place is situated in the coastal region, a fishing village, under the Ariankuppam Panchayat, on the southeastern part of India on the bank of Ariyankuppam River.
The name Arikamendu has been taken from the Tamil word- 'Arikanmedu' which means 'eroding mount'. According to Sangam Literature, it was well known as a port and also for its salt pans during the Velir Dynasty.
The ruins give an enthralling feeling, as one gets to know a lot of stories related to it. This port town was occupied by the people of Rome, Cholas, and French. A lot of influence of the integration of all the culture is found.
Location: Ariyankuppam, Puducherry 605007
Timings: 10 AM -4PM
Entry Fee: free of cost
10. Paradise Beach 
Also known as the Plage Paradiso, Paradise Beach Pondicherry is situated in Chunnambar which is one of the Pondicherry tourist place, close to Pondicherry town. It is an isolated beach of sand where the cool breeze will refresh you. It will take 20 to 30 minutes to reach the beach site on a ferry.
The backwaters on the way to the beach are really green and have thick mangrove forests, will give you a thrill. The lush green leaves during monsoon will leave surprised with the beauty of the contrast in the colours you see. This is one of the must-visit Pondicherry tourist spots.
Paradise beach is a great spot to reach early morning and get a view of the sunrise on the eastern coast. The soft sand during the morning coerces you to remain there for the longest time.  If you're looking for places to visit in Pondicherry than this place should be on the top of your list.
💡Tip: Carry some snacks or go after your lunch as the food here is very expensive and limited choices, especially if you are a vegetarian,
Location: Manaveli Rd, Chinna Veerampattinam, Puducherry 605007
Timings: 9AM-5PM
Entry Fee: INR 150
11. Ousteri Wetland and National Park 
A wetland formed of a lake. The Ousteri lake is located towards the north at a distance of 10 km from Pondicherry town.  Mainly a bird sanctuary where you can find a variety of birds especially migratory ones.
The vegetation ranges from small herbs to trees, which supports migratory avifauna as well as native birds during summer and winter.
Boating facilities are also available which has been provided by the park administration.
Location: Pudducherry Villupuram Road
Timings: 9 AM-5PM
Entry Fee: Free of charge
12. Pondicherry Museum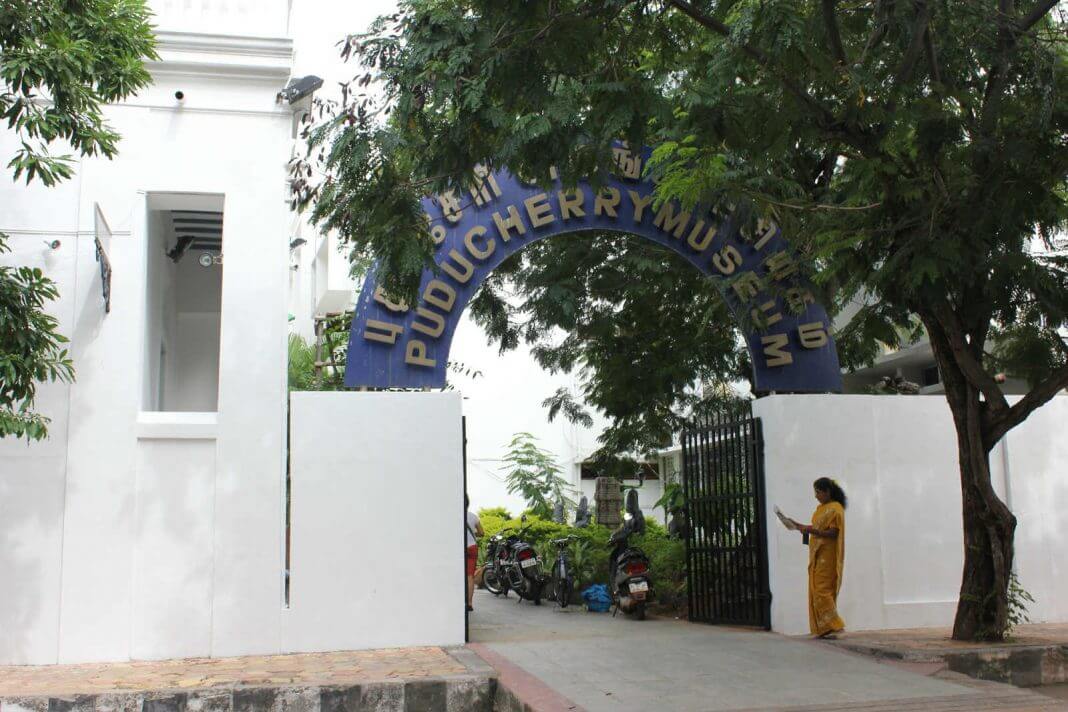 This place is important for all the important things which have been preserved by the government. Located in the Bharathi Park, has a fantastic collection of the remnants of the Chola and other dynasties that rule over this place. It is one of the best places to visit in Pondicherry.
Bronze sculptures of god and goddess, a wide gathering of temple lamps, handicrafts and art are also kept here. Chola and Pallava art has been preserved. Specimens of Chola and Pallava art from Pondicherry and Karaikal are displayed in the sculpture gallery.
Location: St Louis Street.
Timings: Open from 10 AM -5 PM except on Mondays and National Holidays
Entry Fee: INR 5 for children, INR 10 for adults and INR 50 for foreign nationals
Where to stay in Pondicherry
You can get the best prices after comparing from all major booking portals by using this banner below.
This union territory is very small in area, I would suggest staying in areas like the white town and near beach road which are the French colonies to experience the true French town and are good places to stay in Pondicherry and central to all the places to visit in Pondicherry. :).
I being a Solo Backpacker stayed in a dorm at a Community Hostel named Naturals for 400rs/night. The room was pretty good and had basic facilities.
For families and couples, I'd recommend staying at guest houses and hotels like Ram Heritage, The Promenade, etc depending on your budget. You can stay in as less as 400 to as much as 10,000 as per your budget and style of travel.
Planning to visit later? Liked our guide? YOU CAN PIN IT FOR LATER.