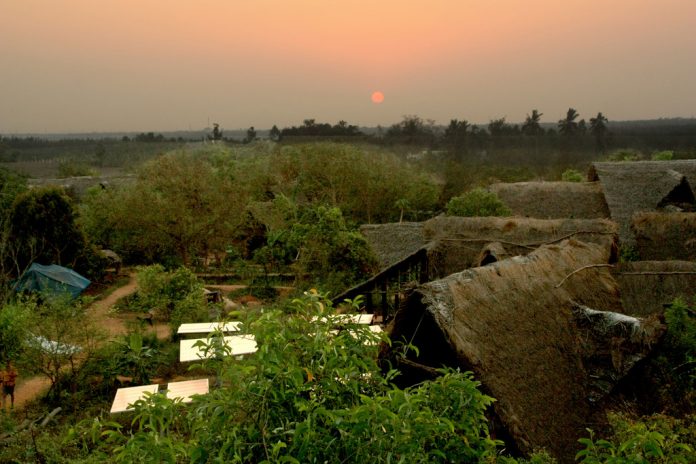 If there is a will there is a way. We all are concerned about the environmental changes and sustainability in the recent times but we rarely do have time to invest in the conservation of the elements of the environment.
But this place, Sadhana Forest near Pondicherry has recognised as a land area where the local people along with some volunteers from Auroville took the initiative to conserve the Ecosystem and community forestry in the best possible ways.
They preserve the forest not just plant them. They manage all the waste and the organic decay. You can just see how few volunteers collect the sieve off the dead parts of the plant as much as possible in the picture given below.
By living in meagre needs one can yet live happily. You need not have 6-7 buckets of water for cleaning your body. This place will teach you how to live in optimum usage of the environmental resources which will help us in making the right kind of environmental changes. This small community lives around the Sadhana forest which is in the south-west corner may seem quite a way from many parts of Auroville.
A non-profit organisation started by an international volunteer group with an aim to teach the local about the environmental renewal system and sustainable living. This has been started by Yorit and Aviram Rozin in 2003 at Auroville, India.  And today this mission expands all around the world beyond TamilNadu.
Let me tell you how it stated and how do they conserve nature. Auroville is a place where there is no restriction and it is open to new ideas and experiments. It is an open platform for anyone to actualize their thoughts. So the last piece of barren land at Auroville was unused, as it was severely eroded. There was sporadic grass growth. So, few people took steps to revive the place. The reforestation process started at and it has now become the most conserved place around Auroville. Pojects of eco-restoration and afforestation was taken up.
In India seventy acres of eroded land has been taken care of. The aim is to create a vibrant, indigenous Tropical Dry Evergreen Forest (TDEF).
Achievements 
18,200 indigenous trees have been planted and preserved.
building of earth dams, bunds and channels has recharged the acquifer and the ground water level has increased. More than 20 kilometers of trenches have been dug and eight earth dams have been built, altogether storing more than 50,000 cubic meters of rainwater.
Because of 6 meters rise in the water table from an average 26 feet deep, the outgrowth of different species has increased
Soil holding capacity within the area has a positive response.
Life in Sadhana Forest.
Accommodation is free in Sadhana forest. The volunteers from all around the world live in the Sadhana community houses. These can accommodate around 150 volunteers. These are basically eco-huts and they rely entirely on solar and windmill for energy needs. There is a lot of manual labour which has to be done.
A visitor can spend few days with the volunteers and experience their way of living which is extremely difficult. They try and use only 50 liters of water for cleansing the dirt off their body and very little to cook. There are breakfast chefs and lunch chefs which devote their time in the kitchen weekly. The work then is supported by few other volunteers.
Living conditions are nature friendly. The washrooms and the beds are ecofriendly and corresponds to the material available in the forest. They try and live in a way that damages the environment in the least possible way.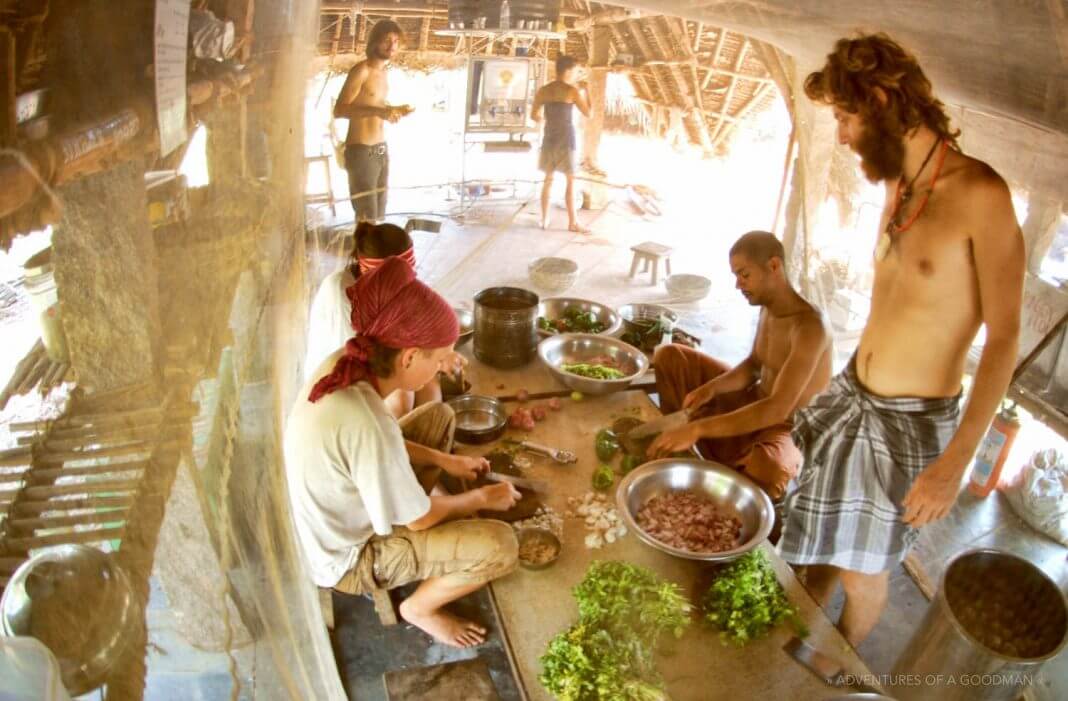 The cooking group has the responsibility to decide what to cook.
They use the ash dust to clean the utensils to use the least possible quantity of water.
the fibers of coconut as scrubbers.
Other sustainable practices implemented in the community are
vegan organic nutrition,
recycling and waste minimisation,
biodegradable toiletries,
composting toilets,
a grey water system,
and, very importantly, positive and supportive emotional attitudes.
solar usage
Schedule
There is a very strict schedule followed by the volunteers so as to keep them healthy and enjoy the kind of life they have chosen. This picture illustrates it:
Sadhana Forest at international level
After successful results in India, Sadhna forest expands its work to places like Haiti and Kenya. There too they received a good result. The community got international recognition and  Sadhana Forest Haiti and India won third place for the Humanitarian Water and Food Award.
"May there be more forests to grow people!"
The project comes under Auroville green practices. So, if you have plans to visit the experimental city Auroville, don't miss this out!!