Treebo hotel Ricky international is Located at Hukam Singh Road, bridge, adjoining, Hussainpura, Amritsar, Punjab 143001.
Treebo Hotel Ricky International is one of the top choices for people visiting Amritsar, and this is of course, due to their services and hospitality. I too had a few days stay at Amritsar and many, as well as the internet, recommended me Treebo hotels in Amritsar so without much brainstorming, I decided to check in to this hotel
One of the greatest perks of making a stay at this hotel is the location of the hotel is near to the railway station and the Golden Temple is close by as well. And trust me, after the journey, I was exhausted to bits and all I wanted to do is have a good cup of my favourite beverage, Tea, and a short and comfortable nap before I set out to explore the city, and guess what, the short distance was a rescue for an exhausted soul like me. On reaching, they indeed served me what my soul was craving for, a good cup of tea.
Ambience
The ambience of the hotel was soothing and the hotels are decently clean. The moment I was into the hotel and was going through the check-in procedure, the funky sofas immediately caught my attention. Trust me, they were really making a great place for a perfect photography session. I was immensely in love with them so ended up clicking them without any model sitting on them.
Staff
The staffs were polite and we had certain demands of getting the tea delivered at our rooms. Our tiredness was visible to them and they didn't make us wait for long. The tea was delivered to our room minutes after we checked-in. The sweet smile and kind gesture won my heart completely. What else could I have expected!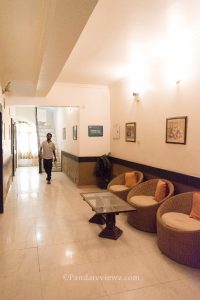 Services
As my trip was short, I didn't get many chances to explore the services. They provide the room-delivery throughout the day. There was wi-fi service too. They even provide complimentary breakfast and you can even choose from veg or non-veg options.
Room
Well, certainly the best part that I would love to explain. The rooms were immaculate with not a bit of dirt. The furniture was simple yet sober, the way I like. The curtains and bed sheets were clean too and they were complementing the interior of the room.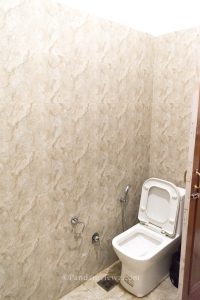 The bathroom was clean and they had some complimentary toiletries as well.
There were a few painting, much of a modern art, going well with the décor. There was a cupboard, a big flat screen TV, and almost everything you would need to have a good stay.
They left a kettle at my room and I guess they realized my love for the tea for which they earn extra points from my side for being generous enough.
Moreover, the staff was even helpful when we asked routes. They were even happy to help up get a cab to do the sightseeing and visiting the wagah border parade.
Pricing
We stayed for 1 night and it cost us an overall amount of 1700 something including the cost for an extra person. Not much for a great and comfortable stay I would say.
So overall, a very good experience. Do check out Treebo Ricky International, when you're visiting Amritsar next.