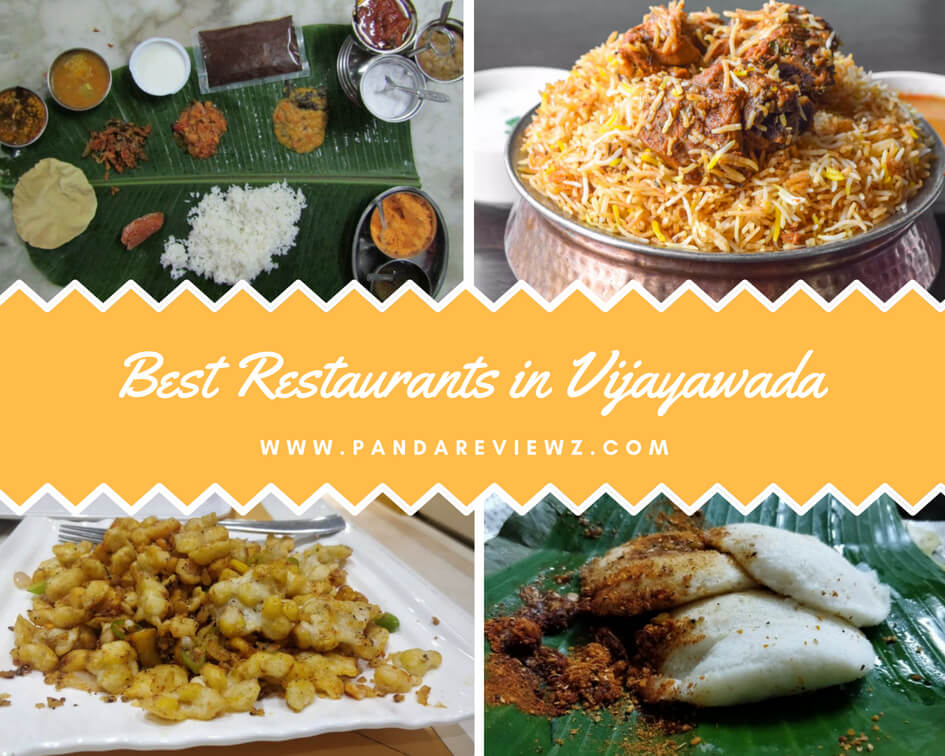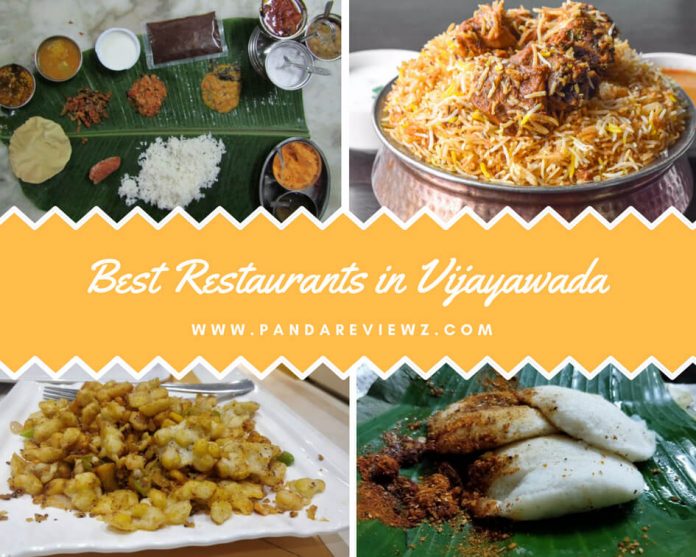 Vijayawada translates to "The Place of Victory" and this city is on the banks of the River Krishna. It was also known as Bezawada. Vijayawada is one of the well-known destinations in Andhra Pradesh. Some of the popular tourist places in Vijayawada are Kanaka Durga Temple, Undavalli caves, Prakasam Barrage and Bhavani Island.
If you are traveling to Vijayawada anytime soon, or are already there and looking for places to eat or order online, then the following list is going to be handy. We have compiled a list of Best restaurants in Vijayawada keeping in mind the factors such as; price range, quality, ambiance, and variety of items on the menu.
People of Vijayawada love Food (isn't it? 🙂 ). One can find almost all kinds of cuisines here. Vijayawadians are also very careful about the environmental pollution the plastic/food containers cause. Hence you will mostly see people carrying their steel containers, hotboxes, casseroles, Steel Carriages to the hotel/Restaurant Parcel counters.
This is a regular practice for most of the people carrying Takeout/food parcels in Vijayawada, a scene which you might not get to watch this frequently elsewhere. This practice of the food and environment lovers of Vijayawada creates a win-win situation for both the hotelier and the customer.
We hope that this list helps you find the right place to eat the food you crave for among the best restaurants in Vijayawada. Go on, read and let us know your thoughts on the places you have visited or had food from your favorite restaurants.
The below list is based on our personal experiences along with the opinions of various members whom we have surveyed before rating these as the best restaurants in Vijayawada.
*The list is numbered in a random order.* 
Best Restaurants in Vijayawada

1. Continental Park hotel

This restaurant is known for their best biriyanis in the Vijayawada; their tasty food is loved by many. The quality and quantity served are ample, the ambiance is decent, they have various food festivals/offers running almost every month. Most loved dishes at this restaurant is Bamboo Biriyani, Paneer Tikka Biriyani(our personal favorite), Shahi Ghost Biriyani. And the best part is they serve piping hot Biriyanis even at 2 am.
Budget:  Almost all of the items are priced a bit on the higher side, but they do justify the taste and quality of the food they serve. For two members the prices would range from 500-900 based on the items you order.

Address: Kaleswararao Road, Ramamandiram Street, Opposite Navata Transport.
2. Babai Hotel, Vijayawada
This is one of the top restaurants in Vijayawada. Babai Hotel was established in 1942 by Patruni Samba Murthi. This place is known for their Soft, and buttery Idlies served with Ghee and topped with white butter and ghee karampodi on the side. Even the Upma Pessarattu is one of the most loved dosa as its made with wheat upma. Many celebrities like ANR, NTR, Savitri, Chandra Mohan and many others have visited this place for its taste and quality service even the former chief minister of the state NT Ramarao himself served the Idlies to Atal Bihari Vajpayee during Mahanadu in 1988. They also serve an authentic Filter coffee.
Budget: a plate of anything almost costs you from 35-45 rupees.
Address: N.R.P Road, Gandhi Nagar.
3. Milap's Punjabi Hotel
This restaurant was established in 1995 and since then has been one of the most reputed restaurants in Vijayawada known for the North Indian dishes. They are famous for serving some delicious Phulkas with veg/non-veg curries, Biryani, kebabs, and naans. However, people flock to this place to try out the yummy and very unconventional lassi that they serve. You must try the special lassi at this food joint!
Budget: INR 20 to 250

Address – R.P.Road, Near Punja Centre
4. Sri Durga Hotel
This is one of the hidden gems of Meals hotels established in 1987. This hotel is one of the best meals restaurants in Vijayawada serving you the most authentic Vijayawada style meals, you can have this unlimited buffet of all the authentic Andhra style curries and rice you want or until you burst your tummy :P, most loved curries at this hotel are Bendakay fry, tomato pappu, and Ulvacharu. They serve Ulvacharu with milk cream it's a unique combination tingling your taste buds, invented right here in Vijayawada. Do try the ghee, pappu and podi combination as well.
Pro tip: Kindly make sure you go a little early to this place as it tends to get crowded or if you live in Vijayawada get a take out with your own utensils ( :p you get more of every curry if you bring your own carriage/boxes 😉 ) else they even provide parcels in plastic covers. (we feel it's a bit unhygienic to eat all those coming out of the packaging and it ends up in the landfills producing plastic waste, so we would recommend you to take your own carriage/steel boxes)
Budget: standard non AC meals costs around 70 rs and full meals costs 100-120 rs, they do give extra curries if you pay extra or just request ( for the take out)
Address: opposite Jaya Durga hotel,  Kaleswararao Rd, Near Swarnalok Complex, Apsara Center, 2Town, Governorpet
5. Temptations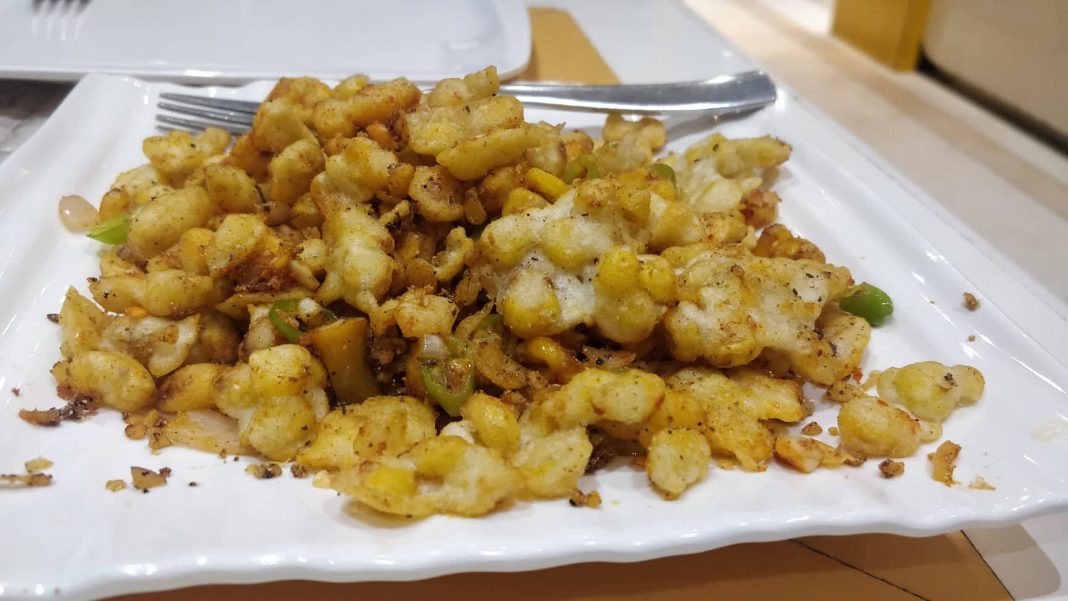 This is one of the famous vegetarian restaurants in vijayawada which serves Jain food from the day one, they had introduced Vijayawada to the world of Scoop's Ice-Creams kingdom, this place never grows old still they tend to surprise you with one or other new experiments on Ice-Creams, the most loved food here is the Chaat, panipuri, pav bhaji, Chinese dishes, boat ice creams, float ice creams, etc.
Budget: depending on what you order a meal for 2 costs you around 50 – 500 rupees.
Address: Tikkle road, the road beside DV manor from MG road.
6. Minerva Coffee shop (Veg Restaurant), Blue fox and Minerva Grand:
This is one of the most famous restaurant chains in Vijayawada. This restaurant is for anyone and everyone who is a big fan of South Indian food, we would recommend you to try their Rava Dosas, their curries, chutneys and other fluffy dosas as well. The atmosphere is pleasant, and the service is prompt and courteous. They also have various thalis. You will even find north Indian food here and some Chinese dishes. If you want, they also have a Non-vegetarian food menu in the restaurant above known as Blue Fox (it also serves alcohol 😉 😛 ) and are highly recommended for all the pure Non-vegetarian;). Also, they are known for serving a perfect coffee.
Budget: ₹ 150 to ₹ 500
Address: There are 2 branches one on the Museum road beside the Seven Days and another on the PVP mall adjacent road.
7. Barbeque Pride
This is one of the Best barbeque restaurants in Vijayawada serving you mouthwatering Veg and Non-Veg starters on the Grill. Most people have found this as a cheaper and a better alternative to barbeque nation as it serves a unique variety of items and desserts in comparison to the later. They have a widespread buffet with unlimited soft drinks. Their hot Chocolate Brownie with ice-cream and chocolate sauce is our favorite dessert 💖. 
Budget: ₹1,300 for two people (approx.), they do give you free parking coupon and reward points on every bill 😉
Address: 2nd Floor, Trendset Mall, Benz Circle.
8. TFL – The Food Lounge
This place tops the list for having one of the best ambiances. It has outdoor seating and great food. The menu is great, and you will be spoilt for choice of desserts and Cakes. Do try their specials.

Budget: ₹700 to ₹900
Address: Madhu gardens, Moghalrajpuram
9. Pista House
This place serves so many things like burgers, egg sandwiches, garlic bread, cakes, cream rolls, patties, Chinese, Bengali sweets and all the other Knick Knacks. This is one restaurant where it is really difficult to decide on one thing because the aroma that fills the place is so captivating that you would want to try everything that is on the menu. Another great thing is that the food here is very reasonable. We recommend you try the cake pops, jalebis, paani puris and the dragon chicken here; they even serve Haleem when the season is On. They also have a live counter for jalebis and Pav- Bhaji from 4 pm to 8:30 pm every day.

Budget:₹ 200 to ₹600
Address: Siddhartha College road
10. Sweet Magic
This place is famous for their authentic Telugu food, presentation, ambiance and warm welcome. They serve a vast variety of Thaalis, Sweets, and Biryanis. You can also get instant curries, ulvacharu, and mixtures they also taste good.
Budget: ₹200 to 500
Address: There are different branches at Brindavan colony, Patamata, besant road, moghalrajpuram.
11. Sree Lakshmi Vilas Modern cafe
This restaurant dates back almost 50 yrs, but it has been recently renovated, you can visit this place for the yummy south Indian tiffins, Coffee, and some finger food, outside the hotel they also serve shakes and juices which can be ordered on the table. The place is very affordable and has a simple décor.
Budget : ₹50- ₹100
Address: Besant Road.
12. Srinivasa hotel
This is one of the most famous Biriyani hotels in Vijayawada known for its Non-Veg Special Biriyanis; you will be served with piping hot and Tasty biriyani of your choice. They even give takeout, and they have an express parcel counter which makes sure you get your tasty and hot biriyani as soon as you place an order.
Budget: ₹120 – ₹300
Address: Durgaiah Street, Governorpet.
13. Brew Buzz
If you are looking for a good time with some coffee, good food and a well seating ambiance, you must give this place a visit. It is one of the best places in town to hang out – there is a sitting area on the first floor and an open air smoking area. The service is prompt, and the waiting staff is quite friendly.
Budget ­– ₹350 to ₹500
Address – Babu Textiles road, Gayatri Nagar.
14. Royal Spice
This is one of the latest restaurant serving you high-quality food at reasonable rates; they have a wide spread of breakfast buffets and Thalis, they even serve Chinese, North Indian, and south Indian food. We would recommend you to try the paneer 65 and chilly chicken for the starters, and on their breakfast menu, there is a special unique item every day, do give it a try.
Budget: ₹200-₹900.
Address: This is located at Narravari St, Near Ilapuram, Hanumanpet, the old DTDC building opposite Ilapuram smart /Aishwariya tea stall is transformed to this hotel.
15. Gateway All Day (GAD)
This restaurant is in the Taj Gateway hotel complex and serves great A la carte menu, breakfasts and a huge buffet spread. They can even arrange for a Romantic pool side dinner. We would suggest you try the buffet at this place as we seem to receive mixed reviews for A la carte menu.
Budget: ₹799 to ₹2500.
Address: M G Road, Labbipet.
16. Satya Sai Tiffin Center
This is the best place for Mysore Bajjji's in Vijayawada. They have 2 restaurants, one is opposite Raghvaiah park. MG road which is famous for their Mysore Bajji's. They have recently opened another branch at Moghalrajpuram near Siddhartha circle. Most favorite tiffin items are Rava Dosa, Idly Sambar, Mysore Bajji, Gari/Vada.
Budget: ₹30 – ₹150.
17. Sarovar Mess
This mess is famous for its Authentic Andhra style Meals; this place tends to get busy easily as its surrounded by Movie Theatres many moviegoers have lunch here before watching their show. People love the home cooked style food with their podi and ghee with Pappu combination. The ambience is crowded; they do give take away starting from 50rs.
Budget:  ₹40 – ₹150.
Address: Rama Rao Street, Gandhi Nagar, Landmark: Santhi Prasanthi theatre.
18. Navarang Bakery 
Known for its range of Cakes and baked items we made an exception for this bakery and have included it to our list of restaurants even on not being a standard restaurant as it serves one of the best samosas, yes you read it right SAMOSAS, this is one of the oldest and most famous theatres in Vijayawada which sells samosas till day and people line up to have their tasty samosas even if they aren't interested in the movie 😉 Navarang Bakery has a chain of bakeries and supermarkets throughout our Vijayawada introducing variety of bakery items to the residents of Vijayawada.
Budget: Classic Samosa each one ₹5 and Their cakes, bakes, puffs, and pastries start from ₹10.
Address: there are many places in Vijayawada one can savor their varieties but most famous are the Navarang bakery outside the Navarang Theatre, Morden foods & supermarket at Besant Road, Modern supermarket in Moghalrajpuram.
19. Monk's Kitchen
Monk's Kitchen restaurant has opened a couple of years back. It has some stylish interiors and a pleasant ambiance. Regarding food, most people love the Pizzas, smoothies, and mocktails. However, the service here isn't the best.
Budget: ₹150 –₹ 600.
Address: Beside Med Plus, Guru Nanak Colony Road
20. Deep Punjabi hotel 
This is one of best budget hotels for both Veg and Non – veg giving a tough competition to Milap hotel right opposite to it. They are known for their tasty Biriyanis, chicken curries, ghee phulkas, and Khuskas.
Budget: ₹100 – ₹300.
Address: Near Panja Centre, One Town, Babu Rajendra Prasad Road.
21. Rasoie Multi-cuisine Restaurant
This is one of the budget restaurants in Vijayawada with a decent ambiance. Rasoi serves both veg and Non-veg dishes, the entrance of the restaurant is a bit difficult to find as it's a small lane beside the Murali fortune hotel. Most people like the Biriyani and fried rice here. We recommend you to check for the items before ordering or settling down on a table to order as they keep frequently running out of dishes on weekends or holidays.
Budget : ₹200 – ₹750.
Address: Mahatma Gandhi Rd, Sidhartha Nagar, Labbipet.
22. Sri Ramayya Mess and Caterers
This restaurant is known to serve Pure vegetarian South Indian meals from generations; they keep updating themselves to give a touch of modern day meals and still preserving their decades' old taste.
Address: Prakasam Road, Venkateswara Rao Street, Governorpet
Budget: ₹150 – ₹ 250
This is a small list of the best restaurants in Vijayawada. There are a lot more restaurants to visit in Vijayawada. If you need more information, we would be happy to help you out with those as well. Feel free to let us know in the comment section, which restaurants do you want us to review next.
We have already lined up 20 more restaurants to review in our next post. 😀 Do comment and let us know the pros and cons of your favorite restaurants if you want us to include them in our reviews.
Go have some Vijayawada style food and Have fun!