When you're thinking of Chirala or Bapatla Beach one day trips, you're probably considering Surya Lanka Beach, Chirala Beach, SeaBreeze, Haritha resorts, or the Pandurangapuram beach. While those are rightfully incredible destinations, there's more to Bapatla than just these popular sites.
We have recently discovered a Peaceful beach which is located around the East coast of India in a small village called Kothawadarevu, Near Pandurangapuram. It  is a remote path/route and it's almost a private beach as left unexplored by the travelers. It's just around 5 Km's to Pandurangapuram Beach and just beside Golden Sands resort. It is an un-named beach in Google maps, so kindly follow the below instructions to reach this Beach. If you are a kind of person who likes to go to the beach, stroll around, and relax then this is the kind of beach you are looking for as it has only the Beach, very less Boats and fishermen. If you are planning to stay overnight then we would suggest you to book a room in the Golden Sands resort beside the Beach.

Address:
Kothawadarevu, Near Pandurangapuram
Bapatla Mandal, Guntur Dist. Andhra Pradesh, India.
This beach is around 5 Km's to Pandurangapuram Beach which is another popular beach in the area. This beach has a few restaurants and fishermen and  if you would like to travel light or visit two or more places in a day, you can even try haritha resorts and the Surya lanka beach and complete many places around Baptla Beach in a day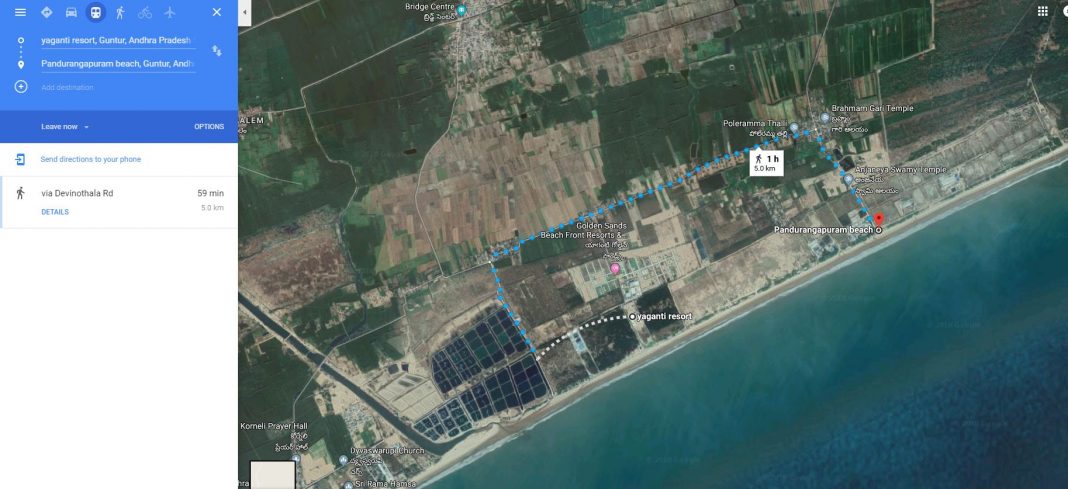 How to Reach Golden Sands beach from Guntur
There are different modes of transportation to reach here, but the preferred mode would be a Car.
Firstly, if you are booking a resort or planning to walk then make sure you call that particular resort /  hotel as it tends to get crowded over the weekends and the bookings are unavailable
How to reach Baptla Beach by Train?
There are many trains that run from Guntur to Baptla. Once you reach Baptla, you can hire an Auto Rickshaw and reach your destination. You can start your day by 6 am and cover various places and complete your Bapatla Beach trip in a day and return to Guntur by 6 P.M or 7 P.M in the evening
How to reach Bapatla Beach by Bus?
APSRTC runs many buses towards Baptla / Chirala , they are quite frequent ( a bus every 5-10 mins. Once you reach the Bapatla bus stand, you will find many service autos which will take you to the beach and help you complete your trip to Bapatla in a day.
How to reach Bapatla Beach by Car/Bike?
From Guntur take the route towards Baptla, select the route as per your convenience in order to complete your Beach trip to Bapatla in a day. Once you reach the golden sands resort, you can see a path leading to another under construction building labelled as Yaganti Resorts. Drive carefully towards the under construction building and follow the way towards the beach. Once you reach your destination, make sure you enjoy the view of the path travelling to the beach.
Beware of the spiders crawling out of the sand and make sure you sit in an area near to the beach.
Things to do at Bapatla Beach:
Get Bitten by the Photo Bug 😛 :

Capture the beautiful view of the Bay of Bengal Sunrise, enjoy the views of the beach, all to your self.

Experience the Star Studded Sky in the Evening:

If you have decided to stay around in any of the resorts and if you find clear skies then make sure you enjoy this Clear and star studded views with a stroll along the cool breeze blowing towards you and waves splashing along your feet trying to pull away the earth from you 😉 or try lying down if you have a bed sheet or a yoga mat.
Important things to carry to Baptla Beach:
Sunscreen: It mostly gets sunny in the afternoon and the hot climate of Andhra Pradesh adds to the sunburn, so a sunscreen is a rescue.  You can carry an umbrella as well with all your regular beach wear.
Food and Water: Carry plenty of water and enough food as there is nothing available around and you will have to travel back 5 kms even to get drinking water.
Bed sheets/ Mats: Make sure you carry a bed sheet if you are in a group, we highly recommend you if you want to avoid the sand falling on the food you eat
Bluetooth Speaker: If you and your group decides to dance along with the cool breeze while having a Drink, this comes in handy.
Emergency Kits / First Aid Kits: This is highly recommended as we cannot predict what can happen when, so enjoy responsibly and carefully walk on the beach to avoid the Glass pieces/sharp objects.
Car Kit: If you are travelling by your car make sure you have the jumper/screw jack/a towing cable. This is very helpful if you have a 2wd car and it gets sucked into the sand.
Peace of mind: This is very important to enjoy the views and feel the beach. (P.S: you can try taking some yoga shots around the beach 😉 )
Have you been to this beach? Share your experience below in Comments. 😀