Temptations, well, if you are someone who has been in Vijayawada even for a while, I'm sure you might have visited or at least heard about this place at least once. Because Temptations is not new to the city of Bezawada, and it has been serving pure vegetarian & Jain food in Vijayawada for almost 10+ years now. I was in the mood for some chaat, and some authentic yet hygienic street food ( Pani Puri 😛 ), and I headed to the good old Temptations, which is not just one of the most former hangout spot in Vijayawada, but also one of the famous vegetarian restaurants in Vijayawada which is highly visited by Jains ( thanks to their Jain specific menu) & Vegetarians.  
For my loyal readers who trust my reviews, I'd try the place out and bring you my honest opinion. Let's walk you through the place, shall we?
Location & Address of Temptations in Vijayawada
So, for those wondering, the restaurant cum cafe Temptations is located in Tikkle Road in Vijayawada. It is very easily accessible.
Location: 40-5-2A, Tikkle Road, Acharya Ranga Nagar, Benz Circle, Vijayawada, Andhra Pradesh 520010 I'll leave the exact Google map locations below, so follow through that.

Ambiance of Temptations
When I say quaint and chic, just two adjectives don't cut it, to be honest. Let me start by telling you that the pictures online do no amount of justice to what the place looks like. It has a decent ambiance, which has been recently renovated. If you are looking for a place to hang out with your friends in Vijayawada or even want to treat your family to a generous dinner spread, Temptations has got you covered. The pictures of the ice cream cones were the deal-breaker for me, and the next thing I know, I was in the car, rushing down to try the food there. It has a minimal quaint approach to it, but the grandeur of the place is reflected by the arrangements around.
It has a very neutral shade to it with a hint of cream and yellow, which I liked because I love the color yellow. For your convenience, I'll throw in some pictures because I got your back, mate! It is a closed space, so no outdoor seating scene as such if that was something you were looking forward to.  The place where I sat had a backdrop of beautiful blue and black birdcage thing which I liked as well. I am not much of an ambiance person if the food is good, but I couldn't stop myself from rambling on. 
Service at Temptations 
Service is usually quick here and the staff is quite responsive and even helps you through the best sellers, so you know what to order and what not to. The food was also prepared quite fast with a minimal waiting time, which I thought was effective as well. 
The Food at Temptations Vijayawada
Recently, they have introduced a new menu for more Indian food and Italian delights.  So, I did gush around about everything, but the one thing that did live up to all the expectations was the food. The food was hot and fresh, which I appreciate very much. Not just that, the quality was delectable, and I was surprised by the vast spread that they had.
I ordered more or less a little of everything for my friends who came along and me, and I was not disappointed with anything, to be honest. 
But, if you want some of my highlights, I would say the chaat part of the spread did win the crown. All the chaats were delicious, and even the Pani puri was mouthwatering.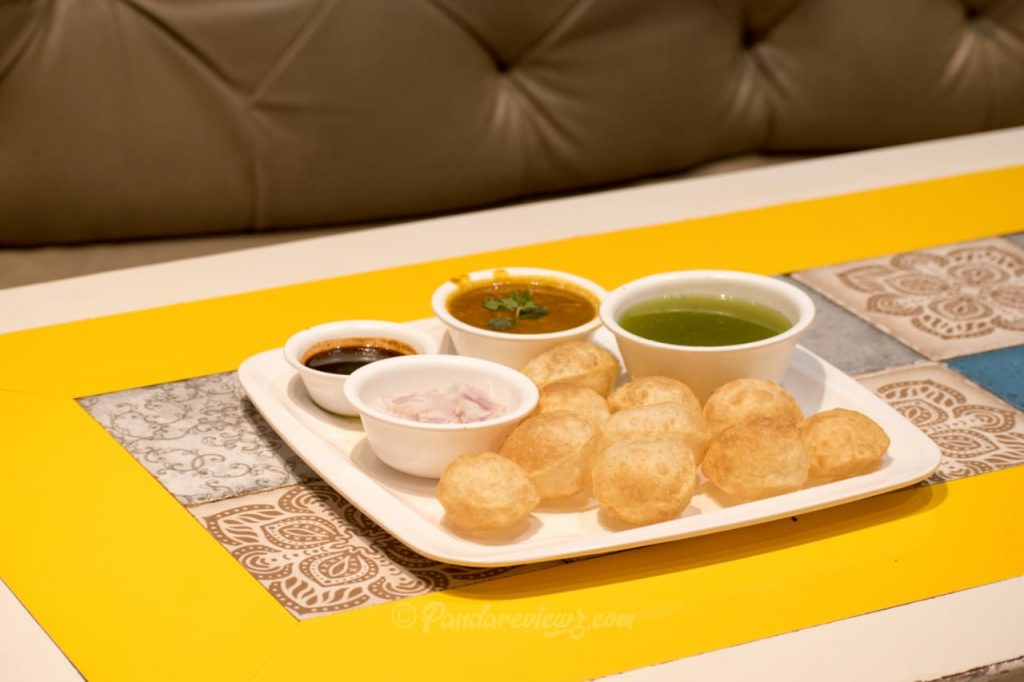 I had the cheese pav bhaji, which was pretty good as well. They didn't shy away from the cheese and butter, which is not the best for my stomach, but you live life once, so… Apart from that, the Nachos and cheese was a winner too. I couldn't stop munching. I would also recommend trying the Tawa biryani while you are there. 
Don't skip to indulge in some of the desserts, you can try one of their special ice cream sundaes. My personal favorites include the Belgium dark chocolate and I bet you can never go wrong with chocolate. 😉
Costing & Value for money
Given that I left the restaurant with a happy tummy and heart, I would say it was completely worth every penny. Also, the cost of food is very reasonable comparing to many other restaurants in Vijayawada.