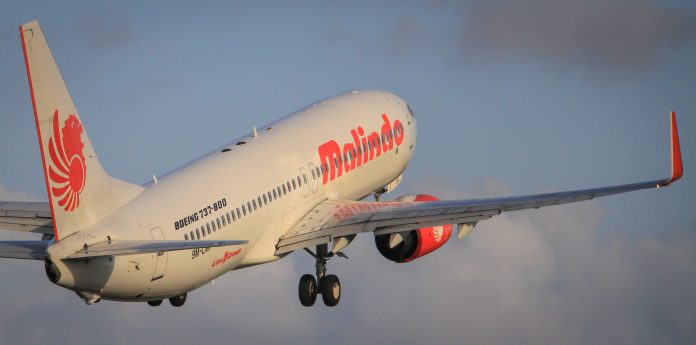 Malindo Air is a Malaysian airline with premium features that started its operations in 2013. The name Malindo derives from the pact between Malaysia and Indonesia and hence the name Malindo (mal= Malaysia, indo= Indonesia).
I recently traveled to Kuala Lumpur, Malaysia by Malindo Air from Chennai.  So I'm sharing the experience with immigration and the review of flying with the Malindo Air, in economy class. You can skip to the direct review of Malindo Airlines here.
6 hours before the flight
My flight to Kuala Lumpur was at 00:15 of 24th may, but I reached the Chennai Airport at 5'o Clock and trust me; I have never seen such a boring airport like the Chennai one in my entire life.  I waited there till 9 when the boarding starts. Thankfully, I met Niranjan, who blogs on Tales of a Nomad & Shrinidhi of enidhi.net [check out their blogs, they're awesome and they let me have the window seat, for both the flights haha 😛 ] who were on this trip and were of great company and hence I survived the boredom of Chennai:). Then we headed to the check-in and to grab the boarding passes where the process was pretty smooth. (except the long queues 😛 )
Visa, Immigration Process & Boarding
Getting a visa for Malaysia for Indians is easy, you can read the entire process and documents needed here.
At immigration, I was asked to present my Visa, Passport, and boarding pass. Then I was asked with general questions like how many days I will be there, the purpose of my travel, and with whom I am traveling.
I feel that many solo female travelers like me have faced the last question about whom I am traveling with.
Then I headed to the boarding gates, and while waiting, I started to feel hungry. So, I got myself a plate of Idly and Coffee for about 315 INR. Yes, you can imagine the loot behind cafeterias that sells snacks and food items inside the Airport.
The boarding gates were opened, and the same process went smooth.  The Malindo Air got departed at 12.15 AM.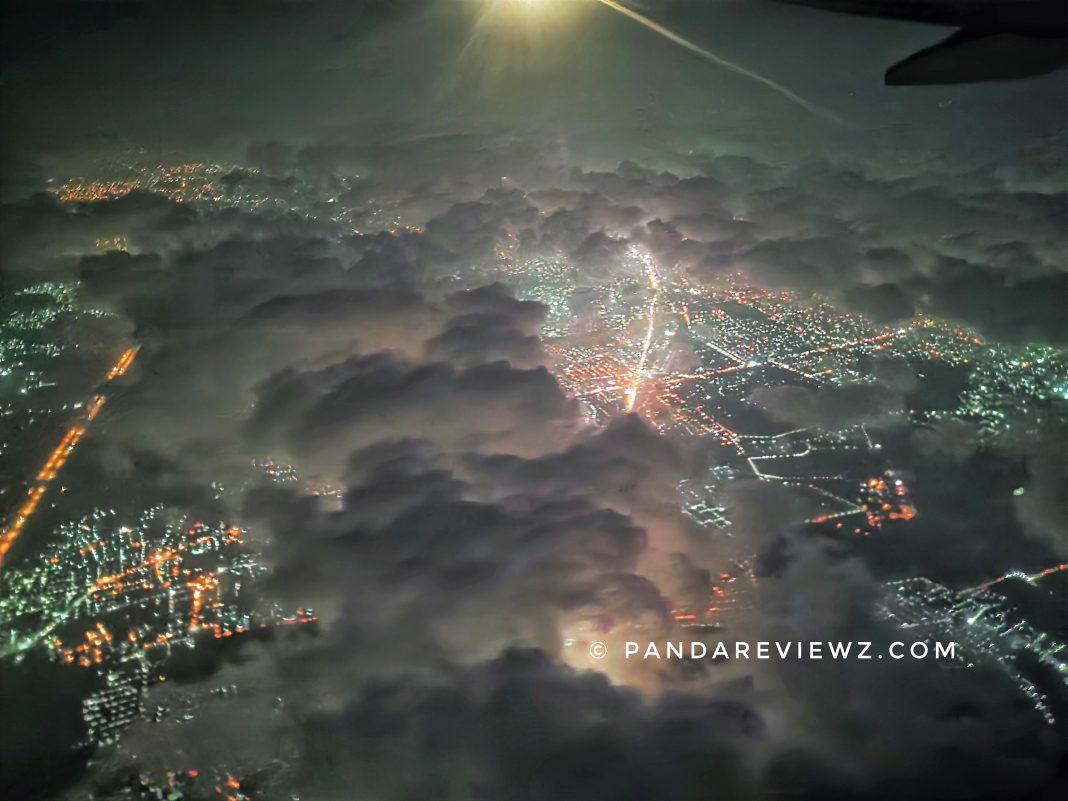 At 6.40 AM (Malaysian time), the dark sky, and the stunning lights of Malaysian roads welcomed me. The airline reached the Klia International arrivals. The landing view was extraordinary, which you can see in the picture. This is the best early morning view I have ever seen.
✈️Malinda Air Review✈️
Malinda Air is one of the best airlines for budget travelers. At the same time, it has the luxury of its own with its high-grade services. I will review the experience during my travel to Malaysia on Malinda airlines.
In Flight entertainment system
After I landed with a great sigh on my seat, the steward came forward and handed me an earphone. The earphones are of decent quality, considering it is for one-time usage. This is to enjoy the movies and series available of our choice.
I found many top movies and TV series on the Air Malindo entertainment system. You can find many movies in various languages too.
The best thing about In Flight entertainment system of Air Malindo was its wide variety provided. From the latest movies to top Television series, audio songs, and podcasts.
The thing which impressed me was the multiple languages that are available so that you can watch the movie or series of your choice. Apart from English, a lot of regional movies are also available if you wish to watch any like Malayalam, Indonesian, Telugu, Malaysian, Punjabi, Hindi and so on. I liked the entertainment system provided at Malindo Air so that we do not get bored during our travel time. All the movies were the latest probably within a year of their releases. I decided to watch Crazy Rich Asians, but I fell asleep in less than 20mins 😛.
Malindo Air Meals On Board🍲
In-flight meals provided when I traveled was rice and tofu. I could not find many varieties on the menu. I was slightly disappointed with this, and I was full of my food before getting boarded. So I did not have it.
So this is one area where Malindo can improve. But considering the cost of the airline, the fact that they even serve meals should be considered as a bonus 🙂
Though there were no options for meals to be chosen, they provide cool drinks.
I found the popular cold drinks like Pepsi and 7up being moved on a trolley,  which you can ask for if you would like to have them.
Tips to remember while boarding Malindo Air
As I traveled with them, I would like to share it with you. This will help you save time and have a great flight with Malindo Air.
Be there precisely 3 hours in advance: It is best to be at the airport precisely three hours earlier. You do not have to reach there earlier like me and get super bored. Be early like three hours before the actual flight time, as the boarding and immigration take time.
Grab a Window Seat for some amazing views like these.

Pack a meal: The food served at Malindo Air is average. As you cannot have different varieties, it is best to pack your meals from home or grab a snack before. You cannot expect much food inside the airline, and you do not have to give up on your appetite.💡TIP:

Get your currencies exchanged in advance:

I got ringgits exchanged with Indian Rupees at my city. The fact is that the currency exchange at the airport is much more expensive. In my city, I got a ringgit for 17.4 INR, whereas at the airport, they asked for around 20.55 INR.
What did I love about Malindo Air?
The experience of my travel to Malaysia on Malindo Air was quite good. Though I liked a few things that have special mentions as follows
Spacious legroom
The leg room was quite spacious, and I could sit there correctly during the travel. Small leg spaces cause me leg cramps, and I was happy that did not happen.
Comfortable seats
The seats were comfortable and smooth. They did not cause any pain during the entire traveling time. Also, they provided clean blankets and pillows to sleep tight.
Friendly Airhostess 
The Malindo Air stewards are quite friendly, and you can call them if needed. They are happy to help with a pleasing smile on their face.
WiFi Onboard [not free, optional at additional charges]
The best thing about Malindo Air is their onboard WiFi facility. If you are working during the flight or want to send important emails, you can use Malindo WiFi. The packages can be purchased before onboarding to have a seamless experience.
Malindo Air Tickets Pricing
The tickets to Kuala Lumpur are usually available at affordable prices on Malindo Air, especially if you are traveling from Chennai.
💡 Book atleast 1 month in advance to get the best fares.
Malindo Air Baggage allowance 
The Malindo Air also provides free baggage allowance of upto 15-40kgs depending on your route and ticket. You can carry a laptop bag, a piece of cabin baggage, and your handbags. I had the right amount of bags that they allowed to take inside the airplane.
Malindo Air Economy Class Cabin Baggage Allowance
Each passenger is allowed (1) one piece of cabin baggage AND 1 laptop bag OR 1 handbag on-board. The main cabin baggage shall not exceed 56 x 36 x 23 cm and must not weigh more than 7kg.
How much is the International Baggage Allowance Limit in Malindo Air?
The check-in baggage allowance for BUSINESS class is: 40KG
Allowance on FLEXI: 30KG (my ticket was in this category)
Allowance on VALUE: 15KG
Allowance on SUPER SAVER: No baggage allowances
Conclusion-  Should you Fly with Malindo airlines?
Absolutely yes, I would suggest Malindo Air to anyone who is planning to travel to Malaysia within budget. The overall experience is good, and you can keep yourself entertained with the help of their inflight system. The flight was punctual as well both the ways.
Many would be planning for a vacation or trip to Malaysia. I hope my reviews on Malindo Air will help you take the airline to travel at ease.