If any food has the audacity to be compared to something heavenly, then it is the Biryani. Biryani has the power to change every bad vibe to the good ones, the negative thoughts to the positive ones. Even if you do not find a soul mate in this whole world for yourself, don't worry, you will surely find a soul biryani made only for you.
Every state has made its own experiments on Biryani which has made it only better in taste and aroma. Pune has tried its hands on biryani, and it turned out like magic. Pune can make you go countless over their biryani menu. Good food is one of the reasons that make Pune the best city to live in India. Feeling hungry already? Why not visit some of the best biryani places in Pune below to grab your plate of biryani!
Best Vegetarian Biryani in Pune
1.Hyderabad House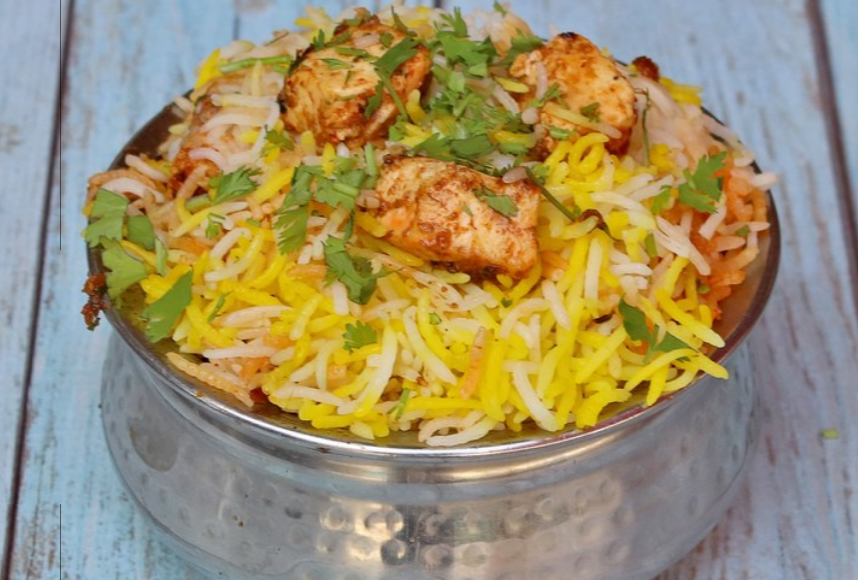 This place is the King of Biryani. Your vegetarian soul cannot rest in peace if you have not tasted the plate of biryani filled with rich vegetables, soya beans and not to forget the cashew nuts spread over the spicy yellow-white rice.  If this is not heaven, I don't know what heaven to you is. Maybe, the ambience of the place does not fit into your Instagram feed, but it is sure to fit into your foodie soul.
What to Have: Never miss out the aroma's special veg biryani at the Hyderabad House.
Location: 6/4/7, Kokane Chowk, Rahatni, Pimple Saudagar, Pimpri-Chinchwad, Pune
Price for two:

Rs 500-750.

Timings: 11 am to 11 pm.
2.Riwayat – Serving The Best Biryani in Pune Vinam Nagar.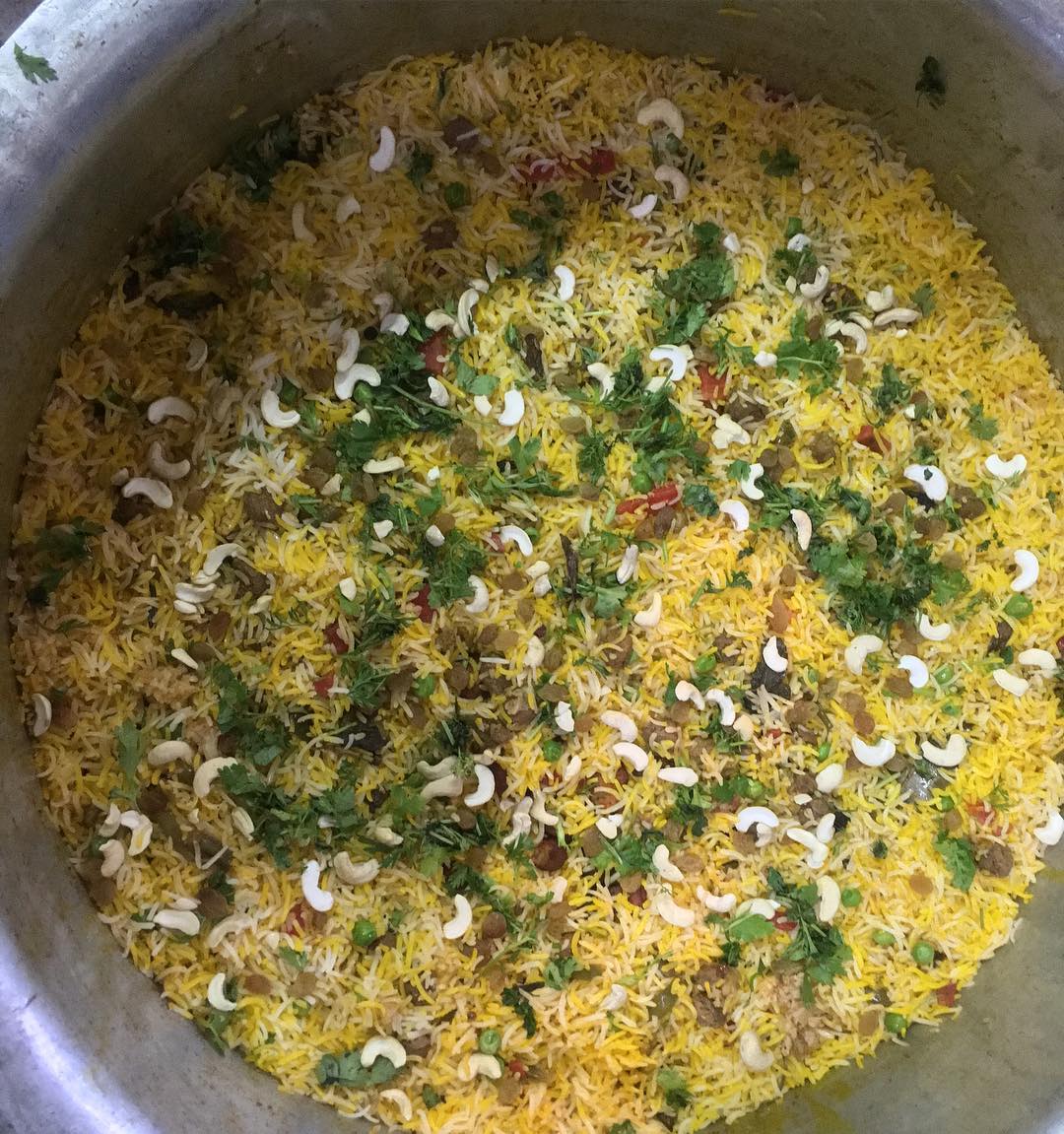 Anybody who has been to Riwayat knows that they serve the best biryani in Pune Viman nagar. Thank god Riwayat was there to satisfy the sudden biryani cravings of the residents of Viman Nagar, with their caramelized onion biryani. And that's not all; you also get the chance to bite the soft and delicious paneer at every spoon of Biryani. Also, don't leave the peas and cashew behind, which exaggerate the flavour of the Biryani further. Also, note that this is a Delivery Kitchen only.
What to Have:

Don't miss the sabz biryani with the caramelized onion and kaju toppings

Location: Gera Emporia, Beside Phoenix East Court, Viman Nagar, Pune
Price for two:

Rs 700-850.

Timings: 12 pm to 12 am.
3.SP's Biryani House
If you want to discover the old culture of Biryani in Pune, just turn on the pages of SP's menu card. SP has a collection of a total of 13 biryanis in the house with a special category for the veg biryani. The biryani, cooked in sajuk ghee and the side of rassa, is something you would like to splurge your money on. The rice of the Biryani is so finely and firmly cooked, that even the non-vegetarians would not stop drooling over it. However, they are also ready to curate a special biryani only for you, on special orders.
What to Have:

The sabs dum biryani in sajuk ghee is worth a try

Location: 1472, Lokmanya Bal Gangadhar Tilak Road, Lokamanya Nagar, Perugate, Sadashiv Peth, Pune.
Price for two:

Rs 650.

Timings: 11:00 AM – 3:00 PM , 7:00 PM – 11:00 PM.
4.Mughal Mahal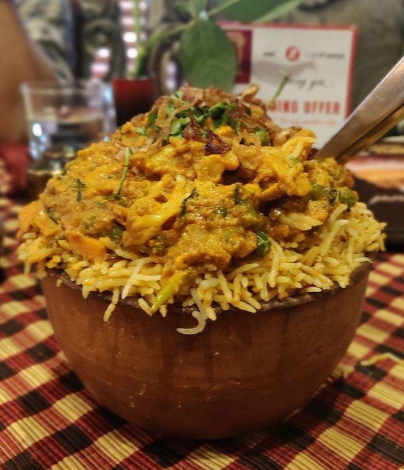 You already know what we are talking about right! Yes, it's the authentic Mughlai Biryani. If you want to experience the classic Mughal culture, then visit the place because it has both; the ambience as well as the food at its best. If you're thinking of cancelling your plans because of your vegetarian food habits, then stop. We have so much for you already. The gravy of mashed cashew nuts and ghee with deep fried onions is what your soul biryani is dipped into! Just take the day off and go, enjoy a plate of Mughlai biryani. Don't blame us if we broke your fast today!
What to Have:

Subz Matka dum biryani.

Location: 153/3, Phase 1, RGIT Park, Marunji Road, Near HP Petrol Pump, Hinjewadi, Pune.
Price for two:

Rs 850.

Timings: 12:00 PM – 3:00 PM, 7:00 PM – 11:00 PM.
5.Pratik Biryani House
If you're not one of those Instagram hashtag food lovers, then this is the place for you. You may not find a perfect Instagram-worthy picture for yourself at this place, but you will surely find the best veg biryani to satisfy the soul cravings, here.  The plate-full is sure to keep you engaged in licking your spoons to the bit. Moreover, the price of biryani is also so affordable and cheap, that you can easily grab two to three plates, during your weekend.
What to Have:

Veg Dum Biryani is the gem of the menu which you would not want to miss.

Location: Shop 34, Kakade Corner, Juna Jakat Naka, Pawana Nagar Housing Society, Pimpri-Chinchwad, Pune.
Price for two:

Rs. 500.

Timings: 11:00 AM – 3:00 PM, 7:00 PM – 11:00 PM.
6.Ancient Hyderabad
If you want to unveil the chapters of Hyderabadi biryani history, then try out the biryani of Ancient Hyderabadi, in Pune which will make you drool over it, for the rest of your life, and even after it. Every Pune person could feel the homely connection with it due to its art and ambience and obviously because of its biryani. The aromatic, fluffy and textured biryani with the extra spicy and rich gravy is sure to steal your heart away in a spoonful. To top it all, the presentation and services at the restaurant are ready to win your heart with their traditional touch.
What to Have: Veg. Hyderabadi Biryani with vegetable raita is Mirchi ka salan, is everything you have ever wanted.
Location: Xion Mall, Ground Floor, Shop 9, Hinjawadi, Pune.
Price for two:

Rs. 1100.

Timings: 11:30am – 11:30pm.
7.Effingut Brewerkz
If you are looking out for some beers tonight with a plate of Biryani, then this is your place to booze tonight. You can get the party like atmosphere, with obviously a bit crowd, especially on the weekends. The biryani is served in a clay pot with raita in it and obviously, some chutneys. If you want to kick off your whole week's stress, then go to this place and enjoy a glass of sweet brew with their special veg biryani.
What to Have:

Veg Biryani with raita.

Location: End of Lane Number 6, Koregaon Park, Pune.
Price for two:

Rs. 1700.

Timings: 12midnight – 1:30am, 12:30pm – 12midnight.
8.Aroma's Hyderabad House
This place is the home to many Pune persons when it comes to Biryani. This place has a favorite for each one of us, be it a vegetarian or a non-vegetarian. From the delicious mushroom biryani to the Plain finely-cooked rice biryani, this place has some amazingly curative veg. Biryani options to surprise you! And also to mention, the huge quantity of rice they provide, can snack you in the evening, from the lunch leftovers. This place also has some great deals for a group lunch or family lunch.  Already hungry! Go and grab a plate of Kaju Biryani now!
What to Have: Kaju Biryani, Mushroom Biryani, Paneer Biryani.
Location: Hinjewadi.
Price for two: Rs. 900.
Timings: 11 am to 11 pm.
Best Chicken Biryani in Pune
9.Tiranga Non-Veg House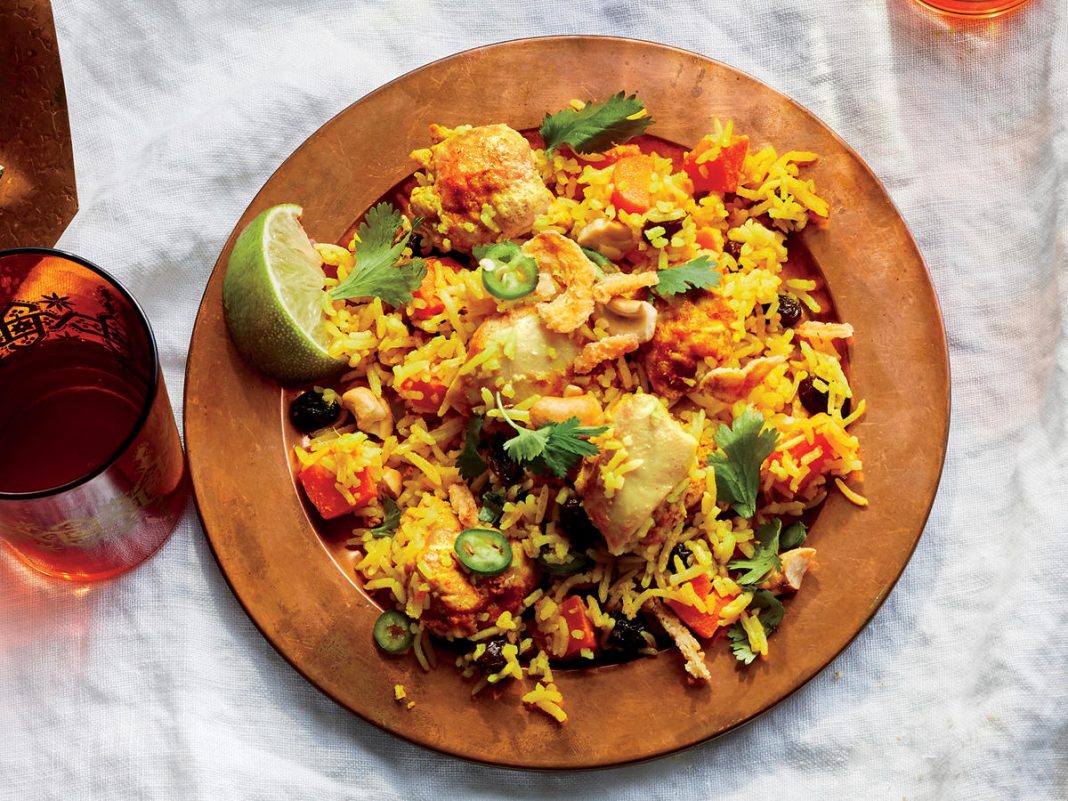 The award winning biryani house is here to meet your biryani fetish. The house serves, fine grain, fluffy rice biryani with a mix of flavours and aroma, with a local spicy twist in it. If you have a love for spicy dishes, then get ready to experience the hot and spicy, soft and juicy chicken pieces in the biryani. Such a blend of spices in a checken biryani is hard to find, in the whole state.
What to Have: Chicken Spicy Aroma Biryani
Location: Kothrud.
Price for two: Rs. 1000.
Timings: 12midnight – 1:30am, 12:30pm – 12midnight.
10.Gazi Caterers
Every good thing needs efforts. And so does the best biryani hunting game! If you have not yet discovered the perfect biryani match for you, then do it now! Pay a visit to the Gazi Caterers, through the alleys of Pune, to discover the gem. Do not expect the ambience of an Instagram blogger's feed here but the biryani surely makes up for it!
What to Have: Gazi Chicken Biryani
Location: 29, Parmar Nagar, Phase 1, Pune, Fatima Nagar.
Price for two: Rs. 600.
Timings: 11 am to 11 pm.
11.Charcoal Eats
This place is definitely responsible for all your calories! The delicious, mouth-watering plate of Biryani is what you want to relish over. The ambience is so local and nostalgic, that it makes you feel like home. Such a place is worth flocking in with your friends on a weekend to relish over the Chicken Biryani. This place has already become one of the hotspot for the locals, especially teenagers.
What to Have:

Afghan Chicken Biryani.

Location: Shop 14/1, Ground Floor, Mariplex Mall, Kalyani Nagar, Pune.
Price for two:

Rs. 500.

Timings: 12pm to 12am.
12.Blue Nile – Best Biryani in Pune Camp Area.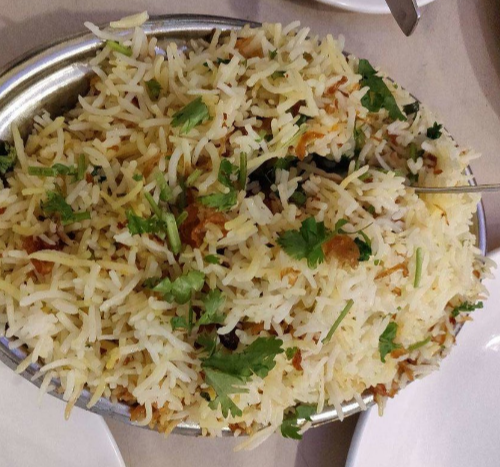 Have you ever been to Poona Club! Probably no! Otherwise, you would have smelled the flavours of Biryani at this joint definitely. The outnumbered crowd at this place throughout the day is proof that the biryani is going to steal away your heart. This place has tried their creative hands-on biryanis of several countries and here, it stands out from all, in the city.
What to Have: Irani Chicken Biryani.
Location: 4, Opposite Poona Club, Camp Area, Pune.
Price for two:

Rs. 500.

Timings: 11 am to 11 pm.
13.Jashn
As the synonym says, the place also witnesses the celebration of every occasion and moments. This is a place teeming with delicacies and flavors of Biryani. No matter whether you're from Pune or not, your biryani soul deserves to be here. There cannot be any better plans than spending your weekend here, with a plate full of big leg piece juicy chicken and some gravy and white mix of finely cooked rice. Yummmm! Weekend sorted!
What to Have: Chicken Tikka Biryani Meal.
Location: 69/1C, Beside Rosary School, Kondhwa, Salunkhe Vihar Road, Pune.
Price for two:

Rs. 800.

Timings: 11 am to 11 pm.
14.Zaheer Khan's Fine Dine
When there's a weekend planning on the mind, go to Zaheer Khan's Fine Dine. This place provides enough space to sit and dine and spend quality time with your dear ones. The butter-dripping biryani with the amazingly soft and fully cooked spicy chicken will give you the authentic Mughlai biryani feels. You may have hardly heard anything of such of a chicken creation on Earth what they have already discovered.
What to Have:

Tandoori Chicken Biryani, Chicken Chettinad Biryani, Butter Chicken Biryani.

Location: Ground Floor, Winners Court, 23 Sahani Sujan Park, Kondhwa, Pune.
Price for two:

Rs. 1100

Timings: 12 pm to 12 am.
15.Taaareef
Whenever there has been a debate about Chicken Biryani in the town, Taaareef has always come up as a mandatory name in the list. The repetition of "a" three times in the name "Taaareef" almost defines its stature in the list of best biryani places. You do not possibly know what biryani is if you have not been here. You can definitely relish on the authentic biryani flavors, at least two to three plates, on a Sunday.
What to Have:

Chicken Biryani.

Location: 1, Shyamal Apartments, Next to Ozone, ITI Road, Aundh, Pune.
Price for two:

Rs. 600.

Timings: 11 am to 11 pm.
16.Nisarg
If you are wondering the reason I am mentioning the name of a seafood restaurant in the list of Biryani places, then you're probably not a true explorer of biryani in Pune. Otherwise, you would have known that, besides providing extremely mouth-watering seafood dishes, they also provide some spoon-licking biryani. So, when you're here to try out some Bombay duck, remember to save some tummy space for at least a plate of Chicken Biryani. The place also has a nice ambience besides its affordability, so, no wonder why it has become one of the frequently visited places of the Pune teens.
What to Have:

Chicken Biryani.

Location: 6/1, Opposite Padale Palace, Nalstop, Erandwane, Pune.
Price for two:

Rs. 700.

Timings: 11 am to 11 pm.
Best Mutton Biryani in Pune
17.Tiranga Restaurant
Every food lover's dream biryani is served here! Since the last two decades, this place is meeting everyone's desire with the best mutton biryanis of the town. Besides following the traditional chullah preparation of Biryani, they also have a specially curated Mutton Biryanis Thali for the biryani souls out there, to give the authentic feels of Biryani. We cannot think of any other better reason to visit the place!
What to Have:

Mutton Biryani Thali.

Location: Pitambar Heights, Paud Phata Road, Kothrud, Pune.
Price for two:

Rs. 800.

Timings: 11 am to 12 am.
18.George Restaurant
If you have already sorted a place to visit for your weekend dinner, then hang on! We've got a plan for you! Pay a visit to one of the favorite places of Pune, the George Restaurant. This place has contributed a lot to the Mutton Biryani of Pune in the last few years. The cotton-soft pieces of mutton hidden under the firm gravy-and-white rice of biryani melts inside the mouth in just some seconds while the aroma will stay there, till you come back next time.
What to Have: Mutton Biryani
Location: 2436, Camp, East Street, Pune.
Price for two:

Rs. 1200.

Timings: 11 am to 11 pm.
19.Pind Punjab
If you miss your homeland Punjab way too much being in Pune, then we have got something to lessen your pain. Though we cannot give you the happiness of being with your family, we can give you their touch in the biryani of Pind Punjab. This particular restaurant has made Biryani a Punjab cuisine, despite its Mughlai origin. The innovative creation of the restaurant with finely steamed Basmati rice and some minced mutton is sure to make you fall in love.
What to Have:

Mutton Biryani, Anda Biryani.

Location: Shop 103, Upper Ground Floor, Gera Park View Commercial Complex, Pune.
Price for two:

Rs. 900.

Timings: 11 am to 12 am.
20.Zeeshan Restaurant – Apna Hyderabadi Food
If you are craving for some Hyderabadi biryani right now, then come here! The spicy, hot and aromatic biryani with a soft, juicy and infused flavored mutton piece is heaven on a plate. The Mirchi Ka Salan and Raita is the best you can ever have on this planet with the plate of biryani. A visit to the place can put an end to your search of the Best Hyderabadi biryani in Pune, especially in Vinam Nagar.
What to Have:

Hyderabadi Mutton Biryani, Chinese Biryani.

Location: Building 2, Peshwa Complex, Plot 84, East Lane, Behind Joggers Park, Police Station Road, Viman Nagar.
Price for two:

Rs. 500.

Timings: 12:00pm to 11:30pm.
21.Dorabjee & Sons
Amongst the various experiments done on Biryani, the one done by Dorabjee & Sons, stands apart. The Parsi style biryani with an all new and unique flavor and taste, is something; you would not want to miss. So, don't wait! They make sure that you experience the best and authentic Parsi Mutton Biryani.
What to Have: Parsi Mutton Biryani.
Location: 845, Dastur Meher Road, Sarbatwalla Chowk, Camp Area, Pune.
Price for two:

Rs. 500.

Timings: 9:30 am to 10:30 pm.
Don't blame us if you have already gained some kgs after reading this
; after all, weight is just a number! Have you been to any of these places? Share in comments below where according to you is the best biryani in Pune? Do share this on your social media and pin it for later!