If you are planning to visit the Southeast Asian countries, Thailand should always be on the top of your list. The rich culture and tradition of this country have amalgamated with the astounding natural beauty to woo the tourists. Not only that, but also the modern amenities of the metropolis can make you feel the happiest while roaming around. The capital city of Thailand is Bangkok which is one of the most happening destinations in Thailand. This country is also known as the land of temples where you can find around 35,000 temples throughout the country.
Besides that, the forests and jungles of this country are one of the greatest marvels to visit here. You will be surprised to know that this is the country where you can find the smallest as well as the largest creatures of the world. This is the land of the smallest bumblebee bat and the largest whale shark. Actually, the diversity you will find in Thailand may not be found in any other Southeast Asian countries. So, if you are planning to visit the exotic country and if it is your first-time visit, a thorough guide will help you to get to know more about this country.
Best Time to Visit Thailand
While you are looking for guidance for visiting Thailand, you have to know about the best time to visit Thailand. Visiting the country at the wrong time is just wasting your money and time. So, let's find out when the best time to visit Thailand-
November to February: Winter
Weather: The cool and dry season is perfect for visiting now as you can get amazed by the lush green landscape.
Why You Should Visit in Winter?
You can get the best weather at this time as a bit of rain can make a pleasant atmosphere to roam around. If you want to go for sightseeing and outdoor activities, this is the best time you should visit Thailand. But, this time is the peak tourist season, so make sure you book your flight and hotel early to avoid chaos.
March to May: Summer
Weather: Too hot and dry weather may disturb your pleasant visiting.
Why You Should Visit in Summer?
Actually, summer is not quite a good time to visit Thailand. The extremely hot and dry season may ruin your spirit of travelling. But, the coastal region is pleasant this time and a cool breeze can soothe you. Though summer is not a top tourist season, you can still visit Thailand during the festive seasons as Songkran and the Water Festival of Thailand are celebrated this time.
June to October: Monsoon
Weather: This time, the sun shines brightly and also you will get plenty of rain. So, hotness and humidity are the characteristics of this season.
Why Should You Visit in Monsoon?
Actually, this time is not the tourist season, so you can get discounts on flight tickets and hotel booking. And also if you want to avoid the crowd, this is the time you can visit Thailand.
Currency of Thailand
The currency of Thailand is known as Baht. While traveling in Thailand, it is always recommended not to carry US Dollars, but Baht. There are numerous ATMs in the country where you can exchange your dollars into the local currency.
Know about Thailand Visa
Knowing the visa requirements to travel to Thailand is the most important thing that you will need to enjoy your trip. Usually, the western countries get a stamp on their passport once they arrive in Thailand and it enables them to stay for a month in the country. Though it is not a good practice, still if you ever need to stay more than your permit, you have to pay a fine of 500 THB per day. You can also go for a 2-months tourist visa as it's difficult to finish everything to visit in Thailand within a week or two.
Best Places to Visit in Thailand
The next thing you want to know is about the best places to visit in Thailand. If this is your first time, knowing about these places will help you to conduct your tour.
1. Phang Nga Bay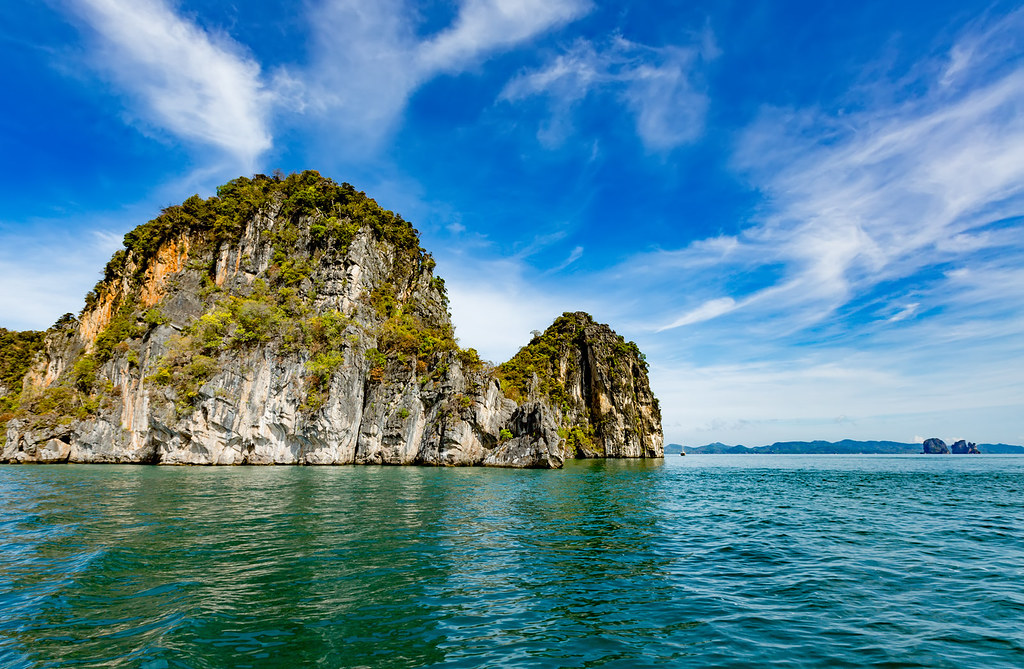 If you are looking for one of the most scenic bays of Thailand, you should head towards Phang Nga Bay. The bay is 95 km. away from Phuket and also the best destination for water adventures. There is the Khao Phing Kan Island which is also known as James Bond Island. Kayaking is the most adventurous sport here which will lead you to visit limestone caves, aquatic grottoes, and clastic rock ceilings.
2. Phi Phi Islands
Located only 40 km. away from Phuket, this place has six islands among which Phi Phi Leh and Phi Phi Don are the most famous ones. If you are planning to spend a few days in the pristine nature of Thailand, you can visit this place.
3. Grand Palace of Bangkok
Once you are in Thailand, not visiting the capital city will be a great miss. The magnificent building is located on the bank of River Chao Phraya and is full of pavilions, halls, lawns, gardens and courtyards to visit. The picturesque building looks wonderful during the sunset and it is the perfect spot of the photographers.
4. Lopburi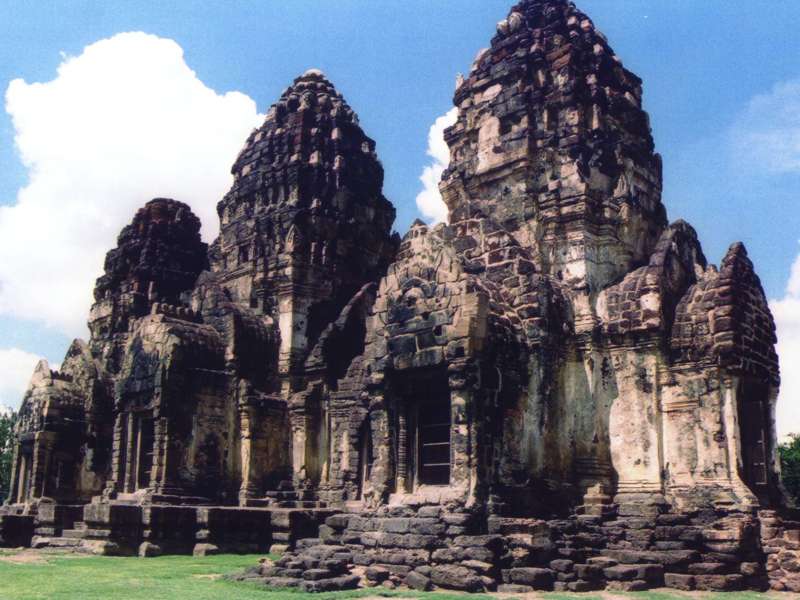 If you are an off-beat traveller and find excitement in the ruins of ancient cities, this is the place that you should visit now in Thailand. Once you are here, visit the temple of Prang Sam Yod, which is famous as Monkey Temple. This temple is full of macaques and you should be careful to be here. If you visit during the annual festival of this temple you will see tables, full of foods for monkeys.
5. Khao Sok National Park
If a forest is your favorite place to visit, Khao Sok National Park is the place that won't disappoint you. The misty mountain and the dense green forest is the best place for the nature-lovers. Go for canoeing, jungle trekking, bamboo rafting, and kayaking here. Also, you can enjoy bird watching, watching the Asiatic elephants and boating.
6. Sukhothai
This UNESCO World Heritage site is the birthplace of the rich Thai language, culture, art, and architecture. Though many tourists avoid this place nowadays, you will miss the essence of this ancient city if you miss this place. Presently, you can visit 200 sets of remnants of the 26 temples and palaces of 13th and 14th century. Also, you can visit the large lakes, amazing wats, and statues there.
7. Elephant Nature Park
If you are visiting Chiang Mai, you can arrange a day trip or an overnight trip at Elephant Nature Park. Usually, the rescued elephants from circuses, tree logging, and other harmful conditions are reserved here. You can enjoy the majestic view of the elephants here.
So, these are only a few places that you can visit in Thailand. The country is full of exotic places that you may not complete in a single visit.
Best Tips to Travel Thailand
The amazing temples, lush forests, ancient ruins, modern cities, gorgeous beaches, etc. are the heart of Thailand. There are certain things you need to know while traveling in Thailand. Have a look-
You should always carry enough cash while visiting places in Thailand. The restaurants and many local attractions only accept cash over cards. Also, if you visit the remote islands and beaches, you won't get the opportunity of card payment. So, make sure you always have cash with you.
Stay away from renting a scooter and explore surroundings. You may see people, riding scooters, especially in the areas, like Chiang Mai, Pai, etc. but, you should not also ignore the bruises and cuts they have all over them due to unstable riding on the bad road condition of Thailand. So, if you want to fill your trip with snorkeling, hiking, and with other adventures, keep away from riding scooters.
Stay alert from the tricksters and the scammers in Thailand. Like any other tourist destinations, this country is also full of certain people who can ruin the spirit of your vacation. So, be alert.
While traveling in this country, it is very important to take care of your health so that you enjoy the trip quite well. Mosquitoes are a serious problem in Thailand, so make sure you apply mosquito repellant oil or cream on your body, especially while visiting the national parks and forests. Also, Thailand is the place of quite a few stray animals. That's why rabies is a risk over there. Stay away from cuddling a puppy or kitten that you may find on the streets.
Make a list of places to visit according to your stay in this country. You also need to rest and spend some quality time with your partner or family. Rushing from one place to another and getting exhausted is not the ultimate thing you want from this trip. So, make sure how many days you have and plan accordingly. Visit the places that are must-visit.
No matter in which season you are visiting Thailand, carrying a sweater will be a smart thing to do, even in the hot and dry summer. Actually, you will find air condition everywhere, from restaurants to transportation and the temperature is set quite low. So, simple woolen wear can help you to stay warm. Also, the northern region gets cooler in winter, so you have to be prepared for that. Even, the coastal areas get cool breeze during summer after the sunset, which can give you shiver. Carrying lightweight woolens can help you to stay warm.
While in Thailand, you have to concentrate on your footwear. There are several places where you have to remove your shoes before entering. The temples are the prime example, but there are also museums, government buildings. Different types of shops, etc. where you can't enter with shoes. So, it is always better to wear something that you can easily put on and off. Again, while you are on the mission of hiking and trekking, you need sturdy shoes that give you a good grip on the uneven terrain. Stay away from flip-flops as those are not good at all than beaches.
You have to dress properly, especially while visiting Thai Temples, or even some restaurants. You should wear clothes in Thailand that can cover your shoulder and also stretches out up to your knee. Though the dress codes have become quite relaxed nowadays, if you visit the rural areas, you may need to wear modestly. Also, you should not wear beachwear anywhere else than beaches.
What to Pack for Your Thailand Trip?
Once you are done with booking flight tickets and hotel, it is time to finish your packing. What are the essential things that you need to carry? Here is the list
Slip-on shoes
Bug spray
Water bottle
Sunscreen
Raincoat
Umbrella
Sweatshirt or sweater
Clothes for warm weather
Backpack
Hiking shoes
Bathing robe and swimwear
Converter and charger
While packing, make sure you don't make your bags too heavy that you find it difficult while carrying.
What to Eat in Thailand?
Whenever you visit a new country, you should try the local cuisine to enjoy the culture and tradition more closely. Once you are in Thailand, you have to try any of these dishes to make your trip memorable-
1. Guay Teow
This is kind of a noodle soup that is available in chicken, pork or beef. You can find this amazing dish anywhere in this country.
2. Tom Kha Gai
This is another yummy soupy dish of Thailand which is perfect for those who want to avoid spicy foods. The creamy coconut milk gives a delightful flavor to this dish while chicken adds a layer to it.
3. Yam Pla Dook Foo
This is a green mango salad which contains fried catfish. This is one of the most popular street foods in Thailand that can be enjoyed as an appetizer.
4. Som Tam
If you love salads, you can try this tasty and spicy dish anytime in Thailand. Made of tomatoes, green papaya, peanuts, carrots, and lots of other ingredients, this dish is really grand to taste.
Festivals in Thailand
If you want to enjoy the true spirit of Thailand, you can visit the country during any festivals, like-
Songkran, the Thai New Year
Lantern Festival in Chiang Mai
Full Moon Party in Koh Phangan
Hopefully, you are amazed enough to know these things about Thailand. So, don't waste time and start booking flight and hotels now. Enjoy your trip now!