When you travel to Thailand, you don't want to miss out on this fascinating city and things to do in Bangkok, Thailand's capital. Bangkok features a combination of tradition with modernity and does a terrific job integrating art into life. This city is full of surprises on every corner. From magnificent shrines to dynamic street life, it won't let you down. wondering what to do in Bangkok? let me help you out!
Communication (Internet Access)
Forget about free Wi-Fi in Bangkok! Even in hotels, you won't have Wi-Fi unless you pay for it. Of course, if you are staying at a luxurious high-end hotel, it probably offers free Wi-Fi. For those travelling on a tight budget, you should consider buying a new SIM card from Truemove or dtac at the airport. They even have a number of packages designed specifically for tourists. If you miss it at the airport, you can also stop in any of the numerous 7-11's to pick one up.
If you're looking for information on the Visa check out Thailand Visa Guide.
Transportation
Traffic here can be very obnoxious during rush hour. Instead of taking a taxi, you can always take a train/subway to get to or get closer to your destinations. You can also Read more about Backpacking in Thailand. There are three rail systems: the Skytrain (BTS), underground Mass Rapid Transit network (MRT) and airport train SA Rail Link. When you transfer from one system to another, for example, MRT to BTS, you'll need to get a different train ticket from the ticket vending machines or ticket office at the station.Also checkout Some of the Things not to miss in bangkok .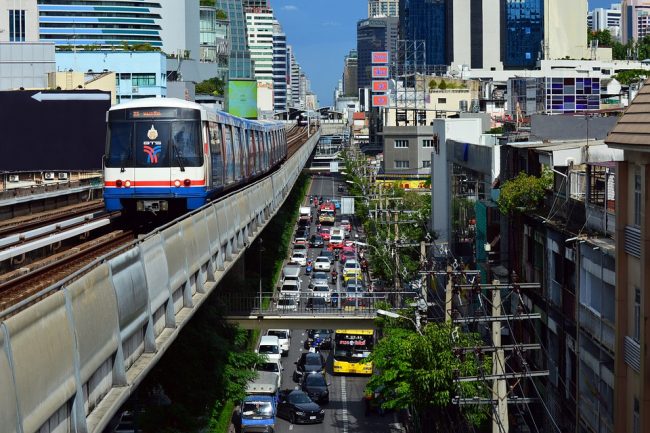 Other than rail systems and taxis, one of Bangkok's most famous icons is the tuk-tuk, One of Things to do in Bangkok– a three-wheeled motorcycle taxi-cab that is definitely worth a ride. You can always see them around popular tourist spots. Always remember to haggle the price! Your destination is usually not as far as what the tuk-tuk driver tells you. For more tips check out the post on Bangkok in Budget.
Tourist Attractions and Things to do in Bangkok
Temples
Taking a tour to the mysterious and beautiful temples are definitely rewarding, even if you don't consider yourself spiritual. The Grand Palace, Wat Phra Kaew or 'The Temple of the Emerald Buddha' and Wat Pho are the most visited temples. There are literally hundreds of temples in Bangkok, so if you are into temples you'll be thrilled. To show your respect, please do not wear short pants or sleeveless shirts when you enter the temple. However, now a lot of temples will hand out robes to tourists to cover their exposed shoulders and legs before they enter the temple, just return them at the exit after the tour!
Night Markets
If you want to do some shopping, sample some exotic local food or just rest for a bit all in one place, the night markets here will surprise you. From exquisite handicrafts to hippies' clothing, you can find a lot of interesting items here and one of the things to do in Bangkok.
While exploring a night market, you do not want to miss out the local street food. Pad Thai, Papaya Salad and Tom Yum Soup are some of the most popular dishes. The locals often eat street food and the average quality is actually very high. A lot of times the best Thai food is discovered from street food stalls.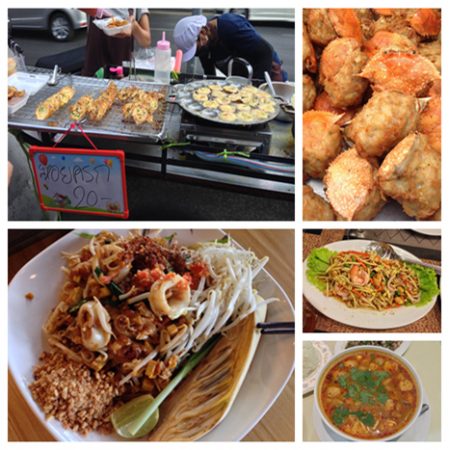 After shopping and eating, if you want to rest a little, one of the Things to do in Bangkok might be you should try a Thai massage. Please don't forget to tip the massage ladies, massaging those muscles sore from adventuring all day around Bangkok is hard work!
Bars can be another entertaining distraction, those on Khao San Road often offer cheap good quality food, drinks and good live music. If you feel like drinking, dancing and enjoying some music, hitting a bar could be a good idea.
Here are some popular night markets:
Khao San Road Night Market

Chatuchak Market

Ramkhamhaeng Night Market

Rod Fai Night Market

Ratchada Train Market

Asiatique The Riverfront

Jatujak Green Market

PatPong Night Market

Artbox Pop Up Market
Floating Markets
Things to do in Bangkok can not be complete without The Floating Markets. They are definitely another cultural icon in Thailand. They are a great place for you to experience a traditional way of selling and buying a wide variety of products (i.e. fruits, vegetables and other goods) from small wooden boats. You can also see traditional Thai houses along the river as you go past. Keep in mind, however, that these floating markets are outside of Bangkok and can be over an hour's drive away. Plan ahead – as you might need to wake up as early as 5:00am!
Within a one to two hour drive from downtown Bangkok, there are a few floating markets you can visit:
The Damnoen Saduak Floating Market

Amphawa Floating Market

Talin Chan Floating Market

Khlong Lat Mayom Floating Market

Bang Nam Pheung Floating Market
Ladyboy Shows
Ladyboy shows offer some of the finest night-time entertainment for the right types of tourists, but those less adventurous of travelling with family may want to leave this off of their to-do list. For those interested, you will find fun and playful shows at different hotels, such as the Calypso Cabaret Show at Asi Hotel. At the end of the show, don't miss the chance to take a photo with your favourite actresses.
A lot of spots are usually packed up with audience, so remember to book your tickets in advance!
Live Thai Boxing Shows & Learning Thai Boxing
If you are a sports fan,Thai boxing can be one of the things to do in Bangkok and watching live Thai boxing is a must. It is a fairly dangerous sport but filled with excitement. You can see the locals bet on their favourite fighters in an environment brimming with energy.
You can pay more for ringside seats to get a closer experience, but be aware of rip offs. Normally 1800 – 2000 baht can be haggled for a small discount with their English speaking staffs. If you are going to a small stadium, then choosing the second or third class seats will be a better idea. You will have the same view and they are much cheaper.
Normally there will be boxing school gyms above or near the stadium, so for those interested in learning or picking up supplies, make sure to stop in.
Some popular Thai boxing stadiums:
Lumpinee Boxing Stadium

Rajadamnern Stadium

Channel 7 Boxing Stadium
Rooftop Bars
What's the best way to appreciate the view of the whole city? Rooftop bars! You can enjoy the city view in 360 sweep with your loved ones or your friends. Trust me, it'll be a memorable experience.
Remember that most rooftop bars have a dress code, so try not to show up with sports shorts and sandals.
Popular rooftop bar choices:
Vertigo and Moon Bar

Sky Bar

Octave Rooftop Bar

Three Sixty

Above Eleven

Red Sky

Zense

The Roof @38 Bar

Distil Rooftop Bar

Bluesky
Where To Stay
Bangkok is full of hostels and hotels for any budget. Hostels start at about $10 per night and the most luxurious hotels can be as much as $200 per night. If you're traveling with your family, you may want to look in to a timeshare resale rental online. These typically have multiple private bedrooms and their own kitchens. If you already own a timeshare, you can use an RCI timeshare to exchange in to a timeshare hotel in Bangkok for a small fee.
No matter how long you stay in Bangkok, there's always more to see and Things to do in Bangkok.
If you are planning a trip, the city promises you an adventurous and beautiful experience. You can also check out the Khao Sok national park
You might also like to read, things to do in Phuket