Hilo is a quaint little town in the eastern part of Big Island in Hawaii. Home to the popular Rainbow Falls, you will find a lot to explore in Hilo. The place is steeped in immense natural beauty and has some of the most fertile rainforests as well as mesmerizing waterfalls.
This tiny hamlet remains under a constant cover of rain almost all throughout the year. So, in Hilo, you can always expect a light drizzle to accompany you in all your activities. If you are planning a vacation in Hilo, there is so much that you can do in the place. There's a lot of places to visit in and around the town.
Now, Hilo is quite a sleepy town, and there is not much to the nightlife scene. But, that doesn't mean there's nothing to do in Hilo at night. There are quite a few fun things to do in Hilo at night. Let us take a look.
Things to do in Hilo at Night
Hilo will never fall short in mesmerizing you with its natural beauty. The beautiful beaches and the crystal clear water makes a perfect setting to relax. Even the light drizzles add to its charm. If you are wondering what to do in Hilo at night? Then you have come to the right place. The following are some things that you can enjoy at night while in Hilo.
1. Camping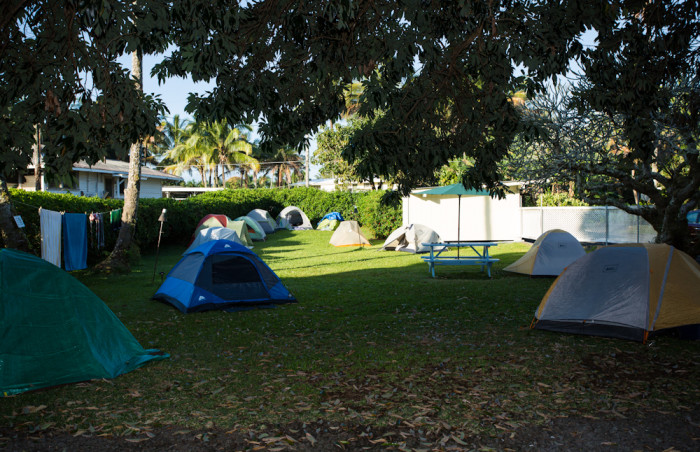 When we think about a beach vacation, camping may not be the first thing that comes to our mind. But camping in Hilo can be quite fun. There a couple of beach parks and campsites in and around Hilo, where you can go camping.
Arnott's Lodge and Hiking Adventures
Arnott's Lodge in Hilo is for all the adventure enthusiasts. The lodge offers camping opportunities in a very fun and scenic environment. Although this place is not all that luxurious, camping here is really a delight.
To camp at Arnott's you need to bring your own tents and you can camp here for as long as 7 days! The camping area has toilets as well as hot showers.
Here, you can truly enjoy your time in close proximity to nature as cellphone use or music is prohibited after 10 pm. The only sound is of the nature around you and the view of the starlit sky.
Location: 98 Apapane Road, Hilo, Hawaii, USA
Cost: $18
Hawaii Volcanoes National Park
Hawaii Volcanoes National Park has two campsites – the Namakanipaio campsite and the Kulanaokuaiki campsite. Although there are no permits required to camp here, you have to pay $15 and $10 respectively to camp in these sites.
Set up your camp and enjoy a night of camping under the stars, in close proximity to nature.
Location: Mauna Loa, Hawaii County, Hawaii, USA
Timings: Open 24 hours
Camping cost: $10 – 15
2. Stargazing at Imiloa Astronomy Center and Mauna Kea
Who doesn't love gazing up at the stars? Hilo in Hawaii is your perfect stargazing destination. Hilo is home to the Imiloa Astronomy Center, a great spot to appreciate the stars of the Hilo night sky. The planetarium in Imiloa Astronomy Center can accommodate up to 200 people.
It conducts many shows and organizes many seminars and gives you the opportunity to study the stars from sea level as well. If you take a 50-minute drive from Hilo, you will reach the Mauna Kea observatory. It is one of the largest observatories around the globe and house high tech and massive telescopes.
The Mauna Kea observatory conducts stargazing four nights a week. So, if you find yourself wanting to take a closer look at the stars up above, you can head to one of these places, and you can explore the mystery that the night sky is. If you would prefer to opt for a tour instead, I would recommend this tour for the same.
Location: Imiloa astronomy center, 600 Imiloa, Hilo, Hawaii, USA & Mauna Kea observatory, Mauna kea access road, Hilo, Hawaii, USA
Entry fee: $20
3. Night Stroll along Banyan Drive
Banyan Drive is one of the popular streets in Hawaii. This street in Hilo is lined by Banyan trees on both sides. The trees form a canopy-like appearance above the stretch of road and make it a great spot for a nighttime stroll.
The sound of the water crashing against the shore of Hilo Bay and the night breeze blowing around, you will totally love a nighttime walk in this neighborhood. Visiting here is one of the best free things you can do when in Hilo.
Also, a fun fact to note is that the Banyan Drive is also known as 'Hilo Walk of Fame.' This is because all the trees of this drive were planted by a celebrity.
4. Shopping
Although the town of Hilo is a quaint and sleepy town and the stores close down pretty soon, there are a couple of stores in the Hilo Bayfront that remains open till ten o' clock.
So, you can enjoy some night time shopping. Hop into one of these stores and buy some Hawaiian souvenirs for your friends and family back home. The Prince Kuhio Plaza indoor mall has some really nice boutique stores, where you can find nice items for your kids.
5. Night Lava Tour
Big Island in Hawaii has four out of five active volcanoes in Hawaii and a night boat ride takes the Hilo tourists to observe the flow of the Lava in the hours after dark. This adventure tour includes a boat ride to the Kalapana coastline, where the actual volcanic actions can be observed. This experience is one of the most recommended things to do in Hilo at night. I would highly recommend this tour for Twilight Volcano and Stargazing.
There is nothing to worry about, though, all kinds of safety measures are duly maintained, and the people can see the incredible sight of molten. Hot lava flowing directly into the ocean, giving rise to new landforms right from the safety of a vessel.
Location: Kalapana, Hawaii, USA
Cost: $72 per person
Duration: 50-55 minutes approx.
6. Party at Waioli Lounge
Hilo doesn't have much nightlife when it comes to hardcore partying. It is a serene town in Hawaii. However, there is a night club called Waioli that gives you a place to chill in, in Hilo
Club Waioli, is more of a classic lounge. If you are looking for a Hawaiian style party place, then head to Waioli. It has a range of Hawaiian cocktails as well as Hawaiian snacks like sashimi and wasabi and tuna to pair with your drink.
Location: Club moxie, Kinoole Street, Hilo, Hawaii & Banyan Drive, Hilo, Hawaii
Timings: 5:30 pm to 9 pm
7. Dine at the Restaurants in BayFront, Hilo
One of the most common ways to enjoy your night in Hilo is to go out for dinner. The Bayfront in Hilo has a couple of places you could go to.
Ken's House of Pancakes is one such eatery that remains open all through the night. This 24 hour restaurant serves some of the best Hawaiian delights and has been in service for a couple of decades now.
Apart from this, Café Pesto is a great dinner as well. Here, you will find a range of salads, pizzas, and lasagnas, albeit with a Hawaiian twist!
8. Catch an event at the Palace Theater
Palace Theater is one of the most important and distinguished public building in Hilo. This theater was first opened in 1925. This two-story building now serves as a performance house.
It hosts multiple events, cultural shows, music concerts, theatrical performances, movie shows, and much more. While you are in Hilo, keep an eye out for the events taking place in the theatre, and you have a night full of fun.
Location: 38 Haili Street, Hilo, Hawaii, USA
Entry: Free
9. Friday night art walk
'Pau Hana' is a tradition that is celebrated by the Hawaiians on the first Friday of every month. Pau Hana roughly translates to the last day of the workweek. During this day the shops and stores remain open quite late till night. Circuses and magic shows take place in the town.
The streets are all filled with food stalls serving delicious Hawaiian delights. The main attraction is the display of local artworks in the Bayfront area. You can not only admire the work from far, but the works are also up for sale.
Saunter the town that becomes lively on the first Friday of every month and shop and drinks and dines the night away.
Final Words:
Hilo is a great place to spend your weekends in, away from the hustle of city life. This serene town that lies on the Northeastern coast of Hawaii is a recluse from the daily hustle.
Even though Hilo doesn't have the glitz and glam of the city, but its simplicity will definitely charm you. Apart from these nighttime activities, there is a lot that you can explore in Hilo during the day as well.
Overall, a vacation in Hilo can be quite a calm a tranquil one, and you will find yourself wanting to come back for more.