Thinking about where to visit this April? We suggest you spend a vacation in South India. South India has got it all, from beaches to mountains and everything. So, whether you are a beach person or a mountain person, you are going to love every bit of South Indian tourism. To make it easier, we have shortlisted some Places to Visit in April in South India for you. You can easily choose a place from the list below and can plan your trip. There's no need to spend hours, thinking about where to go now!
1. Kochi
Kochi has got a lot to offer to our city-driven hectic minds with its backwaters, beaches and hill stations. This beautiful state of South India beams with crowd especially during the summers amidst the jade green glow and large palm trees.
Travelling to Kochi this summer is sure to de-strangle your mind as it's best sightings will keep you occupied for days.
Why visit Kochi in April?
Kochi is at it's best during the month of April as it sometimes experiences torrential rains, amidst the humid climatic condition.
Must Visit Places in Kochi 
Do not miss Fort Kochi Beach, Marine Drive, Santa Cruz Cathedral Basilica to Mattancherry Palace when you are in Kochi.
2. Munnar
Though a small hill station of South India, the tea plantations, widening lanes, and, manicured gardens make Munnar look no less than a beautiful picture-book town.
If you are craving for some serenity and fresh air and seeking rescue from the boring city lifestyle, then Munnar is already here to welcome you!
Also, if you are a history fanatic then, this place has a lot to offer.
Why visit Munnar during April?
Every year, in the month of April, the famous Thrissur Pooram Festival is celebrated with great pomp in Kerala. Also, the climate is perfect in April for a summer vacation to Munnar.
Places to Visit in Munnar
Make sure to bookmark the following landmarks like Eravikulam National Park, Mattupetty Dam, Hydel Park, Munnar Tea Museum, and so, on your visit to Munnar.
3. Alappuzha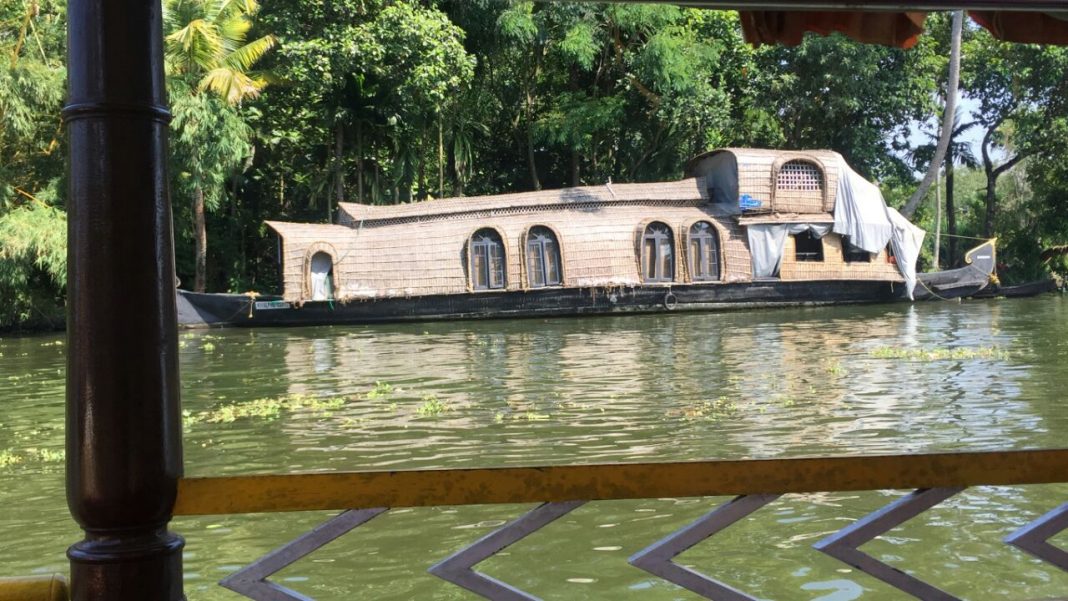 If you are a big fanatic of aqua tourism, then there cannot be any better place than Alappuzha/Alleppey, in Kerala for you. This particular area of tourism is also known for its below sea level farming, in the whole world.
Besides, the place also gives you a chance to enjoy nature at its best with an opportunity to witness different migratory birds from worldwide. Also, if you love some water activities, then you can participate in the snake boat races too.  
Why visit Alleppey during April?
St. George's Church Festival

is a very popular event in Alapuzzha and is celebrated with a lot of religious, cultural and spiritual events.
Places to visit in Alleppey
You cannot afford to miss Kuttanad, Mararikulam, Alappuzha Beach, Krishnapuram Palace, Pathiramanal, when you visit Alappuzha.
4. Kovalam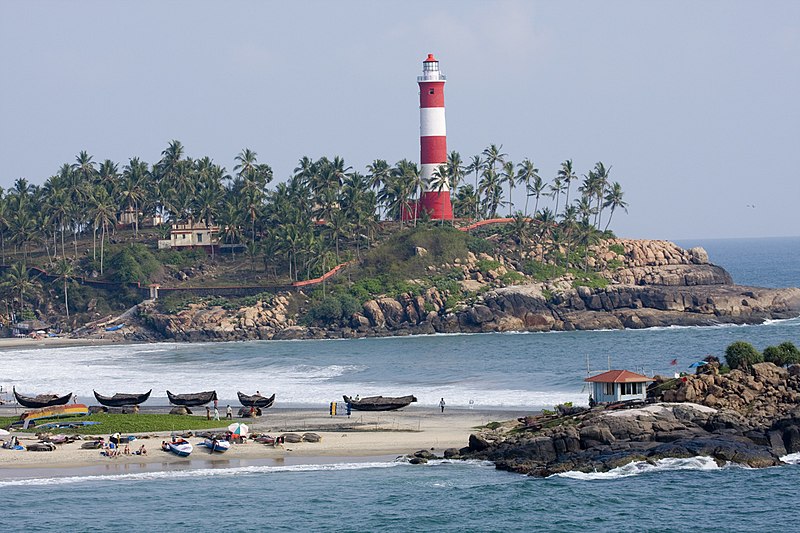 Whenever you think about a beach vacation, Kovalam must be the first name that crosses your mind. With pristine beaches and shallow waters, this beach is one of the most beautiful beaches you will ever discover in Kerala.
Besides, you can shop a lot here, of wooden statues, handicrafts and spices too. It is a great place to relax your mind from the everyday hustle and bustle of the mundane city life.
Why visit Kovalam during April?
Kovalam gives a vast scope to experience a tropical climate, besides the beach. If you have never experienced a tanned and tropical climate in the country, then visiting Kovalam in April, is the best option you have.
Places not to miss when in Kovalam
Do not miss out on the Lighthouse Beach, Hawa Beach, Neyyar Dam, Karamana River, Vellayani Lake, Kovalam Fish Market when you visit Kovalam.
5. Mamallapuram
Mamallapuram is mostly known among the tourists for its innovative architecture and the construction of the temples. It is considered to be one of the most popular heritage sites in South India.
Amidst the beautiful hills and serene beaches, this place offers an eternal peace to your inner soul. These spectacular monuments unfold a lot about the history of the country. It also stands as proof of the rich art and cultural traditions our country possesses.
Why visit  Mamallapuram in April?
Chitthirai Festival

is celebrated in Mamallapuram during the month of April by the tribal and local people of the place.
Places to visit in Mamallapuram
Do visit the Shore Temple, Descent of the Ganges, Krishna's Butterball, Pancha Rathas, Mahabalipuram Beach, Group of Monuments at Mahabalipuram, Arjuna's Penance, while you are planning your visit to Mamallapuram.
6.Hampi
Unlike other places, Hampi is famous for its ruins. It is also officially known for its world's Famous UNESCO heritage sites. Though most of the sightseeing of Hampi include the temples, what makes them different is their monolithic sculptures, excellent craftsmanship, and the beautiful monuments.
If you love to know about the history and cultural remains of the place, there cannot be any better place than Hampi.
Why visit Hampi during April?
One of the most significant religious festivals of Hampi is the

Virupaksha Car Festival

. The procession of light and the celebration of the festival rituals is worth a watch at Hampi.
Places to visit when in Hampi
 Virupaksha Temple, Vijaya Vittala Temple, Saasivekaalu Ganesha, Hemakuta Hill Temple, Lakshmi Narasimha Temple, are some of the places you must visit in Hampi

.

 
7.Pondicherry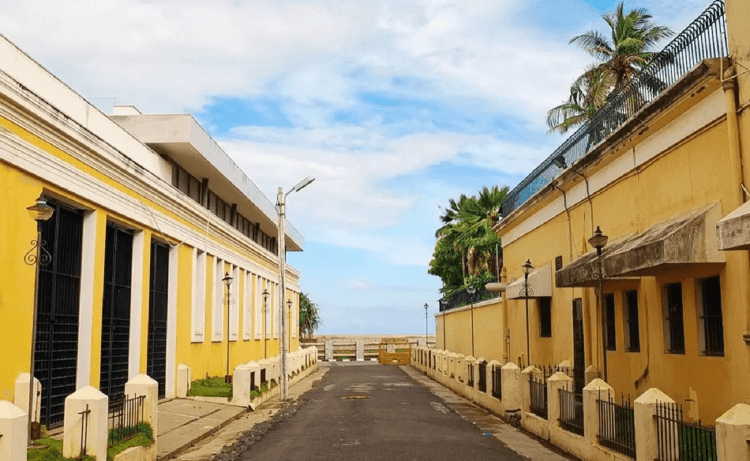 Being one of the seven union territories of India, Pondicherry is quite famous among the tourists. It is also known as Puducherry or, just by the name, Pondy, among the tourists.
This South Indian state is quite famous because of creativity, be it in tourism, or, in the foods. Strolling through the wide streets, you will notice bright-colored houses, beautiful wall paintings, and peeping inside restaurants will help you to delve in the French cuisines.
When in Pondicherry, Do visit Auroville as well, it's beautiful and is a unique township in India.
Why visit Pondicherry during April?
Akshay Tritiya, or " Akha Teej", and Chithirai are the two most popular festivals celebrated during the month of April in Pondicherry

, marking the beginning of a prosperous new year.
Places to Visit when in Pondicherry
8.Havelock Island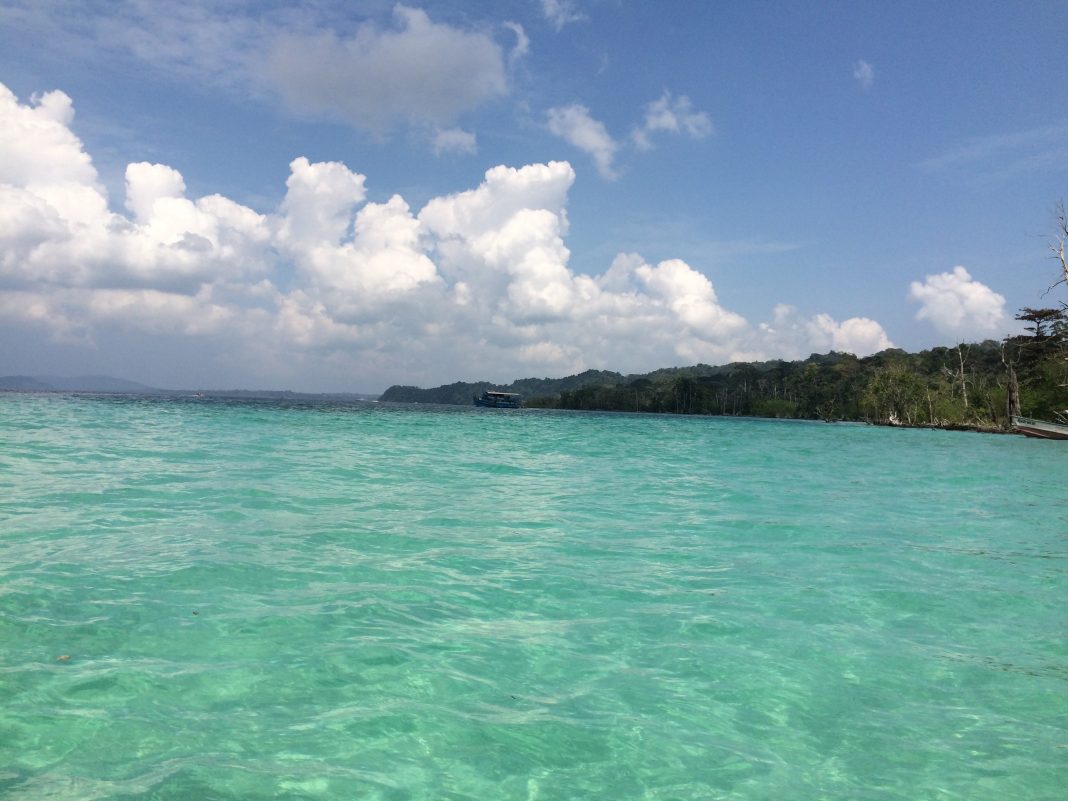 Havelock Island offers the perfect getaway to the ideal beach vibes. You can get indulged in any type of beach activity here at the Havelock Island which includes scuba diving, snorkeling, jungle treks, luxury resorts stay and so much more.
It is often referred to as the paradise on Earth because of the serenity and beautiful sightseeing it offers.
Why visit Havelock Island during April?
During the month of April, the IT festival is organized in Havelock Island. This festival continues throughout the night, followed by a number of fairs and beachside activities too accompanied by several tribal activities.
Places to visit in Havelock Island
Remember to visit Kala Pathar Beach, Govind Nagar Beach, Neil's Cove, Radhanagar Beach, Sea Link Adventures – Sea walk on your visit to the Havelock Island.
9.Thanjavur
This particular South Indian place is known as the treasure place for Indian heritage art and architecture. Thanjavur is also one of the popularly known religious hubs of the country.
This tourist place holds a lot of importance as it also serves as one of the renowned archaeological sites. Every year a lot of tourists are attracted to Thanjavur to witness the monuments and architectural remains here.
Why visit Thanjavur in April?
One of the primary and important festivals of Thanjavur is the

Brahmosttavam festival.

This particular festival has a lot of religious significance here too.
Places to visit in Thanjavur
Make sure you visit the Rajarajan Memorial Hall, Pattukotta Kalyanasundaram Mani Mandapa, Sivangana Garden on your visit to Thanjavur.
10.Visakhapatnam
Visakhapatnam serves as a perfect getaway for the minds with sprawling beaches and beautiful caves all over. Besides holding such a pristine beauty, this place also holds a great heritage beauty, with all its temples and the pilgrims.
Why visit Vishakapatnam in April?
Chandanotsavam

, or also known as the

Chandan Yatra,

is one of the most popular festivals of Visakhapatnam and is

celebrated to pay homage to the Goddess Lakshmi.
Places to visit when in Vizag/Vishakapatnam
Visit the Rama Krishna beach, Rushikonda beach, Gangavaram Beach, Yarada beach, Bheemili beach, Borra Caves, Kailasagiri, Indira Gandhi Zoological Park, Simhachalam temple, Submarine museum, Erra Matti Dibbalu, and Araku valley when on your Vizag tour.
11.Coonoor
Coonoor is considered to be one of the largest places in the hills of Nilgiris. If you are a trekking and hiking fanatic, then Coonoor is ready to give you a hearty welcome!
However, there are a bunch of tourist attractions and activities for you to try out here like fairs and festivals apart from usual tourist places.
Why visit Coonoor during April?
Coonoor has a moderate climate during the month of April which open scopes for more adventures and travel.
Places to visit in Coonoor
Visit the Dolphin's Nose Viewpoint, Catherine Falls, Tea estates while you visit Coonoor. You can also head to Ooty and check out these Places to Visit in Ooty.
12.Thrissur
Thrissur has got something for everyone out there. From beautiful waterfalls to forests, from beaches to backwaters, this place has got everything to offer. Besides, it is also a popular heritage site of Kerala and known for its perfect blend of spirituality and tradition.
Why visit Thrissur during April?
The most popular festival,

Thrissur Pooram, takes place in the month of April.

There are also several

arts festivals

which takes place during the same month.
Places to Visit in Thrissur
Do not forget to visit Vadakkunnathan Temple, Basilica of Our Lady of Dolours, Poomala Dam, Arattupuzha Sree Sastha Temple when going to Thrissur for vacation.
13.Auroville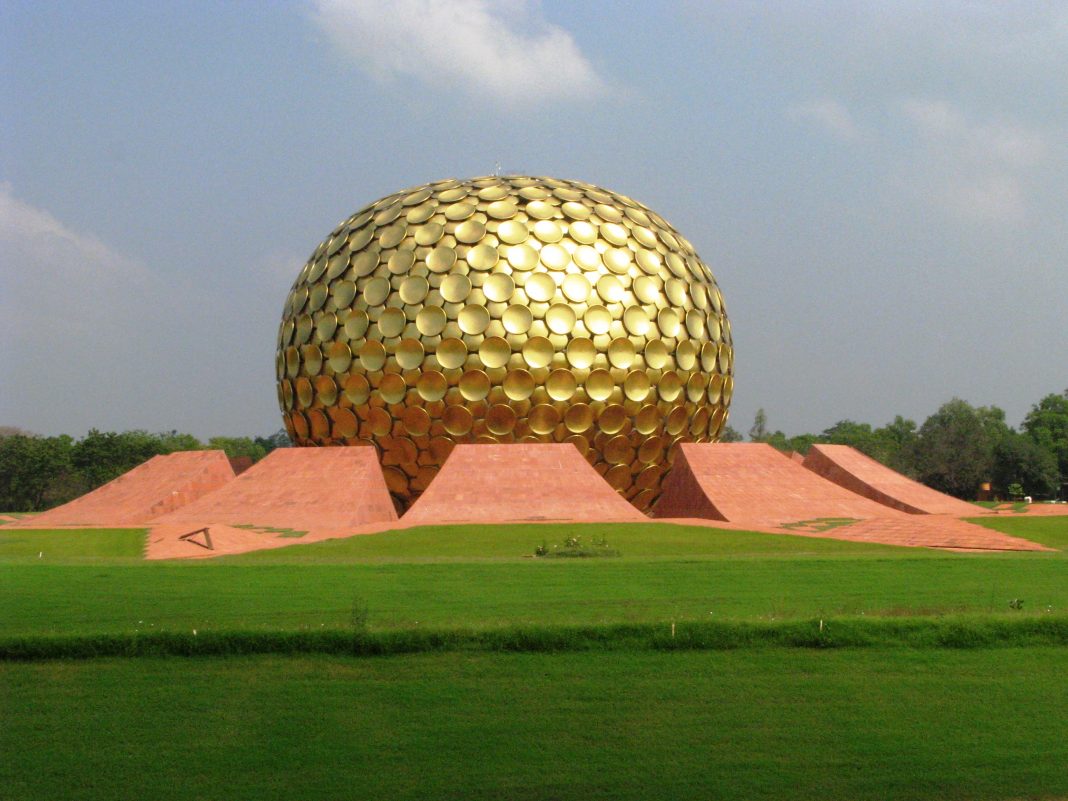 This particular semi-urban places with some serene beaches and scattered forests. Being in Auroville, and not doing a Sadhana forest tour, is such a waste. Moreover, visiting Auroville, allows you to derive a first-hand experience regarding the lifestyle of the people in Auroville which runs on the concepts of Aurobindo and the Mother.
Why visit here during April?
The Tamil New Year

is celebrated with great pomp in Auroville during the first week of April.
Places to visit when in Auroville 
Must visit

Matrimandir

, Savitri Bhavan, libraries and so much more while in Auroville. Explore the farms and gardens to see how organic farming works. Take a tour to Sadhana Forest as well.
14.Port Blair, Andaman And Nicobar Islands
Port Blair, though is a quite common name, has got very huge importance and is the capital of the Andaman and Nicobar Islands. The islands attract tourists from worldwide for decades because of its alluring beaches with crystal clear waters.
Its coral reefs are among the spectacular wonders of the island. The presence of the Cellular Jail in Port Blair unfolds a lot about the history of the place. Besides, the serene atmosphere of the island is another reason for huge tourist attractions every year. 
Why visit Port Blair during April?
 A beach festival

is celebrated in Port Blair during the month of April. The festival continues for

three long days, accompanied by several activities and foods.
Places to Visit in Port Blair
Do not skip the places, like the Beaches, Museum and Zoo, The Cellular Jail, Havelock Island when in Port Blair. The Fisheries Museum, Carbyn Cove Beach, Anthropological Museum, Chatham Saw Mill, Chidia Tapu are some of the notable wonders of the Andamans and Nicobar Islands.
15.Periyar National Park, Kerala.
Covering miles of land, this particular national park of Kerala is one of the most beautiful natural wonders in South India. You can experience the nature at it's best amidst the beautiful wildlife sanctuary. It is known as one of the famous tiger reserves in the region too.
Why visit here during April?
April is the most favorable month to visit here as you can experience the diversity of wildlife at its best during this time. 
Places to Visit nearby Periyar National Park
Please visit Thekkady, Mangala Devi Kannagi Temple, Sabarimala and more while on your trip to Periyar National Park, in Kerala.
16.Kumarakom
Kumarakom holds a cluster of islands and is famous for its backwater lake. It is actually a small village in kerala which houses a bird sanctuary. It is counted among one of the beautiful destinations with all the best possible facilities. There are also a number of exciting transport options available here.
Why visit Kumarakom during April?
A

harvest festival

is celebrated in the month of April where the tribal people take part and do some cultural performances.  
Places to visit in Kumarakom
Also visit, Vembanad, Kumarakom Bird Sanctuary, Kumarakom Beach and many more places, on your visit to the Kumarakom.
17.Kodaikanal
Kodaikanal, often known as the princess of the hill stations in South India, serves the perfect blend of culture and beautiful nature. It has perfectly manicured slopes, crystal clear lakes, scenic waterfalls, rolling hills, serves as one of the perfect holiday gateway destinations.
Why visit Kodaikanal during April?
Chithirai Festival

is celebrated in the month of people, in Kodaikanal. It is a traditional festival and is celebrated to pay a tribute to Lord Vishnu.
Places to visit when in Kodaikanal
18.Varkala
This particular virgin land in the lap of South India serves some of the best natural wonders in the country. Varkala also has a lot of religious importance and has also inherited the year-long culture of Ayurveda. There are also a number of temples in this place which adds to the beauty of Varkala.
Varkala Cliff is famous among the tourists, and a lot of amazing food is also available here. You can also get some great bargain deals when shopping here.
Why visit Varkala during April?
The Janardhan Swami Temple festival

is celebrated during the first week of April with great pomp and cultural celebrations.
Places to visit in Varkala
Some of the commonly visited places in Varkala are, Sivagiri, Kappil Lake, Varkala Cliff and Vishnu Temple.
19.Tiruchirappalli
Owing to the great history and culture, this particular town in Tamil Nadu is known for its ancient historical remains and culture. This particular place is quite famous for its magnificent monuments and unique architectural temples. You can experience the spiritual growth of yourself by visiting the Tiruchirappalli region.
Why visit Tiruchirappalli during April?
The Literature festival

is organized in the month of April at Tiruchirappalli which calls for all the people from different parts of the world with a taste of literature. 
Places to visit in Tiruchirappalli 
Do not miss the places like Jambukeshwara Temple, The Rockfort Temple, Vayalur Murugan Temple while going to Tiruchirappalli trip.
20.Madikeri/Coorg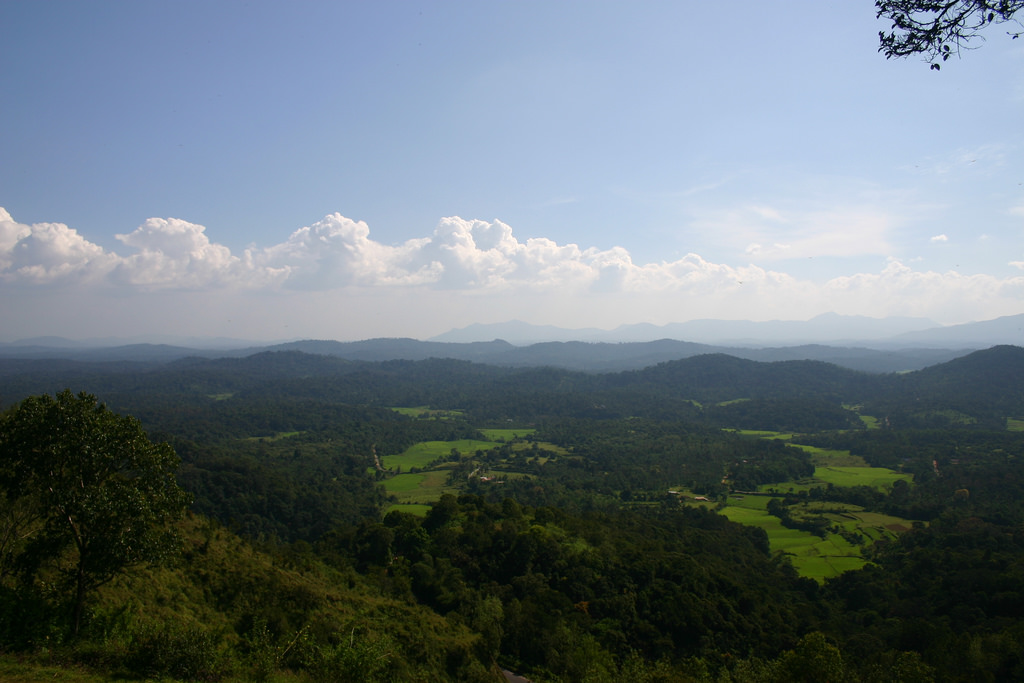 Madikeri or Coorg is a beautiful town, located amidst the hilly region of South India. The place is mostly known for its famous monument, that is, the Raja's Seat. The large and simple monument looks very grand and bores the historical past of the early 17th century.
There are huge cultivable lands and fields and plantations located around this particular place, which are worth watching.
Why visit Madikeri in April?
The best time to visit Madikeri is during April as you can experience the best of weather in this hilly region.
Places to visit in Madikeri
Places like Sree Kanchi Kamakshi Temple, Government Museum, Raja's Tomb, View Point Park, Linga Rajendra Tomb are some of the must-visit places of sightseeing when you visit Madikeri.
21.Neil Island
Though a part of the beautiful Andaman and Nicobar islands, this particular island had got its own charm. It is located only at a distance of 37 kilometres from the location of Andaman and Nicobar islands here. This island is still a virgin with the unexplored jungles and forests, coral reefs, and a wide range of plantations and vegetations.
Why visit Niel Island during April?
  If you want to experience the tropical weather of India, then you must visit Neil Island during the month of April.
Places to visit when in Niel Island
Also do not forget to visit the Laxmanpur Beach, Howrah Bridge, Sitapur Beach, Bharatpur Beach, Neil Island Jetty.
22.Chikmagalur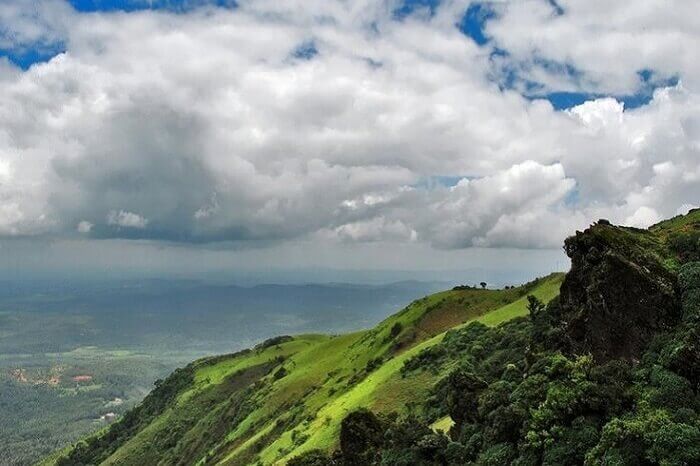 A mountain range in the Western Ghats, which is very famous for a large number of caves. The caves here, are considered to be holy and are regarded to have a religious significance. There are also a number of forests on the mountain peaks which must quench the adventurer's thirst.
Why visit Chikmagalur during April?
If you want to experience the

warmest spring

, then make sure you visit Chikmagalur in the month of April.
Places to visit in Chikmagalur 
Some of the places to visit include Baba Budan Giri, Kudremukh and Bhadra Wildlife Sanctuary.
23.Badami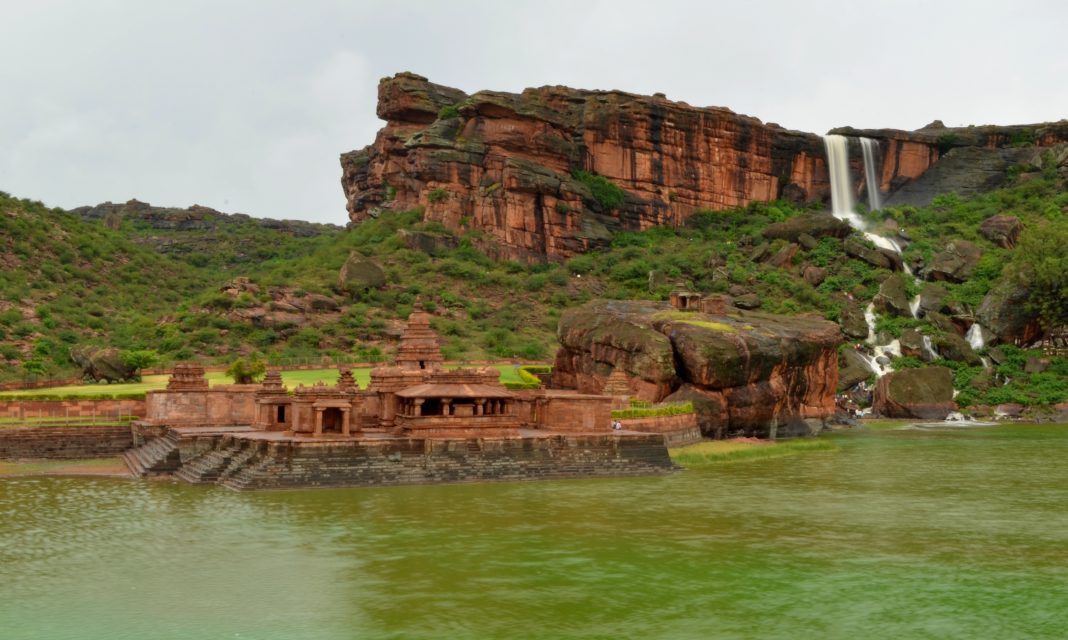 If you want to know about the ancient architecture of India, then there cannot be a better place than Badami, in South India. Previously known as Vatapi, this place has in stock some of the most beautiful rock cut temples and monuments.
The cave temples are regarded as religious epitomes and have also helped the tourists to regard it as a pilgrimage.
Why visit Badami during April?
Mallikarjuna Temple Festival

is celebrated in the month of April, in the Pattadakal region in Badami.
Places to visit when in Badami
Also visit Agasthya Lake, Bhutanatha group of temples, Upper Shivalaya Temple, Badami Fort, Cave 3.
24.Araku Valley
Araku Valley is one of the most adventurous hill stations in South India. The scenic beauty and the greenery and waterfalls on the hills are worth a watch. The best part about this place is the journey through the tunnels, caves, and, streams.
Why visit Aaraku Valley during April?
Itika Pongal, a famous hunting festival

is celebrated during the month of April in Araku Valley region.

Ugadi festival

is also celebrated during the same month.
Places to visit around Araku Valley
Also visit places like Vizag, Kailash Giri,  Coffee Museum, Padmapuram Gardens, Katika Waterfalls and the famous Borra Caves.
So, I hope the above places to visit in April in South India help you with your vacation plans. Let me know where you are headed :). Also, please do share your experiences with any of the places below in comments. Do pin this for later and share among your social media!