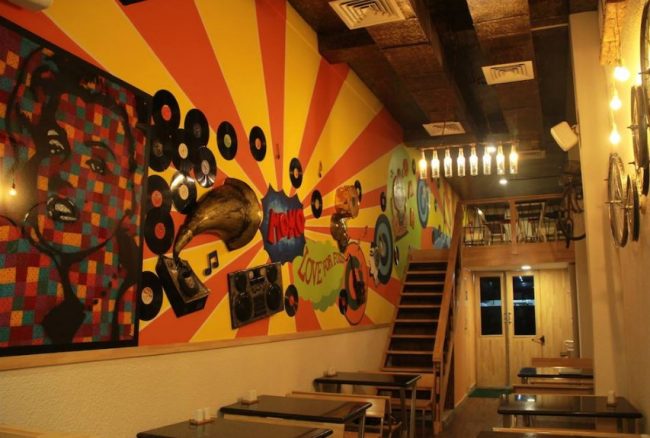 Let me start my review about this place, O My Hunger by expressing my best wishes to Mr Vikas Prasad for owning such an eatery. The taste of the food served here lingers on our mind for days before it becomes a great experience. What is so special about the food here?
It is the yummy tandoori MOMOs which make O My Hunger a must place to visit in Bangalore. This is a special dish which proves that vegetarian food tastes equally good like the non-vegetarian foods. The chicken platter, mutton and chicken cheese might give you a foodgasm. On the flip side, the mouthwatering taste of veg tandoori MOMOs is nothing less to taste. In addition to all these dishes, if you are a health freak the salads also are very tasty. They are tasty to the tongue and healthy for our body.
Ambience:
The ambience at O My Hunger is very casual and chilled out. 'O my hunger' sure is pleasant to the eye and is beautifully decorated with amazing graffiti that can inspire your creative side. It appears to me as though the owner has taken a lot of pain to decorate O my Hunger  with his own creativity. There are a lot of beautiful and lively pictures you can see at O My Hunger.
Talking about the service:
It is more than awesome, I would say. We had to wait approximately 8 minutes before we could think of serving our bellies with food. The staff here are very polite and responsible. Whenever they take an order, they make sure that they understand each customer's need and make it a point to clear their doubts before they vanish to bring out your order. It was very nice of the owner to come and interact with the customers who are a sure sign that he is more concerned about the customer's satisfaction rather than reaping profits out the restaurant.

Food at O My Hunger:
The delectable food will make you a brand loyal customer for O my hunger for sure. The chicken platter,  ema dashi (a Bhutanese dish, a mix of chicken keema and rice),dynasty delight, grilled chicken salad,crispy honey chilli potato (a must try) and the tandoor momos- that are not very common but are a treat to your taste buds & if you're a cheese lover, why not some veg cheese tandoori momo? The quantity is good. Eight momos are served, and the size of the momos are quite big comparatively.

They will give you a different and pleasant eating experience for sure.
Panda's recommendation:
Crispy honey chilli potato for the ones who like spice & sweet,  tandoor momos for the love of momos, ema datshi (a Bhutanese dish) & you just cannot say a no to their chicken platter.
Value for money:

It is just about fair, taking in consideration the quantity & quality it definitely is worth it. I enjoyed the food thoroughly. It is advisable to go there with 2 or 3 of your friends to have a nice experience. With regard to the value for money, it's moderate. I would say that trying out to eat from this place would make you feel hungry every time you think about this experience.
Panda meter:
The brain sends signals to your heart. But here, your stomach would do it for you. The different varieties of food which are available here makes you feel exhilarated and delighted.
Panda Happiness Meter
8.0/10
Pros
Quantity was really good.
Tandoori Momos are one of the best in Town.
Ambience is very unique and soothing, the graffiti is eye pleasing
Cons
A little pricy, but still worth.