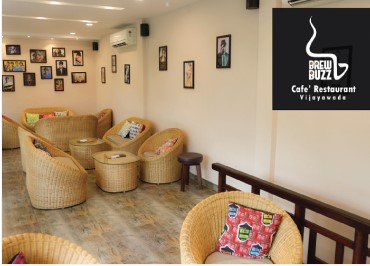 Hello everyone, I'm bringing the latest review for all the foodies and food lovers, A new cafe, Brew Buzz Vijayawada. Brew Buzz is Located at 59-7/9, opposite LEPL project office, Babu Textiles road, Gayatri Nagar, Vijayawada. It's also rated as one of the best restaurants in Vijayawada. 
Ambiance
This café' restaurant has an outside smoking zone. The sitting area can be found inside, at the first floor.  A well-maintained cafe and probably one of the best you can find in the city.
Service
Living in a tech world and you will be finding a glimpse of that here. There is the machine, press a button and you find the server at your table. Now that's something new! A unique style of serving people, you are going to have no complaint with their service. This place is always crowded. But yes, always well maintained.
Brew Buzz Timings 
Brew Buzz can Serve you anytime between 11 AM to 11 PM.
Food at Brew Buzz Vijayawada
The taste depends upon the food you order. You won't find the food bland but some items are average. No food items on the menu will disappoint you though. You will find specials on their menu. And trying them will be a good idea. A café, so yes the coffee is good.  Soups also taste good and different. The desserts are a winner, the chocolate avalanche was amazing, Definitely going to go back to have it.
Value for money
Prices are really competitive. You will be amazed to have such food for the money you paid. Great value for money!
Panda's recommendation
Panda would recommend you to try lemon coriander soup. You are surely going to visit the place again to have this. Dare Devil, paneer Mongolia and their special baby corn sticks would be a decent choice at Brew Buzz Vijayawada. Chocolate avalanche, which they serve as dessert is a must. That's the best thing you will be having there.
Happiness meter
Spending an evening at Brew Buzz Vijayawada would be a nice idea. You will surely leave the place with a smile, having nothing to complain about. Overall a decent place and good food.
Been to Brew Buzz in Vijayawada?We would be happy to know about your experiences. Do share them in comments below.