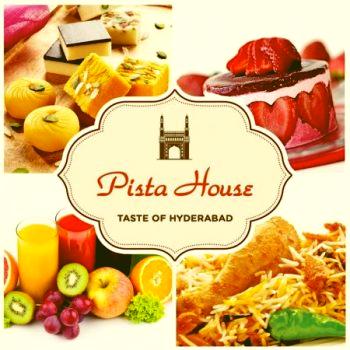 Pista house is Located at the Siddhartha college road, Moghalrajpuram, Vijayawada. Visit anytime between 10 AM to 11 PM. The ambiance is decent, an atmosphere which won't disappoint you.  Interestingly, they have a live counter from 4 to 8:30 PM every day where they have live hot bajjis and jalebis. 
Pista House, Cakes Home Delivery in Vijayawada : 
They also do home delivery of cakes in vijayawada, which is so helpful for people like me who prefer to surprise people with a cake at 12 am 😀 I ordered an eggless cake, they made it in such a less time span after informing and delivered it before 12 am as well.. I couldn't even imagine if it was possible, but they managed to surprise me. The death by chocolate was yummy, couldn't stop eating it. If you're in for surprise, do experiment with their Ferrero Rocher cake.
Service:
Service may be a bit slow sometime, when busy, which is understandable. Otherwise, when you visit the place, the service is generally super good at that time. The hospitality is amazing. The way they treat you will make you want to visit the place again. You need not worry about hygiene and cleanliness they usually take care of that.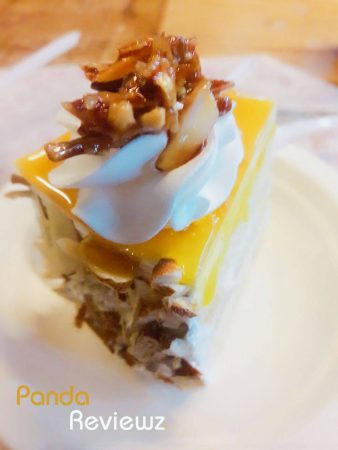 Pista House Vijayawada's Food Review :
The food ranges from average to amazing. Want to know how burger will taste if given an Indian twist? Then you can have the veg burger but panda must warn you about the addiction you'll have. I literally went back to this place twice for the Burger. Pista House is one of the best Restaurants in Vijayawada.
Egg sandwich is way better than the sandwiches they offer at any other place in town. Green apple slush and green apple soda is just the right drink you can wish for, looks like green apple gets special treatment here at Pista house.
Coming to Chinese, The dragon chicken was a winner. Mushroom and paneer dishes were average. When you think about sweets you get them best at Bengal. Want the same flavor and taste? Pista house has a special pastry which will make you feel the Bengali sweets in every bite.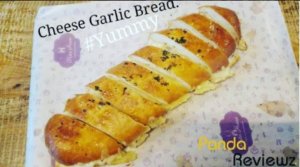 Value for money:
Money? You don't need to worry about that when you visit Pista house. You get the right food at the right price. A full value. PISTA HOUSE offers items that are an experience in exceptional taste & quality at competitive rates. When you look for mouthwatering & lip smacking delicacies at an affordable price, in-depth variety & quality, choose PISTA HOUSE to please your heart & your loved-ones; each bite is a delight and memorable that urges you to come back for another round of eating experience.
Panda's recommendation:
You are going to get a long list of the food items that you are going to regret not having at Pista house. Go for the egg sandwich and chicken kathi roll. The vada pav you find here is surprisingly too good. Even the Pani puri is mouth watering. The puris are crisp and you are definitely going to long for more. You are going to die for tasting the chicken shwarma again.
The cheese garlic bread is extremely cheesy and tasty, a must have. The bread looked fresh and this is surely going to tickle your taste buds. Some of the desserts are also amazing. Add cake pops, mini cakes, sizzling chocolate brownie to your must-have list. They make jalebis on Krishna Pushkaralu, you are going to love this. The haleem and biryani is already something Pista house is famous for. :). 
Happiness meter:
You will be having an amazing experience with the food you have there. It will be a 4 on 5 if all put together.
Been there? Do share your experience. We would love to go through your views.