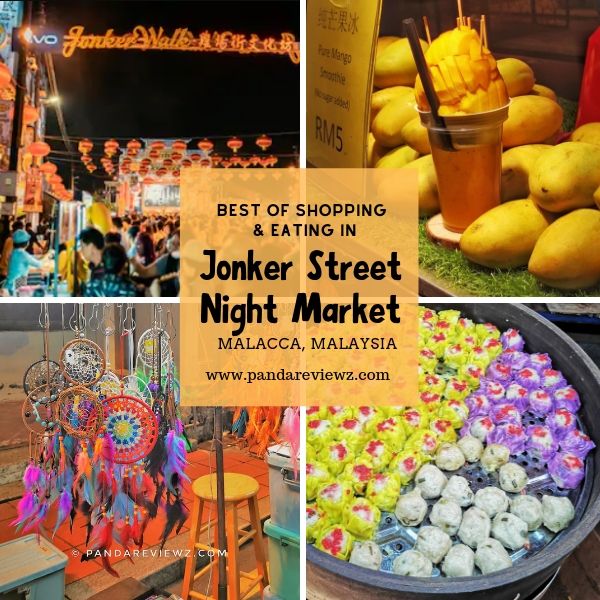 Jonker Street Night Market is the most famous tourist destination where you can have everything from food and all things related to street shopping in Malacca. It is called as Jonker Street or Jonker Walk and is one of the most famous streets not just in Malacca, but entire Malaysia as well. Jonker Street Night Market is always crowded, which also makes it lively as well, especially at nights.
Jonker Street Night Market
Jonker Street is the primary Chinatown of Melaka, and there are a few antique shops. During weekends, the whole street becomes a long night market where you can spend your night shopping and trying out some unique street food.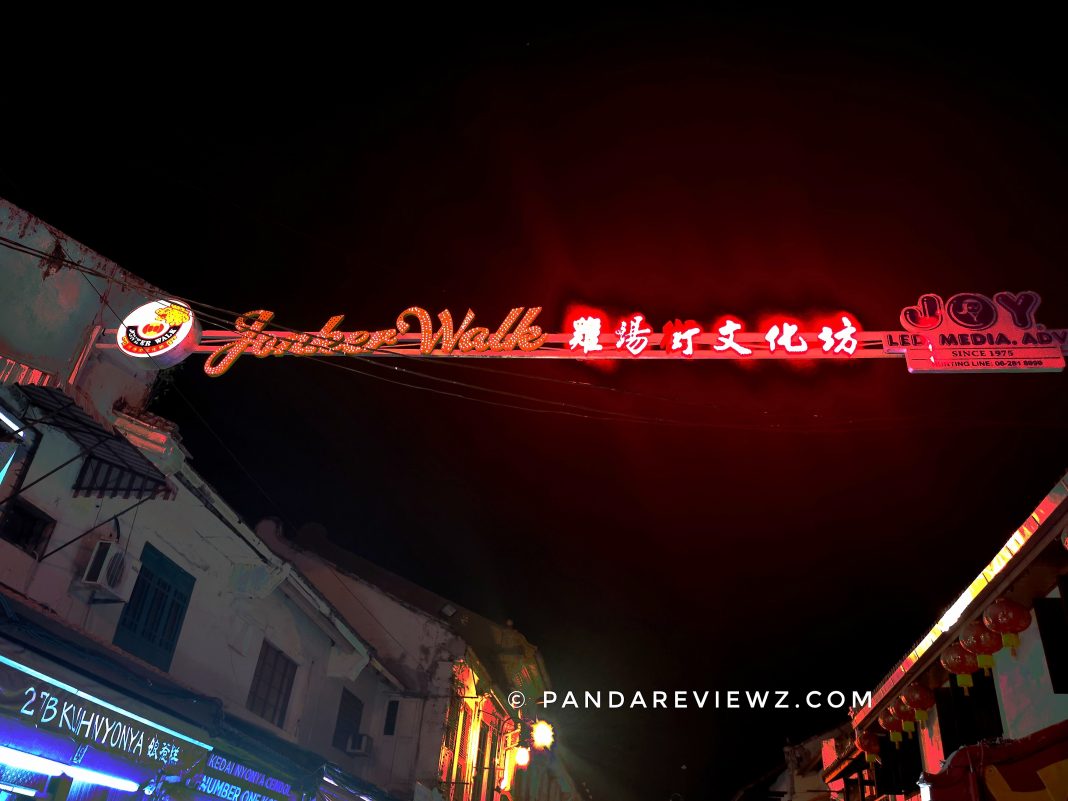 I made my entry into the Jonker Street by a welcoming board. As I stepped into the street, there were numerous shops and vendors on either side of the street. You can see the heads of many people along the length of the road. Some people were busily chatting with the shopkeepers, and there were some people bargaining about the prices.
The street is filled with a few nuances of history. I noticed a huge lengthy dragon floating across the street right above our heads. This is one of the UNESCO's World Heritage Site.
Location of Jonker Street
Jalan Hang Jebat, Melaka, Malaysia.
Timings and operating hours for Jonker street night market
The night market is open on weekends from 06.00 PM to 12.00 AM.  However, the cafes and restaurants are open till morning.
Fee: No entry fee
🍽️14 Must Try Jonker Street Food at the Night Market
Jonker Street has emerged as one of the top-most food destinations in Malaysia. There are several good restaurants in the street where the major cuisine followed is Asian cuisine. I also saw a huge number of street food carts on the adjacent side of the streets.
1. Dumplings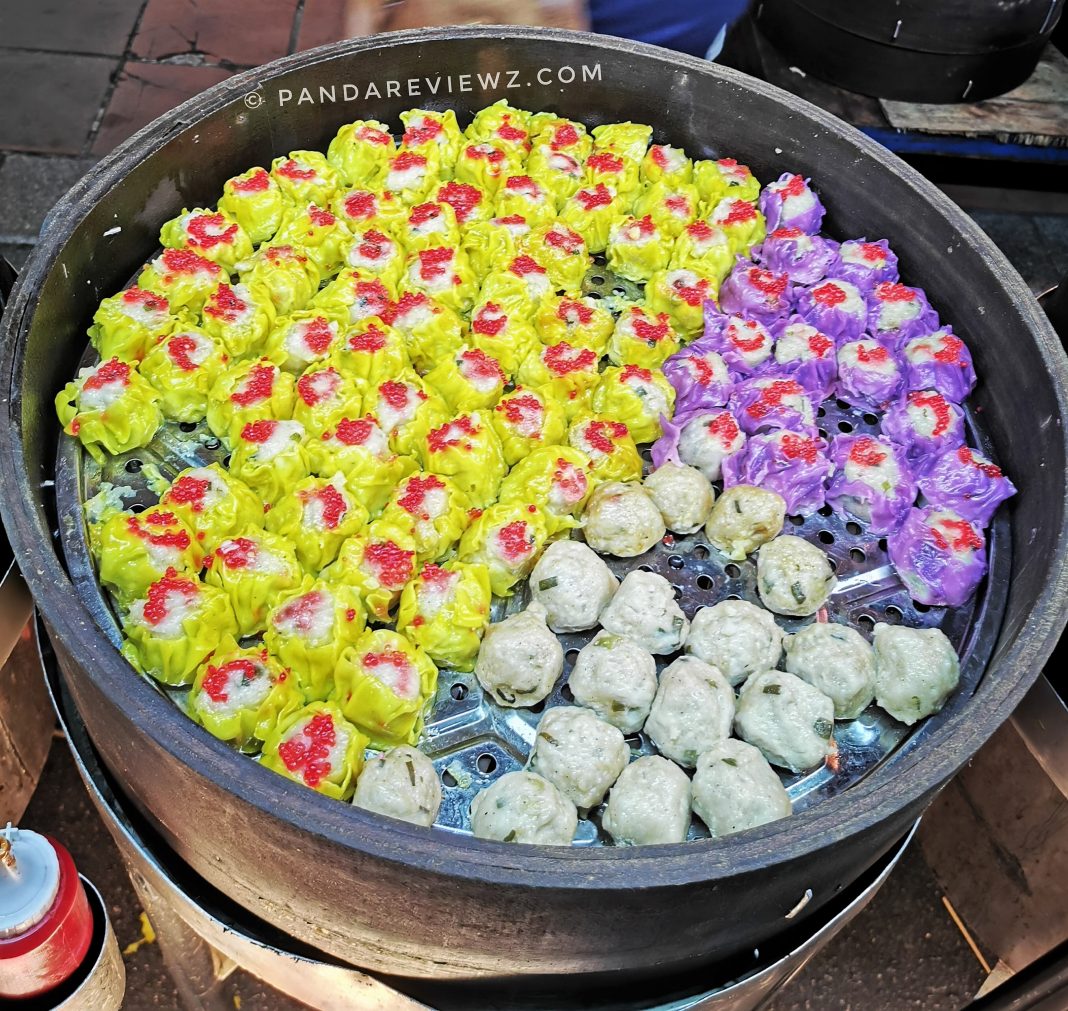 I found many colorful dumplings selling shops on Jonker Street. Jonker Street in Melaka offers authentic and delicious dim sums. Dim sums come in different variations with different types of fillings in them.
In this dish, steamed buns are filled with delicious fillings, mostly with meat. The dim sums in Jonker Street have tender meat fillings that are seasoned with pepper, which makes it quite flavorsome.
You can try dim sums like glutinous rice ones, tai pau, siew mai, salted egg custard buns, and corn custard pau too.
2. Fruits 
Along the Jonker Streets, I found many fruits served by neatly chopping. I stopped at a Mango shop and tasted the fresh and ripe mangoes. There were also numerous shops that sold fresh juices, mango smoothies, and so on. There were also other shops that other fruits like guava are sold.
3. Baby crabs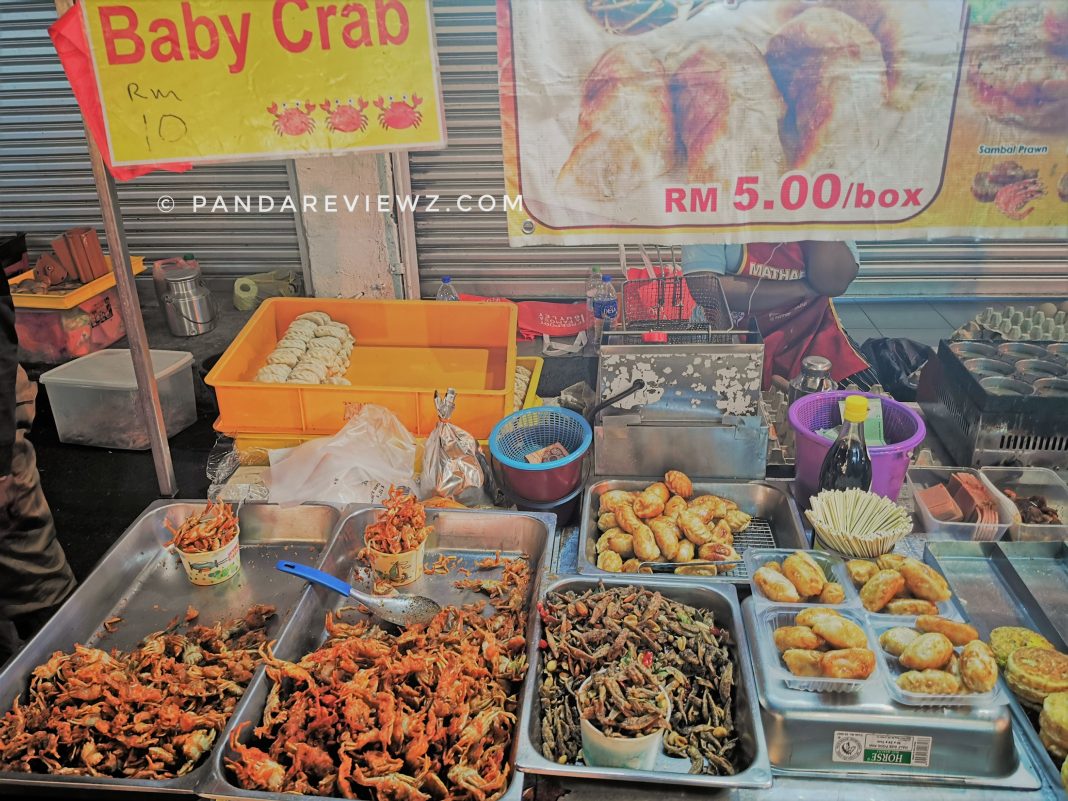 If you are a Non-Vegetarian lover, then the Jonker Street is the best food destination for Barbeques. Numerous shops sell BBQ fish, crabs, chicken, and pork
Different types of baby crabs were available at Jonker street. They are fried, and with added spices, the place was amazing.
Baby crabs are popular street food in Jonker Street. The tiny crabs are deeply fried and dusted with chili and they are super delicious in taste.
This is one of the classic Malaysian street foods that you will rave about for a long time.
This crab recipe falls a bit into the spicy territory, but you will love it once you taste it. Fiercely sauteed and flavored with ginger, garlic and dusted with chili powder, you can appreciate this dish right in Jonker Street.
4. Cuttlefish
Another great item for seafood lovers, the Cuttlefish is a much sought after food item in Jonker Street.
If you can handle spicy food, you should definitely try this item. The Cuttlefish here is barbecued, which gives a crunchy bite to it and it is a bit salty and spicy in taste.
5. Potato sticks
The potato sticks are a crispy snack you can munch on during your shopping session at Jonkers street. I bought and tasted a potato stick which was quite tasty and crispy.
6. Puding Longan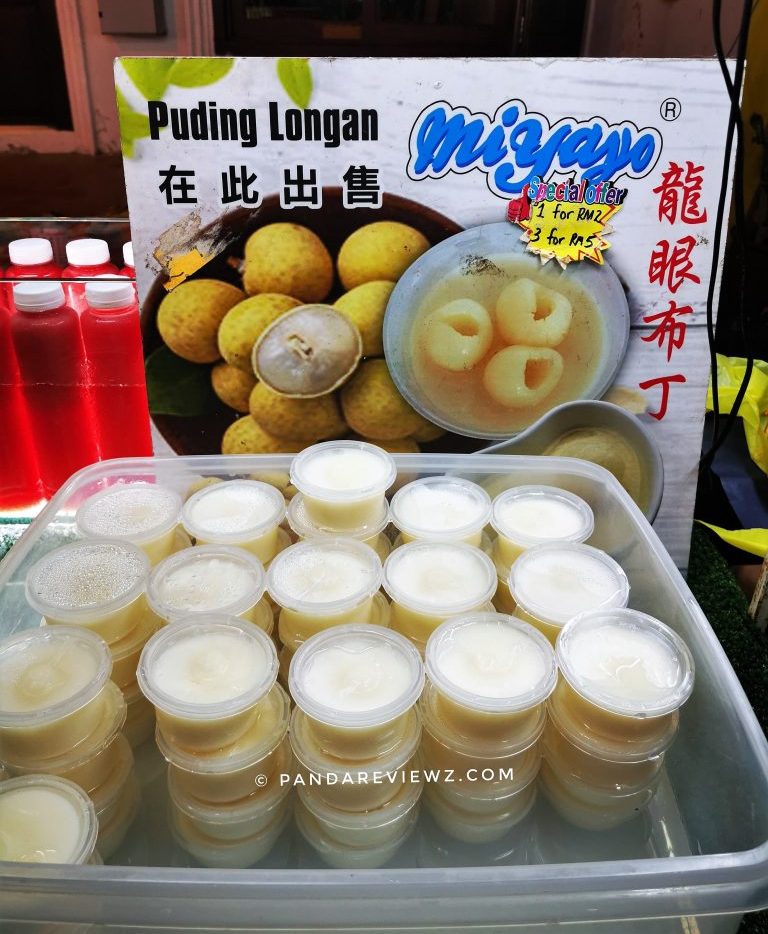 Puding Longan is a delicious dessert that you can find in Jonker Street.  The dessert is made using the locally available longan fruit. The dish is not extra sweet, so even if you don't have a sweet tooth, you can try it out.
The dessert is cooked in many variations, but they all use longan fruit and pandan leaves to add to the flavors. This traditional Asian dessert goes well with almost any dish and it is sure to satisfy you with its delectable taste.
7. Pan Cakes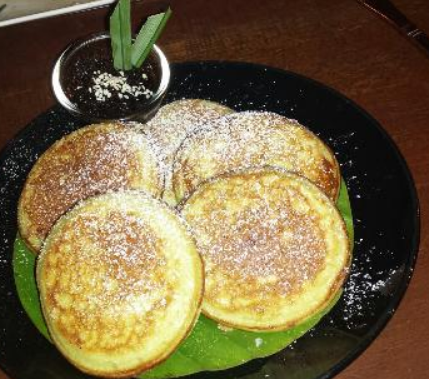 Pancake, as we all know, is a great breakfast item. Easy to cook and great in taste, pancakes are a favorite all over the world. Pandan pancakes are a great delicacy in Jonkers street. Crispy on the outside and fluffy on the inside, these pancakes will fill your taste buds with a delicious flavor.
The pancakes are filled with Gula Melaka, a type of sugar native to Malaysia. Thought the pancakes are filled with sugar, but they are not extra sweet.You can also pour some Gula Melaka syrup on your pancake as well if you like them really sweet.
8. Chinese Tea Eggs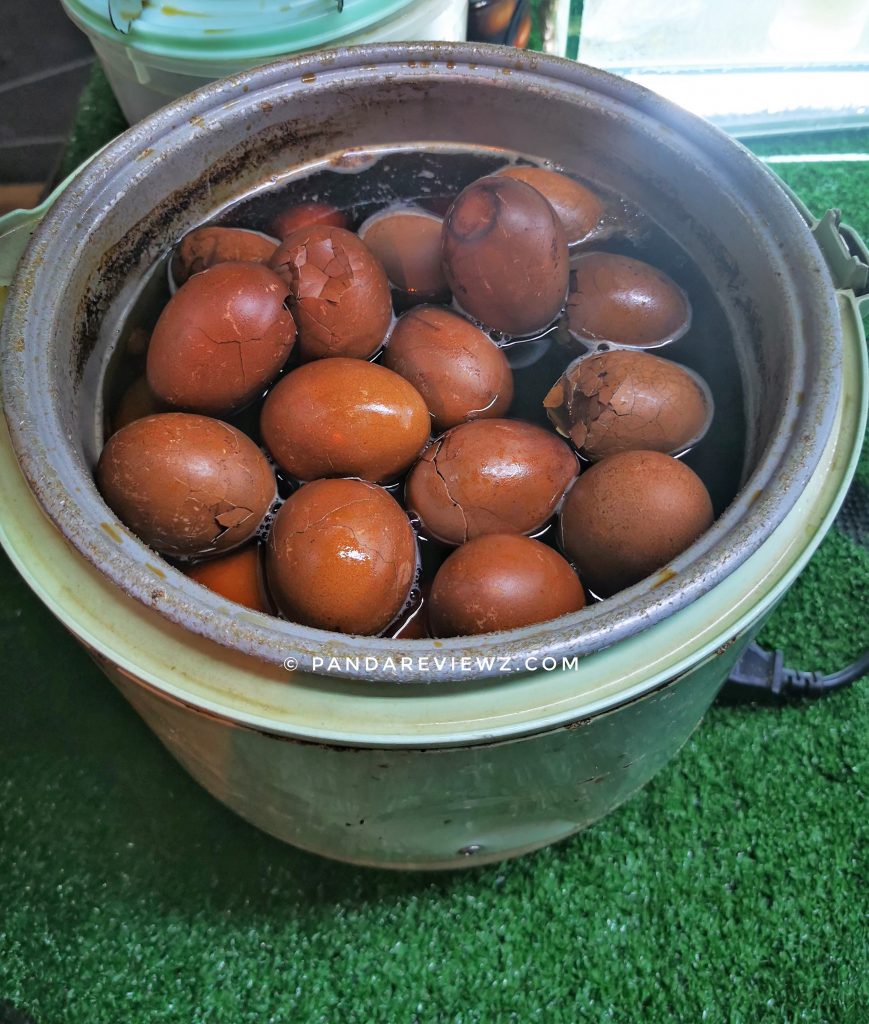 The Chinese New Year is nothing without Chinese eggs. These Chinese eggs are boiled in water along with spices and tea. The rich flavors of tea and spices will be infused into the egg slowly while boiling.
I was surprised to see the different cracking on the shell that gave a unique design to each egg. In Jonker Street, they were brown as the tea flavor was a bit extra.
9.Mango sticky rice
Mango sticky rice is yet another Malaccan dessert.  The dish is actually a Thai influenced dish, which is made of glutinous rice and mangoes.
It is a very popular dessert in South East Asian countries. This dessert item is made by steaming the glutinous rice, which makes it a bit, hence the name.
The rice is then sweetened with the help of coconut milk and gula Melaka, it is then served topped with ripe mango recipes. This dessert is truly a delight and one not to be missed.
10. Charcoal Milk Tea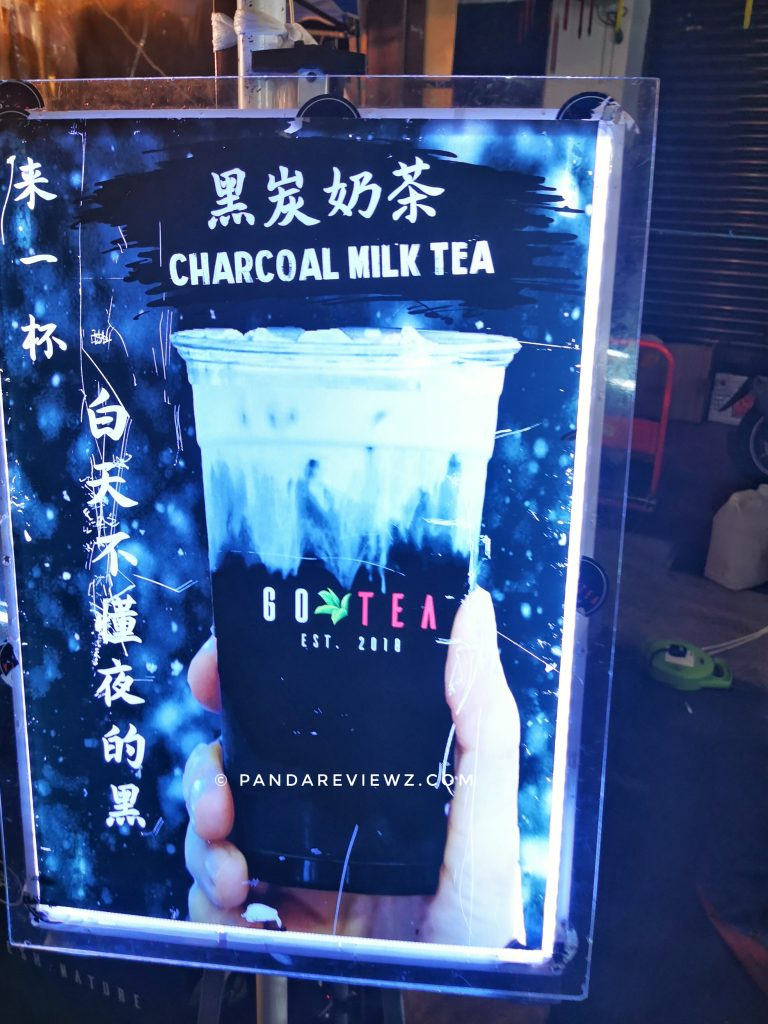 You surely like your regular cup of tea, but have you tried the charcoal milk tea in Jonker Street?
It is quite an interesting drink and is actually a Tawainese inspired tea-based beverage. You will find quite a few charcoal milk tea shops in Jonker Street and this tea presumably has quite a bit of health benefits.
This tea that comes with activated charcoal can help you naturally detox your body and get rid of toxins. It is also believed to help with digestion problems and bloating.
So when you visit Jonker Street in Melaka, make sure to try a cup of this cool charcoal milk tea.
11. Durian puffs
Durian is an exotic fruit found in Asian countries and there is still a great deal of debate regarding the taste of this fruit.
But nonetheless, if you are a fan of Durian, you will definitely love this food item.
Durian puffs is one of the signature desserts in the Melakan cuisine. Jonker Street serves some of the best Durian puffs in town.
Like veg puffs, Durian puffs are made with a filling of Durian paste instead of veggies inside the puffs. Take a big bite of the puffs to truly understand the flavor of Durian in it and if you can, finish this dessert off in one single bite.
12. Chicken Rice Balls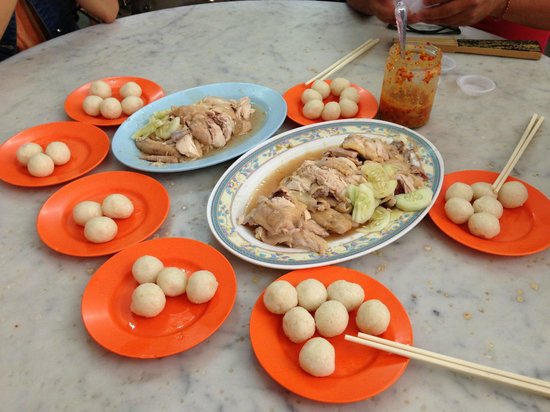 This is an authentic Melakan recipe and you will find it easily in Jonker Street night market. This dish is prepared by cooking rice in a chicken broth. The rice then shaped in the form of a ball.
The rice balls are mostly served with tender chicken and topped with a delicate sauce made of garlic, soya, and chili. Try them out and you will definitely not regret the choice.
13. Nyonya Assam Laksa
Laksa is a popular Peranakan dish and it is found in all Peranakan restaurants and eateries.Nyonya Assam Laksa is also available in Jonker Street. This dish is basically noodles in a curry and it is national favorite.
Nyonya Assam Laksa has quite a few variations. The one that you will eat in Jonker Street, has a more thick broth, due to the use of coconut cream in it.
Tau pok, prawns and fish ball are also added in the broth to add a bit more diversity in the dish and they are served mostly with julienned cucumbers.
The dish reflects the multicultural influence in the Melakan cuisine and you will definitely love slurping down a bowl of hot and delicious Nyonya laksa.
14. Coconut Snowball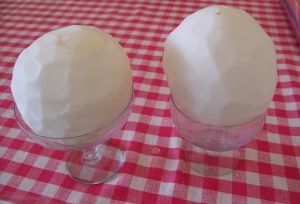 When you jaunt about Jonker street, you will see many coconut delicacies. Snowball is one such refreshing beverage. The coconut is cut carefully so the tender coconut meat and the water turn out like in the image, like a coconut waterball.
This delightful beverage is of coconut water with tender coconut. This drink will soothe you greatly in a hot summer day and a great delight for all the coconut lovers out there.
Things To Do In Jonker Street Night Market
1. Explore the Souvenir shops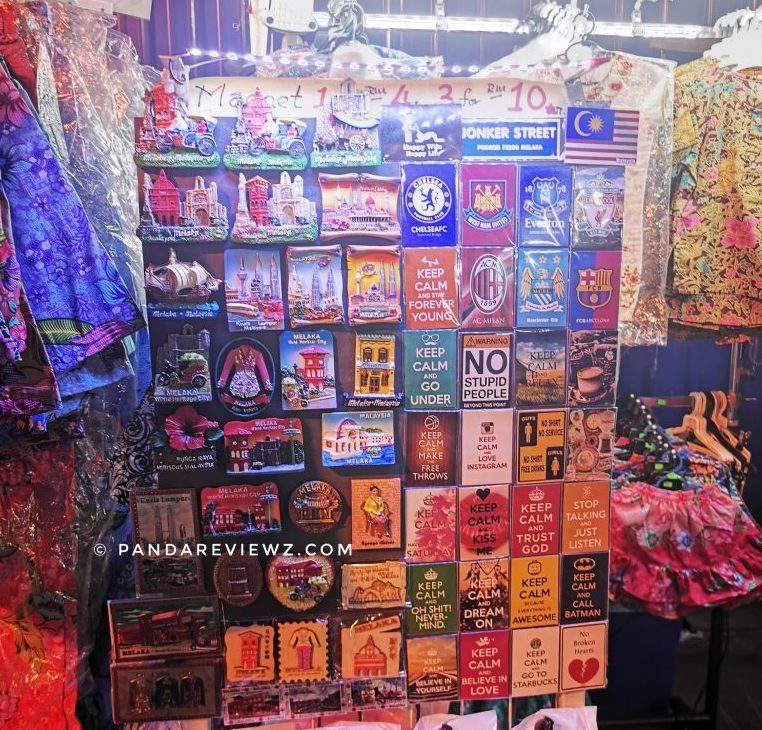 Many shops are available in Jonker Street that sells a lot of souvenirs of Malaysia. I found a lot of gallery shops that portrayed the culture and heritage of the people of Malacca.  You can buy them as the remembrance of your trip to Malaysia.
2. Cheng Hoon Teng Temple
There is a temple called Cheng Hoon Teng Temple along Jonker Street. It was built in the styles of Chinese architecture. It was closed, but still, it looked great at night. Numerous shops sell incense sticks and garlands for the deity, and those shops were also closed.
3. Vintage collection
Many shops sell vintage collection like pocket watches, shirts, sling bags, purses, and wallets. I found many shops and all were highly fashioned. If you want something not too expensive, then you can buy them in Jonker Street.
4. Vinayagar temple
I was surprised to see a temple in the name of Lord Ganesh at Jonker Street. It is called as Sri Poyyatha Vinayagar Moorthi Temple, and it is the oldest Hindu Temple built in Malaysia.
5. Cultural Museum
There are several museums along Jonker Street, and all these museums have many collectibles. These are important in Malaysian history, and it is great to know about the past of Malacca during those times.
6. Head to a Cafe after the walk
Tired of shopping? Just head to one of the cafes. At Jonkers street, you can find many cafes that are open at night. Hard Rock Cafe, The daily fix cafe, and Geographers Cafe are some of the most recommended ones.
🛍️Shopping at Jonker Street🛍️
Here are some of the things you can shop at Jonkers Street
1. Contemporary paintings
If you are the lover of artists and their arts, then you are in the perfect place. You can find many art galleries in Jonker Street. The contemporary paintings are available at affordable costs which you can pick and buy. Some of the well-known Art galleries in Jonker Street are Tham Siew Inn Artist Gallery, The Orangutan House,  Jehan Chan Art Gallery and many more.
2. Handcrafted bags
In the Jonker street market, you can buy many inexpensive things as a souvenir to back home. I found the Jonkers Gallery where there were wonderful bags, shoes, charms, and trinkets, which are handcrafted and available for sale.
3. Earrings
If you are a fan of bigger Asian earrings, then you can find a few shops that sell them. I stopped by at a shop where there were plenty of designed earrings were available. They were in different shapes and colors, and it is great to buy them at a cheap price.
4. Potted plants
I came across a shop where there they sold various potted plants. It is an item that can be bought as a souvenir and can be placed at our work desks. Yes, they were small pots at different custom sizes. They looked pretty and cute.
5. Dreamcatchers
Numerous shops sell different varieties of dreamcatchers. If you are thinking of one, you can buy here as the rate is very cheap. Also, you can get them in different colors and sizes.
💡Tips for shopping at Jonker Street
Have some lower denominative money in hand like 1,5,10 Ringgits,

as you will find cheaper rated goods. You can convert a higher decimated currency with the shop keepers.
Carry a water bottle with you as it would be handy.
Bargain 😀!! Bargaining is a must when street shopping, however, don't bargain at the vendors that have a fixed price.
If you are a vegetarian, just check before buying any food if it has egg or fish oil in it, as sometimes the fish oil may be used for frying.
One Day Trip From Kuala Lumpur
If you are in Kuala Lumpur, you can take this one Full-day trip to Malacca which covers all the major attractions including the Jonker street walk.
What other things you can expect in Jonker Street?
Take the attractive and decorated fun ride on a rickshaw

[known as trishaws here]

for going around the Jonker street. It is quite a large area, and you can find these trishaws.
Other than shopping, I found another world was running inside the Jonker street. I saw a Chinese man playing the

most beautiful music with his instrument.

Many people stood there completely stunned with mesmerizing music.
Apart from a street shop, there are also a

few permanent stores

. The prices are a bit on the high end, but you can walk around and get to know about their culture.

Walk to all the temples

that are situated at Jonker Street. You can come across different land temples like Chinese, Indian, and Malaysian customs.

🛏️Accommodation Near Jonker Walk Street🏨
I saw many hotels and guest houses here. It would be a great place to stay with different shops and top destinations like Encore Melaka in the neighborhood. If you are a shopping lover, then Jonker Street will be the most suitable place. I found many shops that sell delicious foods across the street. Here are the top places I would suggest you for a stay at Melaka, which is nearer to Jonker street.
Pines Melaka – The Best Luxury Hotel in Melaka
Located in the riverside of Malacca, the Pines Melaka hotel offers an urban touch and excellent hospitality services. The furnishing and details are unique from other hotels. You can stay at this top-class hotel and have a very comfortable stay.
Location: Jalan Tun Sri Lanang, Melaka, Malaysia.
1825 Gallery Hotel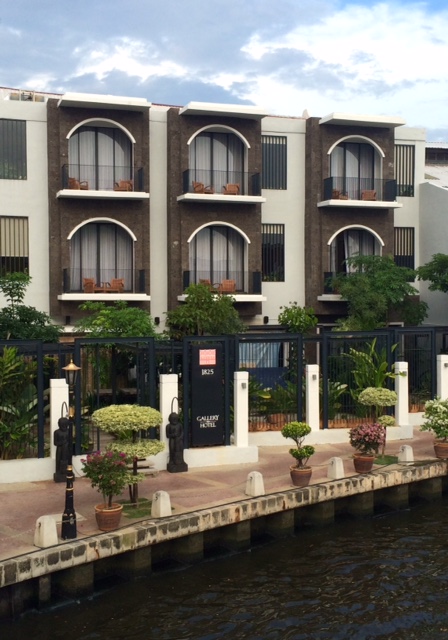 It has been the most famous hotel in Malacca. The 1825 Gallery hotel is a heritage hotel with modern architecture. You can have your best times at this hotel and also learn about heritage. This hotel offers River view suites and other executive suits, Dining, and comfortable rooms.
Location: 27,29, and 31, Jalan Bunga Raya, Melaka
Hotel Puri Melaka
If you are looking for a boutique type rooms, the Hotel Puri at Melaka is the best choice. The rooms are super classy, and with different architecture, that makes our stay a beautiful memory. Hotel Puri Melaka offers Suites, Spa, and best rooms within budget.
Location:118 Jalan Tun Tan Cheng Lock, Melaka, Malaysia.
Swiss Hotel Heritage Boutique
This hotel is best in offering the local cuisine at breakfast. If you wish to explore the various Melaccan foods, then Swiss Hotel Heritage boutique can be the one. It is enriched with the authenticity and heritage of the life of Melaka people.
Location:168, Jalan Tun Tan Cheng Lock, Jonker street.
Omni Hostel
If you are looking for a backpacker hostel in Melaka, then Omni hostel is the best choice. You can find dorm type beds and tasty food at this hostel. The female and male dorms are available separately. The bedroom for couples is also available.
Location:18-1, Jalan Kampung Pantai, Malacca city.
Nomaps
This hostel features a timeless and modern interior designed rooms with best prices. It is very closer to attractions like Melaka River cruise and Jonker street market. It is a lovely place to stay with excellent amenities that include Free breakfast, Free laundry, Neat and comfortable rooms.
Location: Jalan Tun Tan Chang Lock, Melaka.
Final words: So here's everything you ever need to know about Jonker street and its food, shopping and nearby places to stay:). Have you been to Jonker Street in Melaka yet? Share your experiences with me below. Also, Please feel free to connect with me over my social media.
If you enjoyed reading this, Please spare a minute and click here to like my Facebook page! It would mean a lot to me 🙂 , thank you!