1 Utama Mall is Malaysia's largest shopping centre and the seventh largest in the entire world. This mall inaugurated in the year 1995 and has been on the expansion since then. Presently this mall has eight themed levels with over 650 shopping outlets, entertainment centres, restaurants, and much more. The extensivity of this shopping mall will totally take you by surprise!
Whether it is a day of shopping that you want or chill with a drink and some snacks, indulge in entertainment activities or take a stroll in the rooftop gardens, One Utama is your one-stop destination.
The word huge doesn't even come close to describing the largest shopping mall in Malaysia! With so many things to explore inside the mall, you will be stunned at where to go first. Located in the Bandar Utama suburb, the mall has recently introduced the indoor surfing and indoor sky diving, which speaks of the immense area this mall covers.
Owned by See Hoy Chan Holdings, the mall has been under gradual expansion. Shopping Malls are a common sight in Kuala Lumpur, but 1 Utama takes the cake with its extensivity and putting together so many things under one roof.
For all the shopping lovers, a visit to 1 Utama is a must when you are in Malaysia. Head to the Bandar Utama suburb and explore this ever-extending mall to your heart's content!
Utama Theme Zones
Since the shopping mall is quite a large one, they have introduced a theme system to make navigation easier for the people visiting the mall.
Currently, the mall is divided into multiple zones, each dedicated to its own purpose, there is a zone for shopping, for entertainment for sports and much more.
Let us check out the different zones of the one Utama mall.
1. High Street – Explore Fashion
For the high-end fashion lovers, High Street in 1 Utama is the perfect place to shop. All the premium and luxury shopping brands coalesce to form High Street. All the fine selection of name brands and fashion labels take center stage in High Street.
High Street opens to you an endless collection style labels. Multiple outlets of edgy fashion trends and all the latest designer collection are available here.
If you are looking to give your wardrobe a fashionable makeover, head to the high street and let the fashionable appeal of High Street blow your mind away!
2. Oval – The Stage for Entertainment
Oval is the mall's promotional space, and it is not just any promotional space, the stage simple is huge and serves as the ground for many festivals and events.
It is one of the largest promotional spaces to be housed inside a shopping mall, and it sets the stage for fashion shows, cultural events, music concerts, celebrity events, and many festive functions.
The architecture of the stage is quite unique, as well. Keep an eye out for all the latest and upcoming events in Oval. For the performance art lovers, Oval in 1 Utama is the place to be.
3. Center Court with its Familial Charm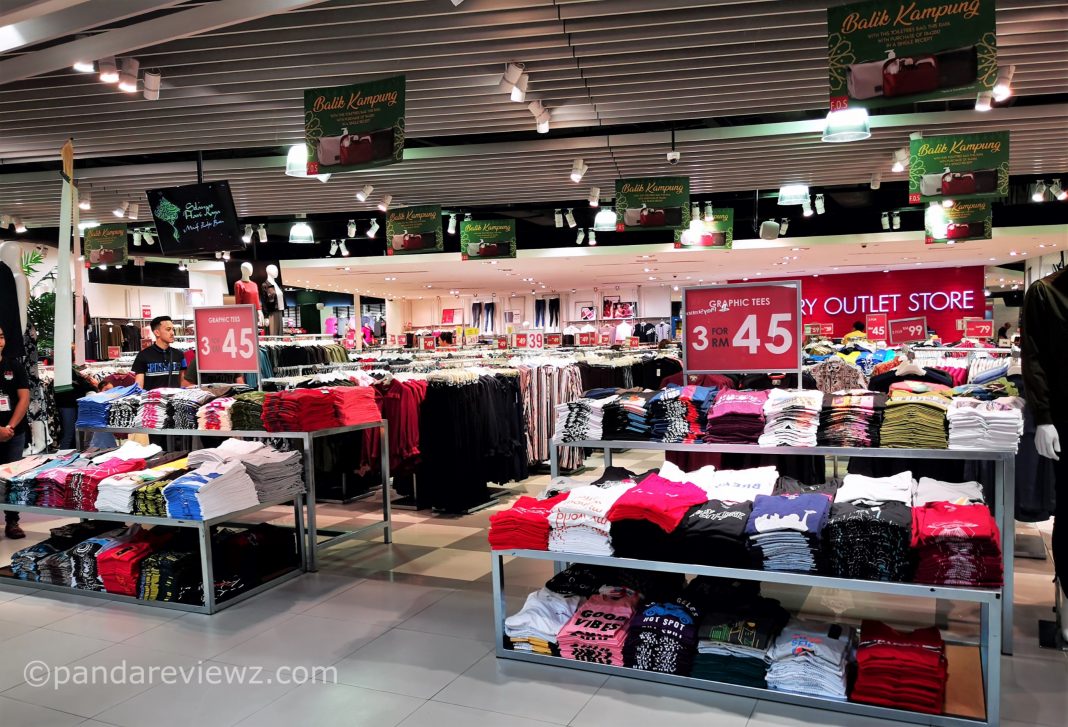 Just like High Street is the spot for high-end fashion shopping, Center Court is a shopping spot for much more affordable and regular clothing and other retail accessories.
It is a family-friendly zone, and here, you will find many retailing outlets for people of age groups.
From kids to adults, all can shop here at Center Court at quite an affordable pricing. Grocery shopping, apparel shopping, pharmacies and food courts and bakeries, Center Court, with its simple charm and ambience, is a great spot to shop in 1 Utama.
4. Entertainment Zone full of Entertainment
If you are looking for a day full of fun, head to Entertainment Zone in 1 Utama. This zone features an arcade corner, two cinemas, and a karaoke center.
Movie Theatres
For the movie buffs out there, the GSC and TGV Cinemas is the spot to catch on the recent releases. Munch on some delicious popcorns while watching a movie, a great way to spend your evening with your friends.
Location: 3rd Floor, 1 Utama Shopping Center
CrossFire
The Crossfire arcade, on the other hand, is the perfect spot for gamers. With state of the art gaming technologies, you are sure to have a couple of hours full of entertainment.
Location: 5th Floor, 1 Utama Shopping Center
Timings: 10 am to 12 am
Neway Karaoke
If you are a karaoke enthusiast, then head straight to Neway Karaoke Center and sing out to your heart's content to the tune of your all-time favorites.
Karaoke here is affordable, and anyone can spend some fun and quality time here.
Location: 5th and 6th floor, 1 Utama Shopping Center.
Timings: 10 am to 10 pm
Rates: RM 40
5. Come Out to Play in the Sports Zone
For the lovers of indoor sports, Sports Zone in 1 Utama is the place. This zone features a bowling alley, an indoor rock climbing section, futsal courts, and batting cages.
U-Bowl Center
Bowling is a very fun-filled activity, and the bowling zone in 1 Utama is definitely one of its kind.
The bowling alley is quite huge here with a 36 lane U-Bowl center, a major attraction for the bowling lovers.
You can enjoy a very stimulative and high-quality bowling experience in this U-Bowl Center.
Timings: Sunday – Thursday 10 am to 1 am
Friday – Saturday from 10 am to 2 pm
Public Holidays – 10 am to 2 am
Rates:


Monday – Friday;

10 am to 2 pm – RM 2.50;
2 pm to 8 pm – RM 4.50
8 pm onwards – RM 6.00


Saturday – Sunday & Public Holidays

– 10 am to 2 am – RM 5.00
Camp 5 Climbing Gym
The indoor rock climbing section is the largest indoor rock climbing camp in Asia. You can guess that it will be quite the experience!
The rock climbing camp is open to people of all ages. You can book any rock climbing program here, depending on your fitness levels and expertise, and you can also learn to climb with their training sessions.
For all the futsal enthusiasts there is not but five futsal courts, making for exhilarating play time!
Location: 5th Floor, 1 Utama Shopping Center
Timings: Monday – Friday 2 PM to 11 PM,
Weekends – 10 am to 8 pm,
Public Holidays – 10 am to 8 pm
Rates: Learn to Climb – RM 120,
Private Coaching – RM 88 to 156 (depending on group sizes)
It's a Hit Rooftop Baseball
The batting cages to offers batting opportunities to the visitors and that too at very affordable pricing.
It is the first automated baseball center in entire Asia, and you can find it right here in 1 Utama Center, Kuala Lumpur.
Enjoy a very exhilarating baseball experience here at the batting cages. If you haven't been to a batting cage yet, you should definitely visit this baseball and make some great hits!
Location: Rooftop, 1 Utama Center
Timings: 12 pm to 10:30 pm
Pricing: RM 20
6. Secret Garden
Secret Garden in 1 Utama is totally worth the visit. When you visit the mall, you should definitely go to this rooftop garden.
It is a popular tourist attraction site in Kuala Lumpur and this thirty thousand square feet garden features above 600 species of exotic plants.
A team of botanists constantly curate this garden, and all the plant species are grown on beds of biocarbon soil.
Take a stroll along with the largest rooftop garden in South-Eastern Asia, and you will come out with a deep knowledge of various tropical and exotic plants.
Location: Upper Rooftop, 1 Utama Shopping Center
Timings: Friday – Sunday & Public holidays, 10 am to 10 pm
Cost: Entry is free
7. Rainforest
Rainforest is another place in 1 Utama where you can find lots of greenery. It is a rooftop greenhouse that houses a lot of different types of flora.
Rainforest is not only filled with dense green foliage; it also has many koi ponds, a suspension bridge and an aquarium full of freshwater fishes.
There are also many restaurants, and cafes surrounding the space and alfresco dining reaches a whole new level in this place.
A warm cup of coffee and nature all around, very few things can beat such a relaxing time.
1 Utama E, The Latest Extension
 Korean theme retail zone
Recently, 1 Utama has paired with the Malaysian shopping malls association to open retail outlets of Korean fashion in Malaysia.
The Korean retail zone will cover four levels of the mall, and it will include many things starting from Korean fashion to F&B restaurants and even Korean celebrity meet and greets.
This soon to be opened retailing section will be housed in the new wing of the mall and you can go there to find anything Korean in Malaysia.
Air Rider – Skydiving at 1 Utama 
For all the adventure lovers and the thrill seekers out there, 1 Utama provides the perfect opportunity to get involved in some adrenaline-filled action with their indoor sky diving experience.
Now, all of us cannot have the opportunity to dive from an aeroplane with a pack of the parachute on, but you can still get that experience at Air Rider in 1 Utama.
This is Asia's first innovation in indoor sky diving, and you can find it at none other than the biggest mall in Malaysia.
The panelled glass tunnel uses the latest technologies to blow wind at a speed of 250 kilometers per hours so that you can enjoy a true skydive experience.
You do not have to worry about your safety; the facility manager is very diligent in maintaining your safety.
They also organize training sessions by professionally trained instructors, and they also offer various event programmes.
Timings: Sunday – Thursday 10 am to 10 pm,
Friday – Saturday 10 am to 10:30pm
Cost: RM 89 per flight
Flow Rider- Surfing at 1 Utama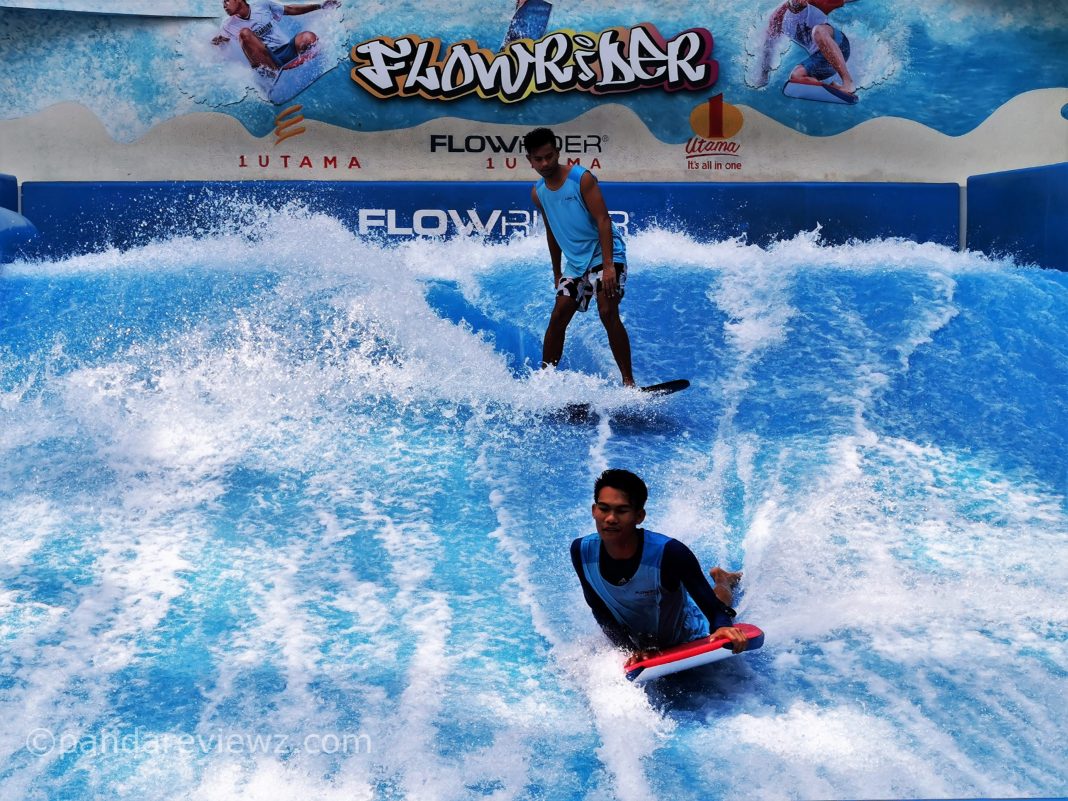 Flow Rider is an indoor surfing facility in 1 Utama, where you can bring your surfing dreams to life.
Ride on the waves with your surfboard and show off your skills at this indoor surfing facility. Surfing, snowboarding, skimboarding or wakeboarding, you can use any techniques here in this water surf facility.
Even if you do not know how to swim, you can still wear gear and take part in the surfing activities; your safety is in good hands.
Even if you are a beginner or a kid, you can still take part in the action, Flow Rider is open to people with all skill levels, and the safety of the people participating is adequately maintained.
You can easily book a ride with Flow Rider; there is a registration counter on the ground floor. An average ride here is for about an hour, and you can extend your ride for an extra 20 Ringgits.
Timings: Sunday – Thursday 10 am to 10 pm,
Friday – Saturday 10 am to 10:30 pm
Cost: RM 89
1 Utama Shopping Experience
One Utama Shopping Centre gives you ultimate shopping experience. You can find almost everything under one roof.
From department stores to fashion cartels to retail shops and restaurants, you cannot possibly find so much in one place anywhere else.
Although the place remains quite packed on weekends and holidays, a trip to 1 Utama is definitely worth it.
1 Utama is totally the mega mall with lots and lots of shopping choices, so much that you might not even be able to cover the entire mall in one go.
The mall interiors are really cool as well. With a Raya themed design, it gives off a very warm ambiance, and the spacious walkways are perfect for the crowd that visits 1 Utama every day.
Spend your entire day shopping, relaxing, and dining in 1 Utama, and you can also indulge in entertainment activities for some fun!
Dining at Parnekan Place 1 Utama
While exploring this enormous mall, we stopped to dine at Peranakan Place. It is an authentic Nyonya cuisine restaurant in the heart of 1 Utama Mall.
You can find really great Nyonya food here at value for money pricing. The food is authentic, delicious, and the menu has an extensive range of food items, curated with lots of care by the restaurant owner.
Located on the second floor of the mall, the Peranakan dishes served here is simply-mouth-watering. The restaurant interior too is very bright and colorful and gives off a very Peranakan vibe.
The mi Siam, nasi ayam pandan, the Redang chicken, Gaharu tea and all other dishes in the menu is simply delectable.
During lunchtime, the place can get quite crowded, and it is better to make reservations prior to your visit.
Chateraise Patisserie for the Panda Lover
View this post on Instagram
For all those who have a sweet tooth, Chateraise Patisserie is a great place to go. Malaysians love their sweets, and this patisserie in 1 Utama is just the proof.
This is their second outlet, and if you are in Petaling Jaya area in Kuala Lumpur, you can head to their outlet in 1 Utama Mall.
The bakery has some of the best cakes and pastries that you can try on. The pastry is really such a delight! As tasty as the sweet treats are, the presentation is equally beautiful. And guess what, I got a little treat of my own! Tiny Panda treats!
They are really visually really cute and the taste equally superb! If you love your sweets as I do, do visit the Chateraise Patisserie in 1 Utama.
How to Reach 1 Utama
There are multiple ways to reach 1 Utama. You can either opt for a bus or take the subway
Buses are available from the Kuala Lumpur City Center that will take you to the mall. Look for the buses with number KL T82, and they go all the way up to the mall.
You can also opt for the subway to reach the 1 Utama shopping center. Take the subway to LRT station, and from there you can take a cab upto the mall. It will cost you only a few Ringgits. If you are a OneCard holder, you can take a shuttle bus from Kelana Jaya LRT station to 1 Utama for free.
1 Utama mall is nothing but a delightful experience and not just for those who love shopping, but also for the foodies and the entertainment and thrill seekers alike.
Be it someday time shopping or some fun hours in the entertainment zone, and everyone can find something at 1 Utama.