People from all over the country are furious about the food in the streets of Old Delhi and much to the surprise as Ramzan is approaching, Muslims from all over the world fast from sunrise to sunset. And Jama Masjid is a place where you will find as many restaurants you can try, and Jama Masjid street food is a must-try. The view of Jama Masjid at night is mesmerizing.
Jama Masjid is quite a bliss for people looking for street food in Delhi. Jama Masjid is also known for famous food in Delhi of Purani Dilli.
So here are some places which should be on your list if you are visiting Jama Masjid:
1. Aslam chicken corner
Butter chicken is everybody's favorite, and so this 18-year-old shop gathered this attention and made a whole new dish. The only thing which attracts people here to come again is the mint sauce with onions and Butter Tikka Chicken. Yes, they serve Tikka, and the spices and flavors attract the right amount of people. This place is to be said one of the places serving the best chicken in Delhi. This place is a famous spot for Delhi food walks.
Location – Near churi walan gali, chittli qabar road, New Delhi
Famous for – butter 'tikka' chicken
2. Al- Jawahar
Inaugurated by first Prime Minister of India Jawaharlal Nehru, and since then, it has been named after him. The hospitality, the cleanliness one gets, is sadly not found in any other restaurant I've been to.
Also, the people who make chicken add some special spices they prepare, and the aroma of the food manages to do its work, and people visit this place more frequently. Al–Jawahar menu is the thing you can drool over by just looking at the variety of dishes they offer. Al-Jawahar is considered to be the best places to eat in Delhi.

Location – Jama Masjid, Matia Mahal road opposite gate no.1, New Delhi
Famous for – Chicken Biryani and chicken Jehangiri. Of course, Khameeri Roti is best
3. Qureshi kebabs
Abdul Ghani Qureshi started this shop, and in just Rs50, you can get juicy and buttery beef kebabs, and the range varies, and so does the more specific items.
The Mutton Kebabs will surprise you with the uniqueness and their taste. This shop specializes in crunchy kebabs served with onions, and the best way to eat is just biting into kebabs without Rumali roti and experience the juiciness in your mouth. This place serves one of the best kebabs in Delhi.

Location – Gate no. 1, Near Jama Masjid, Urdu Bazar, New Delhi
Famous for – beef and mutton kebabs
4. Haji Mohd. Hussain fried chicken
Chicken pieces are lightly slitten and then marinated with several different spices. And then boiled in a hot pan of oil and yes it's been over 40 years this place still gives the same taste. So provide some break from KFC and try the chicken here, it's finger-licking well.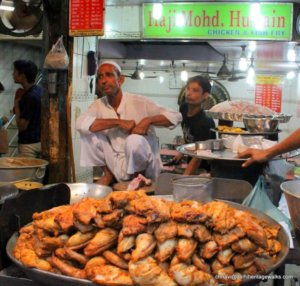 Location – No.113, Matia Mahal Rd, Jama Masjid, Bazar Matia Mahal, Chandni Chowk, New Delhi
Famous for – Keema Goli and fried chicken
5. Laung Churey Kebabs
Now since my vegetarian friends aren't convinced why they should go to Jama Masjid so here it is. A strong reason to try veg kebabs which are fried and have a combination of besan, aata, and onions.


Location – Outside Hamdard shop in Chitli Qabar
Famous for – veg kebabs says it all.
6. Kallan sweets
Pakora's and Chai the basic snacks everybody wishes to have in the evening, and making it better the Kallan sweets tops the chart. Tired of the meat, they also offer samosas and varieties of their pakora's. This place is a must-try for evening snacks in Delhi.

Location – Shop No.4-5, Matia Mahal Road, Opposite Jama Masjid Gate No.1, Matia Mahal, New Delhi
Famous for – Paneer pakora, khoya samosa, and paneer ki jalebi
7. Cool Point
Ultimate sweet shop serving our favorite sweets if you got tired of eating the chicken and want a creamier taste for your mouth. Their flavored milk is served in a clay pot. The milk is creamier, thicker, and tasty as it reaches the bottom. Leaves a sweet taste in our mouth and definitely a try whenever visiting Jama Masjid.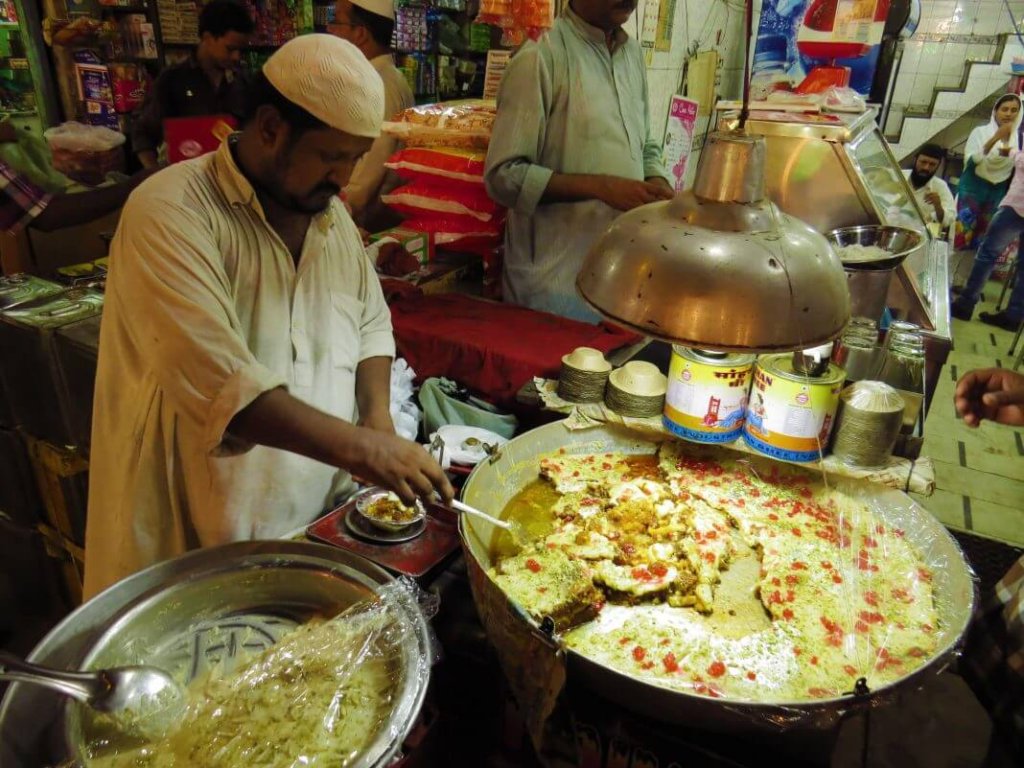 Location – Jama Masjid Road, Matia Mahal, New Delhi
Famous for – Shahi tukda, Badam Milk
8. Nawab Qureshi watermelon shakes
This summer beat the heat with the healthier and refreshing watermelon drink. The fruity pink color will attract you, and in just Rs10, you can taste a glass of it, and the stall has a catchy name Pyaar Mohabbat Mazaa. After sipping the drink, indeed, it is.
You will also find freshly cut watermelon slices and huge blocks of ice to keep the drink cool and Rooh Afza to add the color.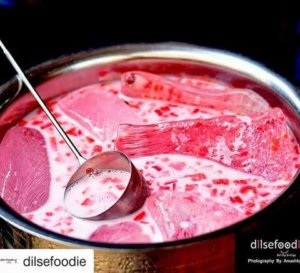 Location – 1149, Matia Mahal, near Jama Masjid
Famous for – the name says it all
9. Ameer sweet house
What's it's like to visit a shop that is 100 years old, creating a nostalgic theme in our mind of pre and post-independence. An excellent place to end our journey with all the chicken and mutton we had and the biryanis. You can choose from various dishes that is displayed right in front of you and making your choice easy. Oh, and you can try them all. Everything here is fresh and gives a good taste in our mouth. Because of their Gulab Jamun, this place is called the sweetshop of Delhi.

Location – 958, Haveli Azam Khan Qabar, Jama Masjid, New Delhi
Famous for – hot Gulab Jamun and cham cham
I hope you satisfy your hunger, love the delicious food, and get to explore the taste of Old Delhi. Don't forget to share below in the comments your experience of visiting and trying the Jama Masjid food.