If you ask a Delhiite what are the two things that stand out for them about the city? The answer would be none other than the rich history and the mouth-watering Street Food in Delhi. Punjabi and we Punjabis live to eat.
While walking through the chaotic maze of by-lanes, you can never be lost in the crowd. If you ever, you'll probably catch the whiff of steaming Samosas still hissing in the hot oil or the sweet aroma of crisp Jalebis. You would be following these tasty local foods like Jerry chases his cheese. The temptation is everywhere, and it's hard to resist. So read on to make your next Delhi trip awesome by having the best of what Delhi has to offer, you can also check out these 75 best things to do in Delhi. Give a break to your diet routine and have some real spicy local food along the streets of Delhi.
Chole Bhature
Trust me; only Delhi can provide you with the best chole bhature. The extra care and less soda ensure fluffy bhature making it the best street food in Delhi.
Grab the best at: Giani's di Hatti in Chandni Chowk, Roshan's at Karol Bagh, Sita Ram at Paharganj, Nand ke Chole Bhature in Sadar Bazaar, Baba Nagpal Corner in Lajpat Nagar and Chache di Hatti in DU.
Golgappe
Try this street food in Delhi, and you will forget Mumbai's pani-poori and Kolkata's puchka. The other variations of golgappe simply can't beat the flavor that Delhi has to offer.
Grab the best at: 

Local market in Chandni Chowk, Rajouri Garden, and Lajpat Nagar Market.
Dahi Bhalle – 
You just can't miss this delight of the street food in Delhi that we call dahi bhallay. The sweet curd and mix of sweet red and tangy green chutney on top of soaked dal vada is a great treat to relish.
Grab the best at: Natraj in Chandni Chowk,  Atul Chaat Bhandar in Rajouri Market, Shyam Ji Corner at Old Delhi Road and Dahi Bhalla Corner at Karol Bagh.
Rolls
The Delhi version of these rolls will keep you on your toes no matter where you try them. Every Roll maker in Delhi has his special ingredient to make this tasty dish all the more lip-smacking.
Grab the best at: Local joints in Kamla Nagar Market, Taste Drive at Rajouri Garden, Wah Ji Wah at Mayapuri, Nizam's in CP and High On Rolls in Defense Colony.
Also checkout : Haunted Places in Delhi
Samosa with Chole:
This fried flavoursome preparation is a unique meal of Delhi street food. I assure you that just single bite of this delicious food will make it your first choice over the junk fried food.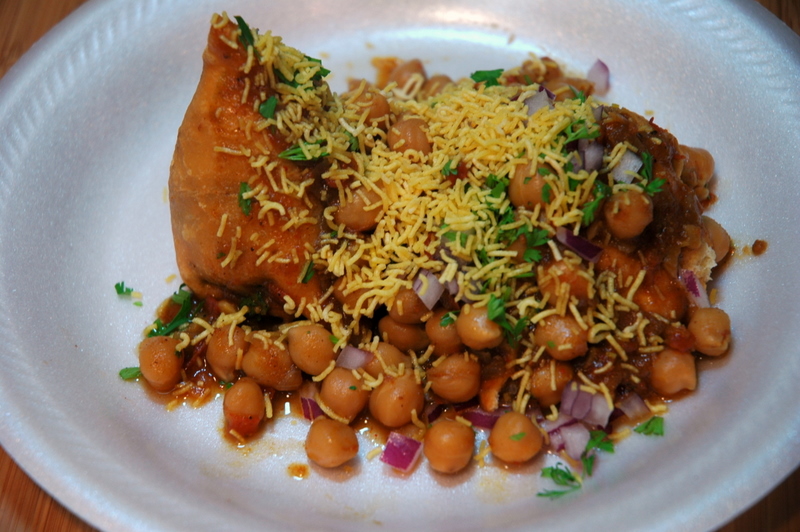 Grab the best at: Tilak Munjal in Pitampura, Chandni Chowk eateries and Annapurna Sweets in CR Park.
Kulfi:
The dessert lovers will love this sweet savory. The granules of crushed dry fruits and thick texture of caramelized milk; now this is on top my list of cold desserts.
Grab the best at: Roshan di Kulfi in Karol Bagh, Kuremal at Chawri Bazaar, Siya Ram Nannumal at Ajmeri Gate, Ravi Raj di Kulfi at Karol Bagh and Jain Kulfi Bhandar at Shahdara.
Aloo Chaat:
Who doesn't like aloo chaat? If you haven't tried it yet, do try, and rest is history.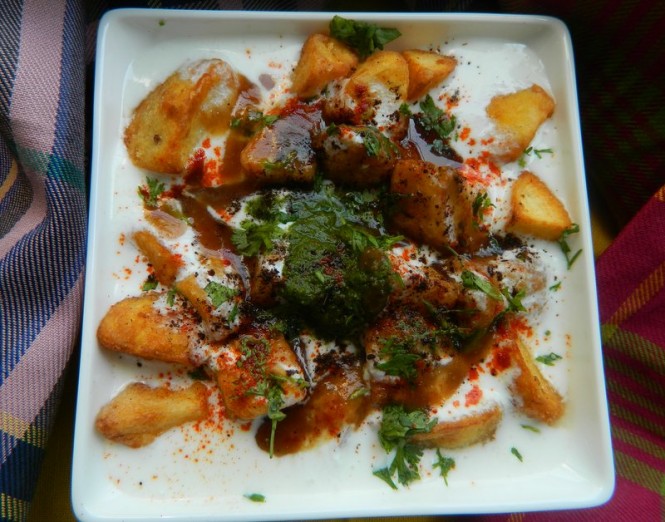 Grab the best at: Taram Bazaar in Chandni Chowk, UPSC Bhawan, Nathu's Sweet in Bengali Market, and Prabhu Chaat Bhandar in Khan Market.
Daulat ki Chaat:
The Taste God himself invented, this famous food of Delhi is a creation. Don't believe me? Then try it out for yourself, and you will see that it tastes too good to be a human creation.
Grab the best at: Chandni Chowk only.
Rabri Faluda:
This syrupy delight is full of caramelised milk and dry fruits. Not too sweet, this dessert will leave you asking for more. It is my personal favourite dessert for a long time. Just by talking about it, I got a craving for this nectarous dessert. NOW I want so bad.
Grab the best at: Giani's di Hatti in Chandni Chowk.
Kebabs:
The best street food of Delhi is its kebabs. You will get a huge variety of kebabs in Delhi — from Kakori Kebab to Galouti Kebab and Shami Kebab. All of these kebabs are full of flavors and spices that remind you of the Nawabs. Enjoy a royal food with a local taste.
Grab the best at: Kebab points in local markets and Chawla's at Tilak Nagar, Al Kakori at Vasant Place Market.
Parathe, The king of Street Food in Delhi:
What you see below is the most preferred breakfast of Delhi. A healthy splash of white butter and extravagant stuffing in the paratha makes it the best street food in Delhi. Historic Parathe Wali Gali became a renowned gourmet location after its paratha shops opened up there in the 1870s. A few of them still exist, including Pandit Gaya Prasad Shiv Charan (1872), Pandit Kanhaiya Lal & Durga Prasad's Parantha Shop(1875), and Pandit Babu Ram Devi Dayal's (1886).
Grab the best at: Parathe Wali Gali, Moolchand ke Parathe, Not Just Parathas at Rajouri Garden and Kakke di Hatti at Fatehpuri.
Aloo Tikki:
One of the best street food in Delhi is its popular aloo tikki. You just can't forgo this flavor assault else you would regret later. For the sanity of your inner foodie, you just have to try this.
Grab the best at: Natraj in Chandni Chowk, Atul Chaat Corner in Rajouri Garden and Ranjeet Tikki Wala at Janak Puri.
Jalebi:
Available in best street food places of Delhi, this sugary sweetness is a key to every Delhites' heart. I don't know about you, but Jalebi can always boost my mood. A traditional sugary treat, sweet Jalebis are made out of deep-fried batter soaked in syrup. You can find tastier Jalebis fried in pure desi ghee at Old Famous Jalebi Wala. They're thicker than usual and have been prepared according to the same exclusive family recipe as the past century.
Grab the best at: Jalebi wala in Chandni Chowk, Pandara Road, Bangla Sweets in CP and Jalebi Store in Chandni Chowk.
You would be packing your bags to book a train seat to Delhi. I knew that already. No food-lover can avoid the delicious and mouth-watering food-traps of Delhi. Come and taste yourself! You won't regret accepting my invitation.