Introduction and Ambience:
Hula Dog sells hot dogs and more in Hawaii and California. You can tell by the theme in the store that you are going to have something different than usual. Two of the four restaurants are in Honolulu and Haleiwa, Hawaii. And the other two are in Newport Beach and Santa Clara, California. But if you are in Bay Area like I am, please feel free to visit the one in Santa Clara at 495 El Camino Real, Santa Clara, CA 95050. Hula Dog opens everyday from 10:30 AM to 9 PM.
Service:
You will start by choosing the bread and sausage at Hula Dog. Then, you can choose three kinds of dips. For your convenience and to reduce mistakes, Hula Dog has a small piece of paper with the list of menu for you to tick your preferences. It is a great idea. The two staff members were helpful and described the taste of dips when I asked.
Food:
There are three kinds of bread: Bacon Taro, Wheat and White. And three kinds of sausage: All-Beef, Veggie and Polish. The dips are the ones that will make you think a lot. There are 13 dips in total. You can find the most simple ones like ketchup and mayonnaise, to the ones that were made of exotic fruits. Hula Dog also serves Shave Ice, which will be good for hot days.
Panda's recommendation:
If you really want to try something different, why not try Bacon Taro bread at Hula Dog? The bread is purple, thick and nutty. As for the sausage and dips, it is totally your choice. I would like to suggest you to tick the option "on the side" for dips, so you will not make a mess like I did when they put all of my dips in the hot dog. However, I do not recommend you to order Shave Ice. It is only ice with syrup on top, which does not worth 4 dollars.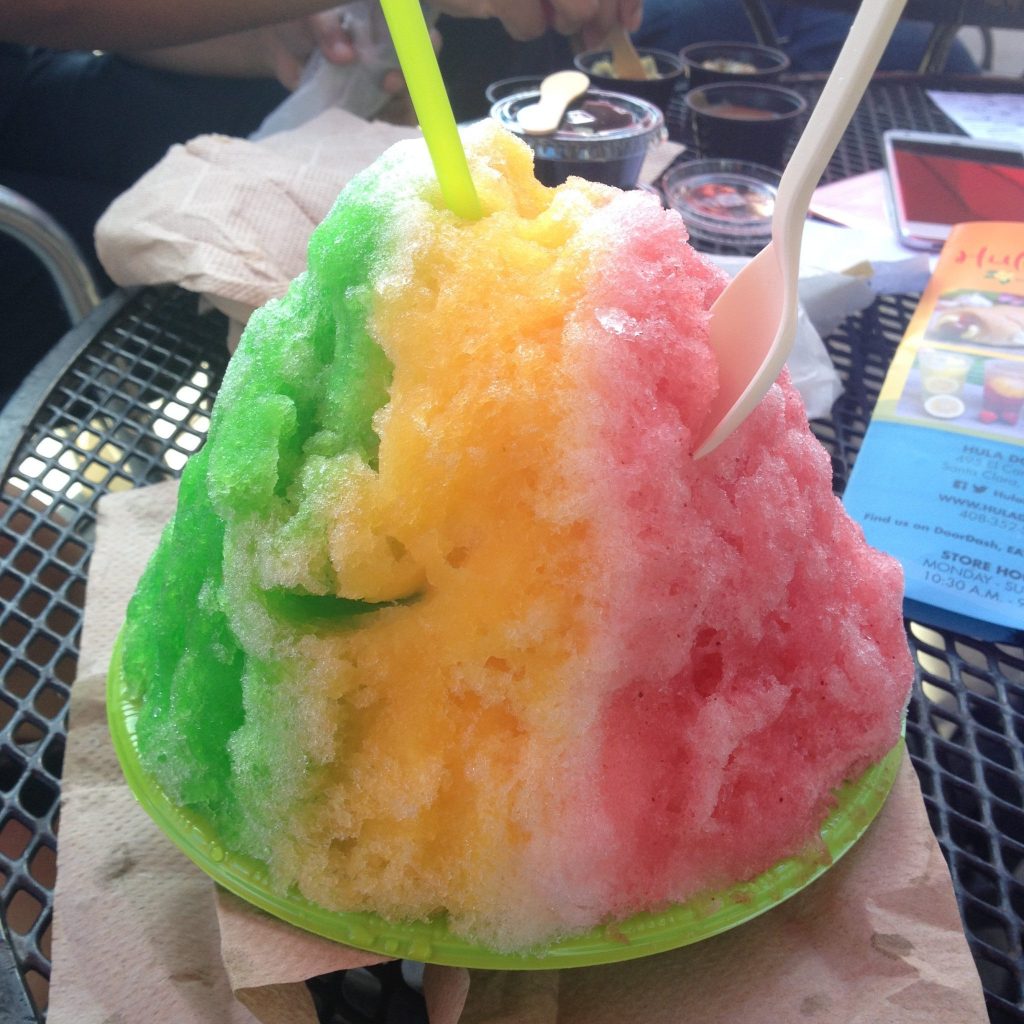 Value of money:
6.75 dollars for a hot dog seems a bit much, but you will not find any special bread and dips anywhere else. Moreover, Hula Dog will give you a card, so you can collect the stars each time you come.
Happiness meter:
If you have Hula Dog in the store or in front of it, you will almost feel like you are in Hawaii. Also, the taste of the hot dg will satisfy you.
For more details, please check on Hula Dog's website here.