Review of Poblanos, 

Located in Kalyan Nagar Bangalore, Poblanos, is a well-known Eatery where you can relish eating Mexican Cuisine.
Introduction: 
Poblanos is located just opposite to China pearl and on the first floor . It is open on all days from 11AM to 11 PM. This is a place where you can get hold of your phone and order for your favourite Mexican food when you really don't feel to go outside to have your food. Wi-Fi service is also available in this restaurant. You can pay in cash or cards to have your food here. Wow! You can order your food online if you don't want to go to this eating place or call them. It is indeed a great news for all lovers of Mexican food in Bangalore.
Ambience:
Poblanos is a small place with less number of tables as it is a newly opened restaurant in Bangalore. Even though, not spacious, it has a decent decor all over the place. Wooden chairs give it the rusty look of a lakeside home. The TV in one corner of this eatery gives us a feeling as if we are sitting in our living room. There is no music played here. 
Service:
To comment on their service, I would say it was really good. They serve food quickly and the servers are really polite. Their direct to home service is also quick and very much impressive. Their food has a genuine Mexican taste and they really take great care to keep up their service up to customers' expectations. Poblanos, has professional staff to ensure that their service create a positive impact on those who come here to have their food. They take 20 minutes for serving food. But it is worth waiting as the ingredients added to cook the dishes are really fresh and clean.
Food:
Authentic Mexican food is the speciality of this place. Not anywhere in India you can find such Authentic Mexican food, but Bangalore you got lucky. Genuine chemical free and fresh ingredients are a speciality of this eating place. Since this is a recently opened one, they are trying to include more ingredients to satisfy the needs of the customer.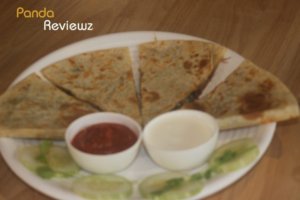 Their top selling items are quesadillas, nachos, and orange Chipotle bowl.
They have less vegetarian items. Their few veg items are fajitas veg, cheesy, creamy and tomato based stuff with veggies. They give a rice bowl with veggies, assorted veggies, Jalapenos and sour cream. Pans seared Prawns Burrito Bowl is a delicious dish cooked with crispy prawns.
Panda's recommendation:
Burrito chicken, veg and non-veg is both yummy.
Grilled Caribbean Chicken, KumKum martini are must have tasty dishes available here.
Value for money: 
Tasty food and moderately priced are the two features which attract people in Bangalore.The food would cost around Rs. 700 for two people.
Happiness meter:
With regards to happiness meter, when in mood for Mexican food, the happiness is assured here.
Pros
Authentic Mexican, Hard to find such cuisine.
Generous Portion Size. A big Plus.