1. VIENNA
"Step into the joy of Christmas with the beautiful streets of Vienna as you backdrop. Punch and chestnut stands draw customers with seasonal treats and stallholders get shoppers in the Christmas spirit with handcrafted goods."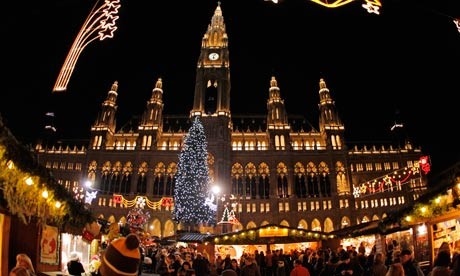 Vienna is one of the most beautiful European cities to visit during the Christmas season and Christmas here is an extravagant affair. The city is laden with magical decorations and of course bustling markets or as the Viennese would call Christkindlmarkt. Here, towns are lit up by miles of lights strung from every light post on every street corner. It is here where both locals and tourists gather to celebrate the Christmas season. It truly is something to see. The Viennese take their Christmas markets seriously, and some of these markets have been in existence for hundreds of years!
It is a place where merrymaking and Christmas celebrations are taken very seriously. There are events held across the city that range from markets held in the shadow of wonderful Baroque architecture and concerts in some of great venues of the world, to art installations and Christmas ballets. You can attend the Advent Concert at St Steaphandsom, The Museum Quartier, musical performance by Bach's Christmas Oratorio or ice skating adventure.
2. VALKENBURG
Celebrating Christmas in Valkenburg is an experience of a life time. It is not only about just Christmas but there is much more of it ranging from glittering Christmas markets, magnificent caves to sweet delicacies and mind-blowing musical concerts.
Christmas Gemeentegrot is the oldest, largest and most visited underground Christmas market in Europe a. Be amazed by the beautiful  settings and decors passing harmoniously stands with beautiful Christmas and gift items. The large, long walks that characterize the Gemeentegrot, invite you for an hour-long stay in a musical, and with excellent facilities equipped Christmas cave. Christmas Gemeentegrot
The Christmas market- Christmas Fluweelengrot has more than 50 shops selling produce and crafts are to visit in the Velvet Cave. Besides the beautiful decoration you can see the impressive wall paintings, sculptures, a unique 18th century chapel, stalls with Christmas and gift items, crafts and a cosy catering facility. Experience the warm Christmas atmosphere at the Christmas Market Velvet Cave.
You can also go on a pleasant walk with amuses through the beautiful town of Valkenburg gully known as Route d'Amuse. Along the way you can enjoy some delicious appetizers at 5 renowned restaurants. You can choose from three or four different walking routes; all routes include outside the "urban" part a bit by the beautiful nature that surrounds us Christmas Town. Children receive appropriate child amuse. Be ready to be enchanted by the magical Christmas Parade of illuminated floats and dancers in beautiful costumes on an especially composed soundtrack Parade through the center of Valkenburg.
3. WOODSTOCK, VERMONT
Is there a better place to celebrate Christmas than Vermont, where the air has a fragrance of pine needles and the ground is dusted with snow? Whether you're a flatlander, a Downeaster or even a Midwesterner who simply loves visiting New England, we know the region speaks to you. Its character is unashamedly unique – and stubborn – and its lakes, rivers, mountains, beaches and village greens are stunningly beautiful. The food is delectable, from clam chowder to Boston cream pie.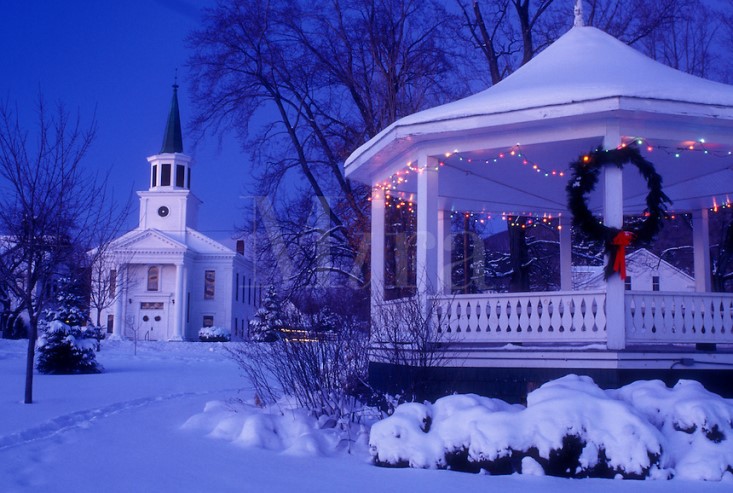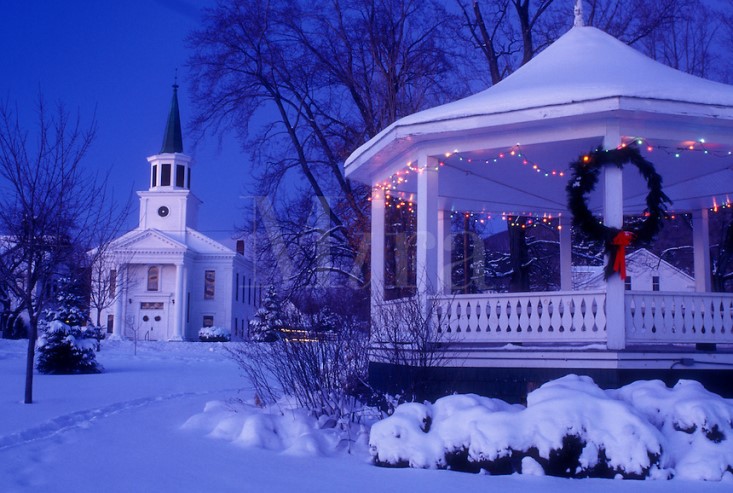 The historic wood stock inn dresses up for the Christmas season to provide a warm welcome to the visitors. Stores and restaurants cheerfully display the spirit of season throughout the idyllic town of wood stock, Vermont. The Christmas season also brings a distinctive parade of more than 50 horses and riders adorned in holiday costumes and period dresses.
The Christmas season is also a great time to warm up with hearty meals at Bentley's. With something foe every appetite on its menu, this restaurant is a perfect break for enjoying a meal. Vermont's beautiful winter landscapes provide a great backdrop for outdoor family fun ranging from exhilarating skiing on nearby trails to good natured snowball fights. A horse-drawn wagon tour is a great way to see the quaint covered bridges, snowy vistas, and bright holiday decorations of this charming New England town during Christmas season.
One of the most memorable experience is the local high school performers entertaining guests of the annual Christmastime Wassail Feast with medieval pageantry. The city even makes it easy to complete(or start) your holiday shopping: throughout the festival, local shops stay open late, with enticing windows displays that appear to be plucked from a movie scene. It's everything you imagine Christmas to be, but so much more.
Check out the Ultimate guide to the world.
4. ROVANEIMI, LAPLAND, FINLAND
What better way to celebrate Christmas than to spend it where Santa Claus lives? Come experience a traditional Lapland Christmas in Finland: meet Santa in person at the world-famous Santa Claus Village, enjoy the thrill of a dog sled ride and learn about the unique Sami culture at a reindeer farm. This magical holiday will surely create lasting memories for the entire family!
Finnish Lapland is as close as reality gets to those who dream of a winter wonderland. Contrasts are a key factor in the allure of Lapland where 24-hour sunlight in the summer replaces the dark winter days. The hustle and bustle of towns and ski resorts is just minutes away from the peace and quiet of the wilderness.
You can enjoy an exciting guided evening snowmobile trip into the wild to explore the extraordinary beauty of Lapland's nature and maybe northern lights (if conditions permit). You also can enjoy a delicious hot beverage and light snack around a campfire.
You can start your day with an authentic Finnish breakfast buffet before heading out for the day's exciting Arctic adventures. A 30 minute ride to a husky kennel, where you get to meet Santa's canine helpers is unforgettable. You can also enjoy a 45 minutes husky safari in the in the breath-taking wilderness or enjoying hot juice and snacks at a traditional tepee and go into the forest to feed the forest animals with Santa´s little helpers are the things which give you a feeling of life time.
You can experience the magic of Arctic Circle in Rovaniemi. One can visit a Lappish reindeer farm where one can learn about reindeer herding and Sami culture and take ride in a reindeer sleigh through the woods. Everyone knows the one and only Santa Claus is Finnish and lives in Lapland.
However, as the exact location of his hideaway is not known, it is best to head to his Rovaniemi office. This is where he greets visitors all year round. A visit to the famous Santa Claus Village to meet Santa himself and his merry elves at his workshop before a bit of souvenir shopping is quite memorable. Other highlights are tobogganing in the deep, pristine snow and viewing the northern lights. If you want an especially frosty experience, stay at the Arctic snow Hotel, constructed entirely of snow and ice though it does come with hot tubs and saunas to offset the frozen temperatures.
5. NUREMBERG, GERMANY
Christmas markets are absolutely magical with the scents of chestnuts roasting, gingerbread baking, and wine mulling waft through the air. The historical cities (such as Vienna, Prague) that play home to them ooze atmosphere and the chilly and sometimes snowy weather is the perfect excuse to snuggle up with your special someone. But Nuremberg: a German Christmas market is quite different. Nuremberg seems like something out of fairy tale at the time of Christmas. The markets are very old and traditional and you can find only traditional and homemade toys and holiday goods being sold; and you won't find any fake, mass-produced plastic decorations other items.
As you wander through, you can enjoy the Nuremberg sausages, try the famous Nuremberg gingerbread, sweet roasted almonds, find gifts from all over the world, browse for beautiful Christmas tree decorations, have a look at the funny Prune Men or let the hot mulled wine warm you. One can stop by the Children's Christmas Market to have an unforgettable and magical experience with a nostalgic merry-go-round, a Christmas bakery, a Santa Clause house and much more. Another attraction is The Nuremberg Christkind which has been a symbol of the Nuremberg Christmas market for decades. Kids, and the kid-at-heart, will love the Toy Museum as well as the magnificent two-tiered carousel based on old originals – complete with reindeer and Father Christmas sleighs.
6. STRASBOURG, FRANCE
Founded in 1570, Strasbourg's Christmas market is the most famous thanks to its sheer scale and its location in Europe's capital. It enjoys a historical place in the history of Alsatian Christmases, thanks to its longevity: the well-known "Christkindelsmärik" in Place Broglie is considered as the oldest Christmas market in France. Four centuries later, the delicate balance between this tradition and a constant search for novelty still makes Strasbourg Christmas Market a success: around 2 million visitors every year, 5 weeks of celebrations, 300 chalets spread across 11 sites (all reachable on foot), 500 events and a big Christmas tree nearly 30 metres tall! A successful blend of traditional celebration and major cultural event, "Strasbourg, the Christmas capital" remains unique.
In Strasbourg, numerous town squares host the emblematic wooden huts of the Christmas markets, and each of these markets has its own unique characteristics. The best-known of Strasbourg's Christmas markets can be found near the majestic Cathedral of Notre Dame.
The market of Alsatian taste and flavours and of Alsace's legendary small growers and producers is situated in Place des Meuniers. The Alsatian Christmas delicacies market flies the flag for excellent local products in Place d'Austerlitz.
Children's World can be found in Place Saint Thomas, and is definitely well worth a visit as a family. The Sharing Village in Place Kléber nestles under the traditional Great Christmas Tree with its breath-taking decorations. The spiritual environment and traditions of Advent are well established in Strasbourg.
Strasbourg offers a series of themed Christmas villages that transform the city into a fantastic wonderland of holiday sights and gastronomic delights. At the Village of Alsace Farmhouse, visitors can taste prune, apricot and other holiday-inspired variations of farm-fresh foie grass. While in the nearby Village of Bredle, you'll find its namesake traditional Christmas biscuits and a practically endless flow of mulled Alsatian wine. The city's Christmas program is filled with concerts and all types of cultural events. You will find outstanding Advent concerts, a Living Nativity and a wide range of authentic live music and cultural events. It's the perfect opportunity to go on a cultural trip through time!
7. BRUGES, BELGIUM
Fancy a festive break in medieval Bruges? This magical Belgian city, complete with cobblestone streets and charming canals is a traveller's favourite for good reason. Wander the twinkling Christmas markets, indulge in chocolate, frites and mussels, and marvel at the prettiness the chilly season brings. And for the big day? Feast on a Christmas lunch so hearty you'll be rolling out of the restaurant.
Beer and shopping at some of Belgium's most magical Christmas markets…what could go wrong? The Essen Christmas Beer Festival is a very, very special and merry festival featuring many delightful seasonal Belgian brews, which are only available in Essen and in limited quantities.
The Christmas Markets in Belgium are very popular and offer all kinds of Christmas goodies and the festive season will again be celebrated with colourful Christmas trees .They exude a fantastic atmosphere and offer great shopping opportunities. There are a few notable Belgian Christmas Markets particularly Brussels Winter Wonderland and the Bruges Christmas Market and also a relatively new market in Ypres which is now in its third year.
These Belgian Christmas markets near to Brussels benefit from the rapid Eurostar service.
Christmas markets in Belgium have much to offer the visitor in terms of the Belgian culture and being relatively close to the UK are easy to travel.
8. RIGA, LATVIA
The Riga Christmas market is situated in the heart of Old Town, in the large square next to Dome Cathedral. The market consists of dozens of wooden stalls with white-and-red striped awnings selling an impressive array of reasonably-priced items, such as wool hats, beeswax candles, straw baskets, and glass Christmas ornaments. Food options are just as plentiful, ranging from the traditional Latvian feast of sausage, sauerkraut, and potatoes to ostrich meat pies. You can wash it down with karsts vīns (mulled wine), Black Balsam with hot black currant juice or hot sea-buckthorn juice. The Riga Christmas market is your oyster!
Not content to have just one market, Riga has set up two others to spread the Christmas cheer around. The market in Livu Square, near the main entrance to Old Town, is riotously colourful, with blue-and-white striped stalls and bright red signs.
The third market is set up in Riga's Esplanade Park, near the onion-domed Russian Orthodox Cathedral. While this market might not be as visually stunning as the other two, it's still worth a wander. It's also the only place in town where you can get roasted corn on the cob.
There are a number of special children focused-events, like the popular carousel of wooden figures, riding ponies and a horse drawn carriage as well as animal corner with its sheep and rabbits. You can even learn about various Latvian traditions like log dragging, stitchcraft and traditional holiday cooking.
9. NORTH POLE, ALASKA
What better way to celebrate the magic of the holiday season than to visit the home of Santa Claus himself. Every year the city of North Pole, a 15-minute drive south from Fairbanks, hosts two festivals to celebrate the holiday season. Christmas In Ice and Winter Fest both kick off Saturday Dec. 3 and staying in modern comfort at the Fairbanks Princess Riverside Lodge is the best way to experience the events.
Christmas in Ice, the 6-week winter ice park located next to Santa Claus House in North Pole, features Christmas-themed ice art competition pieces, ice slides and a maze, twirlers, indoor kids' crafts, and educational ice sculpture demonstrations, adding color and light to our Interior Alaska winter.  The kid's parks is AWESOME. Throughout the month of December, the Christmas in Ice festival hosts several family friendly events and culminates with the New Year's Eve Snowflake Drop.
Winterfest, a two-day celebration, begins with a holiday bazaar at the North Pole Plaza. Shoppers browse more than 35 holiday craft booths. In the evening enjoy a fireworks display at the North Plaza Mall, described as "one of the best fireworks show in town."
National newscasts are frequently broadcast live from the Santa Clause house as well. This town in central Alaska advertises its ZIP code (99705) as "Santa's ZIP Code." And why not? After all, it's got the right name. Of course, this is  the place where you'll have the chance to mail your postcards from Santa's official zip code so that friends and family receive mail postmarked from North Pole, Alaska.
10. TALLINN, ESTONIA
For Estonians, Christmas is a mixture of the traditional, the modern, the secular, and the religious. Tallinn's Christmas market became a yearly tradition in 2001; but, it has already established itself as amongst the best-visited Christmas markets in Europe. Certainly what it lacks in tradition it makes up for in atmosphere. Starting on the first day of the advent (normally last weekend in November), Tallinn's Town Hall Square (Raekoja plats) becomes busy with more than 50 merchant stalls where visitors and locals admire and purchase products by artisans from all over Estonia.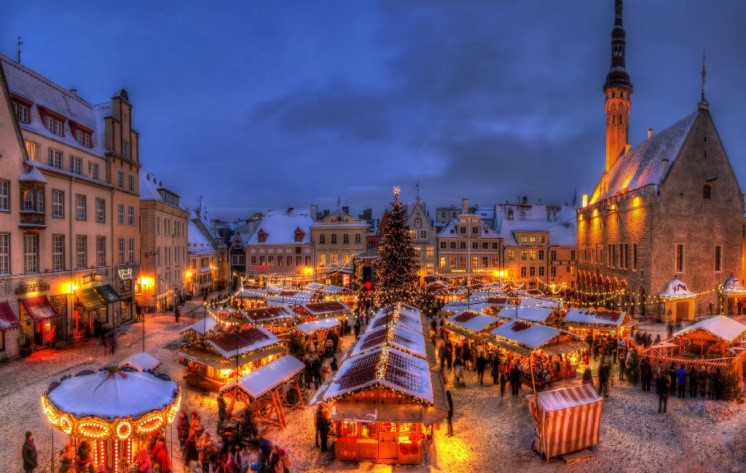 Surrounding an enormous Christmas tree decorated with lights and colourful decorations, these vendors sell a variety of original products including felted wool hats and slippers, buckwheat pillows, wooden bowls, wickerwork, elaborate quilts, ceramic and glassware, little sea-grass animals (so Estonian), homemade candles, wreaths and other decorations. Traditional Estonian folklore groups put on shows featuring singing and dancing and are common on the cobble stoned square daily especially on the the weekends. Traditional Estonian holiday food is also served: pork, sauerkraut and blood sausages, hot soups, stir-fries. Other traditional treats include gingerbread, marzipan, various local honeys, cookies, nuts and sweets.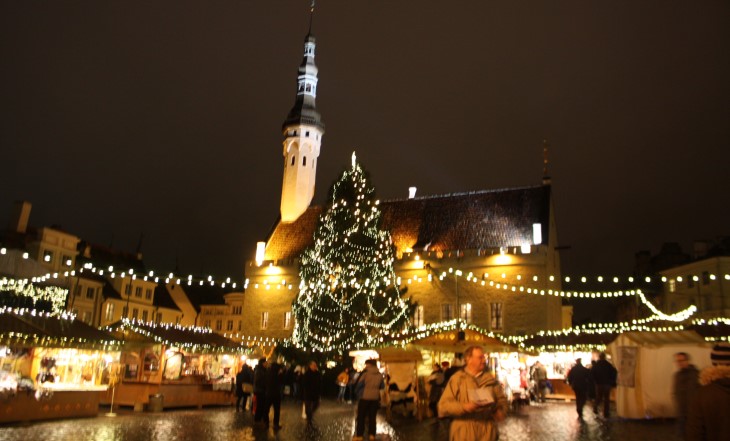 All in all, it's a glorious spectacle worth experiencing, with so much Christmas spirit for the whole family. Lots of gifts abound and you are sure to find something for everyone.
Merry Christmas to everyone and have a great 2018 ahead 🙂