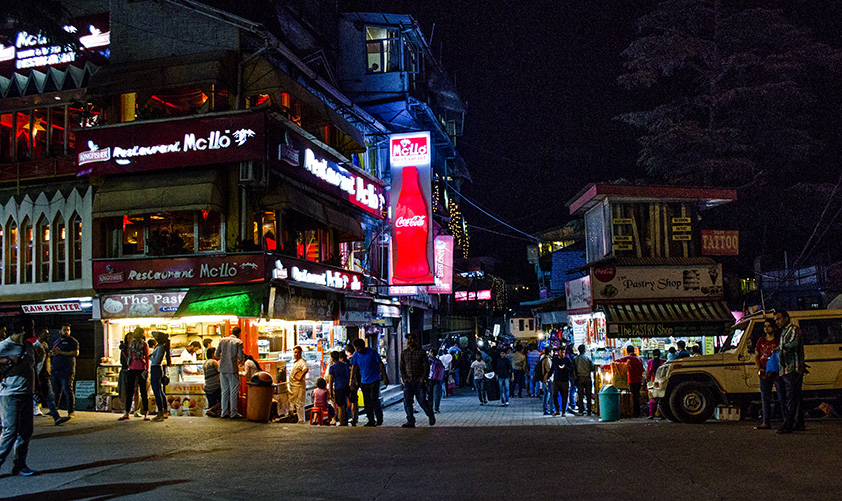 Sitting idle on a Wednesday morning I was going through my Instagram and well it was quite fascinating. I was hating it. All my friends were either chilling in Goa or trekking in Kasol. Or some planning fancy dates with their loved ones. And I had finished my leftover pizza from the other night.
But it's not long that you go through some post and decide to think about it. The same happened to me while I planned a 2-day Mcleodganj trip over a weekend.
I searched for the place and the food joints to visit, and after 2 hours of exploring and watching videos from youtube, I decided that I'll go to this place as there are lots of things to do in Mcleodganj. And you know what, the very next weekend I was off to Mcleodganj. Took my car out, and left for the road trip from Delhi to Mcleodganj.
Crossing Chandigarh, then short mountains in Una and the Anandpur Sahib Gurudwara was quite a scenery and the roads were lovely.
It was in the morning around 8 am that I reached Mcleodganj, crossing Kangra and Dharamshala. So I'll share some of the important places to visit in Mcleodganj.
How to reach Mcleodganj:
How to Reach McleodGanj By Air? Nearest Airport to Mcleodganj
You can fly from Delhi to Kangra, Gaggal Airport. Upon reaching there you can hire a taxi which will take about 40 minutes to cover the 20km distance to Mcleodganj.
Reaching McleodGanj By train – Nearest Railway Station to McleodGanj
There is no direct train from Delhi to Pathankot. There are many trains which will go to Pathankot and from there you have various options of reaching Mcleodganj. Either by taxi, a bus from toy train from Pathankot to Kangra railway station.
How to Reach McleodGanj by road?
Either you can choose to take your own car, a taxi or Delhi to mcleodganj bus. An overnight Volvo journey will ease your comfort and you will reach in the morning.
Places to Visit in Mcleodganj
1. Bhagsu waterfall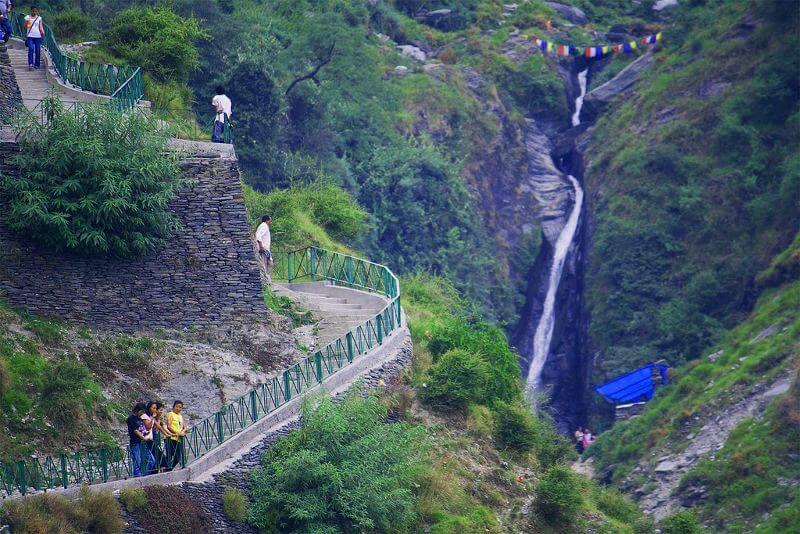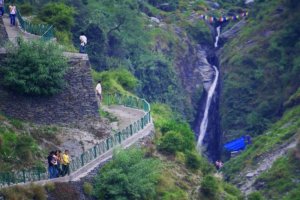 The 30ft long waterfall and the lush green environment is all you need to forget the tiring long drive you had. Set in the midst of the mountains with beautiful vegetation, this place is about 2 km away from Mcleod Ganj, but a must visit.
Water flowing from the mountains at a much greater height and you can grab a cup of tea or light a cigarette and just look at it calmly, and the chirping of the birds make it quite peaceful to look at. Yes, it's a quiet place.

And do not worry if you are hungry because there are lot's of cafes around this place which offer food and refreshments. So you'll never stay out of food.
And situated in Mcleodganj it gives a treat to visitors.
2.Tsuglagkhang
Yes, at first even I wasn't able to pronounce the name correctly but remember it by the 'The Dalai Lama Temple'.
And Mcleodganj is famous for monasteries and this one is quite a visit.
You can see many monks, from a very young age to old, they all are very friendly.
This monastery gives you a good overview of the Tibetan culture overall. The preachings, the paintings, the history of the origin of Buddhism, pottery and even handicrafts, you can all find it here.
It gives you a sense of peace and harmony and it's not late that you realize that the people living in mountains are very calm and laid back. They enjoy their sense of pace rather than rushing things.
It is one of the few places to visit in Mcleodganj if you ever decide to stay here.
3. Dal lake
No, neither Kashmir has shifted here nor the lake, actually the name comes from the very famous Dal lake in Kashmir.
Surrounded by deodar trees and mesmerizing mountains it gives time to stop for a while and the view is breathtaking. The pictures come out even beautiful than ever and the sunset is quite a watch. Taking a walk by the village tells you how the life here is so peaceful and you get to enjoy every bit of it. And walking about just 600 m from Dal lake, you will see Naddi, a point where you can see Kangra valley and majestic Dhauladhar ranges.
And if you are lucky you might get to sit on a boat and explore the lake more.
This lake has added a charm to itself in the city of Mcleodganj.
4. Dharamkot
Have some more time to explore Mcleodganj? Then just about 6 km away is Dharamkot, a small village just a hill above Mcleodganj which gives you a scenic view of the mountains. Less crowded than Mcleodganj and quieter too, this place offers a harmony and connection with your soul. In winters this place receives snowfall, not always but at higher altitude it does.
And playing in the snow just reminds me of the kid in me which is still alive by the way.
Trek to the village of naddi and you could see many cafes selling peace at a throwaway price. You connect with yourself and the people around stay happy.
5.Saint John's Church in the wilderness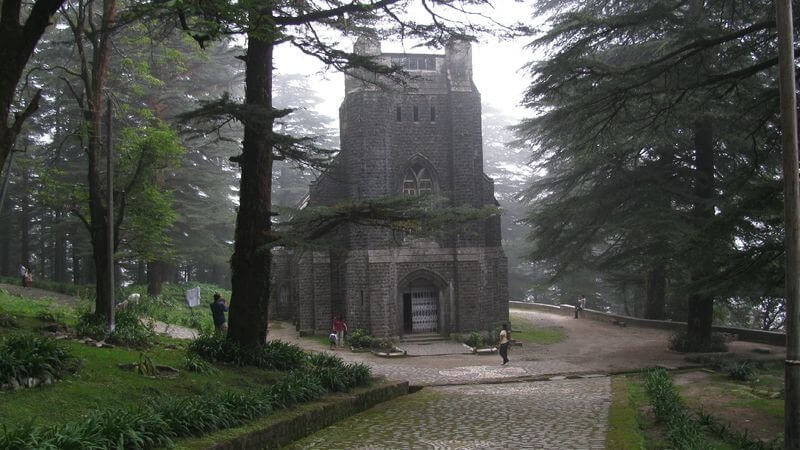 Stories go way back to 1852 when it was built, located in Dharamshala on the way to Mcleodganj this church is dedicated to John the Baptist. Lord Elgin, one the governor general and viceroy of India has its final resting place here. It has a neo-gothic architecture.

6.Himachal Pradesh Cricket Association Stadium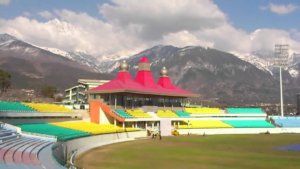 Hosting about 23000 people and a stadium 1457 meters above sea level, it is one of the highest altitude cricket ground in the world. Since this stadium is close to Mcleodganj it is gaining popularity and hosts Ranji Trophy matches too for the Himachal Pradesh cricket team.
Here in 2005, India played a warm-up match against the first international team Pakistan.
It is also the home ground for the IPL Team, Kings XI Punjab and has hosted some matches too.
The cold breeze and the natural beauty is all you see while standing in the stand and all you can get is really good mesmerizing views.
Actually located in Dharamshala but it's few kilometers from Mcleodganj.
7. Kareri Lake
I do not know why but I have an eternal love for lakes. This lake's situation is just about 39 Km from the main city of Mcleodganj. The situation is in Kangra and it is also a freshwater lake. The water comes from the Dauladhar range and it is crystal clear. When you visit the lake you will feel the soothing breeze that it has throughout the year. I had to take a 3 Km trek to the lake as it is the only possible way to reach. The altitude of the lake is 3100 m. I loved every bit of it and the location is definitely quite beautiful. If you are very adventurous you may take the trip to Kareri Lakes as a trek which lasts approximately 3-4 days.  
8. Naam Art Gallery
There is a soothing pleasure in art that almost nothing else can fulfill. If you have a similar view as me then definitely visit the Naam Art Gallery. Colourful arts adorn the walls and they never fail to pull you into them. Some of them are even up for sale if you want to buy them. I spent a considerable amount of quite a time at this place. If you are an artist or a lover of art then definitely visit this place when you are in Mcleodganj.  
9. Norbulingka Institute  
The Tibetan art and culture is an important part of Mcleodganj. When I heard that there was an institute just for it, I had to visit this. When you enter the complex you get greeted by the beautiful Tibetan architecture and their colourful work. Gardens and ponds are also housed in the place to make it quite dreamy. The institute opened its gate in 1988 and it has done a great job ever since. The institute lets several student study Tibetan art forms like screen painting, metal craft etc. You will feel peace at this place. The place remains open on every day except Sunday.  
10. Gyuto Karmapa Temple
Tibetans love to create beautiful monasteries. This one doesn't have the outward view but it is very important for Tantrik monks. It houses Karmapa who acts as the embodiment of Buddhist activities. A huge statue of Buddha rests in this monastery. The monastery works as a house for more than 200 monks who have devoted their lives to learning the Tantrik philosophy. The idea of Tantra was the main pull factor for me to visit the place. I found it peaceful and a tranquil place to visit. You may either take a bus or cab from Mcleodganj if you want to visit this monastery.  
11. Guna Devi Temples  
In the Indian culture, the temples are very important places of pilgrimage. We may evidently see this in the Guna Devi temple which is very popular in the area. The main deity of the temple is Goddess Kali and everyone approaches to take blessing from her. But my main motive of visiting the temple was the amazing view of the Dhauladhar ranges. You will become amazed to see the mighty view from the temple complex. Several people also choose to trek the high altitude of the temple to get some extra adrenalin rush. If you are a devotee of Ma Kali, then you may definitely pray for a while and spend time in the peaceful place. Pilgrims from all around India do spend there night in this temple before getting on with their journey.  
12. Kangra Fort
When you go to see the Kareri Lake, you may also delve into this beautiful palace. It did look a little beat up to me from the outside but its history amazed me. The fort is one of the oldest standing forts of India. The rulers have fought several wars at this place and it still radiates the glory of the past. I experienced an amazing panorama of its setting while standing on the fort. You may even hire a guide who will talk you through the history and its past residents. If you want to see a fort of the 4th Century BC, you definitely need to visit the amazing Kangra Fort.  
Treks in Mcleodganj:
13.Triund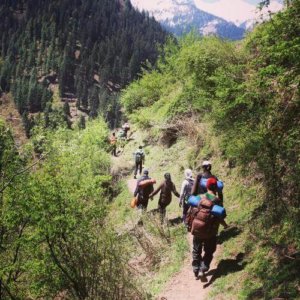 One of the most amazing treks I've been on which requires attention and cautiousness, this was one of the highlighting points to my trip to Mcleodganj.
Situated in the laps of the Dhauladhar ranges, Triund is one of the most beautiful treks. Starting from the Mcleodganj, this is about 9km and from Dharamkot, a steep 2km vertical trekking starts.

This trek can either be started from Mcleodganj or even Dharamkot.

You will see various sightseeing like Kangra valley on one side and then Bhagsu waterfalls on the other. The view is great as it involves the majestic Dhauladhar ranges from one side and beautiful waterfall on the other.

Camping at night, and sleeping under the stars is quite interesting. If your guide and company are amazing then you could have a bonfire. Staying in the night just costs Rs 500 for two people sharing a tent.
This trek is suited for all people, right from amateurs to professionals. Some people even complete the trek before time.
14. Illaqa or Lahesh Cave Trek  
In Himachal Pradesh, most of us have experience herds of sheep. They roam around the mountains along with their shepherds. I never knew that it would be possible to see one such place. The trek to the Lahesh cave is not only amazing but also precious. It acts as a grazing ground for the sheep in the summer days.  Triund will still act as the base camp and it is also a moderate trek. The most amazing part is when you have to stay overnight in the tents. Definitely, give this trek a try if you feel a little more adventurous.
15. Indrahar Pass Trek  
Himachal Pradesh is the place to go for trekking. So, this one is yet another trek that you may plan when you are in Mcleodganj. The mountain pass lies in the Dhauladhar range and I may say that it is very beautiful. Several camping grounds like Triund, Lahesh will pass on this trek. Through the trek, you will get ample amount of time to stretch your legs and also to have tea or Maggi. It may take about 3-4 days to complete this trek. It is also deemed as moderately difficult, so you may need prior experience of trekking to undergo this journey.   
The cafe's in Mcleodganj to enjoy your evening:
16.Shiva Cafe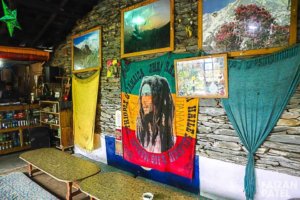 The name sounds cliche a bit but one visit to this cafe and you would want to come more often.
Yes, the food is awesome and utterly delicious, the chicken momos or the thukpa is heaven, For all those people loving spices, this is the place for sure.
Famous for its Tibetan food, it has gained a lot of popularity among youngsters.
Located just a few meters above Bhagsu Falls, Shiva Cafe plays some trance songs and even Bob Marley.

Yes coming to the point now that I have mentioned Bob Marley, this place apart from good and warm environment offers a place to smoke up. And Mcleodganj is a hidden gem in terms of hash. I would not say the best quality hash but yes the stuff was good enough to let me sit back and listen to the trance and sit back.
The price is quite reasonable and nobody will bother you.
Shiva Cafe is the one if you want to smoke up in the open and just enjoy the scenic view of the mountains.
17.Cafe Illiterati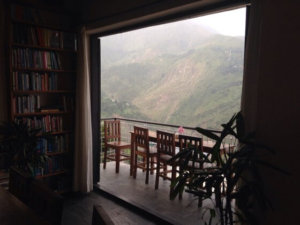 Cafes in the mountains are the reason why people often lose track of the time and with just the local food they tend to enjoy the environment.
Away from the city's hustle and fast moving life, I found this old cafe in Mcleod ganj. Much to my surprise, this place is quite tempting to visit. The open windows and seating, balconies facing the mountains are what every person dreams off.
One more important highlight of this cafe is how this little cafe is turned into a mini library with books ranging from Indian culture to foreign languages, Harry Potter series to Mythological books.
After a quite long day, one should come here to relax a bit and will find wooden furniture, great music to enlighten your soul and enjoy the simpler things in life.
You can also find a guitar and a piano at one corner.
Their waffle and ginger honey lemon drink is quite a try.
18. Tibet Kitchen
I like to taste the local food of the place as it gets me more connected. Tibet Kitchen is a well-known Tibetan restaurant of Mcleodganj. Several websites have published reviews raving about them. I have to say that do need to visit the place to have a homely satiating meal. The perfect wooden interior and the steaming hot food will satisfy you on a cold and cloudy day. The pocket pinch is also quite less when compared to the quality of food that you get. The momos and thukpas have the original flavour and you will feel like you are in Tibet itself.