Located far from the city, the noise, and the population, Chakrata is a beautiful picnic spot. Welcoming people from all over the place and see its beauty, Chakrata is the hidden gems of Uttarakhand.
This hill station is located at 7000 ft in Uttarakhand and around 80km away from Mussoorie.
This place is ideal for people who are looking for unexplored places and peace lovers who are looking for life beyond the city hustle and bustle.
While on the way to Chakrata, you will see Yamuna River as bright like a crystal and the place names as Yamuna Bridge.
If you are looking for some adventure, excellent photographs, and just passing your time with your feet dipped in water, then just park your car, and you have to steep slope with rocks and pebbles, and you will reach. But watch out for yourself as the slope is quite steep.
Experience camping, trekking, and click photographs of the mountains and the subtle environment.
Why visit Chakrata?
 An ideal getaway vacation for people looking to get some peace from their professional and busy city lives.

Located at 7000 ft this place will give you a relaxed atmosphere and a slow pace of time which you enjoy.
The first thought that will come to every person's mind is that 'is this place ideal for mountain climbing'?  And the answer is yes, moreover one can chill, and the narrow roads give you thrill and challenge your acrophobia at the same time while driving on these roads.
3. Has abundance vegetation of oaks, conifers, and rhododendrons
Chakrata has abundant opportunities for hiking and trekking. There are many nature walks and hiking trails in the vicinity of Chakrata. Hike through the undulating valleys and get to see some scintillating views of the hills around.
5. If you love horse riding, then you will be happy to know that Chakrata offers horse riding opportunities. Horse riding can be done from the Forest check post and back to Chakrata.

Places to Visit in Chakrata 
1. Tiger Falls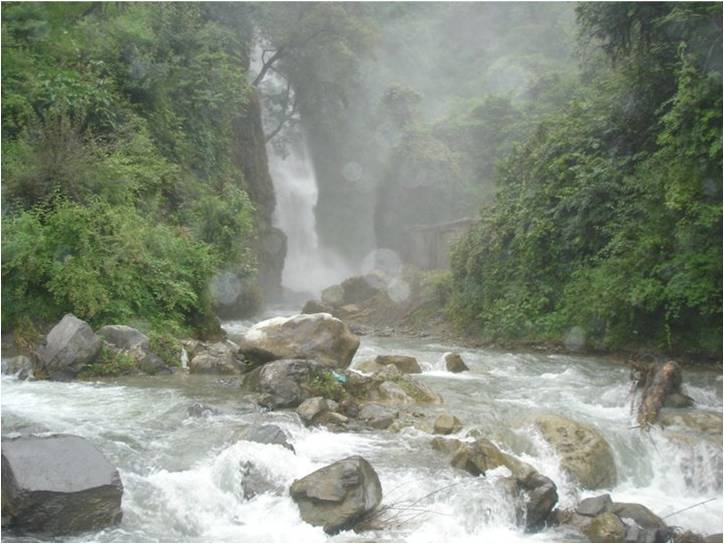 Imagine you in a pond, and the water is flowing downwards naturally and just capture the scene but more beautifully.
 This is the same exact thing that happens when you are at Tiger Falls.
 Surrounded by deodar trees, the water flows downwards naturally and making a pond.

2. Ram Tal Horticultural Garden Overview


We have a solution as this place is located 9km from Chakrata-Mussoorie road and offers varieties of plants, ferns, woody trees, and this place is famous for seeing Black Headed Jay and Oriental turtle dove.
3. Deoban

Around 12km from Chakrata lays Deoban and is famous for bird watching. Here one can see Himalayan Woodpecker, Russet Sparrows, and also white collared blackbirds.
4. Horse riding

All you need to do is keep some extra cash and ask your hotel owner if they can arrange for the horseback riding. The ride starts from Chakrata's main post and till the forest check post. Click some pictures in this little adventure of yours and proudly tell your friends about your horse riding experience.
5. Experience the beauty by foot or cycle

People visiting this place by SUV's have an option of taking their cycles and just breathe in the fresh air, roam and explore the city. Actually, a small town with its mesmerizing beauty that helps you attain peace and enjoy the Chakrata Weather.
6. Go camping

Have the enthusiasm and book your tents. Camping involves trail through mountains and giving a backpacker to view paradise.
Facilities are basic and nearly up to the mark. The service quality is also good so that it highlights the beauty and the people go through the fantastic treks they've been dreaming for a lifetime.
7. Chilmiri Peak
Chilmiri Peak is the highest point in the state of Uttarakhand. This viewpoint offers a stunning view of the nearby hills like Rohini, Bandarpoonch and Swarg peaks as well as the Himalayan ranges. The mountain is surrounded by lush greenery and is a delight for the nature lovers as well as photographers. The peak offers some of the most magnificent views and makes for beautiful instagram worthy pictures.
Location: Rikhnad range, Uttarakhand
8. Lakhamandal
Lakhamandal is a temple in Chakrata. There are many ruins of ancient temples in the Lakhamandal region as well. The Lakhamandal temple is a shrine of Lord Shiva. The Shiva Lingam here is made of strong graphite stones, which shines on pouring water.
Location: Lakhamandal, Chakrata road, Uttarakhand
9. Kanasar
Kanasar is a very scenic location near Chakrata. The place is surrounded by a luscious green forest and makes for a great picnic spot. Those who are looking for some time away from the noise of the city can head to Kanasar to enjoy a day in the midst of nature. The place is famous among picnic-goers and photographers.
Location: Kanadar, Chakrata, Uttarakhand
10. Moigad falls
About 24 km away from Chakrata, Moigad falls is a scenic picnic spot. The falls is situated in the Delhi – Yamunotri road. The water here at the waterfalls flows down in milky white sheets, and you can also enjoy a refreshing bath in the water of falls at its base.
Location: Delhi – Yamunotri Road, Uttarakhand
11. Kimona falls
Kimona falls is one of the hidden gems in Chakrata. The waterfalls is mostly unexplored, and not many travelers know about it. Kimona waterfalls stand at the height of 35 meters, and a thick Oak forest surrounds the waterfalls. The scenic beauty and serene atmosphere of the Himalayas make this place a perfect picnic spot and also a retreat for nature lovers.
Location: Chakrata, Uttarakhand
12. Thana Danda Peak
Thana Danda peak is another viewpoint in the Chakrata region. Although unlike the Chirmiri peak, it is not that well developed. Nonetheless, Thana Danda Peak offers some of the best views of the Himalayas. Located at a distance of about 16 km from the town of Chakrata, Thana Danda peak makes for a great trekking location, and it is best for trekkers and campers.
Location: Chakrata, Uttarakhand
13. Budher caves
Budher caves are well known for the stalactite and stalagmite formations. It is one of the offbeat places near Chakrata. If you are up for some adventure, you can explore the Budher caves. There is some legend attached to the caves as well. Locals believe that Pandavas of Mahabharata themselves built the cave.
Location: Bagani, Uttarakhand
14. Yamuna adventure park
Yamuna adventure park is one of the key places in Chakrata visited by travelers. Yamuna adventure park attracts a lot of adventure lovers. Here you will find opportunities for rappelling, bridge slithering, and swimming.
Location: Chakrata, Uttarakhand
Best time to visit Chakrata

The pleasant time to visit Chakrata is from April to June. You can also experience snow in Chakrata Uttrakhand, if possible, from the month of September to December.
How to reach Chakrata
By Air – Closest Airport is

Jolly Grant Airport, Dehradun (DED). 113 km from Chakrata.
This airport is well connected to Delhi with regular flights. Taxis are available from the airport which will take you to Chakrata.
By railway –

Dehradun Railway station is nearest to Chakrata. 87 km away.
Dehradun Railway station is well connected to the major cities of India. From Dehradun, you can take a bus or taxi to reach Chakrata.
Roads well connect Chakrata with nearby cities. Regular bus service is available from Delhi and Garhwal in Uttarakhand.
You can also drive up to Chakrata with a private car. 
But keep in mind that there is no petrol pump in Chakrata. So, fill your fuel tank to the brim at the petrol pumps in Haripur or Vikasnagar.
Chakrata is a hidden gem in the state of Uttarakhand. This quaint town is very picturesque and is unpolluted. A trip to Chakrata will allow you to explore the natural splendors of Uttarakhand.