Are you a party animal? Or you don't have a single party bone in your body? Whatever be your personality type, there is no denying the fact that Diwali is the time for tons of festivities and loads of parties.It is a must for you to arrange a Diwali party. Those who invited you aren't a problem, but the one that YOU'VE got to host are going to be challenging for you.
Unless you are habitual party thrower and therefore a pro, or you've called in professional party planner, you are going to suffer. The chances are that the whole idea of throwing a perfect party which will be talked about for days is making you feel like you are sitting on a porcupine – bare-bottomed! After all, it takes work to be known as the host with the most. But hey, take a chill pill and plan a party which will make your guests shove all other invitations into the trash can and make a beeline for your do.
Well, first things first. Yes, a grand party will cost moolah. But remember that you cannot guarantee a classy party by simply loosening your wallet. There are those little things and a bit unique personal touch that'll make a difference. So, let's get going, should we?
1. Set a budget:
It is very easy to get carried away while hosting a Diwali party. That is why you need to fix a budget beforehand. Allocate a certain amount of money for food, décor, and other essentials and stick to it, no matter what.
2. Make it professional:
A party where the guest degenerates into separate groups is pretty boring. To avoid that, make sure that you invite people who are likely to be on the same bandwidth, with similar interests. That'll take a little extra effort but, believe me; it'll be worth it.
That done, it'll be fun if you could create your invitations for the occasion. The invitation card is the first look of the party. So, it should be synchronized with the theme and creatively designed. If you have the artistic streak, voila, you can get some great ideas from the internet. As you might know, phone call or SMS is way too casual; every guest must feel special.
You could add an extra line for each invitee or deliver it along with flowers or a box of chocolates, but that is only if your budget permits it. Do follow up your invite with a phone call or a text message to make sure that your party is not forgotten.  Besides, this gesture will make your guests feel that they are essential to your party.
3. Plan the theme of the party:
Diwali parties need not stick to the same script every year. You can spice it up with an interesting theme of your choice.
The theme should be simple, festive and elegant but not too over-bearing. You could set a color theme, or organize a more specific theme such as masquerade. You could hang sheer sequined curtains in jewel tones and use ornamental tiebacks. A garden party or casino theme or even an ethnic theme could be interesting. So, use your creativity and come up with an interesting theme.
4. Décor:
Create a difference in the look and décor. Whether it's modern or ethnic, minimalistic or bling, let your décor set the tone for your party. Remember, if you want to make an impact – and I'm sure you do – it'll come from little details. From thematic flower arrangements to your table settings, make sure everything is striking. Use smart ways to integrate traditional decorations in your modern party. Streamers, buntings, balloons, lights, ribbons, and candles are quintessential items that can jazz up your party venue.
Consider adorning entrance with floating flower petals and candles in terracotta pots. However, make sure that the décor doesn't clash with the theme. The abstract artwork in vibrant colors is the best embellishment for your walls. If you intend to change your colors this Diwali, go for earthy and ethnic colors with exotic motifs on them.
Traditional décor, however, never loses its flavor. If you wish to stick to lots of lamps, diyas, candles and flowers, you can be sure not to go wrong. Flowers are the basic and most commonly used decorations. A real centerpiece decorative item can be improved by adding flowers and candles to them. A platter filled with flowers can be more mesmerizing with diyas on them. The main entrance can look lovely, inviting and auspicious with bandhanwars and torans of mango leaves and marigold flowers. Decorate stair railings with garlands; put rose flowers in a glass bowl filled with water and place it at the dining table or living room table.
5. Rangoli: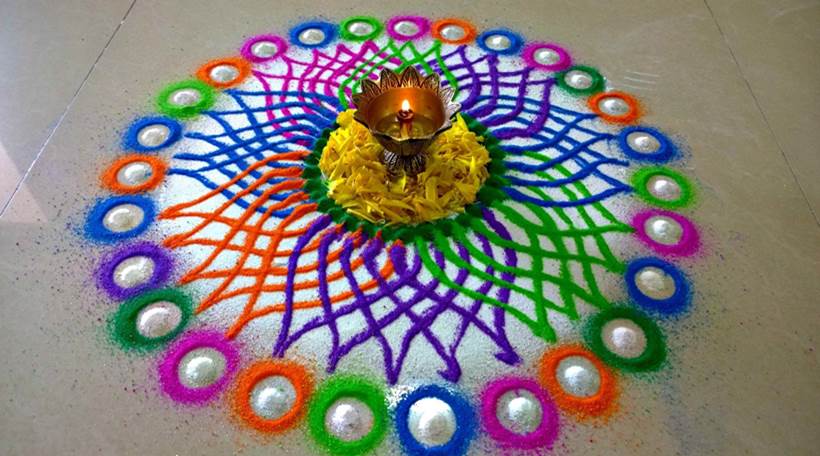 Ah, what is Diwali without Rangoli? Rangoli is the art of drawing images and figures on the floor with chalk, colorful sawdust, and flour to welcome goddess, Lakshmi. The common rangoli themes for Diwali are holy symbols like Mangal Kalash, goddess Laksmi's footsteps at the house entrance, Om, Swastik, etc. No matter what the design, Diwali would be incomplete without the traditional rangoli to welcome guests, both divine and human. To enhance the beauty of your rangoli, place a lighted diya at the center, or you can also use flower petals and leaves, not to mention your imagination of course!
6. Decorative lanterns, lights, and candles:
The source of Diwali is not just limited to diyas (though they do glamourize the ambiance). The market is a chock-a-block with gorgeous light-holders, statement candelabras and grand chandeliers.  String lights, brass/paper lanterns, and Mashals are perfect for exterior walls, trees, and pillars. Just let your creative juices flow and add some personal touch wherever you can.
7. Flower power:
Colorful flowers always make just that vital difference to your decorations. Besides, special flower arrangements, etc., cause the guest feel that you walked the extra mile to welcome them.
8. This and that:

Accessories like cushions should celebrate the festive spirit. If you wish to change the covers of your cushions and sofa set you cannot miss the global rise of paisley in home décor prints. It gives a classic yet contemporary look, rich in heritage and nostalgia to the rooms. 'Tie and dye' patterns are also fresh and have a unique recall value. Its ability to adapt itself to the changing trends makes it unique and fruitful. A lampshade in tie and dye in any room reflects colorful light that creates a warm ambiance. If you want something plusher, then the Indian Zari gives a high edge to the interiors.
9. Sitting arrangements:
Set up chairs, sofas, bean bags and stools at various places in your home to let your guest feel comfortable just to loll around. However, avoid cluttering the space with too many swats and put them in such a way that people get to interact with each other. You may use comfortable loungers as they are best for carefree conversations.
10. Music:
Well, that is entirely your choice. If you are a die-hard Honey Singh addict, or you swear by DJs, or whether you prefer melodious songs of yore; play what you want. Soft instrumental music, like a sitar or santoor, may be a good choice too as it neither encroaches on the conversations nor gives a headache.
11. Menu: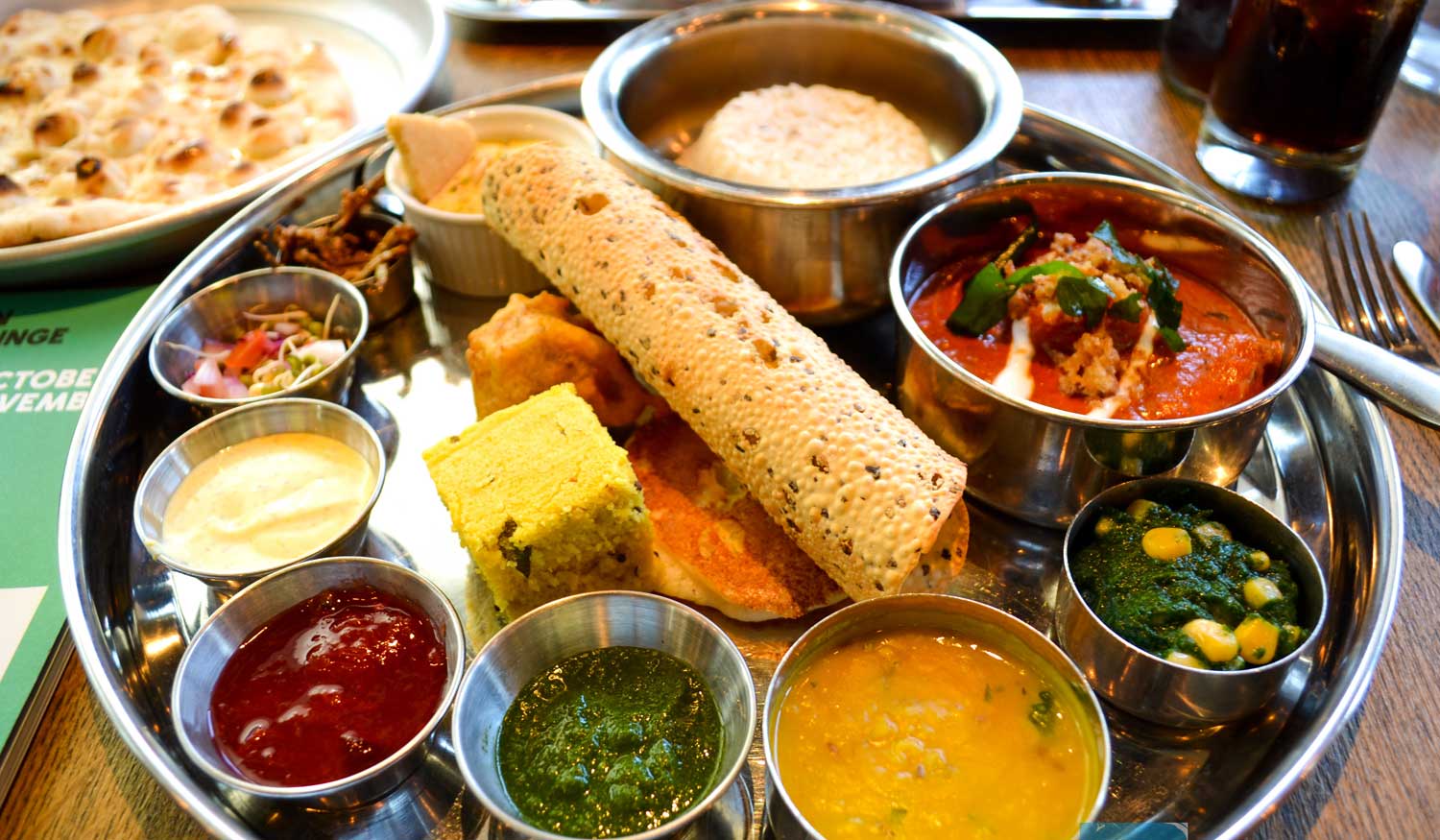 The core, the USP of any party is, of course, the food! Food and drinks play major roles in determining your hospitality quotient. It is the gastronomical delights that you serve, more than anything else that will make your party talked about for days. So, the significant chunk of your efforts should be focused here.
Based on the theme and timing of the party, plan the menu in advance. Include drinks, appetizers, snacks, main course dishes and desserts that can be prepared mostly before the party. You need to keep circulating light snacks and hors d'oeuvres till its dinner time. If you plan to engage a caterer, then you do not need to worry about preparing ahead of time.
12. Party favors:
Well, now that your party is almost over, it's time to escort each guest out personally and hand over a little something to take back home. This adds great value and makes a perfect ending to a perfect party.
Throw in the best party by following these tips and tricks. Diwali comes once a year, make the most out of it. Arrange a creative, splendid yet economical Diwali party and celebrate with your near and dear ones.