Hello everyone, Maybelline has always launched an amazing range of makeup, Maybelline color show lipstick range being my favorite which are already a hit in the makeup world. 
The maybelline color show lipstick range is loved  by every lipstick digger not only because of the chic and electric shades that it has in their collection but also for the affordable price tag which makes it easy for you to select the shade of your choice without burning a hole in your pocket. I recently bought three lip shades and i totally adore them.
PRODUCT DESCRIPTION OF
MAYBELLINE COLOR SHOW LIPSTICK :
Maybelline New York is now launching 32 new lipstick shades! With stunning hues of red, pink, brown and mauve, these 32 moisture rich shades allow you to express yourself every day. The ultra-care and super hydrating formula is light and gives you high coverage while caring for your lips. The heat resistant soft waxes in the product ensure texture integrity even at high temperatures. These 32 intense colors suit all Indian skin tones and we're absolutely sure you're going to love them!. Are you ready to show off your colourful sides?
Here's why you will love this lip color range
They are enriched with hydrating formula giving all day hyderation.
Heat resistant and would not fade in humidity
Highly moisturized 32 gorgeous shades
Stays on for longer period of time without drying up your lips
Non-sticky, soft texture and hence are easy to glide.
PRICE: INR 299 /- for 3.9g
PACKAGING: The lipsticks come in a glossy black cuboid tube packaging with a rim corresponding to the actual shade. The cap of the lipstick closes with a click that ensures the security and hence makes the lipstick travel friendly.
MY TAKE ON MAYBELLINE COLOR SHOW LIPSTICK
TEXTURE

AND

SMELL:
The lipstick has a very sweet floral smell which goes away after few seconds of the application, the texture is smooth and glides on to the lips very easily. It gives you matte and slight glossy finish without drying your lips.
SHADES:
MYSTERIOUS MOCHA M304:
I was looking for a nude color lipstick since a long time for daily wear and finally my search came to an end when I got my hands on this pretty light brown  shade with pink undertones which looks natural and pleasant on the lips. This shade will look great with bold makeup look, Smokey eyes and nude lips. As i have fair skin tone the shade looks natural on my lips. This shade can be worn daily and will go on any outfit. A must have shade for regular use if you like wearing  light natural looking lippies.
LIP SWATCH. Picture clicked under natural light.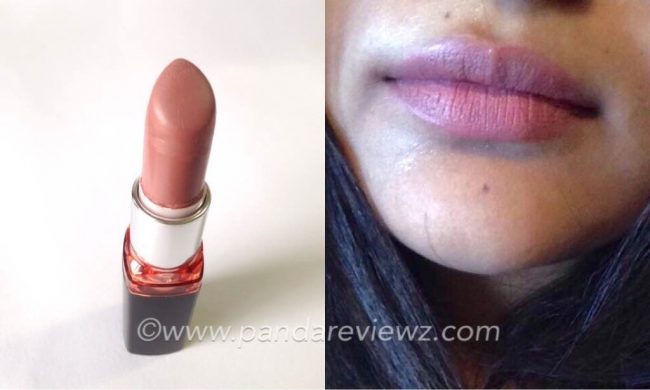 MAUVE POWER 407:
Mauve Power is a milky deep mauve shade which leans towards purple. It gives a very little glossy effect to the lips which settles down to matte in few minutes. This colour will suit every skin tone as it is not highly pigmented although the colour can be built up with multiple swipes so that is a win win. You can wear this colour the way you want by layering it with swipes. Light or dark anything would look amazing especially on medium to fair skin tone this lip shade would look bomb. As you can see In the Lip swatch image above, I've swiped twice to get a deep mauve colour. This lipstick isn't a very dark shade so you can wear it in the day time as well as rock it at a night party.
LIP SWATCH. Picture clicked under natural light.
HOT CHILLI M203:
Hot chilli shade is a warm red with pink undertone, and hence looks absolutely gorgeous on my  complexion. This is the first ever red lipstick (which totally isn't a red  shade and leans towards dark pink) that i own. I always adored the beauties wearing red lips and rocking it even in the day time but never had the urge to wear it myself. I wondered if it would look good or too loud on me. I am a light lippy person.
I love my light lipstick shades but i had to try and see how a bold and dark colour would look on me and so i bought Hot chilli lip shade, little did i know that i would totally fall for this colour the very next moment i apply it on my lips. It is a very delightful colour and will look amazing on every skin tone. I like to wear it with a very natural makeup look, mascara on my eyes, nicely filled eyebrows, and Hot chilli on my lips. VOILA!  
LIP SWATCH. Picture clicked under natural light.
STAYING POWER AND PIGMENTATION:
These lipsticks stay for a good 4 hours on and also without drying up my lips. After that the creamy sheen starts to fade away, Mauve Power and Hot Chilli being the dark shades and much pigmented than Mysterious Mocha, leave a strong stain which lasts for 2-3 hours.
Mysterious Mocha being the light shade and not much pigmented doesn't leave any stain on your lips. These shades fade away after you eat anything so re-application is needed.
 The Color Show Lipsticks come with a sticker below the lippy tube which has the name and shade written on it with a coloured sticker matching the actual lipstick which indeed makes it very convenient and easy for you to find it from your stash.
SHELF LIFE:  3 Years
Will I Recommend Maybelline Color Show Lipstick?
YES, amazing shades like these with a decent price tag is a steal.
PANDA ADVICE:
As a result, Exfoliating the lips pre application of the lipstick would give you smooth and buttery looking lips, without showing any wrinkles or forming any lines on the lips.
Packing & ease to carry
8.0/10
Panda Happiness Meter
9.0/10
Pros
Simple packaging with shade corresponding rim
Easily available and Pocket friendly price tag
Variety of shades to choose from
Smooth texture
Stays on for long
Cons
It might apply blotchy on dry lips
Prepping the lips before application is needed