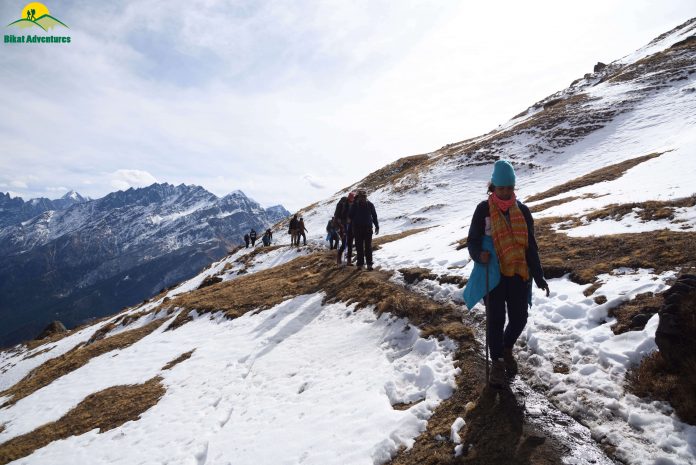 Kuari Pass, located in the North Indian state of Uttarakhand, is a stunning window to the Eastern Garhwal Himalayas. Open for a good 7-8 months a year, except for monsoon and peak winter (Jan-Feb), this trek provides ample bandwidth time wise too. This 5-days' moderately easy hike offers several experiences of a high altitude trek, despite not being one. The maximum altitude you touch is 12,516 ft. at Kuari Pass itself. Here is why it's a great beginners' trek:
The Forgiving Terrain: Besides the experienced trekkers, Kuari Pass trek is great for the beginners too. The terrain is quite negotiable, except for occasional stretches. You don't normally have to battle out the climate. It's a feast for your eyes packed with forests, meadows, a whole host of Himalayan peaks, lakes and snow! What else, even the kids above 7 years can attempt it! It's, in fact, a very good family trek to begin with.
Conducive Climate: If sunny, a T-shirt and a fleece layer are sufficient during the day. Else, a jacket may be needed. So, your backpack that way will be comparatively light.
Joshimath (6,696 ft.): A 10-11 hours' drive (300 kms) from Dehradun (1,430 ft.), this small temple town in Chamoli District has a special relevance in Dev Bhoomi. It's the base camp for different treks, including the pilgrimages, in Uttarakhand. Rest for the night and take a short drive for your trek next morning.
Cultural Peek: Get an insight into the culture and life of Uttarakhand villages as you pass through them. The trek itself begins from the Dhak Village (6,561 ft.), 12kms from Joshimath, on the morning of Day 2. Covering the dry, dusty and rocky patch, you reach Tugashi Village. You will see villagers busy with their daily chores.
Guling Campsite (9,832 ft.): You head for Guling, walking through moraines and gradual ascents. It is the lunch break site for the trekkers. Enjoy the sight around.
The Mesmerizing Forests: Next on, walk through ancient, dense oak and rhododendron forests, which are frequently interrupted by clearing and meadows. In the perfectly balanced forests, you get long view of the beautiful path ahead. Crossing some stretch, you reach Tali Forest Camp (11,031 ft.), your first and only halt site of the trek, right in the middle of the jungle. Spend your nights here. Walking through these calm, invigorating forests is an experience in itself. In winters, the ground is all white with deep brown, tall trees lining up the terrain. A paint-worthy sight. On Day 3 morning, take a day bag with you, as you will come back to this camp by evening.
Chitrakantha Meadow: Hit snow at Chitrakantha during winters, as you tread for the Pass. During winters, it's a snowfield. See Mt. Dronagiri (23,180 ft.) rising from behind.
Kuari Pass (12,516 ft.): Walk over a long and narrow ridge to hit the highest point of the trek, Kuari Top by afternoon. Standing there, you get a 360 degrees' view of immense Himalayan Peaks. You will remember this scene for a long time in life.
The Majestic Peaks: Standing at Kuari Pass, you see Mt. Kedarnath (22,750 ft.), Mt. Chaukahmba (23,415 ft.), Mt. Neelkanth (21,600 ft.), Nar Narayan Parvat, Mt. Kamet (25,440 ft.), Mt. Deoban (22,375 ft.), Nilgiri Parvat (21,240 ft.), Ghodi Parvat (22,000 ft.), Haathi Parvat (22,070 ft.), Mt. Barmal (19,290 ft.), Mt. Lampak (20,750 ft.), Mt. Dunagiri (23,180 ft.), Hanuman Peak (19,930 ft.), Mt. Nanda Devi (25,640 ft.), Mt. Bugyal Koti, Mt. Nanda Ghanti (20,690 ft.) and Mt. Pangarchulla (11,975 ft.).
Need we say more? It's not often you get this kind of treat during a trek that is so conducive to beginners. Enjoy it!
After spending some time there, head back to the Tali Forest Camp to spend your last night on this trek terrain.
Tali Lake (11,522 ft.): On Day 4, you go to the Tali Lake. Crossing 10,000 ft., you usually get snow on hills. It's no different here. The lake is a beautiful one with snow all around and boulders peeking through. It's a sight to behold!
Gorson Bugyal (10,364 ft.): Bugyal means meadow. From the lake, you head for this wide meadow. Get a fairly clear view of the highest mountain of India, Mt. Nanda Devi. The view here is better than that at the Kuari Pass.
Auli (10,003 ft.): Reach the Auli Ski Resort, surrounded by snow by afternoon. You can enjoy the ropeway ride, if you're up for something new and if time allows. From here, take an hour's drive back to Joshimath for the night's stay.
Next morning (Day 05), head back to Dehradun. While the trek is over, you have made memories and maybe some new friends too to rejuvenate you until the Himalayas pull you back again!