Are you searching for an offbeat tourist spot around Jharkhand to spend your vacation with family and friends? You can head to Kiriburu hill station located on the borders of Orissa and Jharkhand.  It is a small town in West Singbhum district and is one of the most beautiful hill stations. Kiriburu is derived from tribal language 'Kiri' meaning elephant and 'Buru' meaning hills.
Kiriburu in Jharkhand is one of the underrated travel spots because of limited information on the internet about this place of adorning beauty. But the stunning beauty of this small hill cannot be put in words. You should visit Kiriburu hill station to experience nature's exotic and stunning look.
Here is a detailed blog on the Kiriburu Hill Station. I have got everything covered for you from information about where to stay in Kiriburu, how to reach the Kiriburu hill station and the most important what to visit when you at this place serene beauty.
The twin hills of Kiriburu and Meghahatuburu
The Kiriburu and Meghataburu are known as the twin hills as both these hills are adjacent to each other. You can easily travel to these two places while on your vacation to Kiriburu.
Only a few check posts separate these two places. Both the hills of Kiriburu and Meghataburu stand tall as twin hills and give a fantastic view. While you are traveling along the road, the sides are covered by dense, tall and greenly trees of Saranda forest.
You can feel calm and relaxed when you reach this place. It has a magic that erases all our worries, stress, anxieties and gives us a fresh and energetic feel. Except for winter seasons, you can go and visit this place of tranquillity whenever you feel exhausted and tired of the everyday routine. The best time to visit experience these hills are from July to December, as the climate is delightful for a happy stay.
Steel Authority of India commonly called as SAIL is situated in this area, as the place is rich in iron ores. The townships found on the hills are developed and maintained by SAIL. While climbing the hill, you can see a number of trucks and Lorries carrying iron ores. The top of Kiriburu hill is situated 4300 feet above the sea level. It gives an amazing and mesmerizing view from the top of this hill. There are many tourist spots you can find and explore on this hill.
How to reach Kiriburu hill station?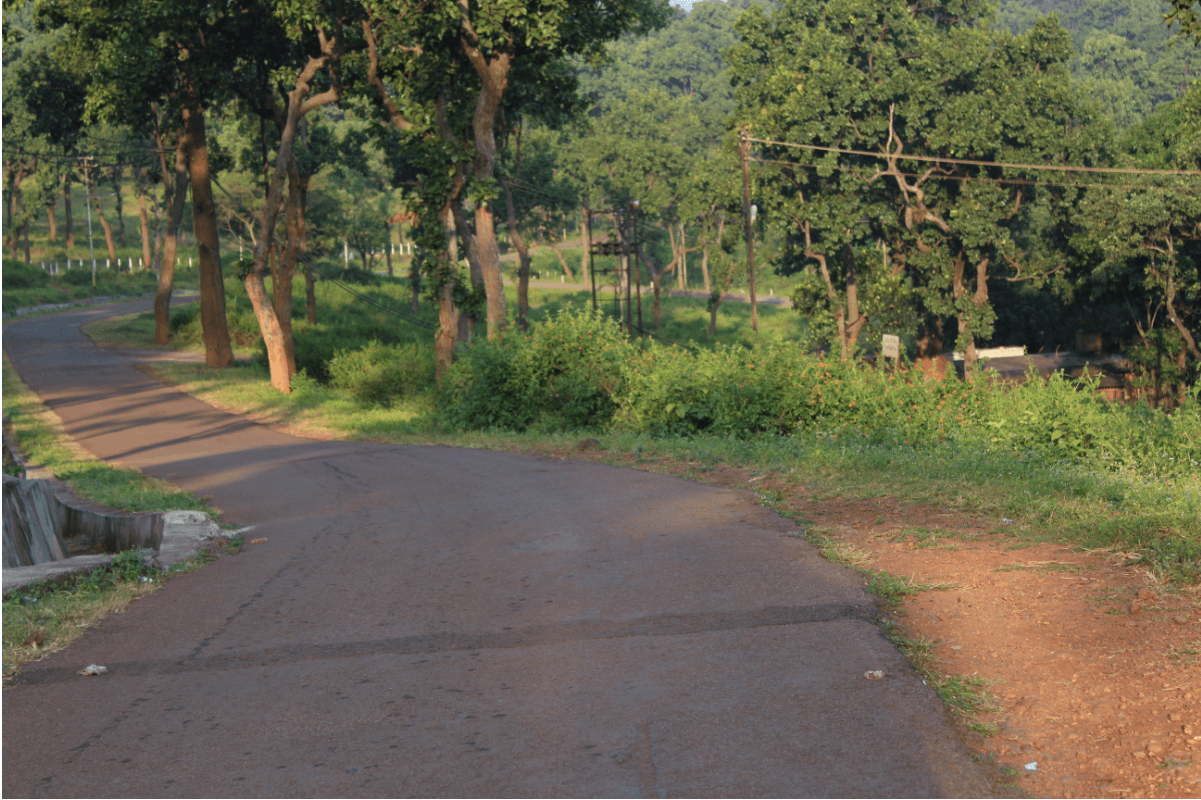 If you travel from other states, for your information Kiriburu is approximately 295 kilometers away from Jharkhand. There are various modes of transportation like train, bus and car at cheap rates, by which you can reach this cool destination.
Those who are looking for budget options can look for bus options.
By Air

Two nearest airports to Kiriburu are the Ranchi Airport (IXR), and Bhubaneswar Airport (BBI).

Ranchi Airport (IXR), Ranchi, Jharkhand. 142 km away.

Bhubaneswar Airport (BBI), Bhubaneshwar, Odisha. 212 Km away.

You might have to book a cab/taxi from the airport to the Kiriburu Hill Station.

By Railways

The railway station of Kiriburu is called the Bara Jamda (BJMD).

It has connectivity from Howrah station through the Janshatabdi Express.

Depending on where you book your stay, it might take between one – two hours from the railway station to the place of accommodation.

By Bus

The bus station of Kiriburu is also well connected.
Where to stay in Kiriburu?
Barbil is only a few kilometers (say around 20km) away from Kiriburu as well as Meghataburu. You can also find many hotels at affordable price ranges. There are many places that offer you comfortable, luxurious, and spacious stay. If you wish to stay in Kiriburu, you have options like private accommodations and guesthouses.
You can also find Santoor guest house if you wish to stay at Manoharpur, which is located at the base of Saranda forest. I would prefer you to choose Saranda Safari Resort at Barbil because it offers you an experience of staying inside the forest.
Kiriburu and Meghahatuburu

Meghahatuburu Visitors Guest House, Kiriburu Hill Top Guest House, and

SAIL Meghahatuburu Guest House-2.

These are three options if you want to stay in Kiriburu or Meghahatuburu itself.

Manoharpur

Santoor Guest House, Saranda Inn, and Vijay Lodge are some of the guest house options available in Manoharpur.

Barbil

You can easily find residence at Barbil. This place is some 20 KM away from Kiriburu.

You have options for Hotel Adhar Regency,
Smita Hotel, and The World Barbil Hotel. You can also have the choice of Saranda Safari Resort if you want to stay amid the forest.
SAIL's Guest House are available which are maintained and are well furnished and offer clean accommodation.
Places to visit in Kiriburu
Travelling along the roads of Kiriburu and Meghataburu itself a fascinating experience, still, nature has its own treat. Thalkobad is a village of scenic beauty located at the heart of the Saranda forest. You can also visit places like Kumdi, A scenic Jhikra waterfall situated near the pump house, Pundur falls, and Rangrang dam.
There is a sunset point in these hills from which you can see the exotic view of over 700 hills surrounding Kiriburu. You can see the breathtaking sunset view from here. Leopard cave, Pachauri waterfalls, and Jateshwar Lake are some of the places popular here for travelers.
Pundul Falls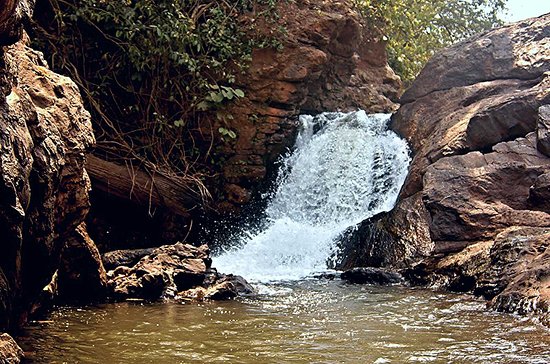 Situated in Kiriburu amidst the dense Saranda Forest, these falls mark the beginning of the river "Karo."
To reach the falls you have to take a thrilling walk through a small path that is set between the Sal trees. It is overall ambiance around these falls that give meaning to its beauty.
PS: This area was previously known for Maoist terrorists, but it is safe now and can be visited as no danger prevails.
Sapneswar Temple
This temple is situated between the Saranda Forest. It is sort of a landmark used while traveling to Pundul Falls. It is after this temple that the small trek for Pundul Falls also starts.
Kandahar Water Fall
Kandahar Water Fall, Keonjhar is a two or three hours drive from Kiriburu. It is away from the noises of the city and is situated at 152-metre height.
As the water cascades down the rocks, it creates a smoke-like appearance and the most beautiful sight are the two rainbows that are formed at the base of this fall.
Meghahatuburu Sunset Point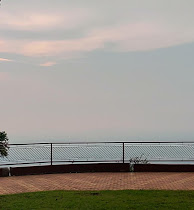 After a tiring day, all you need is a beautiful sunset. Go to the Meghataburu Sunset Point and enjoy the view of 700 hills and a breathtaking sunset.
Famous Kiriburu mines
The Kiriburu Mine area is an open pit mine authorized by Steel Authority of India (SAIL). It was founded in the year 1964. The annual production of iron ore is around 4.25 million tonnes.
It is the country's largest iron ore producer. Raw Materials Division (RMD) is an important division in achieving the company's vision of producing iron ore to meet the country's demands.
You can see the mining work carried out day and night without a gap. Also one can see the sparkling lights twinkling like stars, from these hills. You can also see lots of open trucks traveling all day long to collect these iron ores. Modernization of mines has been done with an integrated approach.
It has world-class laboratories and highly skilled professionals to provide materials of assured quality. The iron ores obtained from these twin hills of Kiriburu and Meghataburu are reduced from 64% iron content.
A training institute along with fully equipped library is also available in Meghataburu that provides training to all the workers from SAIL. They also are aware of maintaining the environment free from pollution. The sound coming from mining is scaled to prevent birds and animals from danger. Since mining can cause dust and particulate matter to pollute the air, sprinklers are used to spray waters regularly on the particular areas.
Pack your clothes and get ready to explore
It is necessary for every human being to take a break from usual routine and go for trips. Birds are a great example of travelling to new places. We can see thousands of birds coming from different countries regularly to different parts of the world every year.
Similarly, one should take some time off from their jobs and go for a small vacation. This helps in rejuvenating our body physically, mentally and spiritually. Why wait? Plan a trip along with your loved ones and get ready to explore the natural beauty of Kiriburu hills.