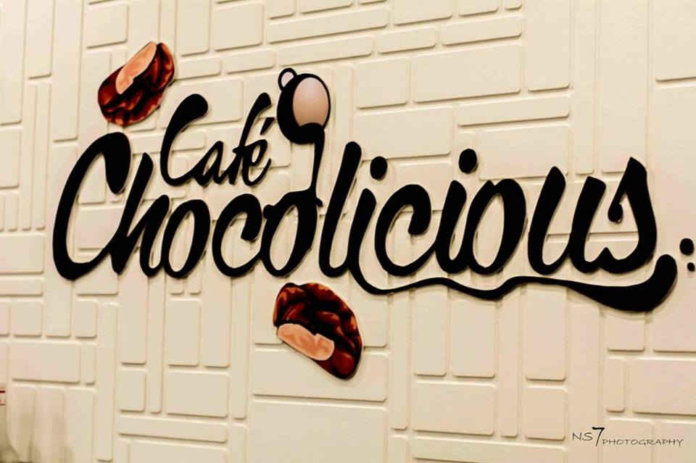 For all chocolate lovers in Vijayawada, I have a great news for you. So, where are we heading to get a bite of tasty chocolates? Undoubtedly, it is the newly opened Cafe Chocolicious in Vijayawada, which will give a royal treat to those who have a lust to taste delicious chocolates! Opened just opposite to PB Siddhartha college in Vijayawada, it is a one stop shop to relish the taste of different chocolates.
Ambience:
Cafe Chocolicious is a very casual place. It has a seating capacity of 15-20 people. A small place where a lot about chocolate can happen! Even though, a small place, Cafe Chocolicious is in a great location. This Cafe is a heaven that makes your mood change when you are in a pensive mood. After all, you are here to satisfy your craving for shakes and desserts!
Service at Cafe Chocolicious:
You would definitely love the service in this place just the way you love their desserts. The waiters here are very humble and are always waiting to serve you! 
You have to wait for 10-15 minutes to get your order. But really worth waiting! If you think waiting for 10-15 minutes is boring, you can use free WiFi to spend some time for sending emails, or check your friends' posts on Facebook or update your status message in WhatsApp! What a great way to freak out Isn't it?
Food:
You get to taste different varieties of sandwich, shakes, coffees, burgers and fries. The Mayo veg grilled sandwich is exceptionally pleasing to your tongue.
Kadai pasta is the best among the foods they serve. The taste of chocolate shake has made me burger-grubbing than before!
Pandas Recommendation:
The mastanis are must try, especially the strawberry one. Irish coffee and Hot coffee are a great too, can't wait to visit that place once again! The sandwich served here has a special taste which you will be happy to have. The thick shakes are the specials here which is a must try along with the chocolate sandwich.

       
Value for money:
It costs around Rs. 300 for two people. Lots of taste at an affordable rate. Of course, you can fill your bellies at a very low cost. You can  eat a lot without slimming down your wallets. In other words, you can walk out with a belly full of delicious burgers and with a heavy wallet too!
Happiness Meter:
Cafe Chocolicious is a good place for those who love to drop in during a college break or after college. The  eating experience you get here alters the meaning of hanging out by making it an awesome moment to cherish! All PandaReviewz readers get a special 10% discount here, Amazing right? Grab your coupons now.
Planning to visit? Been here already? let us know in comments.
Pros
A great place for all chocolate lovers.
Light on pocket.
Variety and fusion in the food, like kadai pasta which is rarely heard of.
Cons
Only 15-20 people can be seated at once, hence it might not be suitable for groups larger than that.