Introduction and Ambience:
Boiling Point is a Taiwanese restaurant with various location all across California and Washington. They also have branches in Canada and China. Boiling Point serves soup that comes with different combination of ingredients in your own personal hot pot.
The one I visited was the recently opened one in San Jose. The location is at 1698 Hostetter Road. It opens everyday from 11 AM to 11 PM. As for the other locations, please feel free to check them out here.
Service:
Boiling Point, San Jose is quite small. They have only 10-12 tables, if I am not mistaken. This is the reason why customers have to wait for a long time to be seated, especially in busy hours. Not to mention, there are no seats for waiting customers at all. The waiters and waitresses are helpful, but sometimes some of them ignore you when they are rushing to do something else.
Food:
There are ten kinds of soup to choose from the menu. Seven of them are cheaper than the other three. You can choose to have seafood, lamb, Korean Bean Paste, Thai fusion, Japanese Miso and many more. And every soup comes with a bowl of rice. Boiling Point also serves interesting desserts and beverages.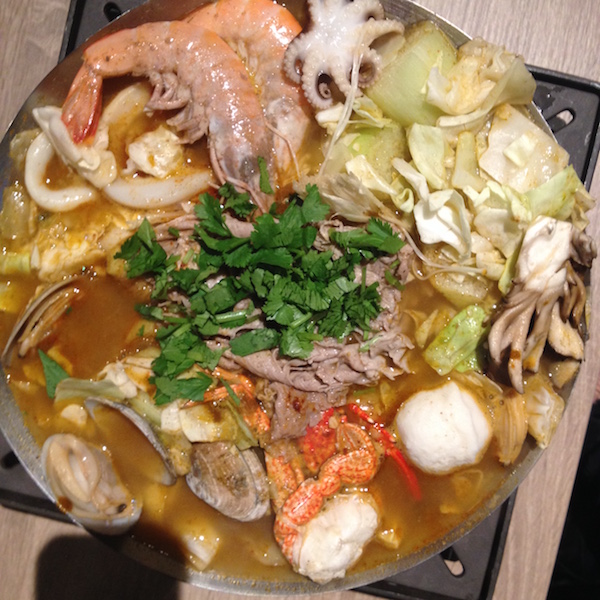 Panda's recommendation:
My order was Seafood & Tofu soup. The soup did not have enough taste for my liking. However, my friends' orders, Korean Bean Paste and Thai Fusion were really delicious. Therefore, I highly recommend these two if you cannot decide what to try.
Value of money:
Boiling Point has two rates of price, which are for lunch and dinner. The cheapest hot pot costs only 11.99 dollars for lunch. But if you would like to order the more expensive ones as I mentioned, you will get a bigger pot to make up for the price.
Happiness meter:
It feels really good to have hot soup in cold weather. Even if where you live is not cold, you will be happy to enjoy a delicious meal.
For more details, please check on Boiling Point's website here.