A milkshake is a sweet, cold beverage that is usually made from milk, ice cream, or iced milk, and flavourings or sweeteners such as butterscotch, caramel sauce, chocolate syrup, or fruit syrup. Many more precise and rigid definitions are used, subject to region. There is hardly any person in the world who are not fond of milkshake and so do I.
I finally discovered a place, precisely a milkshake place in Vijayawada where I made a visit to try out some of their milkshakes. So, let me take you on a short journey to this cafe and some of their beverages.
Location of MilkShake and Co -Where is it? 
Located in near Siddhartha College , opposite K Street, this place has instagrammable Ambiance which lit your mood and their drool worthy milkshakes fills you and your tummy with Happiness 🙂
The best part is that they are running their franchise in many other cities so you can find out if they are in your city or not. If yes, go rush to them and try out some of the great milkshake your mouth will ever taste.
Ambiance of MilkShake and Co:
Okay, so coming down to the ambiance of the place, then I would say that it complements their milkshakes in every possible way. They have all this big, vibrant, and quirky posters all around. Every single piece of glass and container is designed uniquely to give the space a vibrant and mood lifting vibe. Also, they make a great backdrop for your Instagram pictures.
Another quirky thing that instantly grabbed my attention was the ohh-so-cool milkshake glasses. Each of them has some images which perfectly blends with the milkshake you are ordering.
There is one more wall in the cafe which has many different emojis. This wall has to be a place where you need to stand and get yourself clicked. The way I did 😛
The interiors are designed specifically that matches up with the urban crowd taste. They have kept it minimal yet striking enough to make you visit them again and again. They even have different Board/table games while you sip on your Delicious shakes.
Menu & Milk Shakes:
This place serves you awesome milkshakes in Vijayawada, they have different kinds of milkshakes like Chocolate, Real Fruit, Fruity, Confectionery and the Original Shakes.
The milkshakes are made using ice cream, whipped cream and different flavors.
They have not just stuck around serving the milkshakes, but they even have variety of Leamonades , best drink to cool yourself in the hot summer of Vijayawada.
There are over 32 different types of shakes they have in their menu. If you are not up for milkshakes you can even try from their range of cold coffees or something else available in their menu.
Food 
Yes, they serve some really good snacks in the entire Vijayawada. They serve awesome Burgers and Fries which again have a wide range of Options. We tried the Veg deluxe burger and the Paneer Tempura burger which were no doubt delicious.
The burgers had the right amount of cheese, with proper toppings and mayo, and was served Hot.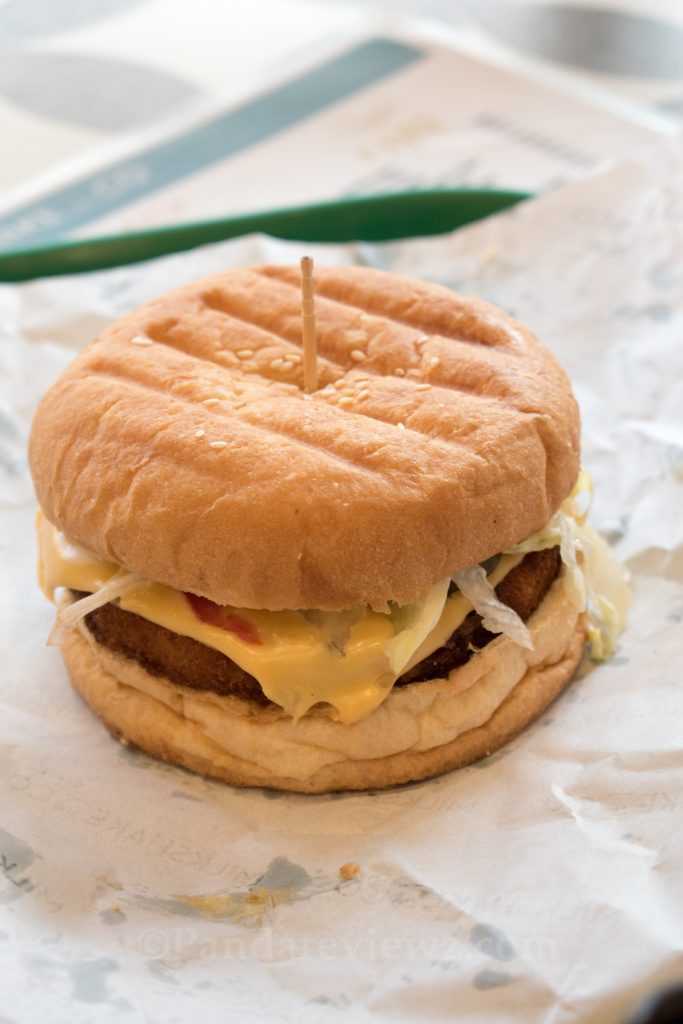 The Fries are a must have, they serve you high quality fries topped with your favorite seasoning and sauce. We also tried the Jalapeno Cheese fries and the Herbs, and the Cheesy fries , these were one of the Best Fries in Vijayawada.
They even have various pocket friendly combos, which will fill your tummy and leave your taste buds satisfied.
Service:
This place has an awesome staff. They explained us what all ingredients are put in our dishes patiently. Along with the place being awesome, the staff was warm and hospitable.
There is one particular thing that I loved the most about this place is that they allow you to take away the box they serve fries in and the lemonade glass. You can use them for different purposes. I used mine to keep my toothbrush. You can use them as you please.
What Panda Loves here?
Beverages:
The Legend MilkShake: This shake is made using the caramel shake with a pinch of rock salt.
Black Eye MilkShake: This is my personal favorite. It was made using Oreo biscuit and cookies.
Mango: This one doesn't need much elaboration. A perfect mango shake made using the mango pulp.
Masala Zing Lemonade: I loved this one as well. It has a strong masala flavor that would rejuvenate your mood.
Hazelnut Cold Coffee: Not a basic cold coffee, but something great in taste made using hazelnut for enhancing the flavor.
Burgers:
Veg Deluxe: The burger had a vegetable patty served with cheese in a good amount.
Fries:
Jalepeno Cheese fries: I loved this too. It was served with jalapeno cheese which had a great taste and coriander leaves on the top..
Value For Money:
Though they serve shakes, lemonades, and snakes with the best ingredient and in a unique way, they don't overcharge you. The pricing is pocket-friendly. The taste are worth spending your money.
Happiness Meter:
The warm staff, great ambiance, funky decor, and great milkshakes, lemonades, and snacks, you would definitely like to visit this place again again.
There is not a bit of doubt that whatever they serves was amazing, I did love a few of them in extravaganza. Hence, I recommend to try out the Jalapeno Cheese fries, Black Eye, and Masala Zing Lemonade.