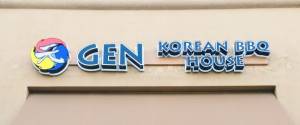 Introduction and Ambience:
Gen Korean BBQ House is the name of the Korean restaurants that are spread out all over California. They have fifteen branches in California, one in Nevada, one in Texas and one in Hawaii. As they mentioned in the name, Gen will let you grill the meat yourself with their embedded circle grill in the middle of your table. Their operating time is various, depending on the branch. But you can check the details for the one closest to you here.
Service:
Gen is one of the most crowded restaurants. If you decide to come here on the weekend, you can expect to wait for at least an hour to get a seat. So it is best to come on weekdays or at odd time, say 3-4 PM or as late as 10-11 PM. The staff will be too busy to make sure you are happy while you are waiting. But when you are seated, the waiters will give you their best service. They will make sure your glass of water is always filled, and you get the correct orders.
Food:
Gen Korean BBQ House serves both regular meal and All You Can Eat. Most people go for the latter, which costs only 15.99 dollars for lunch and 20.99 for dinner. There is variety of meat for you to choose from the menu. But before that, you can enjoy the unlimited appetizers like kimchi, mashed sweet potatoes and other things.
Panda's recommendation:
Their pork belly was the best I have ever had. Gen Korean BBQ House has three kinds of pork belly: Premium, Smoked Garlic and Red Wine. All of them are great, but I personally prefer Smoked Garlic one for the taste.
Value of money:
The price for All You Can Eat is very cheap considering how clean and refined Gen is. And the more you eat, the more you make it worth.
Happiness meter:
Choosing your favorite kind of meat and grilling it how you like can be one of your favorite things to do in life. You will be even more joyful to do it with friends under the perfect dim light of Gen Korean BBQ House.
For more details, please check on their website here.