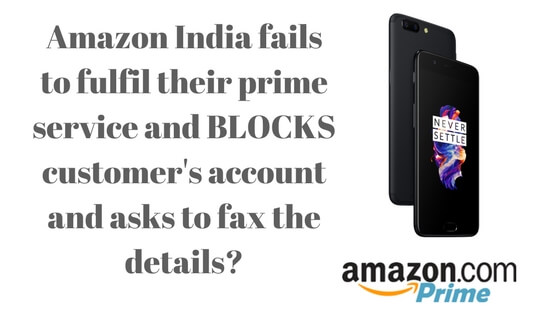 When we think about shopping online, we think of  Brands like Amazon India, Flipkart and Snapdeal and Alibaba many more. Also, we are looking at our exclusive products that are unfortunately available only on one of the e-commerce website. (Exclusive Amazon India Sale for Oneplus5). I so wish ONEPLUS would rather also have an option for the sale on their own website.  

Even though Amazon India is the giant in e-commerce industry but unlikely it also victimizes a number of elite customers and Shyam Pareek is one of them.  He was really excited and waited for his favorite mobile phone OnePlus 5  and was ready to book his order. It was not the first for online shopping and he had great ordering experience as well but what had an uncertain and deadlock experience when he logged into Amazon India via his brother's account.
Once, he logged in and was ready to book his OnePlus 5, He also immediately took prime membership plan so he gets his phone, OnePlus 5 as soon as possible.
Yes! He booked his order successfully. But, he got shocked when he was trying to track the order then suddenly a deadly message came over his laptop screen i.e. his Amazon India account was blocked.
His Next Step was obviously, Contacting Amazon India's Customer Support Team:
We all have spoken to the customer support of eCommerce at least once in our life and we expect them to generally solve our problems, however, the case with Shyam was different and Disappointing.
When he called Amazon, They told him his account was blocked due to Suspicious Payment. He took Immediate Action and sent them all the details via Email along with proofs of the Transaction because he wanted the phone ASAP.
He then waited for a response, but again to his disappointment was asked to wait for 24 hours for the customer support. He again followed up and faced the same for 5 more days. Not sure which dimension they were talking about when they promised 24 hours?
HIS MONEY WAS BLOCKED, 39k~ and HE WAS NOT EVEN GETTING A RESPONSE TO THE STATUS OF HIS PHONE OR MONEY!
What in world is fraud when you make the payment from your brothers account as it was not added to his?
After his Calls and Emails, He was completely disappointed and decided to disclose mischievous behavior of Amazon India on Social Media. (AS YOU CAN SEE THE POST ATTACHED BELOW) .
He Also Faxed them the Details they requested,
but They still kept on asking for the same details over and over again even after it was sent to them!

I want to question Amazon India, how can you say that payment was fraudulent once you already confirmed it and also sent invoice over the email. Then he repeatedly tried getting help from Amazon India customer care and asked him, why the Amazon account blocked. Instead of helping him, and solving his concerns, they asked him to send all details only via FAX.
I asked Shyam, on what was his reaction?
He said He felt tragic and heartbroken as he was not going to receive his phone even after He ESPECIALLY subscribed to Amazon Prime. He was devastated.

Whats going on in 2017 is Amazon India asking for FAX?

A big question raised in mind how could it possible for global e-commerce giant to show such an irrespective response,  Including:  
Blocking a customer amazon India account
Claiming for fraudulent payment
Asking for Payment details via FAX
Completely artifice behavior without any notification.
Even after sending the FAX they never responded and sent repeated robotic replies over Social Media.
Source: Shyam Pareek's Facebook Post and a Detailed Interview with his statements and Proofs.
PS: Amazon is a successful E-commerce Giant, we can't forget the service it has been providing for years on basis of one such incident. However, we were also shocked to see such actions of their support team.