When you think about the smallest country in Asia, some might say Singapore. Even though Maldives actually owns the title, but Singapore is definitely one of the smallest ones.Surprisingly enough, there are so many interesting places to go and Things to do in Singapore that you will need more than a day to cover everything.
I had a pleasure to be there a few years ago, so I would like to share my experience with you.
Before you start your trip, you will need the things below:
Money

Your smartphone

Internet access

Google Maps application
Instead of turning on your data roaming or hoping that everywhere will have free Wi-Fi, I recommend you to buy a new SIM card from Singtel. They have packages created specifically for tourists. You can check them out here.
Once you drop off your luggage, your journey is ready to begin!
Places to Visit in Singapore & Things to do
Chinatown:
It may be called 'Chinatown', but there are many mosques among the temples as a symbol of the diversity of Singapore population. You will enjoy the architecture and food on the streets, but more importantly, please look for the City Tours booth here.
Why do you need this booth? It is where you buy the discounted City Pass. They have many promotions for you to choose, such as 3 days Pass: 1 sightseeing and 2 attraction tickets. Once you have the pass, you can hop on their shuttle buses any time and they will take you to the designated places.
Universal Studios Singapore:
You cannot miss this world's famous theme park, its one of the best Experience in Singapore. After you take a picture with the renowned Universal's big blue globe, it is time to go inside and enjoy the rides like Mummy, Transformers and Jurassic Park.
Merlion Park:
When you google for the word 'Singapore', I am sure the pictures of Merlion will show up most of the time. It is not hard to guess that the word is mashed up from 'mermaid' and 'lion'. The big white beautiful creature is standing elegantly next to the pool. You will have a lot of choices of how to take your pictures with the fact the Merlion is spitting out water.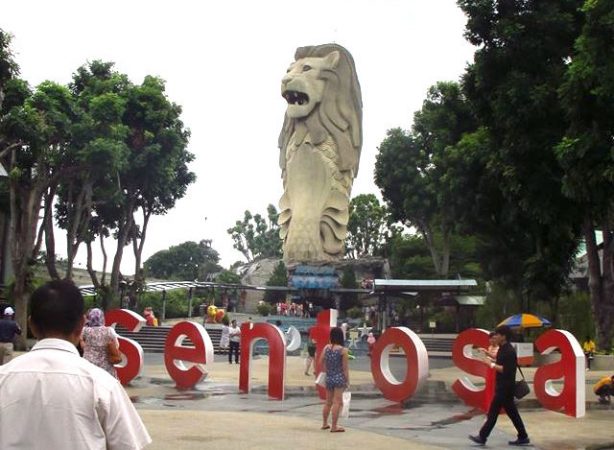 Sentosa Merlion:
One Merlion is never enough, Singapore also has another one looking over their people on Sentosa Island, which is one of the things to do in Singapore where most attractions are located.
S.E.A. Aquarium:
This aquarium is not like any aquariums. It features the largest oceanarium in the world. When you are in front of the oceanarium, you will feel like you are a part of it. In my personal opinion, I can easily sit in front of it for a few hours just to look at the fish.
Helix Bridge:
The bridge is decorated with blue lights at night. For Singaporeans, it is where they have a night jog. But for tourists, it is where you take a walk to the breathtaking view. As you can see, Marina Bay Sands Hotel makes an amazing background in contrast with the black sky.
Henderson Waves:
It is another bridge with an excellent architecture. It looks like waves floating in the air from the outside, but you will also feel astonished when you are on it. I would like to warn you that you will have to take a long walk and many flights of stairs to get there, so please bring water.
You can find a taxi in Singapore literally everywhere just like in any other popular tourist country. Is it worth to mention that many taxi drivers use trick, when they refer to misunderstanding and tell their clients about price changes only at the end of the journey? If you book a transfer in Singapore with kiwitaxi you can forget about negotiating the price, because you will be able to see it on the website before even making an order. One more advantage is that the driver will definitely know your route before you get in his car and will not drive along city streets looking for the place you need.
There are the places I have been in the span of two days and they took my breath away. As I mentioned earlier, there are lots of things to do in Singapore all you need is much time to explore this small country, so I highly suggest you add many other places to your list if you have another day to spare, such as Singapore Botanic Gardens, Wild Wild Wet Water Park, Gardens by the Bay, and of course, the shopping malls.
As a small country, Singapore will give you so much more.