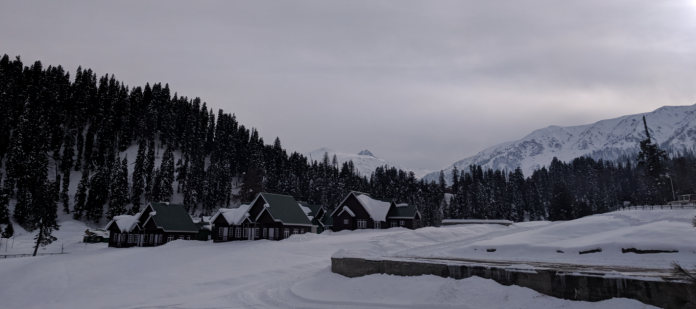 I too, happen to be one of the millions here who'd like to believe they're a traveler. After planning to visit the valley for years – I finally decided to head towards Kashmir in the December of 2017. After my week-long tour of the valley, I am sharing my experience about the best places to visit in Kashmir here.
Kashmir is the holy grail for anyone who calls themselves a traveler in India.
Readers must kindly note that  'Kashmir' here refers to the Kashmir Valley and not the entire state of Jammu and Kashmir (which includes Jammu Kashmir and Ladakh).
However, before we dive deeper into the details, let me answer the first question that comes to your mind when you think of Kashmir:
Is Visiting Kashmir Safe?
To sum it up in one word. Yes.
The Indian media has spent endless hours covering 'the situation in the valley'. There have been controversial debates all over the news media telling you about how Kashmir is a land full of radical extremists who have nothing better to do than throw stones at armed forces.
However, there's much more to Kashmir than what they show you on the TV. Let me assure you that you are safe in the valley. The locals are loving and caring and most of the tourist places are heavily protected by the Indian armed forces. The government offices are extremely approachable, especially the tourism departments and are very helpful.
Keep in Mind: You are safe as long as you are in the tourist belt. There are several places to visit in Kashmir for tourists, such as Gulmarg, Pahalgam, Sonmarg, Srinagar, etc. However – if you happen to wander off to parts where tourist population is low, that might be a little risky, especially towards the border. Places like Baramulla, Uri, Poonch, etc. are not recommended for tourists.
Best Places to Visit in Kashmir
Now that we have the 'is Kashmir safe' discussion out of the way, let us get back to the bigger question – what are the best places to visit in Kashmir.
When I was planning my trip to Kashmir, I had only one objective in mind – Snow. (or as they call it in Kashmiri, Sheen). Fortunately, just a day before I was about to head to the valley, it snowed heavily and places reportedly had 4 to 5 feet of snow, especially in high altitude regions such as Gulmarg.
Let me now take you through a detailed look at some of my favourite places to visit in Kashmir:
Srinagar
The best place to start off your journey is Srinagar – the summer capital of Jammu and Kashmir. Located at the heart of the valley, Srinagar has a number of tourist attractions.
The Gardens of Srinagar
If you happen to visit Srinagar in warmer months, you'll be able to see greenery like you've never seen before. If you visit the city in autumn, you'll see numerous Chinar leaves all over the grounds, giving a divine feel. I have been travelling almost six months a year for the past four years but I have never seen autumn the way I have seen it in Kashmir – it is an experience I strongly recommend. Nishat Bagh, Shalimar Bagh, Chashmeshahi Garden are all beautiful and deserve a visit.
For those more interested in flowers and greenery, April is the best time to visit Kashmir for nature lovers, as the tulip garden would be open around that time. This garden opens for about 30 to 40 days a year and it is a sight to marvel at!
The Dal Lake
For those visiting Kashmir, I strongly recommend staying over at houseboats. Its one the most unique hotels in the world. My Shikara-wallah told me that there are over 1500 houseboats on the Dal Lake, and over 5000 Shikaras operate on the lake, taking passengers to-and-fro, giving them a trip of the lake, as well as selling stuff.
The Dal Lake is like a city within a city. It's a floating city. It truly is one of the best places to visit in Kashmir. There are houseboats where tourists live and then there are factories, post offices, restaurants as well as local residences built inside the lake! It is really incredible. I strongly recommend a trip to Chaar Chinar, where three Chinar trees (there used to be four) stand tall. These trees are supposedly of the Mughal era. Dal lake is so famous that there's one more lake named after this in Mcleodganj as well.
Boulevard Road
The Boulevard Road is one of the most important roads of Srinagar, especially if you're a tourist. The road runs around the Dal Lake and has a number of restaurants and cafes nearby. There are many good cafes where the road starts (Near Ghat no.1).
If you are looking for a themed cafe, you must check out the Winterfell Cafe near Ghat no. 4 which is one of the best places to visit in Kashmir for GOT lovers. There are many other eateries on the Boulevard road as well. I personally recommend Shamiana for awesome Kashmiri food.
Gulmarg
When it comes to the list of the best places to visit in Kashmir, Gulmarg cannot be ruled out. Gulmarg is a place which offers you two contrasting experiences if you visit it in summer months compared to winter months. In summer, the place is full of green meadows and golf courses and flowers all around.
However, it is in winters that it truly captures the fantasy. In winters, it literally becomes 'beyond the wall'. A massive expanse of snow, with nothing but white sheets of snow and ice in sight. Those who enjoy skiing must come to Gulmarg to try it out. Gulmarg also has India's highest rope-way (Gondola) which operates in two phases. It takes you to a height of 14,000 feet from where you can see the entire Kashmir Valley.
Gulmarg for me is one of the best places to visit in Kashmir as all I wanted was to enjoy snow and it was all around me here. When I reached Gulmarg, it had just snowed there the previous night – and fresh, soft snow was all around me. I had snowball fights with friends of mine, as well as tried to build a snowman!
Gulmarg is best enjoyed if you decide to stay overnight. I stayed at a government cottage with three friends of mine. These cottages can be booked from the JK Tourism Center and need to be booked in advance.  Make sure you carry a LOT of warm clothes if you decide to stay overnight in winters as the temperature can drop to as low as -10 here easily.
Pahalgam
Pahalgam is another beautiful place in the valley – which is a must for everyone visiting Kashmir. One of the best places to visit in Kashmir, Pahalgam too, like Gulmarg, offers you two different feelings when you visit it in Summer and Winter. Many popular movies including Karma, Bajrangi Bhaijaan, etc have been shot here.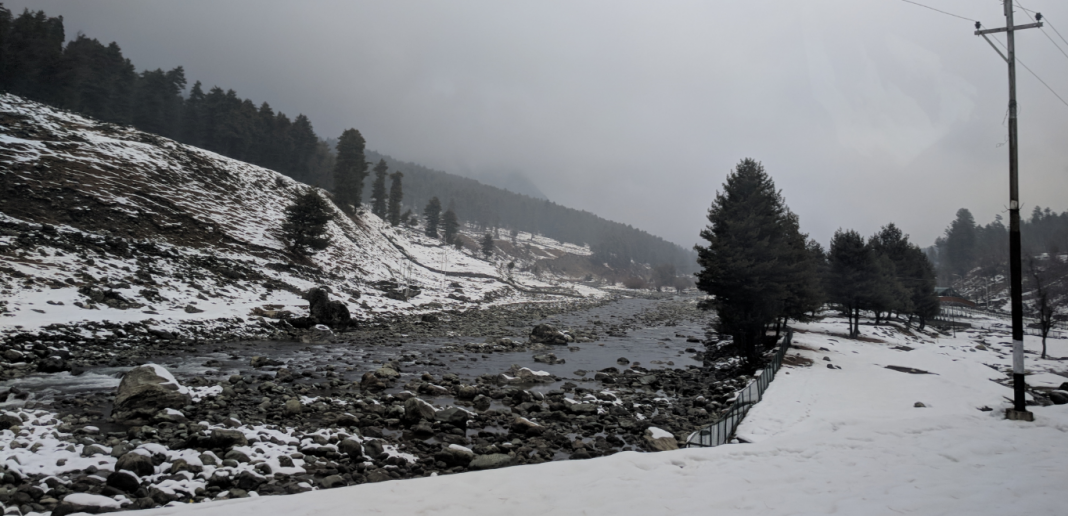 In summer, Pahalgam is all about the green meadows and horses and about men taking their cattle out for grazing. It is all about the young pink-cheeked Kashmiri kids playing along the meadows on their way back from school and is the perfect portrait of paradise. This is one place I'd rather visit in summer than in winter because in winter you don't really get to see the true beauty of Pahalgam – the greenery. Pahalgam is all about horse riding and chilling by the rivers and streams that flow through the valley.
However, if you decide to visit Pahalgam in winters, you can enjoy the snow and the frozen rivers – some really unique sights. However, if you really want to enjoy snow, Gulmarg is a much better destination in kashmir.
Places to visit in Pahalgam
While there are a number of places that you can visit in Pahalgam, and it takes over a week to explore the place properly, I visited it in winters – where most of the areas become inaccessible due to snow. The top two places to visit in Pahalgam are Aru Valley and Betaab Valley. These two places offer identical experiences – though I prefer Betaab Valley over Aru as a river flows through there and there's much more to explore, especially in the winters.
Sonmarg
Sonamarg is another phenomenal place that I have visited in Kashmir. Its situation is in the Ganderbal district, and its name stands for "Meadow of Gold." It remains closed during the winters but is a perfect destination for the summer days. It was a key gateway to the ancient Silk Road. When you are in Sonmarg, the Vishansar Lake will catch your eyes. The beautiful lake stretches over a kilometer, and it freezes completely during the winters. When I was there during the summer time I saw the lush green setting. You may see a lot of trekkers by the lake because of its popularity.
The lake also gives rise to the Nelum River. Zoji La Pass is also an essential pass between Ladakh and Kashmir; this place is also breathtakingly beautiful. When you visit the place, you may see the thick cover of snow on the mountains. A fight between India and Pakistan happened about the place once upon a time. I will recommend you to include Sonmarg in your tour to Kashmir. I would say that pack up well as Sonmarg tends to get quite cold.
Kupwara
We have always known Kashmir for its meadows and its beautiful locations. The theory comes true in Kupwara because of its beauty. The place is well-known for its alpine setting and heaven for mountain lovers. In Kupwara, I got amazed to see the Bangus Valley's situation is at 10,000 ft. Above the sea level. The place retains its pristine beauty and glows with both wildlife and nature. Bangus gets divided into two valleys, Bodh Bangus and Lokut Bangus.
Mountains surround both the valleys and make them a tranquil place to visit. The best part about the place is its Coniferous forests and picturesque location. Another beautiful valley to visit is the Lolab Valley. The valley stretches over 25 Km giving you a lot of space to find peace with yourself. The valley has an extensive stretch of Deodar forests and several other trees. I loved the place for the sojourn that it provided to me.
Hemis
Hemis is a place that is a lovely place for adventure seekers. People who find wildlife amusing should see this place. It may come out as a unique destination among this list. During the summer several thrill seekers visit this place to enjoy its beauty. The most notable place of Hemis is the Hemis High Altitude Wildlife Sanctuary. This is the cherry on the cake when you visit Hemis. The high-altitude sanctuary greeted me with the uniqueness that I never perceived.
I always wanted to see a snow leopard, and I caught its glimpse at this place. But other than that other animal like Bharal, Ibex and 73 varieties of birds stay here. The setting of the place is also strikingly beautiful. I also visited the Hemis Monastery which has gorgeous Tibetan architecture. It is a heritage site and even an important part of the history of India. The mountain setting by the Indus river makes it a unique part of the heritage of India. It is also one of the wealthiest monasteries present in the country. You may enter it and feel the richness and the culture of the place. It is also better to visit during the summer months when it appears more beautiful.
Yusmarg
This place's situation is in the Western part of the Kashmir valley. People believe that Jesus came to this place. The place is also just 42 Km away from Srinagar. The place is still a small hill station and retains its unhindered beauty. The green valley and the lofty mountains will lure you into it. The thing that attracted me the most was the pine and fir forests. The Doodhganga River also caught my mind which flows through the valley. You may trek to the Sang-e-Safed valley, which has a frozen lake that remains in that state even during the summer months.
Sinthan Top
The place is a pass situated in South Kashmir in Breng Valley. The place remains in a snow-covered situation throughout the year. Tourists love this place because of this place, and they often trek to it. I personally chose to hire a car from Daksum. Staying options do not exist in Sinthan Top, so everyone either moves on or gets back to their old destination. If you visit the place, you will definitely love the snow and the mountains that this place offers. I also got hold of the driver who told me a bit about the place and its history.
Doodhpathri
Situated just 42 Km from Srinagar, this is a fantastic place to visit. The altitude of the place is about 8,957 ft above sea level. The name stands for 'valley of milk' its situation is in the Budgam district. Lengths of rich green pasture cover the bowl-shaped valley. When I reached, I noticed stream's water has a whitish color to it. Also, only a handful of people other than me were present at this beautiful spot. You may ride horses or have a pleasant afternoon in the valley. Book a hotel in the place and stay at least a day or two to take in its beauty. Through the windows of my stay, I was able to see the occasional cattle rearing on the green pasture.
Kargil
We as a part of India is quite aware of Kargil. But if we leave behind the gruesome war, Kargil is one of the most beautiful places in the world. The place has a historical significance of the past. In Kargil, you may mingle with the locals and enjoy its heritage. Apart from the main Kargil town, I visited the Mulbekh monastery, the cave monastery, and tiger hill.
The Suru River is also an important part of Kargil, and you shouldn't miss it. The beauty that you have seen in the photos will definitely come alive when you visit the place. Kargil is a part of the region of Ladakh, and its elevation lies at 8,780 ft above sea level. I am also thinking about completely touring the Ladakh for its experience.
To Conclude
Kashmir is truly heaven on earth and one of the most beautiful places I have ever visited. I strongly recommend all readers to visit it twice – once during the warmer months and once during the colder months. Perhaps no other place in India offers you such stark difference in the landscapes than Kashmir. This is a pilgrimage for those who like to call themselves 'travelers'.
Kashmir is more than a valley or a state – Kashmir is beyond ideologies – Kashmir is beyond description – Kashmir, Kashmir is a feeling. Go, enjoy the Cashmere state of mind.