The state of Jharkhand with its immense greenery has a peculiar influence in tradition and culture which it acquires as the most important heritage. Along with this, the Jharkhand food has its own specialty which has always been an attraction. Jharkhand and Culture is so synonym that you will not be able to trace any difficulty to understand it.
Some dishes will be new and some not even known. Even though you know them the ways to cook some delicacies varies within the state itself. So even though the staple food is rice, dal, and a variety of vegetables, they cook differently so as to give a delectable dish you have never had before.
Let's have a look what Jharkhand food has to present to us.
1. Dhuska
A famous spicy dish of Chota Nagpur Plateau. This is the specialty of the capital of the state; Ranchi. Your breakfast will start with this Jharkhand food dish and but you can have it as dinner too.
Made up of rice flour the and pulses- Black lentil and gram pulses, the dish has a special flavor due to the presence of a certain quantity of spices. the oil generally used to cook is mustard oil. So, it has the flavor of this oil too.
Served with gram curry and potato curry the dish looks too deliciousand appetizing. It generally becomes a part of the festival plate and savors your palate with its placid touch never sensed earlier.
A connoisseur of good taste should not leave this dish unattended. So, next time you visit this place just go and try it. You may not get it in restaurants but make friends you will have a chance of homemade dhuska. If not just check in the famous dhuska recipe by Sanjeev Kapoor and try this Jharkhand food at home.
2. Rugra, Puttu or Phutka: A Mushroom

A must mushroom try from Jharkhand. A type of mushroom which you will find only during the monsoons, often in the forest. It grows beneath the soil and only the locals of the forest will be able to find it. Although found only in the Chota Nagpur Plateau, it can be found in all over the state. It can be said a special state cuisine due its seasonal and peculiar growth, which no one wants to leave. If cooked well with proper ingredients you will fall in love with the dish.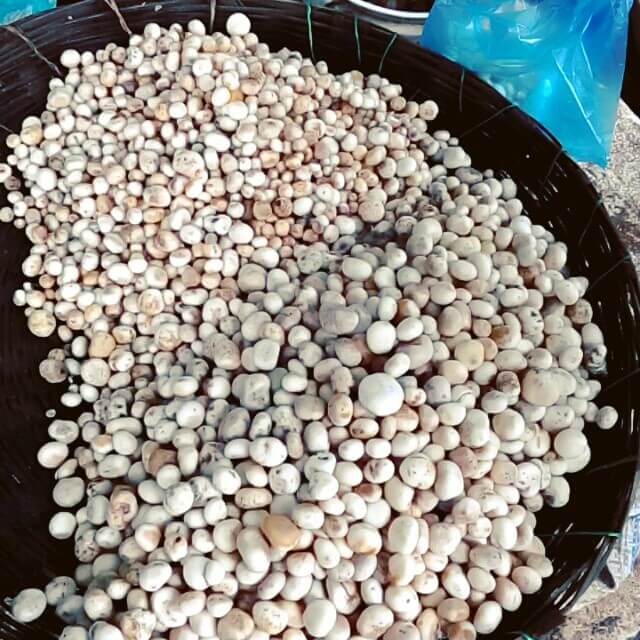 Another famous mushroom which is available only in this state is Tumba. It is not common throughout the state and only tribal people can recognize this. So, this is just an additional information. But you should not miss this ever when you are here.
3. Pitha; a special festive dish of Jharkhand
Just like Jharkhandi's share the famous Chau folk dance form from its neighboring state similarly this Jharkhand cuisine has been borrowed from the West Bengal. A special dish of Makar Sankranti, which both the states' palate enjoy the delicacy. You must have been stunned that if it is a Bengali dish then Why is it under this head. They are similar to each other but the stuffings are different. It is stuffed by- the famous Aloo ka chokha of Jharkhand, different varieties of boiled Dals (gram, black lentil, Masoor ki dal/ green lentil), Khoa or thickened milk. The structure of the pitha makes it more attractive. Forget not to taste it if you are here !!
There is doodh pitha as well which we make using milk. It has similar taste as the cooked rice milk. But the exception lies in the essence one uses at home. Different parts of the state have a different form of cooking.
One can Imagine that momos came from this, as it is cooked similarly. Just that in momos you have a different stuffing.
4. Arsa Roti
The first Jharkhand food dish that is shared amongst the family of the bride and the bridegroom. It is a tradition that both the sides follow. The sweet dish is symbolic of good harvest and the tactics of cooking of the women of the house. A small mistake will result in the loss of a lump of dough of rice flour. So one needs to very careful and conscious while making arsa. So, it is very difficult to cook. But you may find varieties of arsa coming up. The influence of tech and easy living has actually reduced this system of exchange.
Yet you should try this with Mango pickle. You won't be able to stop yourself from having a lot at one go!!!!
5. Litti Chokha
Litti Chokha is very fondly served in the Jharkhand and is a public liking which is an influence from Bihar and makes it a known Jharkhand cuisine. A famous winter dish but you can have it throughout the year. Why did I say winter?
If you are fond of meeting your family and friends, spending the weekend with them then you should obviously try and serve this dish and make them happy. Winter bonfire!!! , you can cook it together and enjoy the warmth of the bonfire at the same time. People sing songs, celebrate and discuss their lives while they are busy preparing it. Not just women, children, men everyone tries to help out in some way or the other.
People generally prefer eating the roasted litti than the fried one because of the reason that one enjoys the warmth of the family along with the fire .
But you can have this mouth watering dish, hot, dipped in desi ghee in any restaurant. You will experience the essence of the simple living and a lively host. The best part of this dish is that it is oil free and not too spicy. Therefore a healthy food. Do not forget to try this Jharkhand food.
6. Chilka Roti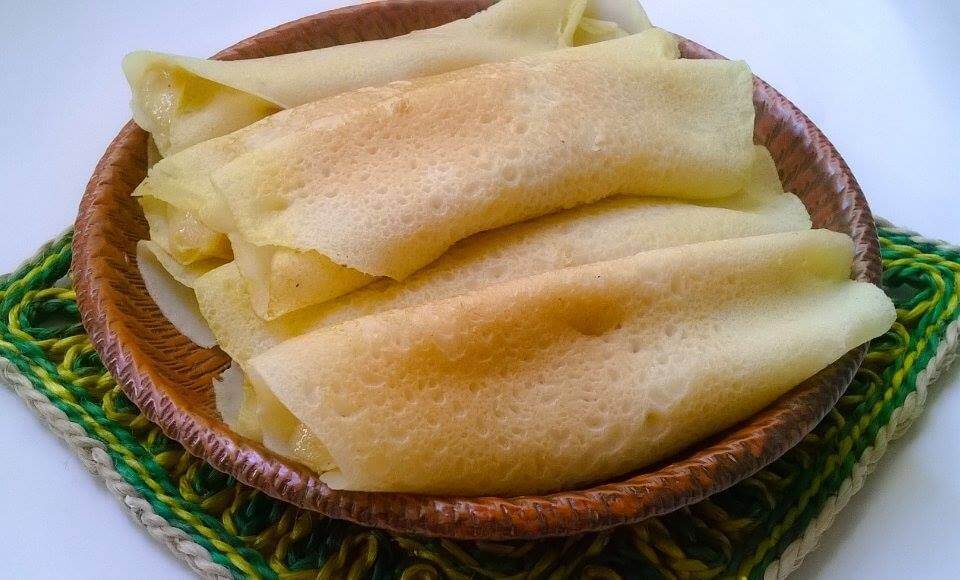 A dish made of rice flour served with Oal (yams) ki Sabzi or with mutton curry is a famous dish. A dish made from a staple grain; rice, this reminds of a south Indian dish dosa but has a distinct flavor. Made in a similar way using rice flour, chana dal, and Urad dal as ingredients this Jharkhand food is a famous dinner of these people.
 Nothing looks so appetizing than this.
7. Handia/ A Famous Liquor
A festive drink made of cooked rice soaked in water overnight in an earthen pot. It is prepared using ranu tablet which is essentially a combination of 20-25 herbs acting as a fermentor. It is generally the most alcoholic and mordacious taste people of any other country drink.
The more days the mixture is kept the stronger it becomes. It has a pungent smell which the first drinker will sense. It is generally during any local festival like Sarhul and marriages when the tribal serve and enjoy this drink. Just like bhang it too has a different effect. So, if you dare to drink for the first time do beware of the consequences. Although it tastes good you will not stop if you get habituated to the liquor.
8. Bamboo Shoot
Must be amazed by hearing of these people having a bamboo shoot just like pandas or elephants. Just kidding !!!! But once your tongue tastes it you will not stop yourself from any having it often. It can be a part of vegetable in your meal or a pickle.
Made of using the mustard seed and garlic as major constitute the dish will aid your taste of the meal you are having. It has plain sweet flavor yet has a unique sourness. You have to move out of the world of flavors to taste this peculiar dish of the state. As this Jharkhand food has its own special flavor unknown to anyone.
9. Malpua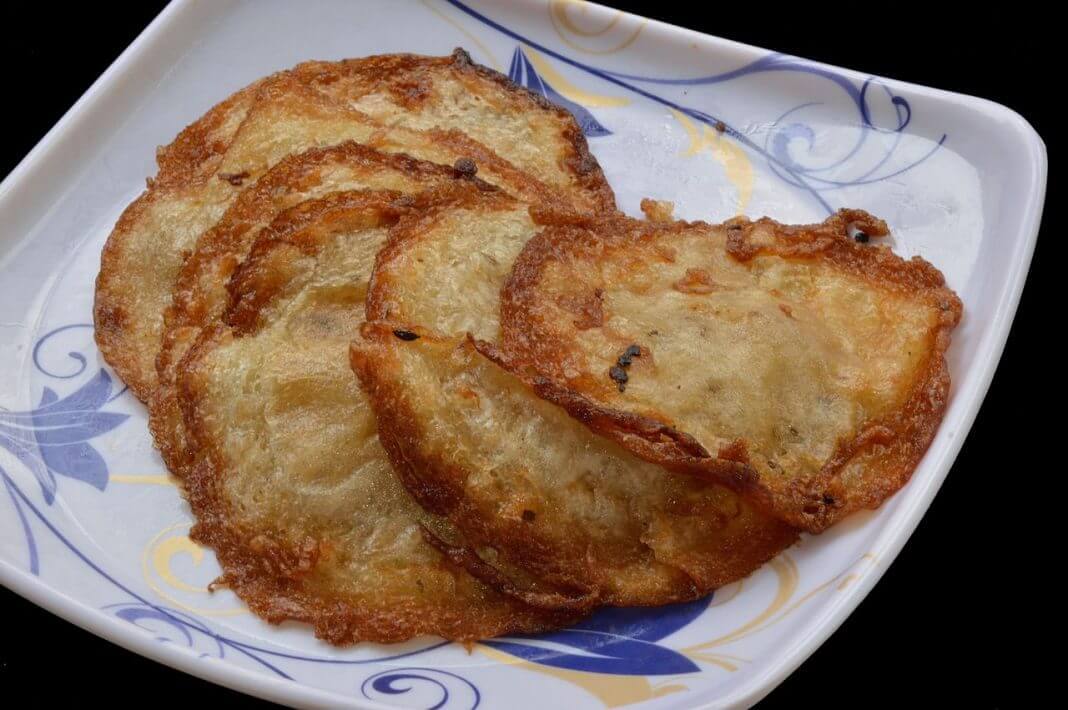 Hmm, so you must be amazed by the name. Literally, it means a dish made of mewa( dry fruits) and lots of milk. A deshi pancake which can be a synonym to the festival Holi of the state, not a single household misses this dish out. Colours and Malpua always go together.
Soaked in sugar syrup this sweet dish has an aroma which will fill your stomach but not your urge. Although the dish is famous in India all over you should try and have it here in this place. You will never forget the experience you gave to your palate!!!
10. Thekua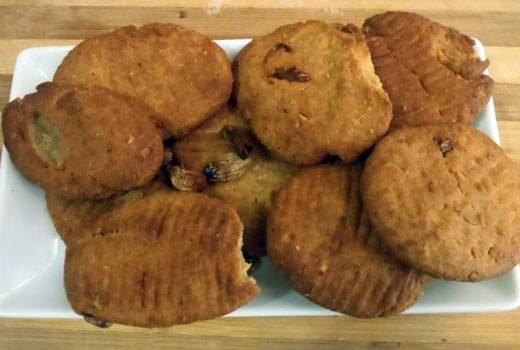 Loved throughout India this sweet dish is a constituent of Prasad during the famous Chhat puja. An influence from Bihar, the dish cooked in Ghee has an aroma that will increase your appetite to have good food. Made of wheat flour, using fennel seed and sugar or jaggery syrup is a good snack in the evening. A heavenly Jharkhand food you will never fail to like it.
11. Kanda ki Sabzi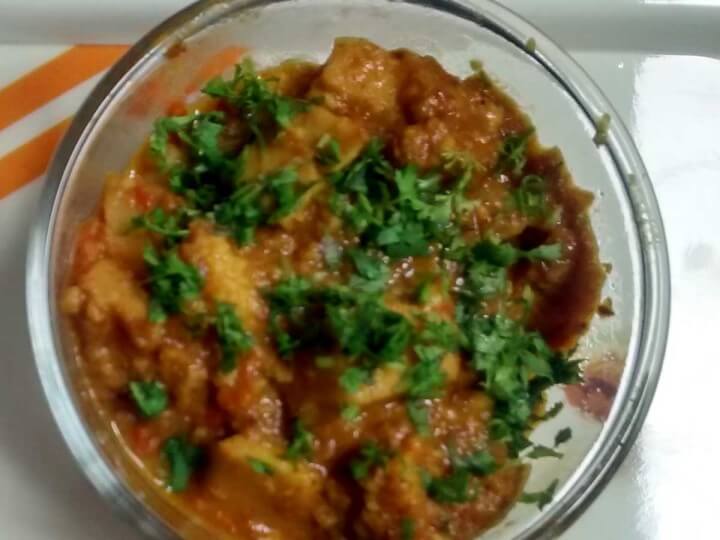 If you are a Maharashtrian reading the article might get confused with the name, as Kanda for you means onion. But in Jharkhand, there is a special root which is cooked and the curry will definitely overwhelm you savoring your taste sense.
It is often served with chilka roti and arsa roti. The spices mix so well with a sour taste of vinegar will water the mouth. Do, check the dish when you are here.
12. Metha Khaza
Do you love a sweet dish, you should not leave this dish out. Jharkhandi's have a fascination for dessert as it's obvious that there are a lot of sweet dishes that they love to have. But this dish has a special assertion as it stands apart amongst all other desserts- Halwa, Kheer, Gujia.
Our marriages remain incomplete if there are no Metha Khaza. This special Jharkhand food decorates the basket of any greeting in the family. So, all new relation starts with this dish. You should not miss this delicacy if you want to enter into a relation within the heart of this lovely land.
13. Dudhori
Oh! does the name sounds too deshi. Why not? This sweet dish made out from the rice, milk and sugar syrup will make you feel so out worldly that you will be unable to feel the new experience being in your senses. It is a very common dish which the locals cook during the Durga puja. How can one miss this dish in any household during the Navratra season? It may be the regional name but the dish is common throughout the state. Can be called Desi Gulab Jamun !!!
14. Mahua Masala
You must have heard of this as a fruit commonly taken by the tribal after treating properly as a drink. But this fruit can be eaten when it is ripe and the unripe ones can be a part of your vegetable rack. It tastes as good as any other vegetable. It is very nutritious and helps fight many diseases.
You can try the fruit as well!!
So, many dishes to treat your palate. Make sure to taste them you will definitely love these Jharkhand foods, Especially when it is cooked with a huge amount of love and care. Do, let me know if you ever had a chance to taste any of these Jharkhand foods.