Chai- the beloved Indian beverage!
Chai is the basic yet classic beverage that can be easily spotted in every nook and corner of the country. The annual consumption of Chai in India is approx. one billion kilograms (that's too much man). Tea is consumed in a whopping amount in India, from small businesses to MNCs, all the big deals are finalized over a cup of tea.
The love for the beverage is evident and eternal in the diverse nation of India. We are here sharing 10 good reasons that justify why chai is more than just a beverage to India. Check out these reasons to know more about the aromatic and soothing beverage, Chai.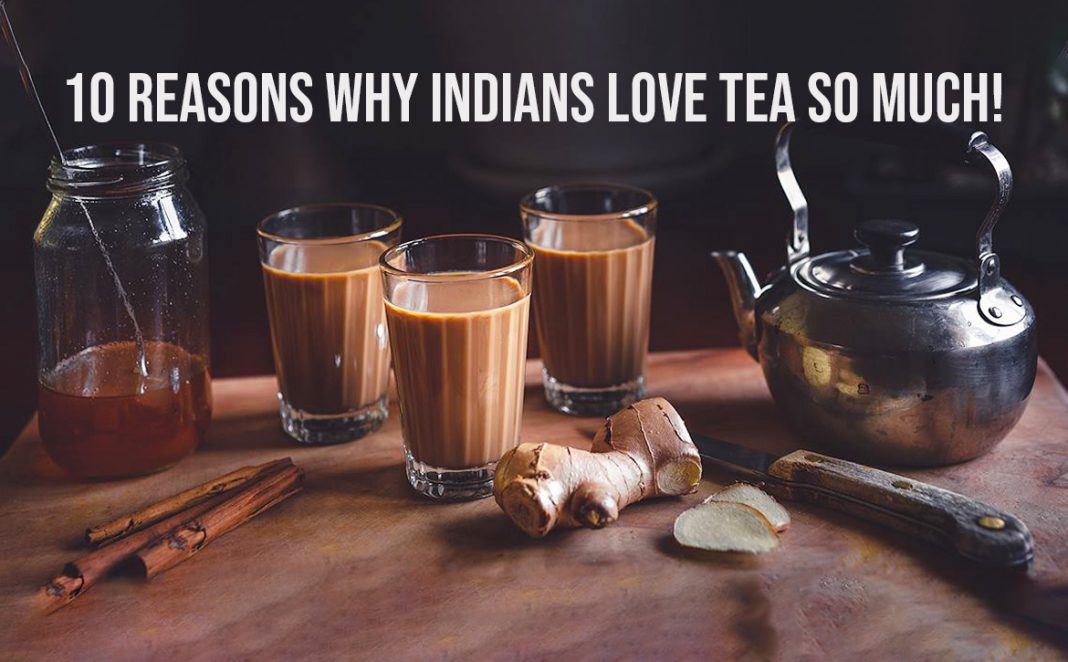 1.     It's our heritage
Chai is a part of our heritage and has been carried forward from our ancestors since the 12th century. In Indian households, tea is the very next thing served after water whenever someone visits. This ritual of offering tea reflects the respect and affection of Indian people. From our ancestors to the forthcoming generations, tea is the one common link that binds us together.
2.     Chai is everywhere
India is a land of 3.287 million km² and you'll see tea serving at every 1 km across the country. The unfailing love for chai is not limited to India but has traversed to different parts of the world. The ubiquitous tea is the finest form of serving segment and has surpassed the criteria of affinity for the Indian folks. Whether you're visiting a fancy restaurant or local 'Nukkar,' chai is everywhere.
3.     Tea brings people together
You might be pondering about this one? Tea acts as an ice-breaker in awkward social situations as it is the most relatable thing in India. The aroma of the hot piping tea is so pleasing that you can't resist but say 'aahhhh.' Whether it's the first day of your office or meeting an old childhood friend after a long time, chai is ideal to bring people together effortlessly.
4.     Chai is an antidepressant & calming beverage
Therapy is expensive so chai is what I go for. Chai is an antidepressant for Indians as it has calming properties that can help in getting away with severe headaches. Whether you call it addiction or compassion for the beverage, most Indians choose to drink tea twice or thrice at least in a day. Also, it is extremely good for sore throat as it is soothing and has multiple antimicrobial properties.
5.     Budget-friendly
Believe it or not, chai is the most affordable beverage that is available at a mere price of Rs. 10 in India. However, prices may vary in quaint restaurants and cafes for their eccentric service. You can club tea with any tea time snack and make your eating time wholesome and incredible. From morning breakfast to evening time, chai can go along with everything effortlessly.
6.     20,000+ varieties of tea exist
'The Tea Enthusiast's Handbook' by Mary Lou and Robert J. Heiss shares that there are 20,000+ varieties of Chai all around the world. Tea is the second most consumed beverage – thanks to its great availability and supreme health benefits. India solely has a handsome variety of tea relished across India. From piping hot milked tea to incredibly healthy black tea, there is something for everyone. Starting from kulhad chai to herbal green tea, all of these varieties are commendable and mood busters.
7.     Eco-friendly than coffee
This may sound absurd at once when we compare beverages on their eco-friendly impact but it is true. However, water consumption for making coffee is much higher than that of tea which can further raise the concern of scarcity of water resources. According to the New York report, 100 liters of water is needed for growing a cup of coffee. Nevertheless, the total consumption for growing tea is 30 liters of water. Henceforth, it is much better to choose tea over coffee and take care of your natural resources.
8.     An employment opportunity
Selling chai has remained a hot piping business in India and in fact across borders too. From selling tea at Nukkar or Tapri to selling it online, the tea business has emerged as one of the sky-rocketing businesses in India. As per the report by Statista, total production of 1.28 billion kilograms took place in the financial year 2021. The larger production of tea is employing millions of people and helping them to earn their livelihood. Therefore, tea does create employment opportunities for Indians, and tea startups are the prime example of it.
9.     Tea has medicinal properties
There is no denial in the fact that tea has an abundance of medicinal properties and has been used in India for centuries. From soothing a sore throat to bettering severe headaches, tea is a great cure for all. In addition, its antioxidants offer long-term benefits.
10.  The love for chai is eternal
Last but not least, chai is true bliss and you cannot get rid of it. In India, mornings start after having a sip from the hot piping cup of tea and the day ends with an evening cup. We don't hesitate in saying, chai has remained a permanent thing in our lifestyle over the years from being a welcome drink to the ice breaker among strangers. We owe new friendships with strangers and millions of memories to tea which we've cherished during our lifetime.
The final words
Tea is a great beverage that is more of an emotion for Indian folks. From welcoming guests to finalizing the big deals, tea can be found everywhere in Indian culture. The ritual of serving and enjoying tea has been in practice for centuries and will continue for the forthcoming years. If you haven't tried tea ever, give it shot and take bliss in the goodness of India's most favorable beverage of all time.